Freshpet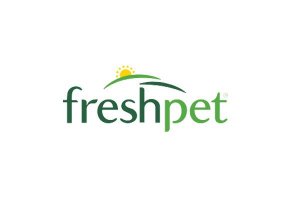 Summary
Freshpet is a brand of dog and cat food made from fresh, human-grade ingredients that are designed to provide health benefits for your pet.
Freshpet Review: Is It Worth It? A Detailed Look
Freshpet is a dog and cat food brand that claims to offer fresh, real food designed to help your pet live its healthiest life.
The company states that they use only gently cooked, human-grade ingredients for their dishes that are formulated without the use of preservatives for optimal nutritional quality.
This pet food brand offers a variety of product lines with different attributes for your pet. Most need to be refrigerated immediately upon purchase.
All of their refrigerated food is made in the company kitchen in Bethlehem, PA and their treats are made across the United States by partners committed to complying with the brand's food and safety standards.
You can buy Freshpet meals online and in pet stores and grocery stores around the United States, as well as in the UK and Canada.
In this article, we will help you decide if this premium food is worth the cost and the effort of getting your pet to adjust to it.
Getting Started with Freshpet
To start, you can find which food option is best for your pet with the Freshpet online product selector.
This short test lets you specify whether you have a cat or dog, its gender, breed, weight, activity levels, protein source preferences, any food sensitivities, the type of food currently eaten, and how much prep work you're willing to do.
The food is sold in a variety of grocery and pet stores and is packaged similarly to fresh human food with a sell-by date. You can choose between 1.5 to 6-pound food rolls, bagged meals, single-serve cups, and snacks that come in a variety of flavors.
You can serve the food to your pet straight from the refrigerator (no need to heat it) or by letting it thaw after freezing. The company guarantees that Freshpet meals were never frozen before you buy them.
Because the meals contain fresh ingredients, Freshpet suggests they will last between 7–14 days in the refrigerator after opening. They recommend not leaving food in your pet's bowl for longer than two or three hours after serving before returning what's uneaten to the fridge.
According to Freshpet, your pet might be reluctant to eat their food if you're transitioning them from dry kibble to fresh food for the first time.
You can make the transition easier by introducing Freshpet gradually to each meal over 7-10 days, including slightly more fresh food at every meal until they have fully transitioned.
A Look at the Ingredients
The company makes it clear that the fresh ingredients within their meals are what distinguishes them from the pet food competition.
It states that all ingredients are sourced from USDA and APHIS (Animal and Plant Health Inspection Service) registered suppliers and that the poultry within Nature's Fresh and Deli Fresh brand foods is antibiotic and hormone-free.
While the precise ingredients within each meal will vary depending on the product you buy, most include a protein source such as chicken, turkey, beef, salmon, and egg among others, as well as produce like cranberries, spinach, blueberries, carrots sweet potato, and more.
The company specifies that they only use organ and muscle meat rather than "meat meals" that can be highly processed materials that can vary significantly in quality and shelf life.
That sounds like a healthy diet for a human, but will your meat-loving pet appreciate the vegetables?
Dogs are omnivores that can eat both plant and animal products. Carrots, peas, sweet potatoes, oranges, and apples have especially beneficial nutrient content for them, so seeking out dod foods that include them can provide canine health benefits.
All Freshpet food is classified by the company as 100% all-natural protein, free of artificial or chemical preservatives, and free of ingredients from China.
The meals aren't raw, but rather steam-cooked to pasteurize them against harmful microbes.
What Products Are Available with Freshpet?
Freshpet offers numerous product lines of pet food. We've gone through some of their distinguishing features below.
Offered for Dogs and Cats
Freshpet Select: This is Freshpet's flagship product line, and it includes dry food, bagged wet food, and slice and serve rolls in 1, 1.5, and 6-pound increments.

Vital: The Vital product line is similar to Freshpet Select, though all meals are 100% non-GMO, and includes grain-free and chicken-free options.

Nature's Fresh: These bagged meals and slice and serve rolls are made out of GAP (Global Animal Partnership) certified animal products as part of the product line's commitment to using only ethically sourced and humanely raised animal products.
Just for Dogs
Fresh Treats: The ingredients within these dog treats are the same quality as offered by other Freshpet products, though outside suppliers produce them. Options include chicken treats, turkey and apple bites, and chicken snack sticks.

Deli Fresh: These meals are protein-rich, full of antibiotics, and 100% grain-free. They are available as bagged meals and slice and serve rolls.

Homestyle Creations: This product line is designed for people who like to create their own meals for their pets. You can mix and match different components for custom blends with mix-in options like chicken and beef patties and Healthy Mixers of brown rice, pumpkin, carrots, and green beans; or bananas, cranberries, and blueberries.
Where to Buy and Pricing
Freshpet is sold across the USA, UK, and Canada in a variety of pet stores and grocery stores. You can find a location near you through the website's store locator.
Where you purchase the meals, as well as the product line you choose, will make a significant difference in the overall price.
We found that the prices for a slice and serve rolls tend to cost between $12.25 (Freshpet Select) and $27 (Vital) for six-pound rolls and between $20 (Freshpet Select) and $34 (Vital) for 5.5-pound bagged meals.
The Homestyle Creations product line can also be purchased directly from the company website.
Analysis of Customers Reviews
After reading through many Freshpet customer reviews it becomes apparent that this brand seems to make a lot of pets happy.
Many of the reviews we looked at were from people who transitioned to this food after their pets got old or experienced health problems.
Most people commented that the animals adjusted to the food right away and that even fussy dogs seemed to love it. Others reported that the meals helped their pets slim down and led to sleeker coats and more energy.
The few negative reviews we noticed seemed to come from people with small dogs who struggled to use up full packages of the food before it spoiled in the fridge.
In a few cases, people complained that the food was often out of stock at their local grocery store, which put them in a tricky position for feeding their dog.
These people stated that they would prefer a delivery subscription service from the brand like some of its competitors provide.
The Bottom Line
There's no question that this premium pet food brand is expensive; you'll pay upwards of $5–10 on pet food per day if you have a medium to large-sized dog, compared to a fraction of that cost for traditional kibble.
Compounding the cost factor, Freshpet has a relatively short shelf-life compared to traditional dog food brands, which means you'll need to make relatively frequent trips to the store to buy it.
That's likely not an issue if you can include it with your regular grocery shopping but might become a burden if you need to go to specialty stores or your regular supplier runs out unexpectedly.
Likewise, if you own a large dog, it might take up too much fridge and freezer storage space to keep a convenient supply around.
However, there's a lot of good reasons to begin to consider feeding your pet a more natural diet. Traditional kibble can harm your pet's teeth, and many cheap brands contain filler ingredients that can contribute to health problems.
Pets, like humans, benefit from diets devoid of processed food, so making the switch to fresh, human-grade ingredients is an excellent choice for their health.
If you're interested in committing to a more natural food option, Freshpet is a great choice. However, it will be worth your time to check out other brands that offer a subscription service.
Customer Reviews