NomNomNow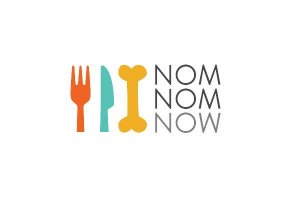 NomNomNow is an online pet food brand that delivers fresh, human-grade dog and cat food to your home on a prescheduled basis.
NomNomNow Review: Is It the Right Choice for You?
What Is NomNomNow?
NomNomNow is a pet food brand for dogs and cats that operates on a subscription model to deliver fresh, human-grade meals to your home every two to four weeks.
Switching your pet over from conventional dry food is a big decision, and there are plenty of other fresh food brands besides NomNomNow.
Is this service a contender? You'll have more information to make that decision by the end of this review.
How Does NomNomNow Work?
Like most subscription pet food companies, NomNomNow uses artificial intelligence to recommend recipes and serving sizes for your pets.
This information includes the kind of animal (dog or cat), age, current weight, and target weight. The website doesn't ask for specifics about your pet's breed, health history, activity level, or eating preferences as many competitors do.
Based on these facts, NomNomNow will share the weekly cost for their recommended meal plan.
If you choose to commit, you will receive fresh, individually portioned meals at your specified frequency.
Each package contains enough pre-measured food for one meal for your pup, so you don't need to worry about resealing them or storing leftover food.
NomNomNow Ingredients
The NomNomNow website states that all recipes are formulated by Dr. Justin Shmalberg, a practicing veterinarian and professor of veterinary medicine at the University of Florida.
These recipes contain only whole food ingredients that are sourced in the United States and approved by the USDA for human consumption.
Beyond these ingredients, each meal contains a NomNom Nutrient Mix, which provides a blend of vitamins D, E, B1, B2, B12, and iron, iodine, selenium, zinc, copper, manganese, taurine, and choline (vitamin A is included in the cat recipes).
Each recipe is free of artificial preservatives, fillers, by-products, or feed-grade ingredients, and they are cooked at low temperatures to kill off harmful bacteria while ensuring maximum nutrient retention.
Regarding production, NomNomNow meals are made fresh right before delivery in Nashville, Tennessee, or the San Francisco Bay area.
This means that they are never mass-produced or deep-frozen before shipment. Each recipe exceeds the AAFCO's quality standards for dog and cat food nutrient profiles for all life stages.
Your pet's meals will come pre-portioned using Dr. Shmalberg's algorithm, which takes into account their age, activity level, current weight, and weight goals. The meal options available at the time of writing included the following:
For Dogs:
Heartland Beef Mash: ground beef, potatoes, eggs, carrots, peas, fish oil, NomNomNutrient Mix

Chicken Chow-Wow: Diced chicken, sweet potatoes, yellow squash, spinach, fish oil, NomNom Nutrient Mix

Tasty Turkey Fare: ground turkey, eggs, brown rice, carrots, spinach, fish oil, NomNom Nutrient Mix

Porkalicious Potluck: pork, potatoes, green beans, yellow squash, mushrooms, kale, fish oil, NomNom Nutrient Mix
For Cats:
Chicken Chow-Meow: chicken thigh, breast, and liver, asparagus, carrot, spinach, cantaloupe, NomNomNutrient Mix

Flavorful Fish Feast: tilapia, salmon, beef fat, yuca, carrot, NomNomNutrient Mix
The food cost for a seven-pound dog is about $25.67 per week and approximately $73.93 for a ninety-pound dog.
For cats, the cost is $33.79 per week to feed a ten-pound animal and $39.07 for one that is 25 pounds.
Is Human-Grade Pet Food Important?
Brands like NomNomNow pride themselves on offering "human-grade" ingredients in their pet food. Is this term more than a buzzword? We reached out to Sara Ochoa, a DVM veterinary consultant for Doglab.com to get a better understanding.
"Human-grade pet food means that the meat used is the same standard that is used for human food," she told us.
"That's in contrast to feed-grade ingredients, which is defined as material that's determined to be safe for use in animal food. Some feed-grade elements that don't make the cut for humans include 'allowable amounts' of moldy grains, plastic or Styrofoam particles, bone fragments, and organ meats, and parts from animals that were dead before slaughter, diseased, or disabled."
All kibble (dry) foods qualify as feed grade, regardless of whether they use human-grade ingredients. That's because they are manufactured in pet food facilities that aren't held to the same standards as human-grade food facilities.
Since these ingredients aren't held to high-quality standards, problematic products sometimes slip through the cracks and cause problems for your pets. That's one reason why many people are making the switch over to human-grade food instead.
"The only drawback that I know of [using human-grade dog food]," says Ochoa, "is that the price of this food is usually way more expensive than regular dog food."
What Products Are Available from NomNomNow?
At the time of writing, the following products were available from NomNomNow.
For Dogs:
Recipes: Choose from four recipes, including Heartland Beef Mash, Tasty Turkey Fare, Porkalicious Potluck, and Chicken Chow-Wow

Variety Pack: You'll receive one 150g bag of each recipe for $15.

Supplements: NomNomNow offers three types of supplements, including a Full Spectrum Probiotic ($45 for a 30-day supply), GI Targeted Probiotics ($45 for a 30-day supply), and Flavor Flakes designed to help picky eaters adjust to eating fresh food ($15 for 4 ounces).
For Cats:
Recipes: Select from two recipes, Chicken Chow-Meow, and Flavorful Fish Feast

Variety Pack: You'll receive six 90-gram bags, three each of Chicken Chow-Meow and Flavorful Fish Feast, along with a bag of Flavor Flakes, for $15

Supplements: You can purchase Flavor Fakes (4 ounces for $15) to help picky eaters or a 30-day supply of Full Spectrum Probiotics for Cats for $45.
For Both:
Treats: Choose from chicken or beef jerky in 2-ounce ($12) or 4-ounce ($20) resealable bags

Microbiome: You can give your pet a microbiome test to learn about imbalances in their digestive system and formulate their diets accordingly.
How Does a NomNomNow Subscription Work?
It's possible to purchase NomNomFood through variety packs at any time, but you'll need to sign up for an auto-ship subscription if you want to receive personalized amounts of food each week.
The company states that this lets you save money compared to purchasing standard-sized packs while also giving you early access to new recipes and products.
The price you'll pay depends on your delivery frequency, how many animals you're shopping for, and the amount of food your pet needs. At the time of writing, you can choose between weekly, biweekly, or monthly deliveries. Every order qualifies for free shipping throughout the continental U.S.
You can receive a personalized quote through the site, though they suggest reaching out at to care@nomnomnow.com or (415) 991-0669 for additional cost-saving information.
This is also the best way to contact the company if you want to cancel your subscription, which is possible at any time without penalty.
What Do Customers Think of NomNomNow?
As we've found for many subscription pet food brands, online reviews for NomNomNow are overwhelmingly positive. Trustpilot reviewers award the company a full five stars after 737 reviews, and Consumer Affairs ranks it at 4.5 after close to 150.
We read dozens of reviews that praised the food quality and its ability to make picky eaters excited about mealtimes. Others noted that they loved how each serving was individually packaged so that they didn't have to store the bags after they had been opened.
A few people had some complaints, saying that their dogs didn't like the food or picked out the meat and left the vegetables in their bowls.
Others stated that some food packets shouldn't have passed through quality control as they weighed different amounts, and many came with chunks too big for their pets to eat.
NomNomNow Alternatives
The following chart is designed to highlight some of the key differences between NomNomNow and other popular dog food subscription companies: Spot & Tango, The Farmer's Dog, Pet Plate, and Ollie.
NomNomNow
Spot & Tango
The Farmer's Dog
Pet Plate
Ollie
Cost
Cat: $59.42/two weeks

7-Pound Dog: $41.65/two weeks

90-Pound Dog: $154.02/two weeks
7-pound dog: $21.56/week

90-pound dog: $110.28/week
7-Pound dog: $13.22/week

90-pound dog: $92.46/week
Cost depends on the size of the dog and delivery frequency: three weeks is the default.
7-pound dog: $17.29 to $19.89/week

90-pound dog: $69.90 to $80.38/week
Cost Per Serving (2 per day)
Cat: $2.12

7-Pound Dog: $1.49

90-Pound Dog: $5.50
7-pound Dog: $0.71 to $0.84

90-pound dog: $3.57 to $4.41
7-Pound: $0.94

90-pound: $6.60
Small Dogs: $1.25 to $2.375

Medium Dogs: $3 to $4

Large Dogs: $4.50 to $6.50

XL Dogs: $8–$9.5
$1.32 to $5.36 per meal
Delivery Range
Meals produced in Nashville and San Francisco, free shipping across 48 lower States.
Sold online and in pet specialty stores across Manhattan. Free shipping across 48 lower States.
Ships free across 48 states.
Lower 48 states.
Lower 48 states.
Customization Level
Can choose between four dog meals and two cat meals.
Can choose between three pre-made meals containing turkey and red quinoa, beef and millet, and lamb and brown rice. Possible to purchase "topper plan" to mix meals with regular dog food for a lower price.
Can choose between meals made from turkey, beef, and pork.
Choose from meals with chicken, beef, turkey, and lamb.
Choose from beef, chicken, turkey, and lamb. For large breed dogs, it's possible to purchase full meals or choose "toppers" of 25% of their nutritional needs.
Shipping Information
Free, food arrives pre-portioned, chilled, and should be refrigerated or frozen immediately.
All purchases require signing up for an auto-renewing subscription. It's possible to pause or cancel at any time.
Meals are shipped and billed every two to twelve weeks after a two-week taste trial, can be paused or canceled at any time.
Free shipping, deliveries sent out Monday to ensure a Wednesday or Thursday delivery.
Two-week auto-delivery that can be canceled at any time.
A fact worth noting is that each of these brands puts the focus on fresh, human-grade ingredients that are minimally cooked to maximize nutrient retention.
They all claim to be free of preservatives and filler ingredients, meaning that they should be used within a week of receiving unless you freeze them immediately.
Also, the cost for fresh, delivered pet food can vary significantly depending on the size of your pet and the brand you choose.
As a point of comparison, you'll pay between $30 to $60 for thirty-pound bags of kibble (depending on the brand), which breaks down to about 120 cups of food or 50 to 60 days of food for a 60-pound dog.
That's between $15 to $30 per month of food, which is a small fraction of the cost of fresh pet food.
Likewise, each of the brands we looked at is only available as an auto-ship delivery, with the exception of Spot & Tango, which is also sold in specialty stores throughout Manhattan.
Likewise, you can also buy NomNomNow variety packs without signing up for a recurring subscription.
The Bottom Line: Should You Commit to NomNomNow?
As this article hopefully makes clear, there's a movement today to increase the transparency in dog food.
There's a developing market of companies that promise to give your pet access to fresher ingredients while making it, so you only need to venture to the mailbox to access it.
This means that NomNomNow has a lot of competition and it's not necessarily the best option available. However, every animal is different, and your pet might prefer one brand of fresh food more than others.
Other reasons to consider NomNomNow over the competition include that it offers standard-sized variety packs as well as both dog and cat food. This means you can use the brand as a one-stop-shop subscription if your home contains both canines and felines.
Finally, the brand's generous "rebate" policy makes it easy to try out the food for a month without sinking much money into it. If your pet doesn't like the food, you may qualify for up to $40 from NomNomNow to spend on a new brand.