Genie Bra Reviews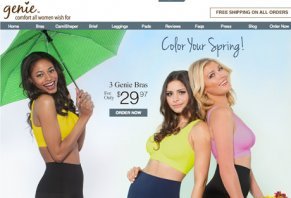 About Genie Bra
The Genie Bra is a seamless bra that claims to give women more comfort and support and better aesthetics than traditional bras. A Tristar Products Inc. product, the Genie Bra also doubles as a camisole.
The Genie Bra has been featured on numerous TV shows and garnered positive reviews from consumer reports shows. However, online reviews are mixed, with many women saying the sizing chart on the Genie Bra website is misleading and caused them to purchase bras that were too small.
Genie Bra Features
Made of 96% Nylon and 4% Spandex, the Genie Bra claims:
Maximum coverage that is ideal for under low cut tops, sweaters and dresses.
It is constructed with Everlast, comfort stretch fabric.
It can be used while sleeping.
The magic pouch accommodates removable pads for extra lift and coverage.
Easy to slip in, form fitting seamless construction with soft contour cups.
Knitted wide support band eliminates the need for underwires.
Made with the finest craftsmanship.
Machine washable.
The Genie Bra targets three zones of comfort and control to lift, shape, smooth and support.
Bust Zone: The soft contour cups with rouched center conforms to a woman's shape to help smooth and separate the bust while concealing cleavage while the knitted wide support band helps lift and support the bust.
Side Zone: It helps control under arm and side spillage.
Back Zone: The full back control panel smooths fabric on the back and minimizes the appearance of back fat.
There are 18 colors to choose from in the following sizes: XS/S, M, L, XL/1X, 2X, 3X, 4X.
Custom Genie Bras are similar to the regular bras, except the straps can be removed and positioned in numerous styles depending on what is most comfortable to the wearer.
There have also been complaints about the quality of the bras.
Genie Bra Pricing, Shipping & Return Policies
Genie Bras come in sets of threes and the price depends on if you want the bras with pads or without and which style of bra you order.
A set of three bras in classic colors of white, black or beige without pads will be $19.98.
A set of three bras in the classic colors with pads is $29.97.
A set of three bras available in an additional 15 colors with pads is $29.97.
A set of three Custom Genie Bras with pads in the classic colors is $59.97.
A set of three Custom Genie Bras with pads in an additional six colors is $59.97.
All products can be purchased with one or three payments.
The Genie Bra apparently comes with free shipping. However, it is not clear if all products have free shipping or just the classic Genie Bra colors. The website does not mention any other shipping rates.
Genie Bra also has a 60-day money back guarantee that promises a refund if you are not fully satisfied with the product. You can also use the Genie Bra Risk-Free Exchange Policy. The policy states that if you order any items from Genie Bra and have picked the wrong size, you can ship it back for free (by getting a pre-paid return label from the company). The company will then ship you the new size for free even before getting the returned bra back.
You can call the customer service center at (973) 287-5154 for more details.
Genie Customer Service Hours of Operation:
Monday – Friday at 9:00 am till 8:00 pm EST
Saturday and Sunday at 9:00 am till 5:00 pm EST
Pros
Claims to be a more comfortable and flattering bra for women
Can sleep in it
Machine washable
Money back guarantee and risk free exchange
Free shipping on at least one product, possibly all products
Can double as a camisole
Cons
Sizing chart on the website appears to be inaccurate, according to many accounts
Shipping rates are unclear on the website
---
Forget this if you're bigger than a B-cup

By Sally

,

San Francisco, CA

,

Jul 4, 2015

I ordered Genie bras after seeing the half-hour infomercial on TV, The operator advised me that I should order XL Genie bras to replace 42D under-wires. Wrong. The backs rolled up when I pulled the bra over my head, and was very difficult to pull down without help from a second person. There was just no support at all for me. The leaflet (and the infomercial) do say to wear two Genie bras, one over the other, for added support: I found that to be tight, hot, and uncomfortable.

I had made the mistake of washing the bras (to remove the fungicide, which irritates my skin) before trying one on. The bras are returnable only if the package is unopened, so I was stuck with six bras that were unsuitable for wearing in public. I gave three of them to my less busty sister, who wears them around the house.

I was charged $89 total , including "shipping and handling" and CA sales tax, for a set of 2 white, 2 black and 2 nude color bras, or $15 each! Because I had opened the plastic wraps and washed the bras, they were not returnable. I wore the ones I kept to sleep in, until the elastic became worn out with being stretched out so much.

The Genie bras were easy to hand wash and they do air dry quickly. They survive machine washing and machine drying on "low", but did show pilling after a few cycles.

These might be OK for a woman who is an A-cup or B-cup for casual wear, but even if I were that size, I would not consider these at all proper for office attire or supportive enough for sports. At the price I ended up paying, I could buy a Champion sports bra instead of doubling the Genie bras.

Bottom Line: No, I would not recommend this to a friend

---

Not pleased at all

By Julie

,

South Carolina

,

Jun 19, 2016
Verified Reviewer

First of all it let me place my order, then a few days later I get an email telling me it's on backorder. When I finally receive the bra it is very hard to hook the clasp in front. Didn't seem to be true to size, mine didn't come close to fitting. Overall it seemed cheap and not made well. Never again for me.

Bottom Line: No, I would not recommend this to a friend

---

Advertisement

---

Poor customer service

By Nancy

,

Eagle River, WI

,

Apr 10, 2017
Verified Reviewer

I placed an order on 3/16/17. It says shipped on 3/17/17. The tracking shows it only printed a label. It has not shipped yet as of 3/30/17. Customer service won't do anything about it because they say it has shipped. So frustrating. I will never order from them again!

Bottom Line: No, I would not recommend this to a friend

---

False advertisement

I just received my Genie Bras (white, black, and tan) that I ordered over a month ago through Fingerhut. I was extremely disappointed. It was nothing that I expected. No support what so ever! The only good thing about it is that it kept my breasts separated. The bottom band rolled up and didn't lay flat. I ordered a 36, so this should not have happened. I called Fingerhut, and the woman didn't hear a thing I was saying. She just kept reading the spiel she has to from her cue card. Like they say, word of mouth.

Bottom Line: No, I would not recommend this to a friend

---

Advertisement

---

Do not buy!

I ordered six Genie Bras in various styles and colors. I received only four of the six and the order was completely messed up. It was nothing like what I had ordered.

I highly recommend you avoid ordering from this company. I talked to someone in customer service who told me two more bras were on their way, but that never happened.

Bottom Line: No, I would not recommend this to a friend

---

Inaccurate sizing

I ordered bras and jeggings for the first time from Genie and nothing fit. Everything was too small even though I followed the size chart. When I called to discuss the inaccurate information on the website, I was told I would still have to pay for the return shipping. I was offered a credit if I kept the merchandise. Why would I keep something that doesn't fit? Why not apply that credit to the return shipping? The supervisor wasn't willing to do so. This is poor customer service!

Bottom Line: No, I would not recommend this to a friend

---

Horrible bras!

By Shelly Ann

,

Norway, MI

,

Jan 21, 2018
Verified Reviewer

I ordered these bras when they first came out. I paid almost $100 for six pairs of them! What a big waste of money! They were too small. I read that you go by your shirt size and then they suggested going up a size from that. Well, they were still too small and extremely hard to get on over your head. I'm a DDD, and I just felt like it gave me a uni-boob just like any other sports bra. These might work for women with maybe an A or B cup, but not someone large like me.

So, needless to say, they sat in my drawers until about a year ago when I passed them on to my 11-year-old. She only got to use them for a short time because they got too tight for her even. They do also start to pill quite a bit after washing only a few times as others have said.

Bottom Line: Yes, I would recommend this to a friend

---

Horrible company

I ordered the special with six bras by phone. The agent said that I would get a confirmation email. I never received the email. Then when I tried to check the status of my order on the website, there was no record. No record of my order but my card was charged almonds $100. So I wait the 24 to 48 hours to check again and still nothing.

So I called the customer care number and nothing was in the system at all for me. I'm wondering how was I charged for something that was not placed. They didn't have any record of even my name but got my card information and charged. The agent then told me to call back in a couple of days to see if it showed up. Still nothing. They acted like it wasn't a problem to take my money with no order, but that's like stealing from me.

I will never order anything from this company ever again. They are not to be trusted with people's personal information. Please take my advice so you won't put you card numbers at risk, then have to deal with a company that doesn't care.

Bottom Line: No, I would not recommend this to a friend

---

Not so genie after all

I ordered the Genie Bras according to their size chart, and the bras are too small. I called customer service to see if they could send me a larger size and I was told no, that I would have to place a new order and pay for shipping to return the bras. I will definitely return the bras, and I will not reorder again. For me, not so GENIE after all.

Bottom Line: No, I would not recommend this to a friend

---

Buyer beware!

I ordered the bra based on a TV commercial. I ordered an "XL" based on their chart. I received an "L" size. I called customer service, they apologized for the mistake and stated that it might fit me. I told customer service that I never wear "L" size on anything. I went on the web page to get a return slip, called the number and customer service stated that they could not send me the return slip, that I would have to pay for the return myself at the post office. This is false advertisement. I should have checked the reviews before ordering. I will request a full refund and will not order from them again or refer any friends to the site.

Bottom Line: No, I would not recommend this to a friend

---

Don't bother to order

By Luana Saxe

,

Florida

,

Feb 14, 2018
Verified Reviewer

I ordered the special offer of 6 Genie Bras product (6 pairs for $6 each) on December 9th, 2017, mostly leggings. The right size that normally fits me, it didn't fit, so I had to go to the post office and exchange 3 pairs of leggings (2 charcoal and 1 jean with the zipper). They received my return in January of 2018, but I only received the exchange for the jean leggings with the zipper in the same month of January, not the 2 charcoal leggings.

I called them back on February 12th, 2018, for the 2 charcoal leggings. I have been asking to speak with Genie Bras manager, and she told me that she had to reorder them again. Then the next day I got an email to send back the 2 charcoal leggings within 30 days of receiving the exchange or they will change my card again, but I already sent them back in January!

Never again will I order with Genie Bras! This will be my 4th time calling the customer service again.

Bottom Line: No, I would not recommend this to a friend

---