GoodBelly Reviews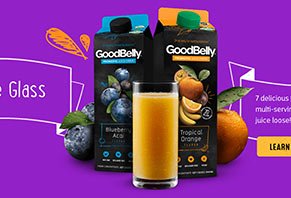 GoodBelly's line of probiotic drinks, shots, and supplements use Lactobacillus plantarum 299v to help balance your gut bacteria, improve digestion, and more.
About GoodBelly
Probiotics are big right now—like, really big. This means that if you're in the market for one, you'll find they're available in just about any form, including daily capsules and gummies, foods like yogurts and cheeses, and even dog chews!
But now, with GoodBelly's line of GoodDrinks and GoodShots, you can get the digestive support you need from delicious beverages containing live, active probiotic cultures. Compared to a lot of other food-based alternatives, you can achieve this without having to consume any dairy or GMO ingredients.
Each of GoodBelly's products features a powerful probiotic strain called Lactobacillus plantarum 299v (more about this shortly), which is especially good at withstanding stomach acid. After it's made its way to your digestive tract, it'll balance your gut bacteria, lower pH, and improve your overall digestive health—even your immune system response! And GoodBelly is the only beverage in the United States that contains this powerful probiotic strain.
Whether you heard about probiotics from a friend, the TV, or your doctor, they sound like they could potentially provide a lot of benefits, so you're ready to hop on the bandwagon. But just what are these bacteria, and can they really improve your health? If so, is GoodBelly your best option? Here, we'll help you find answers to your most important questions.
Let's start by taking a look at GoodBelly's different products.
GoodBelly's Probiotic Lineup
Overall, GoodBelly manufactures five different probiotic-infused products:
GoodBelly By the Glass
GoodBelly By the Glass is a unique drink that comes in 7 different flavors: Mango, Blueberry Acai, Pomegranate Blackberry, Tropical Green, Cranberry Watermelon, Tropical Orange, and Coconut Water. All are available in biggie-sized, multi-serving cartons.
Each 8oz serving of GoodBelly By the Glass contains 20 billion colony forming units (CFUs – more in a second) of bacteria, and is geared toward those who enjoy juice but want to get their daily dose of probiotics at the same time.
GoodBelly By the Glass beverages are non-GMO, soy and dairy-free, and vegan. Many are also certified USDA organic, while others are certified gluten-free.
GoodBelly PlusShot
PlusShots come in 4-packs that contain 20 billion CFUs per 2.7oz serving, in addition to vitamins and calcium. There's no dairy in PlusShots, and they're available in fruity flavors like Strawberry, Blueberry Acai, Mango, and Pomegranate Blackberry.
Don't like taking pills, but still want your daily dose of vitamins? Then PlusShots might be right for you.
StraightShot
Perhaps the biggest benefit of GoodBelly's StraightShot is that there's no sugar added (only 30 calories!), yet it still has a slightly sweet taste due to the dairy-free oatmilk.
As with most of GoodBelly's other products, StraightShot contains 20 billion CFUs of live bacteria per 2.7oz serving.
SuperShot
Like StraightShot, SuperShot features dairy-free oat milk for a slightly sweet taste, but unlike other options, SuperShot contains a whopping 50 billion CFUs per 2.7oz serving. For this reason, the company claims it's ideal for those who are experiencing digestive flare-ups, those feeling particularly run down, or those who have undergone a recent round of antibiotics.
SuperShots are available in Vanilla Chamomile and Lemon Ginger flavors.
GoodBelly's Probiotic Supplement
Each capsule of GoodBelly's probiotic supplement delivers 10 billion active strains of beneficial bacteria to your gut. They're also easy to swallow, so they're great on the go.
According to the company, when taken regularly, this "power-packed" supplement can provide numerous benefits like boosted immune system function, reduced digestive upset, and improved regularity. The supplement might be especially useful if you've recently taken a course of antibiotics.
Like many of GoodBelly's other products, their probiotic supplement is dairy-free, gluten-free, sugar-free, vegan, and non-GMO. This way, you can experience all these same benefits, regardless of dietary restrictions.
Alright, so those are all of GoodBelly's probiotic-based products. But what about probiotics in general? How do they work? Are they really good for you?
Your Quick-Start Guide to Probiotics
You've probably heard the term antibiotic before, which are substances that kill bacteria in your body, often used to treat some type of illness. Well, probiotics are the exact opposite of this. Instead, you'll ingest specific strains of bacteria so that they flourish inside your body (specifically, your digestive tract) and promote certain health benefits. Like what?
It's important to note that there are several different strains of probiotic bacteria, each of which may provide certain benefits (such as being more resistant to stomach acid, helping with lactose intolerance, etc.). But in general, probiotics are used to aid in digestion—and in some instances, to help boost immune function as well.
» For Further Reading: Probiotics 101: A Beginner's Guide
In the instance of GoodBelly's probiotic products, they contain only one strain of bacteria named Lactobacillus plantarum 299v, one of the most common strains found in probiotic supplements. This is likely because lactobacillus is one of the largest groups of bacteria found in the human digestive tract, and is commonly found in yogurt and cheese. In fact, it's one of the best-understood strains on the market, and its entire genome has been mapped.
When supplementing Lactobacillus plantarum 299v, clinical studies have found it to withstand high pH, bind easily to the mucosal lining of the digestive tract, prevent inflammation, regulate bacterial growth, and even to boost vaccine efficacy.
Are there any downsides to Lactobacillus plantarum 299v, or to probiotics in general?
Will GoodBelly Cause Any Side Effects?
For the most part, probiotic supplements are extraordinarily safe and can be taken by children (even infants) and pregnant women.
Once you begin taking any probiotic supplement (not just GoodBelly) and your gut begins rebalancing though, it's not uncommon to experience mild gas, bloating, or even diarrhea for the first few days. This should subside quickly and uneventfully.
However, GoodBelly recommends: "If you find yourself experiencing this, you might want to consume only half of a GoodBelly serving for the first week, and then gradually reach the full serving once your digestive system adjusts to the changing microflora."
How Much Do GoodBelly's Products Cost?
GoodBelly's products are only available through grocery stores (more about this next), so costs can fluctuate, but you'll find that By the Glass costs about $3.75 for a 32oz carton, about $20 for the supplement, and Shot 4-packs for about $4.
Where to Buy GoodBelly Probiotics?
Regardless of where you live, you're almost certain to find at least a few local stores that stock GoodBelly's products, including health food stores like Sprouts, Whole Foods Market, as well as Kroger and Safeway-owned stores.
Pro tip: Keep in mind that GoodBelly's By the Glass and PlusShot products are by far their most popular, so if you're looking for something else, be sure to use their Where to Buy feature before heading out the door. Alternately, you can find many of GoodBelly's other products through popular online retailers like Amazon.com.
What Is GoodBelly's 12-Day Reboot?
No matter where they're purchased, all GoodBelly products come with a free introductory program called a 12-day reboot, which you can sign up for using your Facebook credentials or your email address. Here, you'll drink one 8oz glass of GoodBelly (or take one shot) per day over the course of 12 days.
During this time, you'll use GoodBelly's Belly Tracker app to track "what you put in your body and how it makes you feel." You'll also receive an instant coupon and recipes as you move through the Reboot.
Then, after completing your 12-Day Reboot, if you're not satisfied with the results, GoodBelly guarantees to give you a complete refund. All you have to do is fill out this refund form and send it to the company.
Pro tip: The 12-Day Reboot is only valid for GoodBelly 32oz cartons and 4-packs of PlusShot, StraightShot, and/or SuperShot. Also, keep in mind that it can take between 8-10 weeks for the company to process your refund, so you'll need to be patient.
If GoodBelly's customers are experiencing a lot of great benefits, then these prices might be worth it, right? What's everyone saying?
Do GoodBelly Products Have Good Customer Reputations?
There was a fair amount of online customer feedback for GoodBelly, especially for their fruit drink, although only a handful of these provided long-term feedback. In general, most agreed that the taste was very pleasant.
On the other hand, Renee Woodruff of Shape Magazine took on GoodBelly's 12-day challenge and also found that it tasted pleasant, worked well (decreased gassiness, firmer bowel movements), and caused only minor side effects (bloating, cramping, diarrhea).
106 Amazon reviewers chimed in about their experience with GoodBelly's supplement, which earned an average rating of 4.4 stars. Common compliments referenced reduced digestive issues, improved regularity, and little-to-no side effects.
From a company perspective, GoodBelly products are manufactured by NextFoods based out of Boulder, CO. There's quite a bit of information about them online, although they weren't listed with the Better Business Bureau at the time of our research.
Are Probiotics in Liquid form Effective?
After researching dozens of different probiotic supplements and writing several in-depth guides, we've learned that the effectiveness of these products often depends on 1) what kinds of conditions you're expecting to treat, and 2) the bacteria strains and CFU count they contain. In other words, if you're looking to treat digestion-related issues using a probiotic with an acid-resistant strain, you very well might experience benefits—regardless of the format it comes in.
Really, as long as you store these supplements as directed, it ultimately comes down to personal preference.
For example, while you'll find dozens of other probiotic drinks out there, all except for GoodBelly contain some kind of dairy. So, if you're vegan or lactose intolerant—and you don't want to take a traditional supplement—then GoodBelly's currently the only game in town.
Outside of dietary needs and personal preferences though, are there any benefits to drinking your probiotics instead of popping a capsule once each day? We couldn't find any.
Are GoodBelly's Drinks Similar to Kefir?
In short, no. Kefir is a culture made from any type of milk (including coconut, rice, and soy milk), which is accomplished by adding gelatinous "grains" containing bacteria and yeast that ferment the milk and add vitamins, minerals, and easily digestible complete proteins. Then, these grains are strained from the milk, which can be consumed as needed.
On the other hand, GoodBelly's products are infused with a specific probiotic strain developed to withstand the harsh environment of your stomach and make their way to your gut, where they can work their magic.
Before wrapping up, let's talk about an important consideration to remember when comparing GoodBelly's drinks to traditional probiotic supplements; namely, sugar content.
How Much Sugar Does GoodBelly Contain?
First, keep in mind that the American Heart Association recommends consuming no more than 9 teaspoons (36 grams) of added sugar per day for men, and no more than 6 teaspoons (25 grams) for women.
Here's where it gets interesting: Although GoodBelly does have some low sugar options (Coconut Water contains 13 grams, StraightShot contains 3 grams, SuperShot 5 grams), a single serving of some of their drinks (Cranberry Watermelon, Tropical Orange) contains as much as 26g of sugar, which is more than the entire daily recommended intake for women.
Why is this important? Regularly consuming too much excess sugar can lead to all kinds of things, like weight gain, diabetes, heart disease, tooth decay, and even digestion problems. Given this, we'd have to wonder: Will the health benefits provided by GoodBelly's probiotics be offset by the high sugar content in some of their drinks?
What's a Better Value: GoodBelly or Traditional Probiotics?
When it comes down to it, GoodBelly's products are extraordinarily popular, probably because customers report good results, great taste, and a reasonable price. But how does it's price stack up to traditional probiotic supplements? Let's run some quick numbers:
GoodBelly's Monthly Cost: With tax, imagine you paid $4 for a 32oz carton of GoodBelly's juice-flavored drink. Each recommended dose is 8oz, meaning each carton contains approximately 4 doses. So, you'd need about 2 cartons per week, or 8 cartons per month, totaling $32.

Other Probiotics Monthly Cost: Comparatively, you can find a month's supply of 20 billion CFU (or more) supplements for as little as $15 at your local pharmacy. In fact, GoodBelly's own probiotic supplement only costs $20!
From a price perspective, it would seem that traditional probiotic supplements are the clear winner. Given this, who might find the most value in GoodBelly? If you're one of the rare individuals who experience unwanted side effects with probiotic capsules, who find drinking juice easier than remembering to take a pill, or who just want a great-tasting drink that might also boost your digestive health, then GoodBelly might be exactly what you're looking for.
Otherwise, capsules might provide more bang for your buck.
4 out 5 people found this review helpful

It works!

By Richard E.

,

North Carolina

,

Nov 26, 2018
Verified Reviewer

Prior to GoodBelly (Blackberry POM), I had stomach issues from the meds I took for arthritis and Lyme. Several people had suggested blackberry would help, so I started raising them. It was helpful, but in the winter months, I would run out. So I tried the Blackberry Pom. First thing I noticed was energy...the feeling of being drained from the Lyme and rough mornings from the arthritis was easing off. After a month I noticed I could go longer without taking the pills. I do not know if this will be the result for everyone, but for me, if I run out, within a day or so, I get that run down feeling again. I have shared my experience with other VETS who suffer with the same arthritis that I do and they had the same experience. Hopefully, it will do the same for you!

Bottom Line: Yes, I would recommend this to a friend

---

7 out 8 people found this review helpful

Smooth moves

By Melissa R.

,

Texas

,

Nov 3, 2018
Verified Reviewer

I've never tasted a better product. And then on top of that, it causes me healthy bowel movements. I'm so impressed. I want to stock my whole fridge and drink one a day every day for enjoyment and good health.

Bottom Line: Yes, I would recommend this to a friend

---

12 out 14 people found this review helpful

Sugar reference in article misleading

By Sabrina N.

,

Jupiter, FL

,

Jun 15, 2018
Verified Reviewer

Full disclosure I'm just getting started with the GoodBelly challenge, and while I think the blueberry mixture is delicious, I can't speak for the effectiveness yet. I just wanted to comment on the sugar recommendations mentioned in the article. The Americans heart Association recommends no more than 9 TEASPOONS of added sugar for men and 6 TEASPOONS of added sugar for women. This translates to 36 grams for men and 25 grams for women. These drinks still take up my entire day's worth of added sugar, but it isn't as scary as was made out in the write up above.

Bottom Line: Yes, I would recommend this to a friend

---

10 out 10 people found this review helpful

Love GoodBelly

Cheyenne, WY

,

Feb 22, 2018
Verified Reviewer

I have had the straight shots for the last few weeks and I can feel a difference in my tummy. I have more energy during the day. I know I'm doing something healthy for myself. If you haven't tried them, do. My tummy has been a lot happier.

Bottom Line: Yes, I would recommend this to a friend

---

Advertisement

---

22 out 22 people found this review helpful

It's amazing, it saved my life

I love this stuff and I tell everyone about it! I get happiness from it. I lost 15 pounds in 2 weeks and didn't diet, and I cured my depression, my heartburn, my gastritis; I feel like superwoman! I told my mom, my daughter, and all the people at Publix. What's in this stuff? I love it and will never stop drinking it! It's the bomb!

Thank you GoodBelly, you saved my life!

Bottom Line: Yes, I would recommend this to a friend

---

11 out 13 people found this review helpful

I recommend this product

By Brenda Boggs

,

Rising Fawn, GA

,

Oct 24, 2017
Verified Reviewer

I just finished up my 12-day challenge with GoodBelly juice, and I feel great! I lost my cravings for sweets and carbs and have more energy. I will continue drinking it every day. I highly recommend this product!

Bottom Line: Yes, I would recommend this to a friend

---

8 out 21 people found this review helpful

GoodBelly juice 30% but sugar 24 g

By Em Yee

,

Austin, TX

,

Sep 23, 2017
Verified Reviewer

The article states that "GoodBelly does have some low sugar options (Coconut Water contains 13 grams, StraightShot contains 3 grams, SuperShot 5 grams), a single serving of some of their drinks (Cranberry Watermelon, Tropical Orange) contains as much as 26g of sugar, which is more than 4X the daily recommended intake for half the population." Well I drink GoodBelly Probiotics "Blueberry Acai" (and yes the 32 oz!) and it has 24 grams of sugar and only 30% juice! There are zero grams of coconut water! But, get this, they don't tell you that there's "filtered water" and "Organic Evaporated Cane Sugar!"

Bottom Line: No, I would not recommend this to a friend

---