Gotham Steel Stackmaster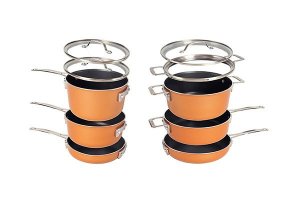 Gotham Steel Stackmaster offers ten-piece storage-friendly cookware set with a nonstick surface.
Gotham Steel Stackmaster Review: Is It Worth the Price?
HighYa is supported by our readers. When you buy something through a link on this page, we may earn an affiliate commission. Learn more.
Fitting quality cookware in a tiny kitchen can be a hassle. Many cooks limit themselves to just a few pans to make up for the lack of space, but that makes it hard to follow some recipes without washing the pots between steps.
The Gotham Steel Stackmaster cooking set promises to help you reclaim your cabinet space with a ten-piece set of stackable cookware. The collection is designed to stack together without scratching for efficient storage and convenient cooking on the stovetop or in the oven.
Is this cookware set one worth investing in? Learn from our review whether you should consider adding it to your kitchen.
Non-toxic nonstick surface
Made from durable aluminum
Lids are interchangeable within the set
Slow shipping time
The set might be cumbersome to pull out and restack without all pieces
You might not be able to get in touch with customer service
What Comes with a Gotham Steel Stackmaster Purchase?
When you purchase the full Gotham Steel Stackmaster set off the company website, it comes with the following items:
8" fry pan
10" skillet
2.75 qt saucepan (with lid)
3.5 qt saucepan (with lid)
3.75 qt saute pan (with lid)
5 qt stockpot (with lid)
Your purchase will likely include the following bonus items as well.
Basket Fryer
Veggie Steamer
5-piece utensils set
Each piece in the original set is designed to stack together into a sturdy column, lids included. The bonus items may need to be stored separately.
How Does Gotham Steel Stackmaster Work?
Each piece of cookware in the Stackmaster set is designed to stack vertically without scratching the pots and pans below.
While this method will likely help you consolidate space in your kitchen, the most significant caveat seems to be that the pieces will only stack together one way. This means that you will need to upend the whole stack if you want to use the pot in the middle.
For those working in a tight space, maneuvering pots and pans around to access what you need might get cumbersome. It also means that you may struggle to stack the rest of the set if one or more pieces are dirty or in use.
Regarding functionality, this set is designed for use on both the stove and in the oven. The company states that the set can safely be used at temperatures up to 500 degrees.
Each piece purportedly uses induction heating to cook food evenly. This heating method makes it possible to quickly heat small areas quickly and evenly—a benefit when cooking on a stovetop. You can use it with electric, gas, and induction stoves.
Each piece in the set is considered dishwasher safe, and the three included tempered glass lids can be used interchangeably between every pot, pan, and skillet.
About the Gotham Non-Stick Surface
Gotham Steel claims that each piece of Stackmaster cookware has a tough finish that is safe for use with metal utensils and will hold up against scratches.
Each cooking surface has a nonstick coating and is reinforced with ceramic and titanium. The idea is that you don't have to cook with butter or oil to keep things from sticking, which makes it possible to serve a lower-fat, lower-calorie final product.
Titanium is a popular choice for cookware because it is both lightweight and strong. It's often mixed with ceramic to boost its strength. Together, this combination is acid-resistant and not prone to corroding, which means that it rarely gets scratched during regular use and consequently won't release material from the cookware into your food.
Even if small amounts would peel off, the metal isn't known to have any harmful effects on humans. This makes it a safer choice than other forms of non-stick cookware, such as Teflon.
What Does Gotham Steel Stackmaster Cost?
The complete Gotham Steel Stackmaster set costs $159.96 on the company website, split into four payments of $39.99.
Plan on a shipping time between three and eight weeks for your order. We weren't able to determine the shipping costs without first finalizing an order, and didn't succeed in getting an answer from customer service when we called for specifics.
Each purchase comes with a 30-day money-back guarantee, minus shipping costs. You can contact the company at 1-800-313-8129 to start this process.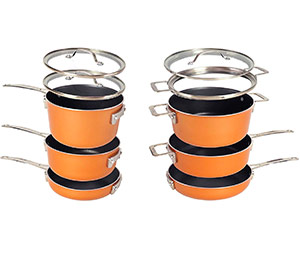 Buy Gotham Steel Stackmaster from Amazon:
Gotham Steel Stackmaster 10 Piece Cookware Set costs $145.23 on Amazon. Shipping is free. It is rated at 4.4-stars based on 240+ customer reviews.
Popular Alternatives to Gotham Steel Stackmaster
Speaking of Amazon, there are plenty of other stackable cookware options available on the platform. They come in at a variety of price points and include different accessories. Here's a comparison between two alternatives to Gotham Steel Stackmaster.
| | Gotham Steel Stackmaster | GreenPan Stackable Cookware | Farberware Neat Nest Cookware Pots |
| --- | --- | --- | --- |
| Price | $159.96 | $299 | $84.99 |
| Price Per Pot | $15.99 | $49.83 | $10.62 |
| Items in Set | 10 pots, three lids | 6 pots, 1 steamer, 3 lids | 8 pots, 5 lids |
| Nonstick Surface | Titanium and ceramic | Ceramic | Aluminum, "nonstick coating" |
Each of these three kits offers you a stackable set of cookware with multiple interchangeable lids. The price per unit differs significantly, and Gotham Steal Stackmaster is the midrange option. It's also the only option made from titanium, which is a valuable material from both a durability and a non-stick perspective.
All three sets seem to have the same stacking problem, meaning that they are meant to all fit together just one way and might become imbalanced if you leave a piece out.
The Farberware set is made with aluminum, a softer material that isn't as likely to hold up against scratching and heavy use. These pots also aren't Teflon or PTFE-free, which can potentially create toxic fumes that lead to "Teflon flu" and other adverse health effects.
Both GreenPan and Farberware are established brands that sell their cookware through multiple retailers. This might be a benefit if you can price shop or beat the three to eight week shipping period for the Gotham Steel Stackmaker.
Key Takeaways
Stackable Nonstick cookware ranges significantly in price, with cheaper options being more likely to use questionable materials in the coating.
You want to price shop and pay attention to the materials used to create the nonstick surface before committing to any specific brand.
The Bottom Line
Gotham Steel Stackmaster sells stackable, non-toxic, non-stick cookware at a reasonable price, so long as you're willing to wait for the multi-week shipping process.
Our concerns with this brand are that it's not possible to pay for your full order at once and instead must pay $39.99 four times. We also don't like the lack of transparency on shipping costs or how difficult the company seems to be to get in touch with.
However, the materials used within this set seem suitable for fulfilling the brand's promise of healthy, non-stick cooking. And as titanium is known for being durable, this set should last a while.
Overall, a Gotham Steel Stackmaster set seems like a reasonable way to reduce kitchen clutter without compromising on your cookware collection. Just keep in mind that the pots and pans might be a bit more of a pain to stack and store than how it appears on the commercial.
---
Poor customer relations

By Chris D.

,

West Virginia

,

Jul 9, 2020
Verified Reviewer

Overall Experience:

I ordered the Stackmaster for my daughter. I completed the order form and made sure the shipping address was for my daughter in Florida. I received a confirmation email for my order and it showed it would be mailed to my house. I tried calling and was on hold for 30 minutes - finally giving up. Tried another number and got a human (eventually). She said they couldn't track an order until 24 hours after it had been made. Called 28 hours after the order had been submitted. Another long wait on hold but finally got a human. I was told once the order is in the computer it cannot be changed. I told them I wanted to cancel the order since it was not going to be shipped to the location I requested. The woman said they cannot cancel an order after it has been put in the computer. Now I have to wait for it to be delivered and refuse to accept it. Maybe if I'm lucky I'l get a refund in a couple of months.

Pros and Cons:

Received confirmation email within 2 hours
Difficulty reaching Customer Service
No website to ask for help
Unable to change or delete order even a couple hours after it was made
No order number and shipping address was wrong

Bottom Line: No, I would not recommend this to a friend

---

SCAM!

By Adriane F.

,

Houston, TX

,

May 11, 2020
Verified Reviewer

Overall Experience:

Ordered weeks ago. When you call it automictically answers with a recording to sell you something, After the pitch, it hangs up. I don't believe it exists. Good thing they cannot get to my account. No money has been taken, however, no merchandise either.

Bottom Line: No, I would not recommend this to a friend

---

Advertisement

---

SCAM

By Janet H.

,

Stamford, CT

,

May 8, 2020
Verified Reviewer

Overall Experience:

I would never ever recommend ordering from this company. I ordered several weeks ago and have heard nothing from them. When you call their phone number, you automatically get disconnected. The company is a scam!

Bottom Line: No, I would not recommend this to a friend

---