Gundry MD Prebiothrive
Claimed This company has claimed this profile, is getting alerted on any new customer reviews entering this page, and may engage in dialogue with its customers to address their matters.

Companies cannot pay money or provide goods in order to remove or alter customer reviews.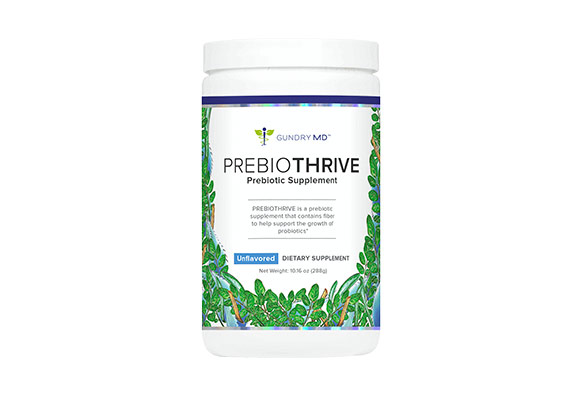 Gundry MD Prebiothrive is a once-daily supplement that claims to feed good bacteria in your gut and limit bad bacteria, thereby increasing digestive health and enertgy.
---
This company is actively collecting reviews from its customers. All reviews submitted are subject to moderation and approval to ensure they meet our

Review Guidelines

.

Can stay on diet now.

By Jan McGee

,

Payson, AZ

,

Dec 21, 2017
Verified Reviewer

Overall Experience:

It didn't really expect the Prebiothrive to make such a difference in my eating, but it was really making my tummy feel good. I just started adding it to my daily smoothie, and after a few weeks, I realized that my sweet cravings were not so horrible and irresistible anymore. Then I thought, since I'm successfully controlling my sweet cravings, just maybe I could stick to a diet for more than just a few days. I started eating a soup bowl full of meat or fish with veggies roasted in olive oil and spices twice a day, along with my daily fruit, spinach, and milk smoothie. That's it!

In almost 3 weeks I am down 6 pounds. It has been a very very long time since I have been able to stick with a diet, and the only thing that's changed is adding Prebiothrive to my diet. I am definitely going to order more of this stuff.

Bottom Line: Yes, I would recommend this to a friend

---

This stuff really works

By Dan

,

California

,

Dec 20, 2017
Verified Reviewer

Overall Experience:

Prior to using Prebiothrive, I was experiencing intestinal distress and almost daily diarrhea. I started using Prebiothrive and the diarrhea cleared up in 3 days and has not come back. My wife had some stomach issue where she would belch constantly. She started using Prebiothrive and the belching went away. She stopped using Prebiothrive and the belching returned so she immediately started using Prebiothrive and again the belching stopped. We are both sold on using Prebiothrive.

Bottom Line: Yes, I would recommend this to a friend

---

Advertisement

---

Overall Experience:

All food intolerence symptoms were gone after three weeks of Prebiothrive use. I worked with holistic medicine doctors for three years with thousounds of dollars spent with no improvements.

Thank you Dr. Gundry.

Bottom Line: Yes, I would recommend this to a friend

---

Second container of Prebiothrive

Fort Myers, FL

,

Dec 19, 2017
Verified Reviewer

Overall Experience:

As indicated I am on my second container of Prebiothrive. I feel that it is very effective at helping me maintain my weight loss. I am extremely regular now that I am using it. I have started using it mixed with Vital Reds, and that makes it tastes better.

Bottom Line: Yes, I would recommend this to a friend

---

Advertisement

---

Overall Experience:

I do not know about the long-term effects of this product. I had difficulty dissolving it. The results of stirring was a gummy sludge which I did not enjoy swallowing. I called the company and was advised to use a shaker. I did shake it for several minutes and still had a gummy sludge to swallow, admittedly smaller. I think capsules would be a palatable substitute for this goo.

Bottom Line: No, I would not recommend this to a friend

Oct 16, 2017

Hello Robert, thank you for leaving us your feedback. I am sorry to hear that you are unhappy with the texture of PreBioThrive. Using a shaker bottle is usually your best bet. I would suggest adding it to a smoothie, or any other drink of your choice. If you are still unsatisfied with the taste of our product, please email me directly so I can help you in getting a full refund. My email is aria@gundrymd.com Thank you!

---

Results

By F. Holley

,

Chapel Hill, NC

,

Oct 14, 2017
Verified Reviewer

Overall Experience:

I used the product religiously three times a day for a month as directed in order to be able to fully allow the utmost precision in deciding whether it worked or not for me.

I sadly admit that I had gas from the get-go and continued to have it throughout the month of taking it. Unfortunately, I did not feel any better, have any fewer cravings as advertised or feel less bloated in general.

Bottom Line: No, I would not recommend this to a friend

Oct 16, 2017

Hello F. Holley, Aria here with Gundry MD. Thank you for leaving us your feedback. I am sorry you did not have any noticeable benefits with PreBioThrive. As with any supplement, PreBioThrive may not be for everyone. Please keep in mind that PreBioThrive is a prebiotic and works best in conjunction with a probiotic. I would love to make sure you receive your full refund. Please email me at aria@gundrymd.com if you are looking to start your refund process. Thank you!

---

Overall Experience:

I am not a milk drinker, nor do I routinely use dairy products. The online commercial I saw made no mention of this product containing milk. Some of the people who are having problems with the product may also be intolerant of milk.

I have used it for five days despite the milk. Some abdominal cramping has occurred and bloating. Also, it does not mix well with water; large clumps are left at the bottom of the glass.

I will still use it to see if it helps my overall health in the next month. But I think it would be fair to people (especially Vegans, and lactose intolerant people) to warn them ahead of time about the milk.

Bottom Line: No, I would not recommend this to a friend

Oct 3, 2017

Hi there Margaret! I'm Aria from Gundry MD. Thank you so much for leaving us a valuable review of your experience with Prebiothrive so far. The ingredients of Prebiothrive are clearly stated on our website but I have taken note of your suggestion. I will do my best to implement this in the future.

Also, we always suggest that our customers consult their primary physicians before consuming any new product to ensure that they don't experience any interactions. I would love to offer you a full refund if you are still not satisfied with Prebiothrive. If that time ever comes, please email me directly at Aria@Gundrymd.com and I can begin the refund process right away!

---

Seems to work

By Carol Baker

,

Glens Falls, NY

,

Sep 8, 2017
Verified Reviewer

Overall Experience:

I only started to take this a week ago, and I would recommend it for two reasons. I have been under a lot of stress and was dealing with diarrhea due to it. Which does happen to me when stressed. The difference is that my bowel movements are now soft, formed and only twice a day instead of about 6.

I am watching my weight, I am about 30 pounds overweight and I do feel my cravings for sugar has lessened. It is too soon to say on whether I will be losing a lot of weight, I will have to wait and see. I am trying to follow this diet, it is a little strict but I hope to get the hang of it.

Bottom Line: Yes, I would recommend this to a friend

---

Overall Experience:

Pros: when I started using this the results were outstanding, and I had no problems. The results are still fantastic but I no longer use it daily because I have started having a bit of nausea after I use it.

On the upside, I have lost weight without even trying. I no longer retain water during my monthly. My skin looks fantastic. Bowels move smoothly and regularly. I think this product can ferment though. I bought one and it smelled funny. They promptly sent me another one free of charge.

Not sure why the nausea happens, but I think that it is just one's body letting one know that you need to take a break. Now I just use it a few times a week. I actually think it is worth the price. I now get three for about $29 each for buying three at a time as part of their loyalty program.

I cannot tolerate Vital Reds. That gives me nausea a lot.

Bottom Line: Yes, I would recommend this to a friend

---

No adverse effects

By IthacaNancy

,

Ithaca, NY

,

Aug 30, 2017
Verified Reviewer

Overall Experience:

I've been taking Prebiothrive for about a month now. At first, I may have had a bit more gas, but nothing to keep me from being socially active. The gas also may be related to having made some exceptions for increased carbs when traveling, so I can't be sure of the reason. I've returned to a fairly low carb diet, and there are no problems with gas now.

My digestive system seems to be processing my foods well. I'm also taking Vital Reds, Lectin Shield, Glucose Defense and Primal Greens as well as some other supplements and eating a clean seasonal, local, organic whole foods keto/primal diet. My long-term hope is to protect my brain from cognitive degeneration and my body from developing cancer, but I like the immediate benefits of good digestion, high energy, clear thinking and lack of cravings to assist with weight maintenance and maybe even losing those ten pounds!

I'm also meditating, getting regular sleep, exercising, getting out in the sunshine, and enjoying time with my dogs, family, volunteering, and keeping my mind active by learning new things. Who can say what is the most important factor, and I wouldn't give any one thing the credit for feeling good, but together it feels like a plan I want to maintain.

Bottom Line: Yes, I would recommend this to a friend

---

Watch out for their reorder policy

By Lee Irish

,

Southampton, New York

,

Aug 6, 2017
Verified Reviewer

Overall Experience:

I ordered Vital Reds from Dr. Gundry's site, and they seem to be similar to other products that are on the market, for a lot less money. But I did not know that when I purchased it.

If you decide to order from this company, be very careful not to give them a credit card number as I ordered from them six bottles, only a month ago (exactly 30 days ago). I ordered six as I wanted to give some to my daughter and some to my sister.

I have not been taking the Vital Reds long enough to see any specific results.

And not 30 days later, this morning I received a notice that they have shipped six more bottles of the same product to me and charged my charge card more than $245.

When I tried to call them on the phone, no one answered, just a machine.

Be very careful and do not give them your credit card number unless you don't care if they keep charging your card.

I do not know how good the product is, as I have not had any specific results from using it for about 15 days, but I would never order from them again.

My charge card company said this is called FRAUD.

Bottom Line: No, I would not recommend this to a friend

Aug 24, 2017

Hi there Lee, Aria from Gundry MD here! Thank you so much for leaving us a valuable review. Our customer's experience is our number one priority and we strive to make that experience better each and every day. Our monthly subscription service is something that a customer can select at checkout. This ensures that our customers receive their favorite Gundry MD products right before they run out each month.

Again, this is an optional feature that customers can select at checkout. I would be more than happy to offer you a full refund for the trouble this has caused you. Please e-mail me directly at aria@gundrymd.com and I will begin this process immediately. Thank you Lee!

---