Gwynnie Bee
Claimed This company has claimed this profile, is getting alerted on any new customer reviews entering this page, and may engage in dialogue with its customers to address their matters.

Companies cannot pay money or provide goods in order to remove or alter customer reviews.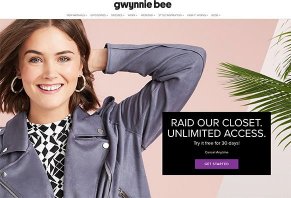 Targeted at plus-sized women, Gwynnie Bee's subscription service claims to provide the ability to swap the latest fashions freely, and buy when you're ready.
Gwynnie Bee Review: What to Know Before You Buy
Gwynnie Bee is a monthly subscription service that allows members to rent articles of clothing for a flat fee. Users can make unlimited swaps, and shipping is free. Further, the number of items you can have out at any one time is determined by what subscription level you choose.
Gwynnie Bee's clothing is gently used but kept in pristine condition and laundered before shipping out to the next member. There's even a "buy it if you love it" option for those who can't part with certain pieces.
Together, they claim it's like having a whole department store as your closet. But, are they necessarily right for you? Let's dive into the details to help you find out.
How Gwynnie Bee Works
Would-be members of Gwynnie Bee can create a guest account to browse their clothing selection by entering their email address and creating a password. The browsing experience is intended to emulate online shopping, and users can search within article categories and then filter based on size (sizes 0-32 available), color, and brand.
User's "Closet" specific items that they'd like to have in their personal rotation. Gwynnie Bee recommends that you Closet a minimum of six items for every one item allotted in your subscription (or, at least 25 items); that way if something becomes unavailable, there are enough choices to avoid an interruption in your service. You'll be able to prioritize any items in your Closet.
Additionally, users are invited to "Attic" items they would like to favorite for later Closeting, perhaps for a change of season or for special occasions.
Your first Gwynnie Bee box is shipped within 2-3 days of signing up, and you can keep items for as long as you'd like. There's also no limit to how many times a month you swap items. Shipping is always free, and when you're ready to return the clothing, you'll find prepaid bags included in each box of clothing. Also, laundering items before returning isn't necessary.
An additional nice touch is that you can notify Gwynnie Bee when you're popping items back in the mail, and they'll prepare your next box in advance in an effort to limit turnaround time.
But is wearing shared items sanitary? Gwynnie Bee's FAQ addresses this concern by promising that each piece is meticulously inspected three times before sending.
Another concern is the possibility of damaging rented clothing. This is also addressed in the site's FAQs with a relaxed attitude. "Such is life!" says Gwynnie Bee, and does not mention any charges for damaged articles. They do ask that you email or call their customer service to give them a heads up that the item will need repair or replacement.
All items in Gwynnie Bee's stock are available for purchase at a discount. However, you aren't allowed to buy pieces before trying them. The site also claims that items are retired once light wear and tear begins to show, and then donated to a local charity.
How Much Does Gwynnie Bee Cost?
After a 30-day free trial, Gwynnie Bee's rates are based on the number of items you can have in rotation at any given time and are charged monthly to your credit card on file. These rates are as follows:
One item for $49
Two items for $69
Three items for $95
Five items for $139
Seven items for $179
Ten items for $199
Gwynnie Bee also has a referral program, through which you can earn a free garment for a month each time you refer a friend who also subscribes.
Subscriptions can be canceled at any time, but all items must be returned within seven days to avoid being charged the full price. Support can be reached at 855-499-6643 or gwynnie@gwynniebee.com.
What People Think of Gwynnie Bee
Since writing our original article, more than 30 HighYa readers have provided feedback about their experiences with Gwynnie Bee, giving them an average rating of 2.2 stars. Compliments frequently referenced great selection of clothing and ease of use, while complaints often revolved around high prices, as well as clothing that didn't meet taste or quality preferences.
Gwynnie Bee had a similar average rating of 2.7 stars among nearly 180 customer reviews on SiteJabber, with many of the same compliments and complaints.
We also encountered a variety of independent bloggers who wrote about their experiences with the company, many of whom remarked that they loved the service and appreciated what it had done for their fashion options.
Many seemed to appreciate that Gwynnie Bee also allows users to familiarize themselves with the sizes of different brands and find what works best for them before committing to an investment, although most were from several years ago when Gwynnie Bee specialized in plus size women's clothing.
As a company, Gwynnie Bee Inc. is based out of Long Island City, NY and has been in business since 2011. They held an A+ rating with the Better Business Bureau, based on 12 customer reviews and more than 50 closed complaints, as of 5/23/18. Most of these appeared to reference billing and/or service concerns, although a company representative responded in each instance with a resolution.
Gwynnie Bee vs. Rent the Runway, Stitch Fix, and Other Clothing Memberships
While we didn't encounter any other companies with the exact same business model as Gwynnie Bee during our research, they are up against some stiff competition from other popular options like Rent the Runway, Stitch Fix, Le Tote, and Dia & Co.
Most of these companies (Gwynnie Bee, Rent the Runway, and Le Tote) allow their customers to receive clothing, add items to 'Closets' that are sent out on a regular basis, return clothing using pre-paid labels, provide coverage for light damage, and the ability to purchase clothing at a less-than-retail discount.
On the other hand, clothing memberships like Dia and Stitch Fix involve personal stylists sending you articles of clothing of the stylist's choice (you do not 'closet' items or get to choose what they send you). You also cannot wear, damage, and then return these items—you either keep them and wear them, or don't try them at all and simply send them back.
| | | |
| --- | --- | --- |
| Company | Price | Notes |
| Gwynnie Bee | $49 - $199, depending on the number of items | Can have between 1 and 10 items out at any time, sizes 0-32 available, unlimited swaps per month |
| Rent the Runway | $30 per rental - $159/mo | Unlimited pieces. Fit guarantee. Also offers formal wear (including bridal wear), maternity. |
| Stitch Fix | Items range in price between $20 and $600 (average $55 each). $20 per-box styling fee. | Offers clothing for men (28-42W) and women (0-24W). Sends five pieces of clothing to your door, keep and pay for the ones you want (no rentals available). No subscription required. Includes maternity. |
| Le Tote | $59 - $79/mo | Unlimited totes per month. Thousands of brands and styles, including maternity. |
| Dia & Co. | $20 per-box styling fee, which is credited toward any items you decide to keep | Dedicated personal stylist, 25% off when you buy everything in your Style Box |
How can you choose which of these is right for you? Like most other consumer buying decisions, it might largely come down to your specific needs and preferences.
For example, if you're looking for maternity clothing, Le Tote and Stitch Fix might be solid options, while only Gwynnie Bee, Rent the Runway, and Le Tote were the only companies offering rentals, with an option to buy. Outside of this, you'll want to carefully investigate each company's online feedback, which could be a good indication of what you can expect after becoming a customer.
How does all of this stack up for Gwynnie Bee?
The Bottom Line on Gwynnie Bee
Whether or not it's actually a rotating closet, or simply the opportunity to try new brands, the worthiness of Gwynnie Bee's cost is wholly based on individual preference.
Based on extensive customer feedback, the company seems to deliver on their promise of variety, and there aren't any hidden fees. So, if you feel like trying before you buy, or just sticking to trying and swapping, Gwynnie Bee's service seems to keep most of their customers satisfied.
Originally Published on December 2, 2014, Revised by Derek Lakin on June 7, 2018
Beware! Rip off that steals your money.

By Babystang

,

CA

,

Dec 16, 2016
Verified Reviewer

I do not recommend! The worst company. I have been charged by them for one month service that I should never have been charged for. They were supposed to refund me and still over a week later they have not.

I signed up for GB for the free 30 day trial and spent 2 hours picking out more than 30 items for my closet since I kept getting the notification saying I needed more items in my closet before they start processing my shipment. Then it took two weeks to get my first item. I signed up for 3 items per week. This was not 3 items per week. Then after 2 weeks 3 items came but when I returned it, it took another week before they sent me anything else. So I barely was able to try their clothing.

The clothes they did send were either the wrong size from what I ordered or way too large or way too small. Some of the clothes were very worn and ratty. Before my 30 day trial was up I emailed them to ask if I could have another 30 days since I really didn't get to try their service. They denied me the extra time. I placed an order for their clothes they sell on sale and spent over 6 hours deciding what they had and what I wanted to order. I got an email confirming that I was charged and that they received my order.

Thank you for placing your order with Gwynnie Bee Shop! This email is to confirm your recent order.

Date 11/22/2016 Subtotal: $64.00 USD
State Tax: $4.16 USD
Shipping: $0.00 USD
Total: $68.16 USD

I also had to contact them because although I ordered a certain dress, in the email it had another dress.

I then called and canceled my 30 day trial with them. They never informed me that doing so would cause any problems.

Two days later I get an email stating that my order for the $68.16 had been canceled. I didn't cancel it. I called them up and was told that since I canceled my 30 day membership trial they canceled my order. No one told me that. Yet they still charged me the next months membership. What a lie and rip off. When I canceled my account the money was then taken off my card. They still took the next months amount from my card and still have not refunded me that. They failed to send my clothes that I ordered and paid for. Do not shop with this company, it is a rip off and they lie to their customers. They take your money without your permission.

The sizes are wrong, the items you want are never available and whatever they felt like sending me was horribly old fashion and excessively worn out. In addition when I called to ask how come I didn't get any bottoms I was always told they were in repair. So all I received were tops that I had no use for and that looked like my granny.

REFUSED to do anything over the phone. I am STILL fighting with them to cancel the service. They had best not bill for the next month, or there is going to be problems. Calling them does not good whatsoever. Scam pure and simple! They claim subscriptions can be canceled at any time but that is a lie. I tried to cancel on Nov 21st and still they have not refunded me the money they stole from me. They claim they sent me a shirt that I never received. Even after I told them I never received the item they told me to return it. How the hell do I return something I never received?

Clothes are trash & customer service sucks. I had to add a lot of crap that I didn't want in my closet just to get them to send me something. Everything I got was cheaply and poorly made. Half the time my stuff was delayed. Half the time it was so worn and had runs and marks on the clothes.

1. Clothes are crap - they are cheaply made and don't run true to any size.

2. Good luck canceling, it isn't going to happen. Canceled this, returned the clothes and still have not been refunded.

Bottom Line: No, I would not recommend this to a friend

---

They will cancel your order!

If you purchase something in the Gwynnie Bee shop, your order will be canceled completely if you cancel your subscription.

My mother had bought me three dresses from the Gwynnie Bee shop from my account, and I canceled my subscription two weeks later. The dresses were never sent, and they told me they only ship the orders when they ship the subscription. So they want you to pay them monthly just to buy clothes from the shop. They literally held my mom's money for two weeks with no intentions on sending it unless I paid them $100 for another month of service.

Also, there were no warnings of any kind when checking out on the Gwynnie Bee shop page.

Bottom Line: No, I would not recommend this to a friend

---

Advertisement

---

Just Crap

Cincinnati, OH

,

Feb 16, 2016
Verified Reviewer

1. Clothes are crap - they are cheaply made and don't run true to any size.

2. Good luck canceling, It isn't going to happen. Canceled this, returned the clothes and over 6 months later out of the blue I am charged $180? Tried to call customer service 5 times to talk with someone, and of course no answer (spent 45 minutes on hold today!). So I disputed the charge with my credit card company and they billed me again. RUN away from this. Zero ethics.

Bottom Line: No, I would not recommend this to a friend

---

Very Poor Styles

I am a 16/18 and while not terribly overweight I DO know what styles and patterns are unflattering for the overweight. It is simply common knowledge, (and common sense), that overweight women need to avoid horizontal stripes. They simply make the large look larger. Gwynnie Bee's selections are rife with these. The horizontal stripe patterns outnumber the vertical and diagonal by about 4-1. Ladies with very large upper arms are better served with mid upper arm length sleeves at the very least. Gwinnie Bee's selections for summer are almost overwhelmingly sleeveless.

Overweight ladies' knees often tend to be trouble spots, but it is next to impossible to find a single dress or skirt at the service that is not short and above the knees. A few maxi dresses and skirts are the only other options. Big scoop necks also make the heavy look heavier. Again, Gwynnie Bee is rife with these, Next to impossible to find the slimming V-necks heavy women should wear. It seems to me that the designers at Gwynnie Bee are utterly CLUELESS about styling and fashion for the larger sizes. Or maybe they are catering to a number of heavier women who do not care what other people think, they want to wear what skinny girls wear, regardless of how unattractive or even outlandish they may look. If that is the case, FINE, stock those clothes for women who want to wear skinny girl styles. But for crying out loud, try stocking some clothing that actually is FLATTERING to the overweight.

There ARE gorgeous, trendy, young, and flattering styles out there for heavier women. Until GB can get around to doing that I would not recommend this service and also would hold off until they quit using USPS and went to faster shipping methods.

Bottom Line: No, I would not recommend this to a friend

---

Advertisement

---

Inconsistent

By Danielle B

,

Denver, CO

,

Feb 13, 2017
Verified Reviewer

I wasn't greatly impressed with Gwynnie Bee. After three months of service, I canceled my account due to the lack of clothing. Anything that was remotely attractive was always unavailable.

Most of the clothing I did receive was really worn and cheaply made. Specifically, the tops.

The service itself is too expensive for the quality you're receiving. I signed up for the one item a month plan, which I believe is advertised as $39, but each month I was billed $52.40. When I asked why, I was told that there had been a price increase, however, I was never informed of such.

I didn't have any problems canceling my service. I called, and they answered within five minutes, canceled my membership, and didn't bill me for anything.

The only saving grace is the dresses. There are tons of styles that are a bit more modern, and the sizing is a bit more consistent. So, if for some reason you attend many events and need evening wear all the time, then yes, I'd recommend this company.

But if you're looking for a nice top or some cool pants, I'd head to H&M instead.

Bottom Line: No, I would not recommend this to a friend

---

Not great

By Judy Neeb

,

Michigan

,

Feb 11, 2017
Verified Reviewer

This sounded like a great idea and I wanted to try this service. I selected some clothes I really wanted to try but never received them. Most of the items were sent back without ever wearing them. Then I was charged a day early for the service, and to cancel you must call in. Well, I now have to wait 7-10 days and then call back to receive my refund.

Apparently, I have nothing but time and am in charge of my own customer service. I called a day early to cancel, but they charged me, and now I have to wait on my own money. I would never recommend this company.

Bottom Line: No, I would not recommend this to a friend

---

If they actually did what they promised, it would be good

By Frank Stewart

,

Los Angeles, CA

,

May 18, 2017
Verified Reviewer

I bought a 3-item subscription for my wife for Christmas.

At first, it was OK. She got a couple of sweaters she liked. Then, she got some stuff that was stained. Gross. They promote how much they check and clean the clothes, but that's all hype. Then a few months went by, and I hadn't seen my wife get any new clothes. I asked her, "What happened to Gwynnie Bee?" She said they had stopped sending her clothes. I checked my bank statements to find they were super-efficient at taking money from my account but had lost interest in actually providing the service.

My wife called to find out what was wrong. They blamed my wife and said she didn't have enough clothes selected. They never notified her. They just stopped shipping clothes. Where I come from, there's a word for taking someone's money in exchange for nothing. It's called "stealing." I feel bad that my wife's present turned out to be a dud.

Bottom Line: No, I would not recommend this to a friend

---

Not great

By Ruby

,

Mar 11, 2017
Verified Reviewer

I've used Gwynnie Bee for about a year now. As someone in the process of losing weight, it's been invaluable. I've been able to have nice clothes to wear without having to buy them in new sizes all the time. HOWEVER, I do not think it is worth the money. I buy the three items per month plan for about $90. Even with being religious about pre-notifying them of returns, I'm lucky if I get nine items in a month, so I'm essentially paying $10 for each item I wear. Which is an awful deal.

They're just ridiculously slow to ship out new items, which I suppose serves them well, but it sucks for their customers. And it's not that I don't have enough items in my closet for them to choose from. I pretty much always have over 600 items closeted. So anyway, they basically milk you for all that they can while slowly trickling clothes out to you. Not a good value at all.

Also, when you cancel, you forfeit any remaining days of your membership. So say your membership renews on the 30th and you cancel on the 15th. You pay for that whole month but only get half a month. It's a complete rip-off.

Bottom Line: No, I would not recommend this to a friend

---

Do not try!

By Kristen

,

Seattle, WA

,

May 14, 2017
Verified Reviewer

Do NOT try Gwynnie Bee!

Don't fall for the free trial. I did the free trial and was not impressed. Clothes take forever to ship, so you only get one shipment a week. After the free trial was up I went to cancel my account. They talked me into continuing another month of my membership for a 50% discount to try them again, so I did.

The clothes were very worn, with waistbands folded over from other people wearing them. Also, a lot of them looked nothing like the pictures online. They pin their clothes to the models so often the style isn't even the same as it looks online. With a lot of the clothes I got, the fabric was very cheap feeling and often the higher end brands I put in my closet I never got in the mail. I hated that you don't get to choose what you want to be sent to you; you just add items you like to your closet, and they send whatever is available, which will never be pieces that coincide with each other to make an outfit. It definitely felt like the less cute things by unknown brands were what was sent to me, and higher demand things are probably never available.

Thus, after seeing no improvement the second month I tried them, I went to cancel my account and was charged another month because I couldn't get through to them in time. FYI, you can't cancel online. They only let you call to cancel and only during business hours. They are EST, and I am PST. So, their business hours are early in the day for me when I am at work. Very unreasonable that you cannot cancel by email or online. I have to take time out of my job to call this stupid place which is really frustrating. Their customer service is pretty much useless and nonexistent.

Now onto the prices. The prices are insane! I had to pay $53.31 after tax for one item out at a time, which with slow shipping came down to one item a week. I could buy a whole new outfit with that and cuter clothes at other places I shop. The other plans go up to $69 for two items + tax and $95 for three items + tax.

There is no freaking way this business is going to be around much longer unless someone else buys it and does a huge makeover on the business. Most likely some other company will just be better at what Gwynnie Bee is trying to attempt and put them out of business. Heed our advice ladies, and try somewhere else. Stitch Fix now has plus-size options, and it's only $20 to get five items personally styled for you, buy what you like and send back what you don't. Also, you can get boxes when you want them does not have to be reoccurring. Very convenient.

Bottom Line: No, I would not recommend this to a friend

---

Clothes are trash & customer service sucks.

By Ivy

,

Texas

,

Mar 20, 2016
Verified Reviewer

In my one month trial I never got a single garment that I wanted. I had to add a lot of crap that I didn't want to my closet just to get them to sent me something. Everything I got was cheaply and poorly made. Half the time my stuff was delayed.

Bottom Line: No, I would not recommend this to a friend

---

Nice for selection of dresses, but not transparent

I was a member of Gwynnie Bee for about nine months, receiving two items at a time. During that time, I found many dresses that I liked and bought, as well as a few tops. It was really nice to have a selection of clothes in plus sizes, plus reviews by others who had tried them before me. For that reason, I think the membership was worthwhile. I recently stopped my membership because there just weren't enough items other than dresses that I was interested in trying, and I had fully stocked my dress needs.

Unlike some other reports I read, I had no problem canceling my membership. I suspect that it may be because I had been a member for a significant period of time, so they got the money they needed to out of me.

My primary concern with the system is the complete lack of transparency on pricing for membership or the clothes. On the day my membership ended, I called to purchase one of the dresses that I still had at home. Although they tout deep discounts on the clothes, I never found them to be much different, and sometimes even more expensive than other stores.

However, I was surprised to learn that she was unable to quote me the member price (I was considering renewing for one more month if the discount was significant) because apparently individual members are quoted different prices for the same items. The customer service rep (who was very nice) explained that a members' price depends upon all kinds of criteria, including how long you have been a member, whether you have ever had a return or payment "discrepancy," etc. Since that pricing criteria is not transparent to members, I assume you never get any opportunity to challenge anything that they deem a "discrepancy." I also don't know if I ever had one.

I do not dispute Gwynnie Bee's right to price their clothes however they would like. However, failing to disclose that I may be paying a "member price" up to 30% more than another member is simply deceitful. Even when I am interested in stocking my closet again, I won't consider Gwynnie Bee an option for that reason.

Bottom Line: No, I would not recommend this to a friend

---