HempWorx Reviews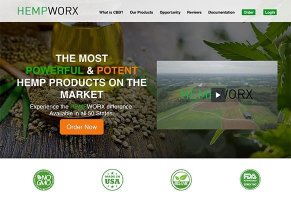 Offered by MyDailyChoice, HempWorx's topical and oil-based internal products promise to deliver the CBD you need for benefits like improved health and overall wellness.
About HempWorx
Available in all 50 states, HempWorx offers a line of high-quality, affordable CBD-infused products advertised to help support a healthy state of mind, overall wellness, and a balanced endocannabinoid system.
All CBD used in their products is sourced in the USA from a Kentucky-based organic farm, where it's grown 100 percent naturally without genetic modifications, and who uses a unique extraction method that doesn't dilute the products with fillers, contaminants, or artificial ingredients.
All HempWorx products are fully FDA-complaint as well, since they contain less than 0.3% THC.
Together, the company claims their products are trusted by top doctors and health professionals around the world—but does that necessarily mean that you should become a customer or an affiliate? That's the central question we'll help you answer in this article.
The Basics of Hemp-Based CBD Products
The goal here isn't to overwhelm you with information, but there are some important details we need to quickly cover in order to fully examine HempWorx's claims.
Hemp is a commercial-grade form of cannabis that contains almost no tetrahydrocannabinol (or THC, the component that gets marijuana users 'high'), while still retaining high levels of cannabidiol, or CBD.
Inside the body, CBD molecules attach to specialized cannabinoid receptors, which are part of our larger endocannabinoid system. And while research is still in its relative infancy, as we outline in Do CBD-Infused Creams, Oils and Other Products Really Work, this could deliver a wide range of potential benefits, including:
Decreased inflammation
Reduced chronic pain
Relief from conditions like nerve damage, AIDS, diabetes, epilepsy, cancer, depression, anxiety, bipolar disorder, and bone disease
Support for age-related disorders like Alzheimer's and other forms of dementia
However, in the vast majority of instances, this CDB is delivered internally, whether using drops like those offered by HempWorx, or other forms of supplementation. But, we learned from professionals in the article there currently aren't any formal studies looking at the relationship between topically applied CBD creams and pain relief, or reduced signs of aging.
With these basics in mind, what products does HempWorx lineup contain?
Taking a Closer Look at HempWorx's Products & Ingredients
HempWorx offers a total of six different products:
HempWorx CBD Drops
This is the company's flagship line, which consists of pure oil and herbal drops available in 500 mg (10 mg phytocannabinoid hemp oil) and 750 mg (12 mg phytocannabinoid hemp oil) concentrations, as well as in peppermint and natural flavors.
HempWorx claims these drops can help support healthy bones and blood sugar levels already within a normal range, promote healthy digestion, relieve stress, and neutralize free radicals and reduce instances of cellular degeneration. You can use as needed by dropping onto your tongue, or by adding to food and drinks for a punch.
Compared to other CBD oils, the company's agricultural partners utilize fresh lock drying, a proprietary system that eliminates all mold and pathogens that can sneak past other quality control processes during packaging.
HempWorx Topical Products
Renew
An anti-aging cream rich in epigenetic factors that promises to help reduce wrinkles and fine lines, increase the longevity of skin cells, and help your skin look younger, tighter, and brighter. Ingredients:
Aqua, Allantoin, Aloe Barbadensis (Aloe Vera) Leaf, Glycerin, Xanthan Gum, Cetearyl Glucoside, Glyceryl Stearate SE, Cetyl Alcohol, Simmondsia Chinensis (Jojoba) Oil, Polea Europea (Olive) Fruit Oil, Caprylic Capric Triglyceride, Cannabis Sativa (Hemp Seed Oil), Theobroma Cacao (Cocoa) Seed Butter, Butyrospermum Parkii, Stearyl Alcohol, Sodium Hyaluronate, Camellia Sinensis (Green Tea) Leaf Extract, Gluconolactone, Sodium Benzoate, Calcium Gluconate, Pyrus Malus (Apple) Fruit Extract, Phytocelltec Malus Domestica
Revive
An AM and PM moisturizer that can also help reverse the visible signs of aging by preventing free radical damage, moisturizing the skin, and improving overall texture and complexion:
Aqua, Allantoin, Aloe Barbadensis (Aloe Vera) Leaf, Glycerin, Xanthan Gum, Cetearyl Glucoside, Glyceryl Stearate SE, Cetyl Alcohol, Simmondsia Chinensis (Jojoba Oil), Olea Europa (Olive) Fruit Oil, Caprylic Capric Triglyceride, Theobroma Cacao (Cocoa) Seed Butter, Butyrospermum Parkii, Stearyl Alcohol, Sodium Hyaluronate, Cannabis Sativa (Hemp Seed Oil), Camellia Sinensis (Green Tea) Leaf Extract, Gluconate, Sodium Benzoate, Calcium Gluconate, Retinol, Hydrolyzed Collagen
Relief Icy Pain Rub
A topical rub whose proven ingredients are quickly absorbed through the skin to help melt away tension, muscle aches, joint pains, and symptoms related to rheumatoid arthritis. In fact, HempWorx advertises that CBD products (not Relief Icy Rub, specifically) have been shown to help relieve pain more effectively than opioid painkillers in some instances:
Aqua, Sodium Acrylates Copolymer Lecithin, Glycerin, Allantoin, Sodium Hyaluronate, Stearic Acid, Cetyl Alcohol, Stearyl Alcohol, Glycol Distearate, Menthol, Glyceryl Stearate, PEG-100 Stearate, Tocopheryl Acetate, Emu Oil, Cocos Nucifera (Coconut Oil), Squalene, Cannabis Sativa Seed Oil (Hemp Seed Oil)< Arnica Montana Flower Extract, Boswellia Serrata Resin Extract, Aloe Barbadensis Leaf Juice, Phenoxyethanol, Ethylhexylglycerin, Gluconolactone, Sodium Benzoate, Calcium Gluconate
HempWorx for Pets
The company's veterinarian formulated, beef flavored Dog Treats contain 2.5 mg of active CBD each (derived from the whole plant), and are free from wheat, soy, and corn.
Their 250 mg CBD Oil for pets comes in a natural bacon flavor and contains 5 mg of active CBD per serving, which is extracted from pressed hemp seed oil rich in fatty acids.
Could the CBD in HempWorx Products Cause Side Effects?
In our CBD article, we learned that common side effects reported by those who use internal CBD include headache, dizziness, and drowsiness (no specific circumstances or dosages noted). Alternately, other than perhaps caused by an allergy to hemp, no serious side effects have been reported by its topical application.
Still, on their website, HempWorx recommends checking with your physician or medical doctor before taking their products, especially if you're "pregnant, chronically ill, elderly, under 18, or taking prescription or over the counter medicines."
How Much Do HempWorx Products Cost?
When you're ready to make a purchase, there are two ways to do so: as a Preferred Customer, where products are shipped directly to you, or as an Affiliate, which involves a one-time $20 activation fee, but will also allow you to earn commissions from the sales you make (more about this next).
After making your choice, you'll gain access to five product packages:
Entry Pet Product: $39
1 Product: $69
2 Products: $138 ($ per product)
4 Products: $199 ($ per product)
12 Products: $599 ($ per product)
Regardless of which option you choose, all HempWorx products come with a 30-day refund policy, less S&H, which you can request by reaching out to MyDailyChoice at (702)-793-2826 or support@mydailychoice.com.
More About the HempWorx Opportunity
MyDailyChoice (the parent company behind HempWorx products) offers an 85 percent commission payout for every sale made by an Affiliate, and all orders are drop shipped directly to customers. There are no annual fees.
In addition to the opportunity for earning commissions, Affiliates are also given access to lead capture pages, retail customer sites, autoresponders, professionally designed replicated websites, and phone, email, and live chat support.
To learn more about earnings potential by selling HempWorx products, be sure to thoroughly read through MyDailyChoice's Compensation Plan.
What Do We Know About the Company Behind HempWorx CBD Products?
HempWorx wasn't listed with the Better Business Bureau at the time of our research, although we learned from their website that the main company, MyDailyChoice, was co-founded in 2014 by CEO Josh Zwagil and Jenna Zwagil.
They held an F rating with the Better Business Bureau, based on four positive customer reviews and 10 closed complaints, as of 5/9/18. Most appeared to reference shipping concerns.
In addition to HempWorx, MyDailyChoice also offers a line of oral nutritional supplement sprays like:
Peak (deer antler velvet and superfruits)
Shield (alkalinity spray w/coral calcium)
Boost Natural Energy (Vitamin B12)
Trim365 Weight Loss Spray (Garcinia Cambogia)
Sleep (melatonin and valerian root)
Brain (Cognizin and Sensoril)
Are There Other CBD-Based Products Like HempWorx?
As Josh frequently emphasized on the HempWorx website, the cannabis industry is growing rapidly. In fact, according to a 2017 Forbes article, it's expected to create more jobs by 2020 than the manufacturing sector, with more than $24 billion in combined sales between the medical and recreational markets.
Even narrowing the focus to hemp-derived CBD, Statista.com reports this product category alone is projected to rake in more than $395 million by the year 2022.
What's the point in mentioning these stats? There are perhaps thousands of CBD products competing for the same customer base as HempWorx, including several popular options the HighYa team has investigated in the past like Miracle Tincture, Sol CBD, and SuperCBD+.
Many (not necessarily these formulations) contain similar CBD concentrations as well, which means HempWorx might not always offer the most powerful products on the market, as advertised on their website.
Given all the manufacturers, formulations, and price points, how can you make the most empowered buying decision?
Returning to our CBD article, Dr. Jean Talleyrand, founder and Chief Medical Officer of MediCann in Oakland, California, and co-founder and Chief Medical Officer of The Clinical Endocannabinoid System Consortium in San Diego, California, emphasizes that any "product should be evaluated for its packaging, shelf life, and variance," as well as third-party testing, which will show strength and purity.
For topical solutions, Dr. Talleyrand recommends focusing on formulas without DMSO, a skin penetrant that "may cause a rash." Also, "water-based preparations do not mix well with the active ingredient and easily wipe off the skin," he says.
You'll also want to search online for customer feedback about the product and the manufacturer, which could provide insight into what you might expect after handing over your hard-earned money.
Pulling all of these details together, do they bode well for HempWorx?
Our Final Thoughts About HempWorx
Before handing over your money, we think there are a few important factors to consider:
Despite the fact that MyDailyChoice has been in business since 2014, we encountered very little online customer feedback for the company during our research, and essentially none for HempWorx products, specifically. And the feedback and ratings we did encounter for the company on the Better Business Bureau's website were less-than-stellar.
Furthermore, if you're just looking to try out one of their products, their $69 price tag is meaningfully higher than many of their CBD oil competitors.
Finally, the primary ingredient in each of their topical formulas is water, which we learned from Dr. Talleyrand earlier could mean they tend to wipe off easily and restrict the amount of CBD that penetrates your skin.
Given all of this, everyone's body will react differently. So, if you feel like giving HempWorx products a try, the company offers a 30-day refund policy. This way, you might not be out much more than return S&H charges if you're dissatisfied.
9 out 9 people found this review helpful

They do not stand behind their product

By Veronica D.

,

Apache Junction, AZ

,

Oct 31, 2019
Verified Reviewer

I've been using HempWorx almost a year...I got a bottle a few months ago that tasted nastier than nasty. I sent them an email with the batch # and expiration date, and shipped it back. I recently got a bottle with the SAME BATCH AND EXPIRATION DATE! So this tells me they never looked into the first one I got. They obviously never pulled this from the shelf. So to me it's like they don't care about anything except money. I contacted them, and their email was vague, "they appreciate my feedback." SERIOUSLY? You stand behind your product? 60-day money-back guarantee? Yea, I guess for everyone else but me...Why say you stand behind your product, but yet don't pull rancid ones off the shelf? HOW DID I END UP WITH THE SAME BATCH AND EXPIRATION DATE? I'm more than frustrated and upset. Because now I have to find another company and start all over again! Thanks for nothing HempWorx.

Bottom Line: No, I would not recommend this to a friend

---

8 out 9 people found this review helpful

Cost me a job

By Tracy G.

,

Texas

,

Oct 23, 2019
Verified Reviewer

I DO NOT smoke or intake ANY marijuana, yet after taking the HempWorx 750 oil for 1 week for insomnia, I tested POSITIVE on a pre-employment drug test! I lost the job due to this. The sales rep reassured me there was no THC, obviously she was wrong.

Bottom Line: No, I would not recommend this to a friend

---

Advertisement

---

6 out 8 people found this review helpful

My extended family LOVES it!

By Lori J.

,

Danville, PA

,

Sep 13, 2019
Verified Reviewer

All I can say is that my aunts, uncles, brothers, sister, and a couple of cousins are taking this and we are all in much better shape. I can't even fathom how I could ever stop taking it. The $20 fee is only if you want to sell it. We are very grateful we found relief from insomnia, pain, inflammation, and anxiety! Thank you HempWorx!

Positive attitudes bring positive results sometimes people!

There is a 60-day money-back guarantee (empty bottle).

Bottom Line: Yes, I would recommend this to a friend

---

7 out 8 people found this review helpful

I'm a fan

By A A.

,

Virginia

,

Sep 4, 2019
Verified Reviewer

Purchased my first bottle recently (500mg - Black label). Initially, I thought it tasted a little watered down; however, following the directions of keeping it under your tongue for sixty seconds prior to swallowing makes a big difference. I was so sore from painting and had planned to take Skelaxin + Motrin 800mg. After I did my morning dose of the oil, I did NOT need the medicine. That alone sold me on it. Think it's also helping with my IBS and mood. I cleaned three bedrooms and both full bathrooms in my home, when I typically would have taken a nap, instead. I have tried multiple different "brands" of oils and didn't expect a pyramid-company to top my preference, but it has.

Bottom Line: Yes, I would recommend this to a friend

---

Advertisement

---

8 out 15 people found this review helpful

Not worth the hype

By Britt P.

,

Orlando, FL

,

Jul 10, 2019
Verified Reviewer

I tried the 500 mg peppermint flavor and it didn't work for me. It seems more watered down than a few other brands I've tried and it's overpriced. I've also read really bad reviews about where they get some of their oils some people say it's shipped from China? Does anyone know if this is true?

Bottom Line: No, I would not recommend this to a friend

---

11 out 14 people found this review helpful

HORRIBLE customer service

By IC C.

,

Florida

,

Jun 21, 2019
Verified Reviewer

I like the product...unfortunately, the customer service is SOOOO HORRIBLE, I'm not sure I will continue to do business with them. If you JUST wanna order a product online then you will be fine. But if you EVER need or want to speak to someone directly, or if you have any questions or would like to learn more by actually speaking to a human being, IT WILL NOT HAPPEN. For whatever reason, they do not like to speak directly to customers. You can e-mail them but you will just get a very generic, unhelpful (most likely computer generated) response. And if you call the number, they don't answer, or you will just get a recording that they are not available. So disappointing.

Bottom Line: No, I would not recommend this to a friend

---

8 out 8 people found this review helpful

Great results

By Jay H.

,

Clemmons, NC

,

May 3, 2019
Verified Reviewer

I ordered a $69.00 bottle of the HempWorx oil on the advice of a friend. I was looking for relief of the occasional pain in my foot, heel, and calf. The product was promptly delivered and was packaged well. I've tried it for the past three days and have been more than pleased by the relief I've felt.

Bottom Line: Yes, I would recommend this to a friend

---

13 out 15 people found this review helpful

Not good customer service

By Liz B.

,

Ohio

,

Mar 13, 2019
Verified Reviewer

Granted in a perfect world there would be no problems with logistics for anyone. But this isn't a perfect world and I am very much imperfect. Yes, I am one of the few people who found a "user-friendly website" to be working against me. I had problems from day one with having to level down with the package already in my hands and they wanted me to pay for shipping. The communication was not good. I'd rather be told upfront that they aren't helping yet I was told the opposite. Then I would wait for them to follow through, yet nothing happened. Three times I had issues. I was really trying to work with them and try to not have problems with orders getting shipped, but they wouldn't budge.

In February 2019, I had been shipped two items and double charged and it is such a process. I wish I could have been that loyal customer and was really committed, but don't beat around the bush telling me things and then wonder why I'm frustrated, I can get a refund, or have to pay shipping when they can foot the bill. Maybe it wasn't meant to be, but I'm with another company and things did get fuzzy, but they took care of me every time, and if a company is willing to foot you the shipping cost over your loyalty, what does that say? I'm just trying to challenge you the reader.

I won't spew hate because the products are good, but the company is lacking serious communication skills. I got tired of waiting for packing labels they repeatedly sent that I never got and them re-denying them later, made me just go ahead pay for the last package and discontinue my affiliation with them. I hope they are really proud of the bad impression they left on me. I don't want to give them that one star either.

Bottom Line: No, I would not recommend this to a friend

---

15 out 15 people found this review helpful

Has worked great for me

By Rachel D.

,

Illinois

,

Feb 13, 2019
Verified Reviewer

I love this stuff! Started with 500mg CBD oil then changed to the 750mg. I also have used the relief cream. The oil has worked wonders for my Crohn's disease as far as better sleep, less inflammation, bloodwork improved, less stress feeling and the relief cream has done wonders for my joint aches in my hands and hips. I wish the price was less. Some other posts here claim you have to pay $20 to order, but that is not true. You only pay $20 one time fee if you want to sign up to be an affiliate and sell it.

Bottom Line: Yes, I would recommend this to a friend

---

22 out 27 people found this review helpful

It's watered down!

By Melissa T.

,

Ohio

,

Jan 22, 2019
Verified Reviewer

I signed up to sell this product and the first bottle was amazing, but every bottle after that was worse in quality until the fourth bottle, and it didn't even work, my pain levels came back horrible. I will also add that I have been in many consultant based home business and this one by far is the worst, not only are the people you sign up under beyond rude and insulting, they will censor you on HempWorx pages or delete you altogether if they don't like what your opinion is. It's a one-sided company, if you say one thing they don't like they remove it so you will never really see any negative reviews because they won't allow it. I have been treated beyond despicable by ladies in this business who are trying to get rich off sick people. If the product was all that, they would not need mules to sell it!

Bottom Line: No, I would not recommend this to a friend

---

16 out 17 people found this review helpful

Great product

By Laura D.

,

Wilmington, DE

,

Nov 19, 2018
Verified Reviewer

I started using it for migraines, and after a few weeks, my symptoms diminished. I have been migraine-free for 5 months. The previous review said she had to pay $20 to be a member, that's only if you want to sell the product. Customers don't pay additional fees.

Bottom Line: Yes, I would recommend this to a friend

---