HempWorx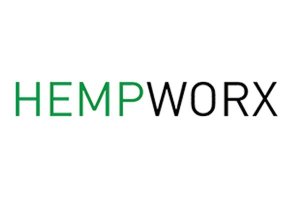 HempWorx is a line of dietary supplements that are designed to deliver all the benefits of CBD. However, more clinical research is needed to fully justify the purported benefits of CBD products.
HempWorx Review - Does Research Back Up The Claims?
What is HempWorx?
The makers of the HempWorx claim that their product line delivers health benefits of CBD through topical and ingestible methods of delivery.
According to their website, HempWorx products are created from hemp plants that are organically grown on American farms. They offer a line of oils, topical creams and lotions, pet products, and even coffee, that are all packed with CBD.
HempWorx claims that each product undergoes third-party lab testing to ensure they are safe, effective, and potent. These are certainly a set of practices that sound favorable for the consumer.
In this article, we'll discuss if CBD is really the dietary supplement missing from your daily wellness regimen.
In the next section, you can get some background information on CBD and learn about its purported benefits.
What is CBD and What Does it Do?
By now, you've probably heard the term CBD thrown around. You may even know that it is somehow, at least, related to marijuana. But what exactly is it?
While both hemp and marijuana are obtained from cannabis plants, hemp is only found in the cannabis sativa family. They also differ in both appearance and chemical composition.
Each offers different quantities of key cannabinoids. Tetrahydrocannabinol (THC) is responsible for the feeling of euphoria that most associate with marijuana use - often totaling 30% of the cannabinoid composition.
Marijuana offers 100x more THC than hemp. You won't experience euphoria or fail a drug test, though you'll get plenty of the most bountiful cannabinoid found in hemp; cannabidiol (CBD).
The mechanisms in which CBD can act to exert its proposed benefits are complex, though it is suspected to interact with receptors in the brain, fat, muscles, and more.
Unlike THC-containing products, those that offer CBD are legal in most states. When supplemented, CBD may improve:
Pain
Inflammation
Anxiety
Sleep
Nausea
Mood disorders
Brain function
Immune function
HempWorx offers a line of various topical and ingestible CBD-containing products, though the company makes no mention of their intended use.
Without providing information as to the potential benefits each product is alleged to provide, determining the efficacy is challenging.
Nonetheless, we've completed a literature review to give you a better idea of the most common uses for CBD, as well as the available support for the cannabinoid's ability to deliver results.
Is There Any Science Backing-Up the Benefits of CBD?
While cannabis plants have been cultivated for medicinal purposes for thousands of years, CBD wasn't discovered until the middle of the 20th century. Thus, THC has been the focus of much of the cannabis research until more recently.
Nonetheless, some studies have investigated some of the effects of topical and ingestible CBD applications.
A recent study polled CBD users to determine the most common reasons for use. They found that more than 60% of responders used CBD for a specific medical condition; the top 3 were pain, anxiety, and depression.
There are various methods of delivering CBD to achieve its alleged benefits. HempWorx offers both oral and topical options.
The benefit of consuming oils and capsules orally is that dosing is more accurate when compared to other methods. Absorption is typically slow, however, and can be extremely variable depending on the individual and the product.
Topical administration is beneficial in those with symptoms localized to a certain area or for individuals wishing to avoid system-wide effects of CBD.
A clinical series found that CBD improved sleep and anxiety. They used doses of 25, 50, or 75mg daily for 3-months.
In pediatric patients, CBD cream improved pain and itching related to a condition that causes skin blistering.
A 2017 review of 43 randomized trials concluded that cannabis-based medicines may be effective in treating chronic pain, though the evidence is limited. They also found that inhaling these medications seemed to be the safest and most effective means.
A review of 35 studies published last summer concluded that most of the available research detailing the benefit of CBD is in the treatment of seizure disorders. Dosing around 15 mg/kg body weight daily seems to be sufficient for this purpose.
This review highlights another important conclusion, however.
Most of the available research is from the last 2-3 years. For example, the chart below was adapted from kalytera and demonstrates CBD research in comparison to cannabis research over a 20-year span.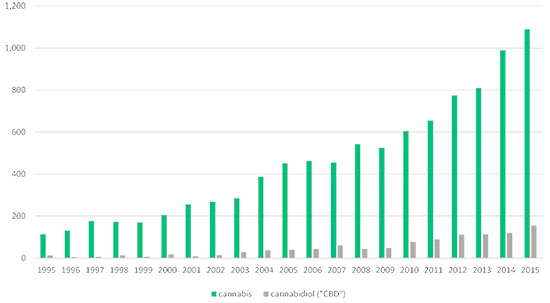 As you can see, CBD research (grey bars) is on the rise, though it is just a fraction of the number of studies that have investigated cannabis. Image Credit: kalytera.co
While CBD may have the potential to influence a wide variety of health benefits, it is clear more randomized trials are needed.
CBD Safety and Side Effects
CBD is generally safe when used orally or topically, though some side effects are possible.
When consumed orally, the likelihood for it to have whole-body effects is greater. Though this may be necessary for certain conditions, this also increases the potential for a variety of side effects.
For example, some complained of fatigue, drowsiness, and dry eyes at doses ranging from 25-75mg daily in the sleep and anxiety study previously discussed.
A review also noted that inhalation was associated with fewer side effects when compared to orally administered products. Those receiving the latter reported more gastrointestinal symptoms.
The risk for similar effects is lower with topical application, as CBD exerts its effects in a localized manner. Skin irritation and poor absorption are potential downsides of this method of delivery, however.
Though the side effects are often mild, it is still best to speak with a physician before use. If your symptoms are serious enough to seek treatment, you should take steps to first identify their source.
The Cost
HempWorx offers a line of CBD-containing products that are wide-ranging and can be purchased directly from their site. Pricing varies product to product; we'll highlight the major categories here.
CBD Tinctures
Their line of CBD Tinctures contains about 50 servings of CBD oil that can be dissolved under the tongue with a dropper. They are offered in 500, 750, or 1500mg concentrations at 10, 15, or 30mg of CBD per dropper, respectively.
Pricing is $69, $89, or $149 from the lowest to the highest concentration.
CBD Topicals
Creams are similarly priced; $69 for 1oz (80mg total CBD) or $89 for 1.69oz (130mg total CBD). HempWorx recommends rubbing into the affected area no more than 3-4x each day.
CBD for Pets
For your 4-legged friends, HempWorx offers both CBD Tinctures and beef-flavored dog treats.
The CBD oil is bacon flavored, priced at $39, and offers 5mg of CBD per serving. The treats pack in 2.5mg in each cookie.
CBD Bath Bombs and Hair Care
You can soak in 10mg of CBD with each bath bomb. They're offered in four scents (Lavender, Lemongrass, Sea Salt, and Citrus) at $49.
HempWorx also offers a line of topical hair products that include a hair mask, a hair serum, as well as shampoo and conditioner. This line ranges from $39-$69.
CBD Cofee and Gummies
The CBD coffee packs in about 5mg of CBD per serving. The 30-serving pack is $69.
If you're not a coffee drinker, you can take opt for HempWorx's CBD Gummies. Priced at $69 for 45gummies, you'll get 10mg of CBD in each gummy.
Value Packs
If you're looking to save money, opting for one of their Packs is probably the most cost-effective option. For example, the HempWorx Director Pack is priced at $199 for any 4 items.
Though pricey, HempWorx products are backed by a 60-day guarantee. To process your refund, email support@mydailychoice.com. Keep in mind, this requires you to return the entire order to be eligible.
The Takeaway Message
As laws and traditional ways of treating medical conditions continue to evolve, CBD will likely continue to grow in popularity. However, the CBD boom seems to be ahead of the scientific research available at this time.
While HempWorx offers convenience and variety, their product line is expensive. This is a high premium to pay for pricey products that don't have clearly defined benefits.
The upside is finding safe and effective relief for various conditions that would otherwise be managed with riskier options (opioid medications, for example). The downfall would likely relate to a lack of benefits and losing some money.
HempWorx offers both topical and ingestible products. We currently lack clear guidelines that detail the best method of delivery and dosing regimen for most conditions that CBD may improve.
When you combine the lack of strong scientific evidence with the absence of proposed benefits for the HempWorx line, it is challenging to determine if even the products with the highest CBD concentration would be effective.
Available Alternatives
Finding alternative CBD options can be challenging despite it being legal in most states. For example, it is illegal in Idaho, Iowa, and South Dakota.
Some states where it is legal may have various restrictions related to online purchasing or food-related products, whereas others do not.
Thus, it's best to check the laws specific to your state before purchasing.
You should also keep in mind that CBD-containing products aren't strictly regulated as of yet, though FDA regulations are on the horizon.
In the meantime, make sure you're shopping for the most reputable companies.
The Bottom Line
The variety of products HempWorx offers may work in their benefit as they may appeal to a larger number of users. Those unfamiliar with CBD may be more interested in topical formulations, for example.
Some of the many proposed benefits of CBD to have some scientific support, though research surrounding this cannabinoid is a newer phenomenon. Currently, most of the available work focuses on a potential role in seizure disorders.
Thus, much more work is needed to identify the best method of delivery and appropriate dosing for specific conditions.
Depending on the symptoms you wish to treat, CBD may offer a safer alternative to some traditional medical options. It may be less effective and more expensive, however.
If interested in using HempWorx or similar products, check your state's laws and speak with a physician first.
---
Total SCAM

By Aspen B.

,

Clearwater, FL

,

Sep 2, 2018
Verified Reviewer

Overall Experience:

Worx is a complete scam. It is a peer amid multi-level marketing. You have to pay $20 to become a member to buy their product. I have used numerous different CBD products. And I found there is to be pretty much useless. All of the reps will claim that it contains no THC, which is not true, it contains 0.3%. All the reps push so hard just like all the other peer amid scheme's out there they're like little robots programmed for sales. Their prices are double than anyone out there. Not impressed at all.

Bottom Line: No, I would not recommend this to a friend

---

Scam and reps are liars

By Laurie G.

,

New Jersey

,

Nov 12, 2018
Verified Reviewer

Overall Experience:

I bought the 500 mg bottle from reps Paul and Tara. They said it was the best thing since sliced bread and that it was perfectly legal. So I started taking it daily. But saw no results. I told Tara that it is was not working. Upon her recommendation, I then bought stronger 750 mg. Still nothing. I was told to keep taking it. It will work eventually.

On the third bottle, I came across a newspaper article that said CBD was illegal in the state of New Jersey without a valid prescription. I tried to tell the "reps" that and again with their rhetoric that is WAS legal and the newspaper was wrong. I did some research on my own and found out it is truly illegal in New Jersey without a valid prescription. The only way these charlatans get away with it, is that they break federal law and mail this stuff state to state without detection. Although there have been instances of the oil being discovered at the Post Office and confiscated. Also, people who have had this stuff on their person, have been arrested. Again the "reps" Tara and Paul swear up and down it's legal. This is a lie to part you from your money.

When I asked for my money back, they laughed at me, told me to call customer service and good luck, it's only 30-day money back guarantee. Then Paul proceeded to mock my very serious medical condition and laugh at me. Both should be put in jail for fraud. And they profess to be Christian. Yeah some Christians. Liars through and through.

Bottom Line: No, I would not recommend this to a friend

---

It's watered down!

By Melissa T.

,

Ohio

,

Jan 22, 2019
Verified Reviewer

Overall Experience:

I signed up to sell this product and the first bottle was amazing, but every bottle after that was worse in quality until the fourth bottle, and it didn't even work, my pain levels came back horrible. I will also add that I have been in many consultant based home business and this one by far is the worst, not only are the people you sign up under beyond rude and insulting, they will censor you on HempWorx pages or delete you altogether if they don't like what your opinion is. It's a one-sided company, if you say one thing they don't like they remove it so you will never really see any negative reviews because they won't allow it. I have been treated beyond despicable by ladies in this business who are trying to get rich off sick people. If the product was all that, they would not need mules to sell it!

Bottom Line: No, I would not recommend this to a friend

---

Not good customer service

By Liz B.

,

Ohio

,

Mar 13, 2019
Verified Reviewer

Overall Experience:

Granted in a perfect world there would be no problems with logistics for anyone. But this isn't a perfect world and I am very much imperfect. Yes, I am one of the few people who found a "user-friendly website" to be working against me. I had problems from day one with having to level down with the package already in my hands and they wanted me to pay for shipping. The communication was not good. I'd rather be told upfront that they aren't helping yet I was told the opposite. Then I would wait for them to follow through, yet nothing happened. Three times I had issues. I was really trying to work with them and try to not have problems with orders getting shipped, but they wouldn't budge.

In February 2019, I had been shipped two items and double charged and it is such a process. I wish I could have been that loyal customer and was really committed, but don't beat around the bush telling me things and then wonder why I'm frustrated, I can get a refund, or have to pay shipping when they can foot the bill. Maybe it wasn't meant to be, but I'm with another company and things did get fuzzy, but they took care of me every time, and if a company is willing to foot you the shipping cost over your loyalty, what does that say? I'm just trying to challenge you the reader.

I won't spew hate because the products are good, but the company is lacking serious communication skills. I got tired of waiting for packing labels they repeatedly sent that I never got and them re-denying them later, made me just go ahead pay for the last package and discontinue my affiliation with them. I hope they are really proud of the bad impression they left on me. I don't want to give them that one star either.

Bottom Line: No, I would not recommend this to a friend

---

Advertisement

---

HORRIBLE customer service

By IC C.

,

Florida

,

Jun 21, 2019
Verified Reviewer

Overall Experience:

I like the product...unfortunately, the customer service is SOOOO HORRIBLE, I'm not sure I will continue to do business with them. If you JUST wanna order a product online then you will be fine. But if you EVER need or want to speak to someone directly, or if you have any questions or would like to learn more by actually speaking to a human being, IT WILL NOT HAPPEN. For whatever reason, they do not like to speak directly to customers. You can e-mail them but you will just get a very generic, unhelpful (most likely computer generated) response. And if you call the number, they don't answer, or you will just get a recording that they are not available. So disappointing.

Bottom Line: No, I would not recommend this to a friend

---

Not worth the hype

By Britt P.

,

Orlando, FL

,

Jul 10, 2019
Verified Reviewer

Overall Experience:

I tried the 500 mg peppermint flavor and it didn't work for me. It seems more watered down than a few other brands I've tried and it's overpriced. I've also read really bad reviews about where they get some of their oils some people say it's shipped from China? Does anyone know if this is true?

Bottom Line: No, I would not recommend this to a friend

---

Cost me a job

By Tracy G.

,

Texas

,

Oct 23, 2019
Verified Reviewer

Overall Experience:

I DO NOT smoke or intake ANY marijuana, yet after taking the HempWorx 750 oil for 1 week for insomnia, I tested POSITIVE on a pre-employment drug test! I lost the job due to this. The sales rep reassured me there was no THC, obviously she was wrong.

Bottom Line: No, I would not recommend this to a friend

---

They do not stand behind their product

By Veronica D.

,

Apache Junction, AZ

,

Oct 31, 2019
Verified Reviewer

Overall Experience:

I've been using HempWorx almost a year...I got a bottle a few months ago that tasted nastier than nasty. I sent them an email with the batch # and expiration date, and shipped it back. I recently got a bottle with the SAME BATCH AND EXPIRATION DATE! So this tells me they never looked into the first one I got. They obviously never pulled this from the shelf. So to me it's like they don't care about anything except money. I contacted them, and their email was vague, "they appreciate my feedback." SERIOUSLY? You stand behind your product? 60-day money-back guarantee? Yea, I guess for everyone else but me...Why say you stand behind your product, but yet don't pull rancid ones off the shelf? HOW DID I END UP WITH THE SAME BATCH AND EXPIRATION DATE? I'm more than frustrated and upset. Because now I have to find another company and start all over again! Thanks for nothing HempWorx.

Bottom Line: No, I would not recommend this to a friend

---

Was skeptical

By Debra M.

,

Georgia

,

Oct 16, 2018
Verified Reviewer

Overall Experience:

I was skeptical until I used the product. 500mg THC free, 5 drops in the am and pm, along with the relief cream on my hands, and within 12 minutes my arthritis pain decreased to almost gone. I could bend all my fingers and felt great. On day 3, all gone. Crazy. Sooo, I am getting it for my mother. All my stiffness is gone...my joints have not felt this normal in years. I guess this stuff really does work. I will continue to use this.

Bottom Line: Yes, I would recommend this to a friend

---

Great product

By Laura D.

,

Wilmington, DE

,

Nov 19, 2018
Verified Reviewer

Overall Experience:

I started using it for migraines, and after a few weeks, my symptoms diminished. I have been migraine-free for 5 months. The previous review said she had to pay $20 to be a member, that's only if you want to sell the product. Customers don't pay additional fees.

Bottom Line: Yes, I would recommend this to a friend

---

Has worked great for me

By Rachel D.

,

Illinois

,

Feb 13, 2019
Verified Reviewer

Overall Experience:

I love this stuff! Started with 500mg CBD oil then changed to the 750mg. I also have used the relief cream. The oil has worked wonders for my Crohn's disease as far as better sleep, less inflammation, bloodwork improved, less stress feeling and the relief cream has done wonders for my joint aches in my hands and hips. I wish the price was less. Some other posts here claim you have to pay $20 to order, but that is not true. You only pay $20 one time fee if you want to sign up to be an affiliate and sell it.

Bottom Line: Yes, I would recommend this to a friend

---