Hint Water
Claimed This company has claimed this profile, is getting alerted on any new customer reviews entering this page, and may engage in dialogue with its customers to address their matters.

Companies cannot pay money or provide goods in order to remove or alter customer reviews.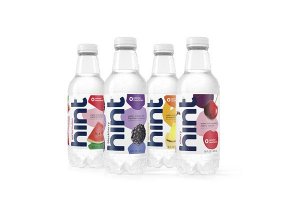 Hint sells calorie-free, sweetener-free drinks made with filtered water and natural fruit extracts in stores and on a subscription basis.
Hint Water Review: All You Need to Know
Drinking nothing but tap water during the day can become tedious, but many people shy away from sugar-laden juices and sodas for health reasons. For those seeking some middle ground between these beverage options, flavored water seems to offer a solution.
Hint is a brand of unsweetened water flavored with natural fruit extracts. The beverages are free of calories, sweeteners, and preservatives.
The company currently bottles its beverages in Texas and New York and applies various purification techniques to ensure that the water is almost 100% pure and has low mineral content. These include reverse osmosis, de-ionization, and ultra-violet purification.
The water is then infused with natural flavors derived from fruit through pressing, heating, cooling, filtering, and other extraction techniques. Each batch is then pasteurized before bottling to ensure safety.
The resulting drink should have a clean, crisp taste as if you sliced up fresh fruit and let it infuse in water for several hours. Does this match the experience for those who tried Hint, and is the beverage as healthy as it claims? We'll analyze what this beverage offers so you can decide whether to buy it.
No calories, artificial flavors, or sweeteners
You can save 20% with a subscription order
Available in carbonated and caffeinated versions as well
Customers have mixed opinions on taste
More expensive than other brands
Bottles may be difficult to reseal
"Natural flavors" label doesn't show what's really inside
Hint Water Product Line
Hint offers four unique product lines, which include the following:
Hint Still
As Hint's original product, Hint Still is a carbonation-free beverage flavored with fruit extracts.
Flavor Options: watermelon, blackberry, pineapple, strawberry-kiwi, cherry, lemon, peach, mango, crisp apple, raspberry, mango-grapefruit, pear, pomegranate, blood orange, peppermint, clementine.
Price: $19.99–$20.99 for twelve 16-oz bottles ($15.99–$16.99 with subscription).
Hint Sparkling
These beverages have carbonation to give them a distinct bubbly taste. Like the original option, they are flavored only with fruit extracts.
Flavor Options: Watermelon, blackberry, peach, cherry.
Price: $19.99–$20.99 for twelve 16-oz bottles ($15.99–$16.99 with subscription).
Hint Kick
Each 16-oz beverage packs 60mg of caffeine (equivalent to a 20-oz Pepsi or a half cup of coffee) without any artificial preservatives or added sweeteners.
Flavor Options: Raspberry, apple pear.
Price: $19.99–$20.99 for twelve 16-oz bottles ($15.99–$16.99 with subscription).
Hint Kids
These kid-friendly flavors are packaged in 6.75-oz juice boxes and contain nothing but fruit extracts.
Flavor Options: Blackberry, apple, cherry, watermelon.
Price: $19.99 for 32 6.75-oz cartons ($15.99 with subscription).
Is Hint Water Healthy?
Hint Water claims to flavor its drinks with nothing but all-natural fruit extracts. What does this mean in plain language?
To start, Hint defines fruit extract as the essence of the fruit, which is removed using steam or alcohol extraction methods. This pulls out the taste while separating out the pulp and sugar. Extracts differ from fruit concentrates because the later involves removing much of the water content to intensify the sweetness.
Are natural fruit extracts good for you? Lisa Hugh, a registered dietician in Southern Maryland, believes there could be a reason for concern.
"As far as Natural Flavors goes, the term is very vague. Lots of things are natural but might not be good for individual people. [For example,] wheat may provide a natural flavor - but this would be bad for people with celiac or wheat allergy or wheat sensitivity."
Hugh further explained that her primary concern with natural flavors is the lack of consistent labeling.
"My concern about this (as a dietitian and as a parent of children with food allergies) is that by using natural flavor on a food label, the manufacturer may change the actual ingredients from batch to batch."
This might mean that someone with severe allergies could react to one batch of Hint water without having any problems previously, and the label wouldn't indicate any differences between them.
Adding to this concern, the company shares that the beverage's listed flavor isn't always indicative of what's actually inside. For example, the pomegranate flavor contains citrus essence in addition to pomegranate, but both will be on the label as "natural flavor."
But beyond these concerns specific to allergy sufferers, Hugh believes that flavored water beverages like Hint make sense from a health standpoint, especially for those who have a hard time drinking regular water and would otherwise be sipping on sodas or fruit juices.
Where to Buy Hint Water
Every Hint product can be purchased online as a one-time order or through the company's subscribe and save program. You can save up to 20% per order when you commit and will earn free shipping when you subscribe to receive three or more cases per delivery.
You can select your delivery frequency to be monthly, every other month, or every two weeks. It's possible to cancel at any time without penalty through your online account.
It's also possible to purchase Hint Water in stores. The product website includes a store locator feature so you can find your closest locations.
Analysis of Customer Reviews of Hint Water
HighYa readers have a lot to say about Hint Water. They rated this beverage company at 2.9-stars after 76 reviews. Here's our analysis of what they said:
Better Taste Than Other Flavored Water Brands
Many Hint reviewers reported that they loved the subtle flavor of this beverage, especially compared to other flavored water brands.
These users shared that other brands tasted like hairspray to them, but Hint tasted like it genuinely had a hint of fruit in it without an overpowering aftertaste. Many of these reviewers appreciated that the drink didn't contain any sweeteners.
Great Alternative to Soda
Several Hint Water drinkers used the beverage as a substitute for soda. They appreciated that Hint satisfied their craving for sipping something other than water but didn't give them unwanted calories or artificial flavors.
Many wrote that they were surprised how sweet-tasting and refreshing the drinks were without them.
Strong, Artificial Taste
Not everyone who tried Hint Water liked the taste. Many complained that it was too strong and artificial tasting and that it hurt their stomach after they took a few sips.
In a few cases, users shared that most batches of Hint Water tasted fine, but that they occasionally purchased bottles with a less pleasant taste.
Bottle Design Problems
One common complaint about Hint Water concerns the bottle design. Many users found them hard to close after they opened them because they felt like they were stripping the threads of the bottle with the twist cap. This often made them feel like they had to drink the full bottle at once.
Too Expensive
Many Hint Water customers loved the drinks but shared they wouldn't buy them often because of how expensive they were. They shared that the flavor and benefits seemed too subtle to justify the cost for what was essentially just water.
Key Takeaways
Whether you like Hint Water will come down to personal taste preferences. Some users thought the flavor too mild, while others found it too strong. We suggest purchasing a bottle or two for your first taste trial, so you can see where you fall on the tasting spectrum.
Hint Water vs. LaCroix and JUST Water
There are plenty of options for satisfying your flavored water fix without consuming unwanted calories. LaCroix is one option that dominates store shelves, so we compared it—and another popular online brand—to Hint Water to see how they compare.
| | Hint Still | LaCroix | JUST Water |
| --- | --- | --- | --- |
| Price Per Bottle | $1.75 per 16-oz | About $0.50 per 12-oz | $1.66 per 16.9-oz |
| Are Carbonation Options Available? | Yes | Yes (default) | No |
| Caffeine Available? | Yes | No | No |
| Ingredients | Filtered water, natural fruit extract | Filtered water, natural fruit extract | Filtered water, natural fruit extract |
| Total Calories | 0 | 0 | 0 |
| Packaging | BPA-free plastic bottle | Aluminum can | Paper carton |
| Is Subscription Available? | Yes | No | Yes |
Deciding between these three brands (and the dozens of others in the flavored water marketspace) comes down to determining what you're interested in. All three offer zero-calorie drinks flavored with natural fruit extracts, so they each offer identical nutritional profiles.
Hint Water is the only company we looked at that that offers regular water as well as carbonated and caffeinated varieties. This might keep things less monotonous if you're planning to commit to one brand for the long term.
LaCroix is the most well-known brand on this list, and it's available in grocery stores across the country. In contrast, you might need to buy Hint and JUST water online if you want it regularly. Though this means you need to factor in shipping costs to the pricing, but you can also save money by signing up for either company's subscription program.
Finally, the water's packaging might be a deciding factor for you. JUST water's cardboard carton is made from 82% renewable resources, and the included plastic is made from sugarcane. This gives the brand a lower ecological footprint, which is something to consider if you plan to be a regular customer.
Key Takeaways: There are numerous options for choosing a fruit-flavored water brand without extra ingredients, and your decision will likely come down to taste preferences.
LaCroix's low cost and convenience make it a natural choice for many, but Hint Water is worth considering if you don't mind ordering online and prefer a variety of water styles to choose from.
The Bottom Line
Hint Water offers a refreshing way to hydrate for those tired of sipping on regular water. While the taste is polarizing for many people, those who liked it found plenty of flavors that met their preferences and appreciated that they could choose between flat and carbonated water.
If you are already a fan of flavored water, you might find that Hint's flavor is too subtle for your tastes.
It's also important to note that the brand has the highest cost per unit of any we looked at, and that's not factoring in the $5 shipping costs. For many, that might be worth it for the flavor variety and convenience of an auto-ship program.
For those who find themselves turning to juice and soda instead of water throughout the day, Hint products are a healthier alternative that will hydrate you as well as regular water.
---
Poison

By Kee L.

,

New York

,

Jul 29, 2020
Verified Reviewer

Length of Use: Less than 3 months

Overall Experience:

It tastes like chemicals in the aftertaste. I had blackberry. I looked up the real ingredients and now I know I was drinking PROPYLENE GLYCOL! Thank GOD I didn't give the kids any! Now I know why this was only a dollar and change at FIVE below. SMH...

Pros and Cons:

The label...at first
Liar liar
Deceitful
Tastes like chemicals

Bottom Line: No, I would not recommend this to a friend

---

Love it

By Lauri W.

,

Richmond, VA

,

Jun 26, 2020
Verified Reviewer

Length of Use: 3–6 months

Overall Experience:

I have found HINT water at Wegman's and at ALDI's grocery stores for $9.99 a case. I enjoy trying all of the different flavors. I got really bored with drinking plain water and was probably chronically dehydrated. Drinking the HINT water has helped me give up soda and drink water on a daily basis.

I have tried some of the flavored waters from other companies and not been as impressed with the flavors.

Pros and Cons:

No artificial colors or sweeteners
Variety of flavors
I wish that the water came in larger sizes, such as a gallon size of the different flavors

Bottom Line: Yes, I would recommend this to a friend

---

Cost

By LaVera K.

,

Wisconsin

,

Jun 19, 2020
Verified Reviewer

Length of Use: Less than 3 months

Overall Experience:

I was never much of a water drinker. Hint is delicious and now I drink more. I feel with obesity being overwhelming in the US...make it more affordable for people to drink. It made me drink water again...so healthy for overall health. Cut the price to affordability...

Pros and Cons:

Flavor selection
Fast delivery
Ingredients
Cost

Bottom Line: Yes, I would recommend this to a friend

---

Very very slow shipping

By Mike W.

,

Nampa, ID

,

Jun 8, 2020
Verified Reviewer

Overall Experience:

I ordered, 7 days later no shipping. Order today, ship tomorrow should be the standard.

Seven-day shipping time is just plain stupid business. Plenty to pick from in the store.

Pros and Cons:

No "pros" were specified in this review
Slow slow shipping

Bottom Line: No, I would not recommend this to a friend

---

Advertisement

---

I'd turn back if I were you!

By Lydia D.

,

Florida

,

May 19, 2020
Verified Reviewer

Overall Experience:

Ordered 3 cases of flavored water, then tried the "sparkling" version. Even after letting them sit for days before opening they EXPLODED and had no flavor. When I tried to contact Hint, they said no refunds, so I am stuck with 36 bottles of explosives. They offered a $10 credit but said it couldn't be used on sale items or subscriptions. They sent an email saying 1 day only to order and when I tried no link came up. They have multiple agents that type responses and one agent wrote that my $10 coupon code had been used last month. I had to explain I just received it 2 days ago and it was issued for a problem, not a discount I had used previously. She apologized for her mistake and then I was told to use it at check out. This process has been confusing and irritating. NOT WORTH THE TROUBLE.

Bottom Line: No, I would not recommend this to a friend

---

Won't give a refund

By Richard S.

,

Henderson, NV

,

Apr 23, 2020
Verified Reviewer

Overall Experience:

I was looking for something to maybe kick my soda habit so I purchased three twelve-packs, 1 Cherry, 1 Apple, and 1 Blackberry. I tried 1 of the cherry and it was awful, it had a chemical taste (don't know what chemical) so I shook it up and made no difference. I decided that I would not try any of the other flavors. I decided that I would request a refund of my $36.00 but I was told by Ashley that since what I purchased was consumable that they could not accept returns and my purchase was not refundable.

So I am out of luck.

Bottom Line: No, I would not recommend this to a friend

---

The no flavor water

By Jim O.

,

Racine, WI

,

Apr 8, 2020
Verified Reviewer

Overall Experience:

Bought for the first time today in the small juice box type container. Ended up throwing away the entire amount. Absolutely flavorless. Waste of money. Not sure how many more ways that can say this product is horrible tasting. Not sure why anyone would buy it more than once.

Bottom Line: No, I would not recommend this to a friend

---

IN LOVE!

By Patty S.

,

Emerald Isle, NC

,

Mar 11, 2020
Verified Reviewer

Overall Experience:

I wanted to eliminate sodas and such. I don't like plain water and I detest sweetener aftertaste. This is completely refreshing and tasty. I cannot get enough. All the local stores can't keep it on the shelves so I order it directly from the company so I can get my fix.

Bottom Line: Yes, I would recommend this to a friend

---

Yum

By Cindi M.

,

Louisville, KY

,

Jan 23, 2020
Verified Reviewer

Overall Experience:

I have tried so many different popular brands of flavored water and they are all disgusting to me. I ended up giving them away to people who LIKE to drink hairspray. I love Hint because it is NOT carbonated and there is just enough flavor to make it drinkable (unlike plain water, gross!). Cherry is my choice, I've tried the apple but don't like as much as the cherry. The only thing I don't like about this water is the price, which is why I have had the chance to sample the other flavors...just can't afford to pay that much for one bottle of water! (Target retail is $1.69 per bottle.) I would be willing to pay no more than $1.00 per bottle but you have to buy in bulk to get that rate.

Bottom Line: Yes, I would recommend this to a friend

---

Nasty

By Claudia F.

,

Winter Haven, FL

,

Jan 9, 2020
Verified Reviewer

Overall Experience:

So I purchased a few of these to try. Nasty. I bought them in my local store. The flavor is so artificial-tasting it's pathetic. When I googled "what is fruit essence", here's what I found.

The Fruit essences are intended for aromatizing of non-alcoholic beverages, alcoholic beverages, sweets, chocolates and confectionary and pastry. The Bulgarian State Standard defines the fruit essences as highly-concentrated solutions. The solutions used in the manufacture of the fruit essences are ethyl alcohol and 1, 2-propyleneglycol.

So no, it's not all-natural like they claim. Wish I would have saved the $1 a bottle I spent. You'd do better juicing real fruit and pouring it into your water. At least you'd get the vitamins and minerals from it. Yes, the NATURAL sugars as well but at least it would be NATURAL.

Bottom Line: No, I would not recommend this to a friend

---

Very refreshing, but...

By Tracye L.

,

Pinckney, MI

,

Dec 11, 2019
Verified Reviewer

Overall Experience:

...something about the lid not wanting to go back on, ever, after opening it for a quick quench bothers me. Maybe a lid that doesn't come off, like a sports-type lid that's re-closeable quickly.

Feels like I'm stripping the threads of the bottle with the twist cap.

Other than that, this water hits the spot every time. Not a "hint" flavor I wouldn't drink. Here's to ya!

Bottom Line: Yes, I would recommend this to a friend

---