Hint Water Reviews
Claimed This company has claimed this profile, is getting alerted on any new customer reviews entering this page, and may engage in dialogue with its customers to address their matters.

Companies cannot pay money or provide goods in order to remove or alter customer reviews.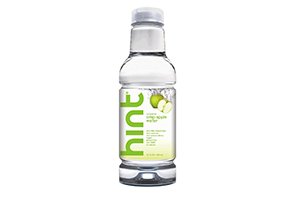 Made with pure water and a variety of all-natural, unsweetened fruit flavors, Hint Water claims to give you the sweetness you crave and the health you need.
About Hint Water
Founded by Kara Goldin in 2004, Hint Water is a line of all-natural, unsweetened, ultra-pure water that's infused with a variety of natural fruit flavors, and is made without sugar, diet sweeteners, preservatives, calories, trace minerals, or GMO ingredients.
On top of this, Hint Water is vegan and gluten free.
In other words, Hint Water is claimed to contain nothing but natural fruit oils and essences, all of which are extracted using various combinations of pressing, heating, cooling, filtering, and dissolving.
And if you need a little carbonation in your day, there's even a version called Hint Fizz to satisfy your cravings.
Because of this, Hint Water is claimed to be a healthy, sugar-free drink alternative to sodas that tastes great without tasting sweet, so you can stay hydrated without worrying about calories or diet sweeteners.
Whether you're diabetic, pregnant, have a gastrointestinal issue, or simply can't stand the taste of plain water but are focused on your health, is Hint Water the right healthy choice for you? Consider the following:
Why Does Hint Pasteurize Their Water?
According to Hint Water's FAQ, "Purification systems vary depending on the type of water available at each bottler. Techniques can include reverse-osmosis, de-ionization and ultra-violet purification before adding flavors. As a final step, Hint Water is pasteurized." But what does this mean?
At its most basic, pasteurization is a process that involves heating a liquid to a high enough temperature, so that any disease-causing organisms it contains are killed by exposure, thereby making it safe to drink.
While you've almost certainly heard about pasteurization related to milk products, the fact is that most bottle water manufacturers also pasteurize their products for safety. However, keep in mind that pasteurizing water also kills many of the "good" organisms often found water, so this might mean that you're also missing out on some of the benefits.
Similar Options to Hint Water
Also, keep in mind that fruit-infused water is nothing new, which means that there are dozens of other products available similar to Hint Water. Granted, some of these may use artificial sweeteners or include sugar in their formulas, but the point is that you have options.
In fact, if you're looking to save money while formulating your own unique flavor profiles, you can create fruit-infused water at home for a fraction of the cost of Hint Water. In fact, you can even add carbonation for your own version of Hint Fizz.
In order to see for yourself, type in the phrase "fruit infused water" or "DIY fruit water" into your favorite search engine.
Do Customers Like Hint Water?
There were more than 7,400 customer reviews featured on Hint Water's website at the time of our research, with an average rating of 5 stars.
There, common compliments appeared to revolve around the great taste, lack of sugar and other added ingredients, and that it helps reduce (or eliminate) soda consumption.
There were also 872 Amazon customer reviews for Hint Water's Blackberry flavor, with an average rating of 4.1 stars.
While many of the compliments mirrored those found on Hint's website, complaints also included reduced quality compared to original batches, a "chemical" taste, and even some complaints that the water had gone bad (e.g. a "rancid" taste). Several customers also stated that they contacted the company for a resolution, but didn't receive a response.
From a company perspective, Hint Inc. is based out of San Francisco, CA, although they weren't listed with the Better Business Bureau.
With this said, Kara Goldin took Hint Water from a small startup in her garage to a $30 million per year business in the span of a decade, so the company's story has been featured in a variety of popular publications, including Forbes, Fast Company, The Wall Street Journal, and many others.
Hint Water Pricing and Refund Policy
Hint Water is available only in 16oz bottles, and Hint Fizz in 16.9oz bottles, which are priced as follows (directly through the company):
12 bottles of Hint Water: $16-$18
12 bottles of Hint Fizz: $18
60 bottles of Hint Water: $80
120 bottles of Hint Water or Hint Fizz: $160
Keep in mind that Hint Water offers a subscription service named Club Hint that will provide you with regular shipments of the product of your choice.
There, you can choose which products you'd like to receive, how much you want, and how often you'd like to receive them, and your subscription can be paused or cancelled at any time. Upon enrollment, you'll receive the following benefits:
10% off each order
Free shipping on 3 or more cases.
Early access to new flavors
While no refunds are available for purchases made directly through Hint Water, you can alter or cancel your subscription plan via your account dashboard, by using the online contact form, or by emailing hello@drinkhint.com
Finally, keep in mind that Hint Water is available through several national retailers, including Whole Foods and Safeway. To find a store in your area that carries Hint Water, be sure to visit their Store Locator page.
Our Bottom Line: Is Hint Water a Tasty, Healthy Choice?
Overall, it seems that most customers who try Hint Water enjoy the experience, so it's likely that you will too. And it's also positive that Hint Water contains nothing except pure water and natural fruit infusions.
However, keep in mind that everyone has their own taste preferences, so what you might find to be the best taste on the planet someone else might find to be awful.
As such, we might recommend purchasing a single bottle of Hint Water or Hint Fizz from a local retailer in order to try it out. Then, if you like the taste, you can purchase greater quantities directly from the company.
Cannot believe I paid for this

I was so excited to finally receive my Hint water. I purchased the Flat Pineapple flavored and the Sparkling Peach flavored varieties. I popped a few in the fridge and the next morning eagerly opened a peach one. I was SO disappointed. There was barely any flavor at all. Next, I tried the pineapple and could not detect any flavor at all. It was just like drinking tap water.

Now I have three cases of expensive water. I may try adding some juice to them to see if that makes any difference. I would never recommend this product.

Bottom Line: No, I would not recommend this to a friend

---

Not so natural

By Michael

,

SF Bay Area

,

Oct 18, 2016
Verified Reviewer

Okay, redefining the word "natural" doesn't make it so. Fruit in its natural state contains natural sugars and calories, like it or not. Take for example blackberries, there are 65 calories and 7 grams of sugar in a cup of blackberries. In order to remove those calories you have to remove the sugar, in order to remove the sugar you have to process the berries. It says right on the bottle "Contains No Juice." If there is no juice to flavor this product, there are no sugars to sweeten it, then whatever is used to flavor it can't be natural, because it's processed.

I don't know if you all know this or not, but natural sugars and calories aren't the enemies, it's when they are consumed in excess that they become poison. 3 or 4 blackberries muddled with a leaf or two of mint in 16oz of filtered water contains 6 calories, is naturally sweet and contains vitamins that our bodies need to survive.

Yes, I have tried this product, apple and the blackberry, and didn't care for it. The apple tasted like someone dropped a green apple JollyRancher into ten gallons of water and the blackberry tasted nothing like blackberries. I also don't like the price and the fact that we are introducing even more single-use plastic into the environment, already seeing these bottles blowing around in parking lots and laying in ditches.

Bottom Line: No, I would not recommend this to a friend

---

Advertisement

---

I Like but read below

By Sharon M.

,

Hartford, CT

,

Mar 27, 2017
Verified Reviewer

For the most part I enjoy HINT. Some flavors tasted like lipstick (pomegranate, raspberry) and flavors I usually don't gravitate toward (mango) I actually really enjoy using HINT.

I picked up more flavors recently as they were on clearance at Target, and really liked strawberry kiwi. Green apple was okay but not my favorite. Watermelon is just so-so.

Stop & Shop makes a version of this water too and their watermelon is worse, but the S&S lemon is very good, much stronger flavor and almost tastes sweetened. Cucumber as S&S is just so-so as well but it's worth trying the S&S for the price.

I am going to order some lime and mint via the web as these flavors are impossible to find. Pear is at whole foods and is so weak in the 2 bottles I bought, that it's not worth it.

A cheaper alternative is Wegmans plus they make many different unique flavors and 12 bottles is $6.99. There is also herbal water by Dr Ayala with flavors like lemon ginger, and lemongrass and mint lavender.

My final suggestion was for the user who said they got 'dry mouth' or anyone else here. Just take your regular bottled waters and put them in a brown paper bag with things like mint, or even basil, and the label on the bottle will absorb the fragrance and oils.

As you drink the water, you're not tasting the stuff but the scent almost tricks you into it being flavored. I thought basil would be gross but it makes it such a refreshing experience to drink plain bottled water while smelling the basil.

I have tried it with spearmint and prefer this than a flavored mint because a mint water (like METRO which isn't made anymore) used to repeat on me and give my gastro tract the tingles. Good luck!

Bottom Line: No, I would not recommend this to a friend

---

Hint Water is named appropriately!

I attempted to purchase 2 cases of Hint Water "watermelon". First, they shipped my water via FedEx to the incorrect address. Hint Water does not have a telephone number that a customer may call to log a complaint. Therefore, you must send an email.

The customer service representative told me that I gave them the wrong address. After a constant battle back and forth they agreed to send me two more cases of the Watermelon water.

I really wish I had just asked for a refund to my credit card. They call it Hint because the company "scares" the water with such a small "hint" of flavor the customer cannot taste anything but the water!

Never waste your money purchasing this product! There are so many other brands that actually have a taste of fruit.

Bottom Line: No, I would not recommend this to a friend

---

Advertisement

---

Deceptive

By Helen Heron

,

Paoli, PA

,

Sep 20, 2017
Verified Reviewer

I was very disappointed to hear that Hint Water had 60 mg of natural caffeine. I have been having trouble sleeping for the past two months. I feel as though it should have been noted on the bottle.

Bottom Line: No, I would not recommend this to a friend

---

Chemical taste from propylene glycol

By Nick J.

,

New York, NY

,

Sep 24, 2018
Verified Reviewer

It has a strange kind of chemical-sweet taste and an aftertaste that lingers. It's weird. This is probably from propylene glycol that is an ingredient according to a lawsuit over the use of the ingredient. Propylene glycol is synthetic.

Bottom Line: No, I would not recommend this to a friend

---

Not enamored

I never heard of Hint until I saw it in an Aldi's (discount) grocery store. It was a 12-pack consisting of blackberry, watermelon, pineapple, and cherry, for $9.99. Always looking for a healthy alternative, I googled it and saw the same variety pack at Walmart, priced at $19.89, so I deemed it worth the risk. Bad decision. Quite frankly, I would give it zero stars if that was an option. It is nothing more than a typical flavored water, and barely at that, thus the "hint," which tells you that you're not going to taste very much flavor at all, and also, should be your "hint" not to buy it. I'm guessing the fancy bottle, the printed claims, ie: non-GMO, authentic vegan, etc., justify a price that is more than double that of waters that I feel are far superior. Grossly overpriced product.

Bottom Line: No, I would not recommend this to a friend

---

Flavor of Hint

By Eller J.

,

North Carolina

,

Feb 15, 2019
Verified Reviewer

I saw Hint advertised on TV so I decided to try it. The catch words sparkling refreshing was exactly that catch phrases. They will make you interested in trying Hint. I must say I was deeply disappointed. The water tastes like city water that you get from the faucet. The hint of the flavor is just that a hint that's almost not present. Perhaps that's why it got its name - Hint. It is made from purified water. Save yourself some money. Fill a pot with water from your faucet let it boil. Squeeze your flavor from fresh fruit and viola, you have made your own hint of flavored water. It will be even better if you use spring water. Try it you might like it better. I do! Spring water by itself tastes 100% better that Hint. Add your own fresh fruit and it tastes 200% better than Hint. Of course this is all just my opinion so you try my suggestions and compare them to Hint. You be the judge.

Bottom Line: No, I would not recommend this to a friend

---

No sodium but dry mouth? Skeptical of Hint's claims.

My wife is one of those folks who grew up drinking everything BUT water, so the idea of just drinking water with no flavoring is unpalatable to her. She found Hint Water and bought a few bottles for both of us to try. She didn't like the flavor profile and was done after one bottle ("too much like plain water," she said). I enjoyed the first bottle (Watermelon, specifically) and gave it a couple more chances.

While it lives up to its name (there's just a hint of fruit flavoring, enough to give it some flavor without being overpowering), I've discovered that it makes my mouth ridiculously dry, the same as when I drink purified water that has sodium bicarbonate in it. It claims to have no sodium and no such electrolyte additives, but I've now tried three more flavors over the course of a week and all three have had the same dry mouth effect. After drinking a glass of my typical double-filtered tap water, the dry mouth issue goes away.

This leaves me thinking that if Hint Water was just water and fruit essences with no sweeteners or sodium, there shouldn't be any dry mouth issues. This makes me wonder if someone over at Hint Water isn't telling the full story. If I need flavored water, I think I'd rather go back to just using an infuser bottle and deal with the natural fructose from the bits of fresh fruit used.

Bottom Line: No, I would not recommend this to a friend

---

Don't be fooled

Folks, this is tap water infused with a little fruit. It smells great, but the taste is weak. You can use your own water for a penny and top it with a slice of pineapple or a slice of green apple for less than a nickel. Taste your Hint Water and call me a liar.

Bottom Line: No, I would not recommend this to a friend

---

Taste like water

By Karleen K.

,

New London, MN

,

Feb 10, 2019
Verified Reviewer

I wish I could say something good about this water, but I can't. I've had trouble with artificial sweeteners and was hoping this product would've been my saving grace.

I tried the raspberry infused and it tasted like WATER! Just water. No raspberry taste at all.

I've made my own infused water and it tasted way better than Hint.

Bottom Line: No, I would not recommend this to a friend

---