Hydro Mousse Liquid Lawn Reviews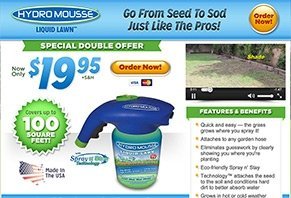 Hydro Mousse is an "As Seen on TV" hydro seeding mixture that's claimed to make seeding your lawn as easy as watering it, and to provide professional results.
About Hydro Mousse Liquid Lawn
Hydro Mousse Liquid Lawn is an "As Seen on TV" hydro seeding solution that's claimed to make achieving green grass as easy as watering your lawn by simply attaching the Hydro Mousse bottle to any garden hose, which mixes water with the eco-friendly Spray n' Stay solution inside, as well as the "high quality seed mixture." Then, you'll need to set the dial on top of the bottle and begin seeding.
You probably just watched the Hydro Mousse commercial and are all hyped up about the possibility of achieving a perfectly green lawn with minimal effort, but is this what you can expect? First, let's take a look at how Hydro Mousse is claimed to work.
How Does Hydro Mousse Claim to Work?
According to the manufacturer, Hydro Mousse's solution attaches the seed directly to the soil, which takes the guesswork out of remembering where you sprayed, in addition to a conditioner that loosens hard soil and allows it to absorb water. On top of this, the company claims that when compared to traditional seeding methods, Hydro Mousse can help prevent seed loss caused by birds and drainage.
Because of this, Hydro Mousse Liquid Lawn is claimed to be great for dry spots, dead spots caused by pets, and high traffic and shaded areas, and to be resistant to "extreme" heat and cold. In fact, Hydro Mousse is claimed to help you achieve professional results at a fraction of the cost.
However, the reality is that Hydro Mousse may not provide the results you're expecting, and almost certainly won't contain enough seed to cover your entire lawn. We'll talk more about this in a moment.
A New Year, A New Hydro Mousse Liquid Lawn Review
Here at HighYa, we originally reviewed Hydro Mousse Liquid Lawn last Spring, and now that a new year has arrived, we thought it would be a good time to see what customers like you are saying about the product, and if it differs from what was being said about Hydro Mousse 12 months ago.
In other words, are consumers pleased with their Hydro Mousse purchases? Do they feel it represents a solid value for their hard-earned money? Did they achieve the lawn of their dreams? Let's take a look so you can make a more informed decision.
What Are Customers Saying About Hydro Mousse?
Since our original review, More than 150 HighYa readers have chimed in about their experiences with Hydro Mouse (as of 3/10/15), and have given it an average rating of 2 stars. Interestingly, 123 of these were 1-star reviews, with only 13% claiming that they'd recommend the product to a friend.
Similarly, more than 80 Amazon customers have provided feedback about Hydro Mousse, and have also rated it an average of 2 stars. But what are all these people saying?
Does it Work as Advertised?
Far and away the most common complaint regarding Hydro Mousse is that it doesn't work as advertised. This included complaints referencing:
The container does not spray properly, and that most of the seeds will still be left in the bottom after all of the green "mousse" has been sprayed out. In fact, numerous customers claimed that Hydro Mousse works better by just unscrewing the cap and pouring the mixture out by hand. And even if you are able to get all the seed out, there is only enough in the bottle to cover about 20 square feet.
The trigger shown on the bottle in the commercial isn't actually functional. Instead, once you turn on your water, everything in the bottle comes out all at once (including the mousse and the seeds), which means that there isn't an ability to spot treat.
Since our original review, it appears that the company posted a 6-minute instructional video on YouTube that covers everything from unpacking your system and choosing an area to spray, to how to apply the Mousse and to clean up afterward. This could potentially help clear up any user errors that may have caused some of the experiences noted above.
A Canadian network news team posted a 14-day Hydro Mousse review in July 2014, and found that the treated area grew only in patches, although an area of fresh dirt on the same piece of property was claimed to have filled in much better.
In addition, a YouTube user named Steve Johnson posted a short 4-part series examining Hydro Mousse, from initial spraying to 9 days after application. He even posted a follow up video revealing that some of his leftover seeds inside the sprayer had germinated after a few days as well.
Another YouTouber named Bryan Joy also posted a Hydro Mousse video review, although this only covered the initial application (no follow ups to see the results).
Overall, it appears that both Steve and Bryan had very positive experiences with Hydro Mousse, although these appears to be the exception rather than the rule, as we'll continue discussing.
How's the Quality of the Product?
Next, the most common customer complaint associated with Hydro Mousse is that even if you are able to get the sprayer to work properly, it's still an inferior product because:
Even though each Hydro Mousse bottle is claimed to include "high quality" seed varieties, many reviewers claimed that you can purchase similar seed mixes from your local hardware store for much less (we'll talk more about this in a moment).
Failure to experience any growth, despite following all of the manufacturer's recommendations for soil preparation, which includes tilling your top soil a full 3" from the surface, as well as removing any existing grass or weeds.
The "mousse" mixture will stain your hands for days, so be sure to wear gloves when applying. Also, several customers stated that Hydro Mousse Liquid Lawn made their pets sick and/or the chemicals it contains burned their carpeting.
And the Customer Service?
As we've noticed a pattern with most "As Seen on TV" products like Hydro Mousse, numerous customers have complained of very poor customer service, including:
Numerous upsells during the ordering process over the phone, with customer service personnel who won't take no for an answer. Because of this, several customers claimed that their order totals were much higher than the advertised price.
Difficulty processing refunds, including long hold times and sudden disconnects.
Constant sales calls from third-party companies. In fact, one reviewer claimed that they received 15 sales calls within minutes of placing their Hydro Mousse order.
What is Hydroseeding?
According to Wikipedia, hydroseeding is "a planting process that uses a slurry of seed and mulch" that has been used since the 1950s. Typically, this slurry/seed mixture is sprayed from large commercial trucks, which means that it can be applied to large areas relatively quickly to help with erosion control.
In addition, when compared to traditional seed broadcasting methods, hydro seeding has a quick germination rate (within a week) and can be cared for (mowed, trimmed, etc.) within about 3-4 weeks.
What Ingredients Are Contained in Hydro Mousse?
While there aren't any ingredients listed on the Hydro Mousse website, and this information doesn't appear to be available elsewhere online, the Wikipedia article noted in the previous section states that hydroseeding slurry typically contains a mix of "fertilizer, tackifying agents, fiber mulch, and green dye."
Granted, this appears to closely resemble Hydro Mousse's slurry, but we can't be sure without confirmation from the manufacturer.
What Kinds of Seeds Are Contained in Hydro Mousse?
Other than telling us that Hydro Mousse contains a "high quality" seed mixture that's resistant to "extreme" heat and cold and that will blend perfectly with your existing lawn, Hydro Mousse's manufacturer doesn't provide any information about the exact species of grass seed it contains.
With this said, the reality is that achieving the greenest lawn possible isn't just as simple as putting out whatever kind of grass you want. This is because the type of grass you should plant depends on a wide variety of factors environmental factors, such as climate and soil type, in addition to other considerations such as sun/shade levels, amount of traffic, and even how short you choose to mow your grass.
As if this weren't enough, some grasses are very aggressive (such as Kentucky bluegrass, Buffalograss, Bermuda, and more) and can crowd out and kill your existing lawn, depending on the type of grass you currently have in place.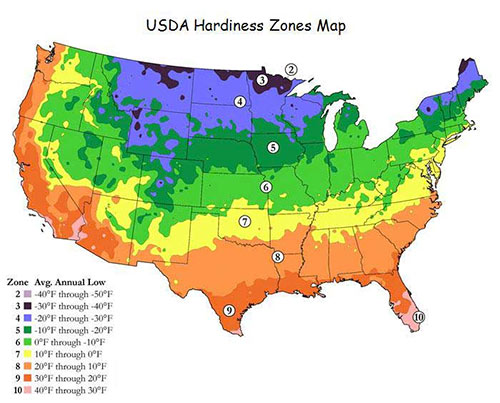 The type of grass you should plant (and when you should plant it) depends largely on your climate and soil type. Image courtesy of SeedLand.com
Because of this, it's almost certain that Hydro Mousse will not work equally well in all conditions and locations, and could even cause more damage than it repairs.
Is Hydro Mousse Liquid Lawn Really As Easy As Simply Spraying?
Remember the instructional video that we mentioned above? If you fast-forward to 1:20, you'll find out that, even if you're only covering dog spots or filling in high-traffic areas, the surface area must be prepped, which involves removing all dead vegetation (yes, this means your existing grass) and loosening the topsoil.
In other words, depending on the size of the area you're looking to apply Hydro Mousse, this could quickly turn into a labor-intensive endeavor—and much more work than the product's commercial might make it seem.
With all this soil preparation in mind, in addition to the fact that you should water your lawn three times daily after application, we'd have to wonder how effective Hydro Mousse's "conditioner" really is.
Hydro Mousse Pricing & Refund Policy
Hydro Mousse is available in 2 purchasing options:
TV Offer – Claims to include one Hydro Mousse container with "double the seeds" for $19.95 plus $7.95 S&H, bringing your total to $27.90.
Best Value Offer – Includes everything in the TV Offer, in addition to 5 seed refill bags for $79.80 plus $31.80 S&H, bringing your total to $111.60.
Regardless of which option you choose, Hydro Mousse comes with a 30-day refund policy, less S&H charges. Note: This means that if you order the Best Value Offer and decide to request a refund, this means you'll be shipping six bags of seed back to the manufacturer, which could cost a decent chunk of change in return S&H charges.
With this said, in order to request a refund for your Hydro Mousse, you'll need to contact customer service at 888-405-8997.
Thinking About Using Hydro Mousse for Your Whole Lawn?
Because Hydro Mousse claims to be simple to use, you might be thinking about purchasing several bottles in order to cover your entire lawn, should it need some TLC. Because of this, we felt it would be important to break down the numbers so that you can get a real-world idea of your overall costs.
The average lawn size in the U.S. is 1/5 of an acre, or about 8,712 square feet (front and back).
With 100 feet of coverage at a cost of $20 per bottle, this means that you'd likely spend around $1,742 in order to apply Hydro Mousse to your entire lawn.
However, as we noted above, it seems that most customers found that Hydro Mousse actually only covers about 20 square feet, since the seeds and "mousse" seem to come out all at once. If this is the case, then you'd spend more than $8,700 to seed your whole lawn.
On the other hand, professional hydro seeding generally costs $0.10 - $0.12 per square foot, which means it would cost you $800 - $1,000 to have it professionally done for you.
With this in mind, it's clear that Hydro Mousse isn't really intended to be applied to your entire lawn, and even if it was, it would be much more expensive than letting a professional handle your hydro seeding. As such, the manufacturer's claim to provide "professional results at a fraction of the cost" seems slightly suspect.
However, even if you're not intending to use Hydro Mousse on your entire lawn and just need it to cover a few brown patches, it will still likely require more than the 100 square feet of coverage advertised by the manufacturer.
Are There Any Products Similar to Hydro Mousse?
Ultimately, this is where the creative genius of Hydro Mousse's manufacturer comes in. Why? Because if you're looking for inexpensive DIY hydroseeding, then Hydro Mousse Liquid Lawn is the only game in town. Otherwise, if you're interested in hydroseeding your lawn, you'll have to call in the large-scale professionals, who may not be appropriate based on your needs. And even if they are, they'll definitely be much more expensive than Hydro Mousse.
Is Hydro Mousse Your Best Solution for a Green Lawn?
Chopping to the point: Ultimately, there's no reason to think that Hydro Mousse is a scam. However, it's important to align your expectations with reality, which boils down to 2 key questions:
Can you expect Hydro Mousse to provide you with a decent value for your hard-earned money? If you're simply looking to cover a very small area—such as 2 to 3 pet spots in your back yard, or a small high-traffic area between your patio and grill—perhaps so. However…
Can you expect Hydro Mousse to perform as effortlessly and flawlessly as the commercial makes it appear? In our opinion, based on the hundreds of negative customer reviews (both on HighYa and elsewhere online) for the product, almost certainly not.
In fact, dozens upon dozens of consumers claimed that their Hydro Mousse failed to work at all, and simply sprayed the seeds in a 2-second frenzy, leaving them with nothing but an empty plastic bottle and a lighter wallet. And if you decide to give Hydro Mousse a shot and find yourself among these other consumers, you'll have to pay some relatively hefty S&H charges.
Instead, you might first want to try some of the tips we outlined in our article 5 Tips for Achieving the Greenest Grass on the Block This Spring.
2 out 2 people found this review helpful

Do not purchase!

Today was a rude awakening for me as well as others when it comes to purchasing this product. The company is taking the consumer's money by charging shipping/handling and leaving the customer to believe that the product works.

The first problem occurred when I paid for a double order but only received one. When I phoned to customer service, the option was to pay out $5.00 (handling) more for the second order.

When asking for a reimbursement, I was told that I pay for the shipping both ways, which means that I am out of $20.00 and no product. This isn't breaking even because it was just a simple rip-off instead.

Consequently, this product was never worth the trouble.

Bottom Line: No, I would not recommend this to a friend

---

4 out 4 people found this review helpful

Hydro Mousse

I purchased the product from Publishers Clearing House. I followed all the directions, and not one blade of grass grew. I am very upset, and I have to pay for this. I'm on a fixed income, and I can't afford to throw money away. I would like to be reimbursed for the $19.99 that I paid plus shipping of $7.99.

Bottom Line: No, I would not recommend this to a friend

---

Advertisement

---

2 out 2 people found this review helpful

Stay away

By

Jeff Kanov

,

Hemet, CA

,

Aug 29, 2017
Verified Reviewer

What a scam. I followed the directions TO THE T, and not even one blade of grass grew! I did everything that the instructions said. I even went to the website and followed the additional suggestions for better results and nothing.

I called the company today, and they had no issues returning my $19.95. Of course they keep the processing and handling fee of $7.95. Not a bad deal if you're a company that is putting out a worthless product and then keeping eight bucks from each customer!

Stay away from this scam. It doesn't work, and I wish I had seen some of these reviews before I gave them eight bucks.

Bottom Line: No, I would not recommend this to a friend

---

5 out 5 people found this review helpful

Worst ever- totally scammed

By

Guy Chavez

,

Denver, CO

,

Aug 28, 2017
Verified Reviewer

I followed instructions exactly as stated. The info ads show a thick green covering, which is totally false. It sprays out seeds and green water which quickly disappears (the green water). All you're left with is bare seed sitting on top of the ground. Nothing grows, nothing. I'm glad I only ordered the minimum quantity. There is no money back guarantee. DON'T BUY IT.

Bottom Line: No, I would not recommend this to a friend

---

Advertisement

---

7 out 7 people found this review helpful

Absolute waste!

This is such a waste. I have no idea why I even thought it would work. Barely got any seeds and the patches I was trying to fix is still bare! I am just going to get sod and patch them that way. I called them, and they didn't even help! They tried to insinuate I didn't follow instructions. Don't buy this!

Bottom Line: No, I would not recommend this to a friend

---

6 out 6 people found this review helpful

Poorest product ever

I used this product twice to cover a large area that had been recently top soiled. After two months, little grass. Since I wanted to be objective, I tried again. There is no "mousse," just colored water. After I sprayed the area, I opened the jug and guess what was in it? All the grass seed! And, that green coloring that's supposed to clean right up with soap and water? Not so much.

Bottom Line: No, I would not recommend this to a friend

---

9 out 9 people found this review helpful

I did not want $111 package, just the $20

I ordered the $20 package and received a charge for $111. Given the reviews, I'm not going to try it, and if I can't return it without incurring the hefty return postage, I'll notify my credit card that I was defrauded and have them sort it out while I receive a credit for the whole amount from the credit card. Consumers should not have to bear any costs for products that have been documented as not working even close to how their commercials describe. I hope this helps anyone who incurs this situation with any product.

Generally, you do not have to be concerned about receiving poor, false advertised products. Your credit card wants your business, and I believe as per their contract must support you in the event of fraud. They will typically ask you to make an attempt to sort out the issue with the company you purchased it from. I suggest you do so to fulfill that obligation. If the vendor like HydroMousse cannot be readily contacted or tries some tactic to refuse or will not pay for return postage, then contact your credit card and tell them. They will very likely reverse all charges, and you may even get to keep the barely useless product because it costs HydroMousse more to pay for the return bloated pricing to pay to take it back than the product is worth.

So don't be a victim, turn the tables on these scammers, and hopefully they'll incur so much cost as an industry they'll clean themselves up, and the world will be a better place!

Have a better day.

Bottom Line: No, I would not recommend this to a friend

---

9 out 9 people found this review helpful

Don't waste your money

Great Falls, Montana

,

Jul 26, 2017
Verified Reviewer

I followed the instructions completely and got basically zero from this product. I went further and applied about a quarter inch of peat moss on top to hold moisture. I am sorry I wasted money on this. It doesn't work.

Bottom Line: No, I would not recommend this to a friend

---

1 out 7 people found this review helpful

Worked for me!

Ontario, Canada

,

Jul 17, 2017
Verified Reviewer

I "Hydro Moussed" large areas of my front yard, and it came out fully green and like sod. I took out some flower beds from the previous owner, and the soil was old, but it still worked well. I "Hydro Moussed" at my old house in the backyard and it grew in very well. The best sections of new grass were "Hydro Moussed." The green dye is messy to work with, but it makes a difference. It worked excellent in shaded areas where I had trouble growing grass.

Bottom Line: Yes, I would recommend this to a friend

---

4 out 4 people found this review helpful

Hydro review

By

Thomas Byrd

,

Stockbridge, Georgia

,

Jul 8, 2017
Verified Reviewer

I've been waiting for my order forever, and received apology postcards twice for the delays but not compensated for dependability. If you have time to watch, grass grows! Still waiting.

Bottom Line: No, I would not recommend this to a friend

---

16 out 18 people found this review helpful

Do not buy this product!

By

Wade Lucas

,

Illinois

,

Jun 20, 2017
Verified Reviewer

First off, you get about 2 ounces of seed and a little package of crap that turns the water green. The package says the product will cover 50 square feet, which is way less than I had to cover.

I followed the instructions carefully and completely covered the area. Well, it has been two weeks now, and I have grass growing very spotty only in the middle. I have a bunch of seed everywhere else just laying there not growing. I watered three times a day as per the instructions.

This product is total crap. I do not know why I let my wife talk me into "trying" it. I had the bag of Scotts seed in my hands. Take it from me, use Scotts only, that is all I have ever used until "oh let's try this." And guys, go to the store ALONE. I purchased this product at Home Depot in Orland Park, Illinois.

Bottom Line: No, I would not recommend this to a friend

---