Hydro Mousse Liquid Lawn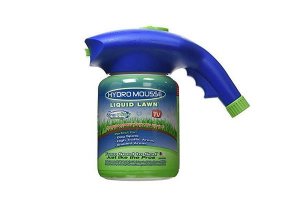 Hydro Mousse Liquid Lawn combines four different seed varieties with a formula that is designed to hydrate and nourish the soil to help you achieve a great-looking grass. In this analysis, we take a detailed look at its formula and effectiveness to help you decide if this product is the right choice for you.
Hydro Mousse Liquid Lawn Review
Hydroseeding: How It Works
Hydroseeding involves using a hose to spray a special mixture of "water, seeds, fertilizer, cellulose fiber or wood mulch, and soil treatment agents" onto the ground.
Not only does this mixture help "shelter your seeds from sunlight, wind, and soil erosion," they explain that it also "helps create a bond with the soil" and "releases a wide range of nutrients that help your seeds thrive" during its natural decomposition process.
Furthermore, this mixture is typically dyed green to make it easier to apply and help make it less of eyesore immediately after application, until the seed has had time to germinate and grow.
Hydroseeding was initially used for large agricultural purposes, such as restoring burned areas and controlling erosion, so it required application by trained professionals.
Recently, however, products like Hydro Mousse have entered the marketplace, promising to provide many of hydroseeding's same benefits, but at a scaled-down size useful for residential applications.
What Seed Types Does Hydro Mousse Contain?
Other than telling us Hydro Mousse contains a "high quality" seed mixture that's resistant to extreme heat and cold and will blend perfectly with your existing lawn, the manufacturer doesn't provide any information about the exact species of grass seed it contains, nor the specific ingredients found in their eco-friendly slurry.
However, according to the EpicReviewGuys, the only active ingredient in Liquid Lawn's green foaming agent is alpha-olefin sulfonate (15%), with 85% 'other ingredients.' The seed mix includes:
Xtreme Green Tall Fescue 39.94%
Corsair Kentucky Bluegrass 19.82%
Radar Chewings Fescue 19.77%
Academy III Perennial Ryegrass 19.55%
Are these ideal? The best seed type for your particular application will depend on a wide variety of environmental factors, such as climate and soil type, in addition to other considerations like sun/shade levels, amount of traffic, and even how short you choose to mow your grass.
With this said, Fescue grass is adaptable to a wide range of climates and soil conditions (even in drought areas), although it typically thrives in moist environments in transition zone states like AR, GA, KY, OK, MO, NC, TN, TX, and VA.
Kentucky Bluegrass has a shallower root system than fescue and typically requires a greater amount of water during the summer, although it goes dormant during the winter and requires no watering at all.
Finally, Perennial Ryegrass boasts high traffic tolerance and naturally prevents the growth of weeds, but doesn't withstand cold temperatures well, requires a great deal of maintenance, and can crowd out other beneficial grasses and plants.
Is Hydro Mousse Liquid Lawn Effective?
Over 300 customers have reviewed Hydro Mouse on our website, giving it an average rating of 1.3 stars. While a handful of customers reported good results, in general, most complaints appeared to revolve around:
Difficult application – Many customers indicated the container doesn't eject its contents properly, resulting in most of the seeds remaining in the bottom after all of the green mousse had sprayed out.

Spot treatment functionality – Multiple customers reported that the bottle trigger shown in the commercial isn't functional. Instead, once you turn on your water, they indicated everything in the bottle comes out all at once (including the mousse and the seeds), which meant there isn't an ability to spot treat.

Much less coverage than advertised – Many customers claimed there was only enough mousse in the bottle to cover about 20 square feet.
Additional common complaints included:
Inferior seed varieties – Many reviewers claimed that you could purchase similar seed mixes from local hardware stores for much less (we'll discuss this important aspect again, soon).

Staining and potential toxicity – Several customers stated that Liquid Lawn stains, so be sure to wear gloves and old clothes when applying, while also taking care around driveways, sidewalks, and other concrete areas. Also, some claimed the mousse made their pets sick and/or the chemicals it contains burned their carpeting.
A Canadian network news team conducted a 14-day Hydro Mousse test in July 2014 and found that the treated area grew only in patches. However, they pointed out that an area of fresh dirt on the same piece of property filled in much better.
On the other hand, YouTuber Steve Johnson created a short four-part series examining Hydro Mousse, from initial spraying to nine days after application, and seemed to experience better results.
He even posted a follow-up video revealing that some of his leftover seeds inside the sprayer had germinated after a few days.
The Bottom Line
Most customers who left reviews about their experiences were disappointed with Hydro Mousse's performance, whether during the application, weeks later, or both.
Many who used it to spot treat seemed to report better results than those who applied the formula to larger areas.
Furthermore, Liquid Lawn might not deliver meaningfully better results than standard bluegrass, fescue, and ryegrass seed blends, which can often be purchased locally for less than $15 and cover a minimum of 750 square feet (or, about $0.02 per square foot).
» Read Next: 5 Tips for Achieving the Greenest Grass on the Block This Spring
---
Two orders

By David A.

,

Allen, TX

,

Sep 21, 2020
Verified Reviewer

Length of Use: Less than 3 months

Overall Experience:

I have ordered this 4 times and the first time got only the sprayer and container with no grass seed or liquid. The other order came with the sprayer, container, and liquid but again no seed as was advertised in the how-to video.

Way overrated!

Pros and Cons:

No "pros" were specified in this review
Misleading advertising and missing components

Bottom Line: No, I would not recommend this to a friend

---

Very poor product - do not recommend

By Krys L.

,

Chicago, IL

,

Sep 4, 2020
Verified Reviewer

Length of Use: Less than 3 months

Overall Experience:

I purchased this for the bald spots on my lawn. The product doesn't have any seals so water leaks everywhere. The top "off, light seed, heavy seed" does nothing. The "mousse" isn't a mousse. It dyed the water green, and my hands, and my shoes as it sprayed everywhere. No seed even came out of the spray!

Pros and Cons:

No "pros" were specified in this review
Not as advertised
No seal
No mousse or seed comes out

Bottom Line: No, I would not recommend this to a friend

---

Advertisement

---

No seed in container, just spewed green water, total scam

By Jeff W.

,

Oxford, WI

,

Sep 1, 2020
Verified Reviewer

Length of Use: Less than 3 months

Overall Experience:

Does not work, no seed in the unit, total scam. Just spewed out green water, no foam.

I tried 2 of them, looked like no seed came out. So I busted open the other 2 with a hammer, there was not any seed in either of them.

These people should go to prison.

Bottom Line: No, I would not recommend this to a friend

---

Awful, save your money!

By Lori J.

,

Southfield, MI

,

Aug 19, 2020
Verified Reviewer

Length of Use: Less than 3 months

Overall Experience:

This is a waste of money. My canister came with a dent near the top. I assembled everything per the video and when I turned on my hose, the lid blew off spilling the seed I bought and the green mousse in one spot of my lawn. Tried again without my seed and it was clear water coming out!

Pros and Cons:

No "pros" were specified in this review
Canister is flimsy
Top doesn't stay on, no foam comes out
No seed with my package

Bottom Line: No, I would not recommend this to a friend

---

Advertisement

---

Dissatisfaction

By Jenni W.

,

Great Britain

,

Aug 6, 2020
Verified Reviewer

Length of Use: Less than 3 months

Overall Experience:

I waited for months for the product to arrive. When it came it contained no seed. There is no invoice in the package and no means of contacting them. A scam. How could half a pound of lawn seed get missed in a parcel? Disgraceful behavior.

Pros and Cons:

No "pros" were specified in this review
Its deceit

Bottom Line: No, I would not recommend this to a friend

---

Worse product I ever bought

By Doug W.

,

Davenport, FL

,

Jul 2, 2020
Verified Reviewer

Length of Use: Less than 3 months

Overall Experience:

Product containers are absolutely worthless. After being "snookered" in by their advertising I bought four. The longest any one container lasted was less than two minutes using very little water pressure. Despite following recommended procedures, there was no influx of new grass. This stuff is a joke. I will consider my mission accomplished if I persuade just a person not to buy. Hopefully more, a lot more.

Pros and Cons:

Their ability to sell junk
They are selling a worthless product

Bottom Line: No, I would not recommend this to a friend

---

Highly unsatisfied with service

By Stephen E.

,

New Jersey

,

Jun 10, 2020
Verified Reviewer

Overall Experience:

I don't know how good the product is but the customer service sucks. You can't get hold of a human and they don't provide an email address. The order was supposed to ship in 3 weeks. I am now approaching the 6th week, no product. I have been trying to call to cancel, well, you can't. There is no way to contact a human. I have been on hold the first time today for 1 hour and now an additional half-hour. The only good thing is they at least have not charged me.

Pros and Cons:

No "pros" were specified in this review
No way to get service

Bottom Line: No, I would not recommend this to a friend

---

Half order received

By Colin J.

,

United Kingdom

,

Jun 4, 2020
Verified Reviewer

Length of Use: Less than 3 months

Overall Experience:

I ordered this product however received no Hydro Mousse Liquid or seed. It is impossible to email them and the number they give is not recognized. I tried to return it under the 30-day but they don't give you a return address.

Pros and Cons:

Instructions on its use
Total lack of information with regards a query
No complaints system

Bottom Line: No, I would not recommend this to a friend

---

It's a joke

By Gerald C.

,

Kissimmee, FL

,

Jun 3, 2020
Verified Reviewer

Length of Use: Less than 3 months

Overall Experience:

After waiting over a month, the kit arrived. I spent two days prepping the ground and removing all the weeds. I practiced spraying with just water like it said, anticipating what it would be like with foam and seed. Well, there was no mousse, just a lot of green staining water. The handle leaked and stained my hands green. My kit was to cover 200 sq feet. It came with 1/2 pound of seed which really is not enough to cover 200 sq feet even if broadcast. After spraying green water over 300 sq feet, I stopped and checked the bottle and half of the seed was still in the bottle. Useless.

Bottom Line: No, I would not recommend this to a friend

---

Not impressed

By Cherie H.

,

Utah

,

May 28, 2020
Verified Reviewer

Overall Experience:

I have tried to contact this company multiple times through email and phone. NOTHING! I have not received this product to even try it out! Thus far, product reviews and customer service warrants -10! What a waste of time and money!

Bottom Line: No, I would not recommend this to a friend

---

Inefficient system

By William W.

,

Cincinnati, OH

,

Apr 24, 2020
Verified Reviewer

Overall Experience:

I attempted to order the $19.99 package on the phone.

System automatically ordered the $79.95 package.

Phone system did not respond to my repeated attempts to cancel or amend my order. On hold for 45 minutes trying to get through to customer service. Message stated that I could check my order online.

No luck.

INEFFICIENT AND DECEPTIVE.

Bottom Line: No, I would not recommend this to a friend

---