Illuminating Dark Spot Corrector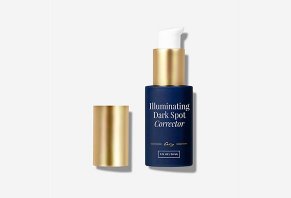 City Beauty's Illuminating Dark Spot Corrector promises to brighten your skin on the first use and help you reduce the appearance of skin discoloration for good the longer you use it.
Illuminating Dark Spot Corrector Review: Does It Work or Just Hype?
If you're looking to banish the signs of sun-induced aging from your face, then City Beauty's Illuminating Dark Spot Corrector may appeal to you. This product promises to erase the appearance of dark spots from your skin so that you're left with a brighter, more youthful complexion.
According to the company website, the Illuminating Dark Spot Corrector can be used on your face, arms, hands, neck or anywhere else that you'd like to even out your skin tone. They claim that the product will render your dark spots almost invisible as soon as you use it and that you'll develop a more radiant glow after continued use.
Those are big claims, but can the dark spot corrector deliver? Let's look at the details to help you decide.
How Does the Illuminating Dark Spot Corrector Work?
According to City Beauty, the Illuminating Dark Spot Correct is ideal for hiding the signs of hyperpigmentation on all skin types.
All you need to do is rub a small amount of serum into the area of concern, and they state that you'll notice an immediate difference in your skin tone. The company suggests using the product at least twice a week for the best long-term results.
That sounds impressive, but does the Illuminating Dark Spot Corrector really contain the necessary ingredients to fade your hyperpigmentation? Let's look at the ingredients list to learn more.
What Ingredients are In the Illuminating Dark Spot Corrector?
City Beauty reports that the Illuminating Dark Spot Corrector contains the more than 30 ingredients, including some of the following:
Water
Glycerin
Resveratrol
Safflower seed oil
Oat kernel extract
Other ingredients included: magnesium aspartate, alcohol denat., PEG-100 stearate, sodium cocoyl amino acids, sarcosine, potassium aspartate, stearic acid, alpha-arbutin, acrylates/C10-30 alkyl acrylate crosspolymer, allantoin, aminomethyl propanol, titanium dioxide, trideceth-6, sepiwhite-MSH™ and fragrance (parfum).
We investigated each of these ingredients on the Environmental Working Group cosmetics database to get a sense of what they offer and any risk factors associated with them.
As with many City Beauty products and most other skin care lines, the majority of these ingredients act as moisturizers, emollients, skin conditioning agents, preservatives, fragrances, and cleansing agents that have few (if any) known adverse side effects associated with them.
The City Beauty website highlights three ingredients as the active components within the corrector, so we'll give them a more in-depth look below.
Alpha Arbutin
Known by the company as a Tyrosinase inhibitor, alpha arbutin promotes a lightening effect on your skin by stopping it from over-producing pigment.
Beauty site Truth in Aging tells us that the compound as it's used in cosmetics is a synthetic form of a component in bearberry plants, and it can prevent your skin from tanning during sun exposure while creating an overall brighter appearance.
Sepiwhite-MSH™
This third-party proprietary ingredient is an amino acid that City Beauty claims will reduce melanin production by 24% and reduce the appearance of age spots by 73%.
According to Truth in Aging, the compound is considered a breakthrough age spot fader that works as well as hydroquinone, a common dark spot lightening ingredient that some experts recommend avoiding because of possible carcinogenic effects.
Resveratrol
Found in the skin of grapes, resveratrol is a polyphenol that shows promise for treating skin discoloration and hyperpigmentation.
In a 2013 article from CBS News, University of Florida Associate Professor Heather Huasenblas noted that those who took oral doses of resveratrol for at least sixty days experience improvement in skin elasticity, texture and moisturization.
Are there any side effects with Illuminating Dark Spot Ingredients?
Our research with the EWG database uncovered a few ingredients you might want to be aware of in this serum, which are listed below:
Peg-100 Stearate: A cleansing agent that triggers organ problems in some people.
Titanium dioxide: Used in numerous body care products as a colorant, but it can cause problems to your organs if you inhale too much of it.
Phenoxyethanol: Commonly used as a cosmetics fragrance and preservative, phenoxyethanol is a known skin irritant.
Dimethicone: Used as a lubricant and conditioning agent, this silicon-based polymer can irritate sensitive skin and trigger organ problems.
Aminomethyl Propanol: This buffering agent can irritate those with sensitive skin.
What does the Illuminating Dark Spot Corrector Cost?
At the time of writing, the Illuminating Dark Spot Corrector is only available for sale on the City Beauty website. The company offered each one-ounce jar at pricing that rewards larger purchases: one bottle costs $49, two cost $88 ($44 each), and three cost $117 ($39 each).
The company offers a 60-day satisfaction guarantee, meaning that you can try the corrector for two months before deciding if you like it. If you don't like your results, the company states you can contact them at 1-800-347-1558 for a full refund.
Which Products are Similar to the Illuminating Dark Spot Corrector?
If you're on the fence about whether City Beauty's Illuminating Dark Spot Corrector makes sense for you, several other products are worth considering, including the Ecco Bella Beauty Vitamin C Serum with Hyaluronic Acid and the KissRedE Dark Spot Corrector.
The Ecco Bella Beauty Serum relies on hyaluronic acid and vitamin C to keep your face soft and youthful. It's branded as a wrinkle and acne scar remover as well as a way to diminish dark spots. Amazon customers award it 4.5 stars after more than 100 reviews, and it costs $14.99 for a one-ounce bottle (compared to $49 for the City Beauty serum).
Like the City Beauty Serum, the KissRedE Dark Spot Corrector is explicitly branded as a dark spot remover. According to Amazon, reviewers gave it an average of 3.9 stars, with dozens of people reporting that it successfully lightened their skin where they applied it.
The product copy shows that it relies on a "synergistic blend of natural and holistic botanical ingredients" like DMAE, MSM, hyaluronic acid, and green tea extract. At the time of writing, a one-ounce bottle retailed for $17.99.
Our View: What's the Best Way to Reduce Your Dark Spots?
As this research shows, there's a lot of reason to consider trying skin serums like City Beauty's Illuminating Dark Spot Corrector to improve your skin's complexion. However, even the best skincare products will struggle to remove the signs of skin damage altogether. A better option is to prevent them from occurring entirely.
If you want to keep your skin looking ageless, one of the best things you can do is keep it safe from sun exposure. Seek out skincare products with ingredients like zinc oxide, and check in with your dermatologist often so that you can stay on top of potential skin problems before they worsen.
Healthline tells us that dark spots on the skin are a symptom of hyperpigmentation, which is caused by numerous factors, including sun exposure, acne scars, and hormonal changes.
Fading these spots takes time and attention, and there are dozens of skincare products that promise to deliver just that.
---
Does not work!

By Reka N.

,

New York

,

Feb 8, 2020
Verified Reviewer

Overall Experience:

I used this product every morning and evening for around 6 weeks, and had zero improvement in the brown spots on my face. I used sunscreen during the day, and avoided sun exposure. Absolutely no difference on my skin.

On top of this, when I wrote City Beautry about getting a refund (as they offer a 100% money-back guarantee), they refused to refund me as it had been past 45 days since my order.

Do not waste your money! There are so many more effective products on the market.

Bottom Line: No, I would not recommend this to a friend

---

Illuminating Dark Spot Corrector

By Patricia C.

,

Ithaca, NY

,

Oct 3, 2019
Verified Reviewer

Overall Experience:

I am very disappointed in this product. It didn't work as promised, in that long presentation I watched. In fact, it did just the opposite. Just very disappointed! Request my money back.

Bottom Line: No, I would not recommend this to a friend

---

Advertisement

---

Illuminating Dark Spot Corrector

By Laura M.

,

Houston, TX

,

Sep 23, 2019
Verified Reviewer

Overall Experience:

My face was stained from malsana and sunspots. Nothing I tried was making a dent (even medicated stuff and lasers). I have used this only a few days and the difference is enormous. Another week and I may have the confidence to go out without makeup! I don't know why somethings work for some and not for others, but the medicines and procedures did not work for me. This did.

Bottom Line: Yes, I would recommend this to a friend

---

Early results

By Wendy M.

,

California

,

Sep 22, 2019
Verified Reviewer

Overall Experience:

Just started using this Dark Spot Corrector and after a week, I'm actually seeing a diminishment of the dark spot that seemed to appear overnight. Glad to see it fading and hoping to see it gone soon. Wasn't expecting this kind of result so quickly, but I love it!

Bottom Line: Yes, I would recommend this to a friend

---

Advertisement

---

Dark Spot Corrector

By Melody C.

,

Kennesaw, GA

,

Sep 18, 2019
Verified Reviewer

Overall Experience:

I have been using Illuminating Dark Spot Corrector in conjunction with the Multi-Action Sculpting Cream and City Lips. I started getting dark spots on my face and hands and had tried several creams from the department stores with no luck. Since using the Dark Spot Corrector, the spots on my face have definitely faded and I no longer need to use concealer to cover them. I love City Beauty products. I have already reordered MASC and City Lips. I will definitely be a life-long customer!

Bottom Line: Yes, I would recommend this to a friend

---

Great results!

By Sharon P.

,

Queen Creek, AZ

,

Sep 18, 2019
Verified Reviewer

Overall Experience:

I have been using Illuminating Dark Spot remover from City Beauty for a couple of years now.

This formula has lightened the dark spots on my hands considerably. I am going to start using it on the minor dark spots on my face as suggested.

The smaller dark spots on my right hand, in particular, have disappeared and the larger spots are much, much lighter. The secret is to be consistent in using this product. It really works.

Bottom Line: Yes, I would recommend this to a friend

---

Illuminating Dark Spot Corrector

By Beverly K.

,

Colorado

,

Sep 12, 2019
Verified Reviewer

Overall Experience:

Two bottles ordered, received and loved! I have been using City Cosmetic's Dark Spot Corrector for two weeks now, concentrating on my hands and wrists and already see an improvement. Victoria cautioned against using exfoliating products on the face so I use my "hydro-peptide" gentle exfoliating grains on my hands and wrists prior to massaging in the spot corrector and believe this step complements and adds to the lightening benefits that the Illuminating Dark Spot Corrector provides. I'm hopeful the tops of my hands and wrists will be dark spot free within the next 2-3 months! Thank you, Victoria.

Bottom Line: Yes, I would recommend this to a friend

---

Not enough time

By Bonnie H.

,

Aurora, OH

,

Sep 11, 2019
Verified Reviewer

Overall Experience:

I've only used the Illuminating Dark Spot Corrector for about two weeks, so, it's too early to truly rate this product. I haven't seen any changes in my dark spots as of yet so that's why I gave the product only three stars. It would be helpful to ask for feedback after 4-6 weeks of use. Hoping for some amazing results in another month or so. That being said, I do like the gentle sparkle/shimmer left in my skin. Thank you!

Bottom Line: No, I would not recommend this to a friend

---

It seems to be working

By Charles F.

,

El Paso, TX

,

Sep 11, 2019
Verified Reviewer

Overall Experience:

Have tried a lot of products without noticeable results. This product seems to be lightening the facial dark spots. I know it may take more time than I have allowed so far, but it seems to be gradually lightening the spots.

Bottom Line: Yes, I would recommend this to a friend

---

Excellent product

By Marsha T.

,

Adairsville, GA

,

Sep 8, 2019
Verified Reviewer

Overall Experience:

Although I've only had the product a short time I can already see my age spots beginning to lighten. I have a rather significant one on my neck so I'll be delighted to see it gone after the number of years I've had it (I'm 70 years old now and I've had it for 40 years) so it's nice to see it been to lighten!

Bottom Line: Yes, I would recommend this to a friend

---

Still deciding

By Lisa D.

,

Spring Hill, FL

,

Sep 6, 2019
Verified Reviewer

Overall Experience:

I have been using the Dark Spot Remover for two weeks and it seems to be working. I have noticed my dark spots are getting lighter, but I am also getting a lot of skin peeling. I have cut back to only once a day to see if that helps. Hoping for the best. Hate to spend money and not be able to use the product. Will give it a month and then decide.

Bottom Line: Yes, I would recommend this to a friend

---