Gundry MD Dark Spot Diminisher
This company has claimed this profile, is getting alerted on any new customer reviews entering this page, and may engage in dialogue with its customers to address their matters.

Companies cannot pay money or provide goods in order to remove or alter customer reviews.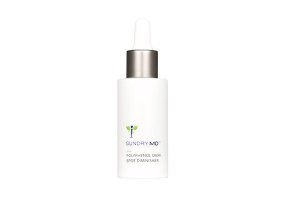 Summary
The Dark Spot Diminisher is a skin serum that claims to use polyphenols and other beneficial ingredients to even out your skin tone and fade dark spots. Customer reviews indicate it works as described, and the ingredients are mild enough for most skin types.
Pros
Ingredients show clinical evidence for reducing dark spots
Minimal side effects associated with ingredients
Positive customer reviews indicate it works for many
Cons
Confusing pricing information
No ingredients that stand out compared to other dark spot treatments
Gundry MD Dark Spot Diminisher Review: A Detailed Look
The Gundry MD Dark Spot Diminisher claims to combat many forms of skin discoloration, including age spots, sun spots, and liver spots. This advanced serum promises to transform a blotchy, uneven skin tone to restore your skin and give you a more youthful appearance.
Dr. Gundry is an American doctor and author who formerly worked as a cardiac surgeon. He's written numerous books on holistic wellness through a better diet and has released a line of supplements and skincare products designed to keep you looking young and feeling healthy.
The Dark Spot Diminisher's formula contains a range of ingredients that will purportedly improve your skin's health without adverse side effects, meaning that you can use it for the long term.
These claims aren't unique within the anti-aging skincare industry. Does the Gundry MD Dark Spot Diminisher stand out from other options? Our analysis of this premium product will help you decide if it is a good option for you.
How to Use It
The Gundry MD Dark Spot Diminisher is a skincare serum designed for twice-daily use. The company suggests you apply it to your trouble spots twice daily in the morning and evening.
You can start by applying a dime-sized amount to your dark spots and surrounding areas, massaging it into your skin with gentle circular motions.
Make sure you leave it on for as long as possible before showering or otherwise rinsing it off so that the active ingredients have time to work.
Analysis of Ingredients
Many of the ingredients in the Gundry MD Dark Spot Diminisher act as emollients, exfoliants, skin lightening agents, humectants, thickening agents, preservatives, natural sources of antioxidants, and other skin conditioning agents.
A few deserve a second look.
Bacillus ferment is an enzyme-based skin exfoliant that is used as an alternative to alpha hydroxy acid (AHA), a class of compounds that are often used to plump and smooth the skin while visibly brightening dark spots. Some people experience adverse side effects from AHA's like burning, itching, or even blisters, so bacillus ferment is often used as a milder alternative with less risk of irritation.
Diglucosyl gallic acid, also known as trihydroxy benzoic acid alpha-glucoside, is a patented molecule that's used to lighten skin pigmentation and brighten your overall skin tone. It can reduce dark spots and prevent new ones from forming.
Sodium hyaluronate is a common ingredient in anti-aging products because it will purportedly increase your collagen production to improve your skin's elasticity and fill in fine lines and wrinkles. Clinical evidence shows that it will work as described, but only when taken as injections. There's less evidence right now that it will work when used topically in a skin cream.
Diamond powder is often added to skincare products, both to increase their perceived value and to act as a natural exfoliant. The powder is commonly used as a brightener to disguise fine lines and wrinkles by reflecting light off your skin. However, this ingredient is listed low in the Gundry MD Dark Spot Diminisher, so you shouldn't assume there's much in it.
Finally, the serum includes a range of plant extracts that are known as polyphenols. Renowned for their high antioxidant content, polyphenols applied topically are considered an effective way to combat some of the causes of aging skin, including environmental damage and free radical exposure.
Overall, many ingredients in the Gundry MD Dark Spot Diminisher show promise for working as described to moisturize your skin and lighten your dark spots.
Possible Side Effects
According to the company website, all Dark Spot Diminisher ingredients are 100% safe for topical use and won't lead to skin irritation when used correctly.
We didn't uncover any known side effects throughout the research process, and in at least one case—bacillus ferment—a milder version of a popular ingredient is used to reduce irritation further.
If you tend to have sensitive skin, it's still a good idea to perform a patch test before using this product. Dab a small amount on your arm and watch how your skin responds over 24 hours before applying it to your face.
Pricing and Money-Back Guarantee
Gundry MD Dark Spot Diminisher is currently listed on the company's official website at the following prices:
One Bottle: $120
Two Bottles: $228
Three Bottles: $324
However, we also found an "internet only promotion" offer from the company where the same-sized bottles of Gundry MD Dark Spot Diminisher cost the following:
One Bottle: $49
Two Bottles: $86 ($43 each)
Three Bottles: $120 ($40 each)
In other words, you may want to shop around.
Shipping seems to be free for all purchases, and you can expect two to seven-day delivery.
All orders from the company website qualify for a 90-day money-back warranty that comes into effect on the day you make the purchase. Keep in mind that purchases from other retailers such as Amazon don't qualify for this refund and that you'll need to pay any return shipping costs.
You can initiate this process by contacting customer service at (800) 852-0477 or support@gundrymd.com.
Analysis of Customer Reviews
We have almost 500 reviews of the Gundy MD here at HighYa, and the product has averaged an impressive 4.2 stars, with 89% of users saying that they would recommend to it a friend. Here's a closer look at what these customers want you to know:
Common Compliments:
Began to reduce dark spots within a week of use
Left hands looking younger after treatment
Works well if you prep your skin beforehand
Common Complaints:
Didn't work as promised to lighten dark spots, even after months of use
The scent was too strong for some users
Results were too subtle for the cost
Left a reddish tone on some user's skin
Some experienced delayed shipping
Popular Alternatives
Plenty of options are available today, promising to restore your skin and even out its coloring. Here's a summary of how it compares to two popular products: the Beverly Hills MD Dark Spot Corrector and the City Beauty Illuminating Dark Spot Corrector.
| | Gundry MD Polyphenol Dark Spot Diminisher | Beverly Hills MD Dark Spot Corrector | City Beauty Illuminating Dark Spot Corrector |
| --- | --- | --- | --- |
| Cost | $120 per bottle (1-oz) | $129.95 per bottle (1-oz) | $72 per bottle (1-oz) |
| Key Ingredients | Bacillus ferment, Diglucosyl gallic acid, Sodium hyaluronate, polyphenols | Kakadu Plum, DermalRx, Daisy Flower Extract, Niacinamide | Alpha Arbutin, Sepiwhite-MSH, Resveratrol |
| Average HighYa Rating | 4.2, 89% would recommend to a friend | 4.5, 89% would recommend to a friend | 4.3, 89% would recommend to a friend |
As this chart shows, both the Gundry MD and Beverly Hills MD dark spot treatments cost approximately the same amount, at over $120 per 1-oz bottle. The City Beauty Illuminating Dark Spot is comparatively affordable at almost half the cost.
What's interesting is that all three products rely on significantly different ingredients to achieve the same aim—fading dark spots on the skin. One consistency between them is that each contains a plethora of plant-based ingredients that act as natural sources of antioxidants and polyphenols to improve your skin naturally.
Each has also earned a stellar review from HighYa readers, averaging more than four stars and close to nine out of 10 readers recommending them to others.
In our estimation, this means that you can't go wrong with experimenting with any one of these dark spot removers. Each company also offers a no-questions-asked return policy, so you will only be out the cost of shipping if you decide it isn't right for you.
The Bottom Line: Is It Worth It?
Overall, the Gundry MD Dark Spot Corrector seems to be a viable option for improving your skin and fading dark spots. None of the product's ingredients raised any red flags from a safety standpoint, and many show clinical evidence for improving your skin texture and tone so that you look younger.
One thing to be aware of is that this product seems to be sold at wildly varying price points across the web – even from the official company. We found savings of almost 60% per bottle on different websites, so we recommend shopping around before committing either way.
The Gundry MD Dark Spot Diminisher was a positive purchase for many reviewers, and there's a good chance that you will have a similar experience. Just keep in mind that there are plenty of similar products available that will likely deliver the same level of results, so it's worth shopping around.
Customer Reviews
This company is actively collecting reviews from its customers. All reviews submitted are subject to moderation and approval to ensure they meet our
Review Guidelines
.
Our Promise to You
In order to safeguard you and ensure helpfulness and relevance, our compliance team manually assess every customer review before it goes live.
We have a zero-tolerance policy for fake reviews, and companies cannot control or alter any reviews at any time.