Gundry MD Dark Spot Diminisher Reviews
Claimed This company has claimed this profile, is getting alerted on any new customer reviews entering this page, and may engage in dialogue with its customers to address their matters.

Companies cannot pay money or provide goods in order to remove or alter customer reviews.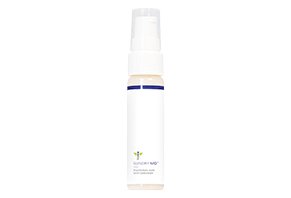 Gundry MD Dark Spot Diminisher claims to feature a blend of polyphenols and other ingredients that reduce dark spots and prevent future ones from appearing.
About Gundry MD Dark Spot Diminisher
By "harnessing the power of polyphenols," Gundry MD Dark Spot Diminisher promises to significantly fade the appearance of dark spots in just a few weeks. How?
According to Gundry MD, Dark Spot Diminisher delivers a "breakthrough" solution to your skin that can address the problem from the inside, helping to reduce the appearance of age spots, sun spots, liver spots, macules, freckles, and more on the outside. Then, its polyphenols can help protect against UV damage and the glycation process (more soon), which can prevent future dark spots from appearing.
And because Dark Spot Diminisher claims to strengthen cell membranes and provide better moisture retention, Gundry MD promises to deliver fresh looking skin for any skin type.
To accomplish this, Gundry MD tells us you only need to apply a dime-sized amount of Diminisher to your dark spots twice daily (once in the morning and again at night), and you could see visible results in as little as two weeks. Perhaps best of all, they claim to only use 100% safe ingredients without any reported side effects.
Even if Dark Spot Diminisher really can help you "take back the glow you deserve," will it provide the most value for your money? Are there other options that could work just as well, but at a lower price? Let's start finding some answers to all your important questions.
What Are Dark Spots and How Do They Form?
Age spots can go by many names, including sun spots, liver spots, solar lentigines, and more. Regardless of what you call them though, they're simply flat brown (sometimes black or grey) spots underneath the skin caused by the accumulation of melanin.
Here's a good way to think about it: If you spend too much time in the sun, your skin naturally produces more melanin to protect against further UV damage. This is what most of us refer to as a suntan.
After years of sun exposure, this melanin can begin "clumping" together permanently, resulting in age spots, which become more prevalent after we reach the age of 40. This is why sun spots most often appear in areas frequently exposed to sun, such as the face, back of the hands, forearms, and shoulders.
Glycation, AGEs, and Polyphenols
What about the glycation and A.G.E. referenced in the Dark Spot Diminisher video and on their website? Glycation occurs when a protein or lipid molecule bonds with a sugar molecule, resulting in a "haphazard process that impairs the functioning of biomolecules."
The final result of the glycation process is something known as advanced glycation end products (AGEs), which "are known to contribute to increased oxidant stress and inflammation, [and are] are linked to the recent epidemics of diabetes and cardiovascular disease."
Polyphenols, on the other hand, are a type of antioxidant found in a variety of foods, which, like most other antioxidants, might have the ability to fight free radicals and reduce instances of cancer and other diseases.
Now, is there anything contained in Dark Spot Diminisher that can fade dark spots or reduce the effects of glycation?
What Ingredients Does Dark Spot Diminisher Contain?
According to Gundry MD's website, Dark Spot Diminisher contains:
Deionized Water, Propanediol (Vegetable Derived), Diglucosyl Gallic Acid, Vitis Vinifera (Grape) Seed Oil, Squalane (Derived from Sugar Cane), Glycerin (Vegetable Derived), Terminalia Ferdinandiana (Kakadu Plum) Fruit Extract, Butyrospermum Parkii (Shea Butter), Dimethicone, Cyclopentasiloxane, Rhodiola Rosea (Roseroot) Extract, Argania Spinosa (Argan) Kernel Oil, Camellia Oleifera (Green Tea) Leaf Extract, Euterpe Oleracea (Acai) Fruit Extract, Lysolecithin, Oxycoccus Palustris (Arctic Cranberry) Seed Oil, Resveratrol, Diamond Powder, Niacinamide, Polymethylsilsesquioxane, Sodium Acrylate/ Sodium Acryloyldimethyl Taurate Copolymer, Vaccinium Angustifolium (Blueberry) Fruit Extract, Polysorbate 60, Fragrance (Parfum), Ethylhexylglycerin, Caprylyl Glycol, Caprylhydroxamic Acid, Xanthan Gum, Pullulan, Sclerotium Gum, Tetrasodium Glutamate Dictate
Like just about every OTC skincare treatment, the vast majority of Dark Spot Diminisher's ingredients act as emollients, lubricants, preservatives, and skin conditioning agents. As such, they're primarily responsible for making the cream feel good against your skin while helping your skin retain additional moisture.
While this is certainly positive, most of these seem to have very little clinical evidence indicating that they'll address dark spots in any meaningful way.
To this extent, diglucosyl gallic acid is a patented molecule that's converted into trihydroxy benzoic acid (THBA) by the body's natural microorganisms, which may even skin tone and lighten pigmentation. However, there doesn't seem to be any publically available clinical evidence supporting these claims.
The mild caffeine content found in green tea may help temporarily (and very mildly) firm skin, while the diamond powder is an abrasive, supposedly to help exfoliate skin and promote cell turnover.
Finally, Kakadu Plum contains high levels of antioxidants (which we've already discussed), as does acai and blueberry.
What conclusions can we draw? Based on the available clinical evidence for each of its ingredients, it doesn't seem that Dark Spot Diminisher's formulation would be especially effective for promoting even skin tone or reducing the appearance of age spots.
How Much Does Dark Spot Diminisher Cost?
Dark Spot Diminisher is priced as follows:
1 Bottle: $49
2 Bottles: $86
3 Bottles: $120
Like all Gundry MD products (more about this next), Dark Spot Diminisher comes with a 90-day satisfaction guarantee, less S&H. In order to request one, customer service can be reached at (800) 852-0477.
Does Dark Spot Diminisher Have Any Competition?
Because you're reading this review, you almost certainly recognize that there are thousands of other products out there claiming to address dark spots in one way or another. In fact, we've reviewed many of these popular products here at HighYa, including City Dark Spot Corrector, truVitaliti, and Genucel.
Comparatively, how does Gundry MD's formula stack up?
While their exact formulations can be as diverse as the manufacturers themselves, most dark spot correctors work using ingredients intended to lighten skin, such as hydroquinone, lignin peroxidase, ellagic acid, and more. Conversely, Dark Spot Diminisher uses diglucosyl gallic acid, which appears to have less clinical evidence supporting it than more traditional ingredients.
From a price perspective, most dark spot correctors seem to fall somewhere between $30 and $60, so Dark Spot Diminisher appears to be priced somewhere in the middle.
Who Is Dr. Steven Gundry?
Dr. Steven Gundry is the namesake behind Gundry MD, and has been practicing medicine as a heart surgeon for 30+ years. He's also Director for The International Heart and Lung Institute in Palm Springs, as well as the Founder for The Center for Restorative Medicine in Palm Springs/Santa Barbara.
According to Dr. Gundry, he founded Gundry MD in order to help customers "benefit from a new scientific breakthrough that has allowed literally thousands of people to feel healthier and happier than they ever thought possible."
Will Gundry MD Dark Spot Diminisher Work for You?
In the Gundry MD Dark Spot Diminisher promo video, like many of Gundry MD's other products (including Primal Plants, Vital Reds, Lectin Shield, and more), the company claims to treat root of the problem from the inside-out. However, since Dark Spot Diminisher is only applied to the surface of the skin, this simply can't occur.
If Dark Spot Diminisher did actually effect change from the inside-out though, it would be considered a drug (versus and OTC beauty product) and subject to much more intense government oversight.
Next, while polyphenols certainly seem to have some positive clinical evidence showing their ability to reduce free radicals (just like any other antioxidant), it's not clear exactly how much is needed to accomplish this. Even then, we didn't come across any evidence indicating polyphenols are especially good at reducing dark spots or preventing UV damage—or that they're effective at all for these purposes.
In the end, we're consumers too, and we want to get just as much value for our dollar. Given this, despite the largely positive customer feedback for Gundry MD's other products, we might talk with our doctor before placing our order.
If you're intent on ordering though, Gundry MD seems to stand behind their products with a 3-month refund window, which means you might only be out a few bucks in S&H if you're dissatisfied.
This company is actively collecting reviews from its customers. All reviews submitted are subject to moderation and approval to ensure they meet our

Review Guidelines

.

ENCOURAGING

By Ellen L.

,

New York

,

Apr 7, 2020
Verified Reviewer

It's been a little over a week, and a few dark spots are gone on my hands and face and others are beginning to diminish in color.

I will review again as the weeks go by.

I had no expectations but was hopeful.

Bottom Line: Yes, I would recommend this to a friend

---

Dark Spot Diminisher

By Garlan W.

,

Yoakum, TX

,

Apr 4, 2020
Verified Reviewer

This is a total scam. I ordered three bottles and used them as directed. Did not help one bit. Only diminished my "pocketbook. Please don't waste your money as I did!

Bottom Line: No, I would not recommend this to a friend

---

Don't waste your money

By Pamela M.

,

Ohio

,

Mar 18, 2020
Verified Reviewer

Because Dr. Gundry is a well-known doctor, I bought this product thinking it would work if he was standing behind it. I got a 3-month supply and then a few days later I got another 3-month supply that I didn't order. I called and they took care of the mistake. I've used the product as recommended religiously twice a day for 2+ months on several dark spots on my face and hands. There is not any change whatsoever in the spots...no noticeable fading at all. What a hoax. Don't buy this.

Bottom Line: No, I would not recommend this to a friend

Mar 19, 2020

Pamela, thank you for giving our Dark Spot Diminisher a try! I want to apologize for the reshipment of your order but I'm happy to read this was taken care of. In regards to the other 3 month supply, I'd be happy to issue you a full refund. Please email me at aria@gundrymd.com. Thank you.

---

A little disappointed

By Susan R.

,

Fullerton, CA

,

Mar 17, 2020
Verified Reviewer

I was so excited and hopeful to try this product as I have tried every cream, serum, and remedy to help lighten my facial age spots. I am 53 years old and like other young people, enjoyed my time in the sun; now I am paying for it. I'm sorry to say after about a 3-week use, I have not noticed any difference. I find it to be a little greasy on my face after I apply it, which is fine at night for sleep; however, under my moisturizer and makeup, makes my face very oily. Your customer service dept is fantastic as I had a billing question and she was very helpful.

Bottom Line: No, I would not recommend this to a friend

Mar 17, 2020

Susan, I'm very sorry to read that you didn't see the results you had hope for with our Dark Spot Diminisher. I want to thank you for giving our product a try! I'm thrilled to read that you had a positive experience with our customer service team, as that is our number one priority. With that said, I will go ahead and initiate a refund for your order so please keep an eye out. for a confirmation email within the next 1-2 business days. In the meanwhile, if you have any other questions or concerns, my email is aria@gundrymd.com. Please don't hesitate to reach out.

---

Advertisement

---

Darkens not lightens

By Michelle S.

,

Calgary, Canada

,

Mar 11, 2020
Verified Reviewer

I've been using this product on my face twice a day for two weeks. My dark spots have actually gotten darker and my skin has developed a slight reddish tone. This is the complete opposite of what I was expecting. Not worth the money. I have had better results with other products. I will either return the product or use it as a moisturizer on another part of my body that I don't care about.

Bottom Line: No, I would not recommend this to a friend

Mar 11, 2020

Michelle, I'm very sorry to read that you haven't seen results using our Dark Spot Diminisher. I want to thank you for giving the product a try! I've gone ahead and fully refunded your order. Please keep an eye out for an email confirmation in the next 1-2 business days. If you have any other questions or concerns, please email me at aria@gundrymd.com and I'd be more than happy to assist you.

---

Love it!

By Debbie S.

,

California

,

Feb 29, 2020
Verified Reviewer

I bought Dr. Gundry's Dark Spot Diminisher a week ago. I am so pleased, in just 4 days I can see a huge difference in my skin, not only are the dark spots diminishing, but my skin is retaining moisture, fine lines are gone!

Bottom Line: Yes, I would recommend this to a friend

---

I love this product!

By Stephanie E.

,

Harvard, IL

,

Feb 25, 2020
Verified Reviewer

I wish I could show pictures with my results on my hands. Now I'm using it on my face as well. After 1 month the spots on my hands are diminishing quickly. I also love the smell. I don't know if everyone notices, but I do.

Bottom Line: Yes, I would recommend this to a friend

---

SUCKER #1

By Sandra E P.

,

Dothan, AL

,

Feb 24, 2020
Verified Reviewer

Do you ever know you have been played for a sucker? I have and I feel like such a foolish person. I used this Dark Spot Diminisher and received nothing but feeling foolish and used. Do not fall for this as I did. Vanity is a weak shopping companion. Now to get a very little portion of what was to be a refund I have to spend more than 60% on shipping it back. Ladies just use lemon juice on your skin and see more results.

Bottom Line: No, I would not recommend this to a friend

Feb 25, 2020

Hi Sandra, thank you for giving our Polyphenol Dark Spot Diminisher a try. I'm sorry to read that you did not see the results you had expected. As it is industry standard, we do ask that you return the products if requesting a full refund, as to ensure that you gave the product a fair trial. As an extra convenience, we offer a 40% refund to customers who do not decide to send back the product containers. Please email me at aria@gundrymd.com and I'd be happy to waive this for you this time.

---

New believer

I am not sure how most people wash their face, this is a crucial step when using products like the Dark Spot Remover. I cleanse my face with a Clarisonic Face Brush, which removes lots of dead skin cells that block products from penetrating into the dermis of my skin. I use a wet washcloth to take the cleanser off of my skin when not using it in the shower.

I dislike one particular dark spot on the left temple of my forehead, I was highly considering a laser treatment. A good friend of mine suggested Dr. Steven Gundry/Dark Spot Remover, and actually gave me the last ¼ of the bottle she was using. I have only been using this for 2.5 weeks and it is working beyond my expectations. I have recently placed an order for 3 bottles of the Dark Spot Remover and plan on using it on smaller dark spots AND the broken capillaries on my cheeks. I was amazed to see the results on my face using this product from Dr. Gundry. I took a chance and used this on my cheeks after washing. I am a true believer in washing correctly before applying any time of product to my skin. By the way, I am a 55-year-old man, in good shape and happy with my skin...minus brown spots!

Bottom Line: Yes, I would recommend this to a friend

---

Disappointed

By Wendy K.

,

Gladstone, Queensland, Australia

,

Feb 15, 2020
Verified Reviewer

I bought the 3-bottle option and corrective cream and was full of high hopes after watching the video. I have 2 dark age spots on my face and followed the steps religiously. Sadly 2 bottles in and no change to my dark spots. So disappointing as I really believed it would work. It is a nice light moisturizing cream with no scent but did not work for me.

Bottom Line: No, I would not recommend this to a friend

Feb 18, 2020

Hi Wendy, thank you for giving the product a try! I'm sorry to read it was not the right fit for you. I've gone ahead and initiated a refund for you - please keep an eye out for an email confirmation in the next 1-2 business days. If you have any other issues or concerns, please don't hesitate to reach out to me at aria@gundrymd.com and I'd be more than happy to assist you.

---

Dark Spot Corrector works for me

By Barbara S.

,

San Bernardino, CA

,

Feb 11, 2020
Verified Reviewer

Purchased in a batch of 3 bottles. Used it on some discolorations on my neck, mainly because I was tired of stains on my collars from trying other products. This is a nice lotion-like product that sinks in. Didn't give it much thought but used it every morning for a few weeks. One day there was a noticeable difference! The spots were fading, and other products had not done that before. They continue to fade with consistent use, but I don't expect them to completely disappear. I don't think anything will do that except dermatologic skin surgery. I don't try to use it as a sunscreen, that's not what it's for. I don't use it on hands because hands get washed frequently, and why waste expensive product. It has a faint fragrance, maybe I'm not sensitive to the smell, but it seemed fresh and mild, doesn't last long. I give it 4 stars because of the cost.

Bottom Line: Yes, I would recommend this to a friend

---