InvisiCrepe Body Balm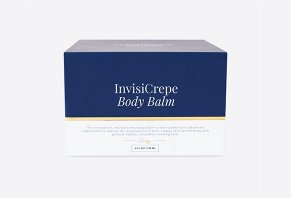 InvisiCrepe Body Balm is a nourishing skin product from City Beauty that's designed to help hydrate your skin and diminish the appearance of crepey skin.
InvisiCrepe Body Balm Review – Does It Reduce Crepey Skin?
Made by City Beauty, the InvisiCrepe Body Balm is designed to help you get rid of the appearance of crepey skin anywhere on your body.
The company states that the balm works to repair your skin barrier and strengthen its cellular protein matrix so that you achieve a smoother, firmer look.
In this way, they promise that this body balm is the solution for sagging and wrinkles caused by dehydrated, thinning skin.
This Los Angeles based luxury skincare brand is dedicated to making the aging process more manageable for women by offering a line of 'functional beauty' products that provide skin benefits that go below the surface.
We've talked before about two of their popular products (City Lips and Multi-Action Sculpting Cream), so now it's time to turn the focus to their body balm. Will it deliver the results it promises? Let's look closer at the details to find out.
How Does InvisiCrepe Body BalmWork?
According to City Beauty, a side effect of aging is that your skin becomes dry, thinner, and wrinkled, which creates a loose skin effect called crepe. Crepey skin tends to be most noticeable where it's is naturally more delicate, like the neck, upper arms, back of your hands, and chest.
Though many women use lotion to rehydrate their skin, this only offers a temporary fix because the hydration doesn't go below the surface. InvisiCrepe seeks to solve that problem by hydrating your skin and sealing the skin barrier so that the hydration stays in place.
The company claims the cream works because of three key ingredients: niacinamide, dl lipids, and ribose.
Niacinamide: City Beauty tells us this form of vitamin B3 lifts and tightens the community of proteins, collagen, and elastin that form your skin, which leads to fewer wrinkles and more elasticity.
DL Lipids: According to Deveraux Specialties, DL lipids are a proprietary blend of soy lipids and sodium hyaluronate that mimic the natural lipid structure of your skin. This means that they add hydration to your skin and trigger long-term repairs in your skin barrier so that it retains more moisture throughout the day.
Ribose: This natural carbohydrate boosts the production of the cells responsible for creating collagen, the critical component of your skin's internal structure. WebMD also tells us that ribose is often used to improve blood flow for those with cardiovascular disease, and even improve athletic performance.
To use the balm, start with clean, dry skin and massage the cream into your crepey skin once a day. The product's concentrated formula means you don't need to reapply more often.
What Ingredients Are in InvisiCrepe?
Now that we understand how InvisiCrepe is supposed to work, it's time to see if the ingredients match these claims. Below is the full ingredients list for this body balm.
Water, Cetearyl Alcohol, Caprylic/Capric Triglyceride, Lactococcus Ferment Lysate, Glycerin, Cyclopentasiloxane, Niacinamide, Glyceryl Stearate, PEG-100 Stearate, Hordeum Distichon (Barley) Extract, Butylene Glycol, Dimethicone, Ceteareth-20, Ribose, Phenoxyethanol, Phellodendron Amurense Bark Extract, Santalum Album (Sandalwood) Extract, Acrylates/C10-30 Alkyl Acrylate Crosspolymer, Chlorphenesin, Caprylyl Glycol, Fragrance, Ethylhexylglycerin, Hexylene Glycol, Citrullus Lanatus (Watermelon) Fruit Extract, Allantoin, Cyamopsis Tetragonoloba (Guar) Gum, Xanthan Gum, Tetrasodium Glutamate Diacetate, Lens Esculenta (Lentil) Fruit Extract, Pyrus Malus (Apple) Fruit Extract, Avena Sativa (Oat) Bran Extract, Sodium Hyaluronate, Sodium Lactate, Glycolipids, Tocopherol, Carrageenan, Soybean Phytosterols, Sodium PCA, Aloe Barbadensis Leaf Juice, Sea Salt.
We don't claim to be chemists at HighYa, but a few things stand out in this ingredients list. The company claims this body balm is free of parabens, sulfates, phthalates, mineral oil, gluten, and nuts, and this claim matches what we found here.
In regards to what the balm does include, we checked out the ingredients on the on the EWG cosmetics database and found that most of them are frequently used in body balms and other skin nourishing products because they act as conditioning and thickening agents, solvents, moisturizers, and preservatives.
Most of these ingredients are harmless, and they have real benefits for keeping your skin moisturized.
However, there are a few ingredients within InvisiCrepe that could pose a problem for some people. We've given a summary below.
Phenoxyethanol: This preservative is common in cosmetics and personal care products, but it triggers skin irritation for some people.
Ceteareth-20: This surfactant acts as a cleansing agent, but it can cause your skin to become more absorptive, which potentially lets it take in toxic compounds.
Dimethicone: This silicon-based polymer is used as a skin conditioning agent, but there are concerns that overuse will dry out your skin because it interferes with the natural hydrating process.
PEG-100 Stearate: As a polyethylene glycol ester of stearic acid, this compound acts as a cleansing agent. Truth In Aging states that it's best not to use products that contain it if you have any cuts in your skin, as research shows PEG-100 Stearate can contain impurities that act as carcinogens.
Cyclopentasiloxane: This silicone-based compound is a known bio-accumulator, meaning that it builds up in your skins fatty tissues the longer you are exposed to it.
While none of these ingredients stand out to us as a deal breaker for InvisiCrepe, those with extra skin sensitivities should be aware of them.
What Does InvisiCrepe Cost?
At the time of writing, InvisiCrepe is only sold through the company website. Each four-ounce jar costs $60 and includes free shipping. According to the company website, using the balm as directed (once per day) means that it will last for 4-6 weeks.
The company offers a 100% money-back guarantee that states that you can try the product out for 60 days before deciding if it's right for you. If you aren't happy with your results, you can contact the company for a full refund.
What Are Similar Products to InvisiCrepe?
There are dozens of brands offering products to combat crepey skin these days, so we choose two popular options on Amazon (Crepe Erase and Gold Bond Ultimate Skin Therapy) to compare to InvisiCrepe.
As we wrote in our review of Crepe Erase, this product claims to be an anti-aging system that gets rid of crepey skin all over. You'll pay $75 for a ten-ounce container, and the cream is applied just like InvisiCrepe.
While this product averages 3.5 stars on Amazon, HighYa reviewers aren't as kind. This is primarily because Crepe Erase is often sold as part of a subscription program, meaning that you'll have automatic orders unless you cancel your order right away. You can avoid enrolling in a subscription by purchasing the cream on Amazon.
Regarding functionality, we read numerous reviews from Crepe Erase customers who claimed the product made little difference in their skin's appearance and that drugstore products gave them similar results.
Speaking of cheaper options, Gold Bond Ultimate Skin Therapy is a body cream that sells for about $5 per 5-ounce bottle. This cream promises to give your skin 24 hours of hydration in a non-greasy formula that your skin absorbs on contact.
Gold Bond is ranked at almost a perfect five stars on Amazon, and customer reviews show that many people use this lotion daily and are pleased with the results. While it's not specifically targeted towards crepey skin, reading these reviews makes it clear that many people are using it for this purpose.
Our View: Should You Buy InvisiCrepe Body Balm?
Pulling this research together, do we think you should try InvisiCrepe? While we couldn't find many customer reviews of this product online, City Beauty is a well-established beauty brand, and there are plenty of positive reviews available for the other products they offer, especially City Lips.
While InvisiCrepe has an extensive ingredients list that contains a few potentially troubling ingredients, our research shows that they fairly par for the course for skincare products. Those with sensitive skin might experience an adverse reaction when they first use the balm, so we recommend using a small amount at first to see whether you respond poorly to it.
As with all crepe products, it's important to keep in mind that you can't find a magic bullet against aging in a jar. While body balms like InvisiCrepe can hydrate your skin enough to improve its appearance, it won't erase crepey skin completely.
If you want to keep your skin looking as youthful as possible, then preventing damage is key. You can check out our article on the ten steps to better skin to learn more.
Used Body Balm and for eyes

By Ofelia E.

,

El Paso, TX

,

Feb 15, 2020
Verified Reviewer

I used your product, the InvisiCrepe Body Balms cream and the eye cream for a couple of months. I saw a huge difference in the texture of my face, making everybody ask what did I do to my face. They can't believe I'm turning 65 and totally not look it. They wished they look like me when they reach my age. I will re-order, and I posted it on Facebook with actual products.

Bottom Line: Yes, I would recommend this to a friend

---

Product does not live up to marketing claims

By Helen R.

,

Northumberland, United Kingdom

,

Nov 12, 2019
Verified Reviewer

Very disappointed - InvisiCrepe had no effect whatsoever. Although the company promised a full refund if not satisfied (which encouraged me to purchase) it wasn't until I tried to exercise this promise that I realized they insisted that I send the empty container back (via a tracked service)! A number of unanswered emails added to my frustration during this period. From the UK to the US the cost to return the empty container was £10.55. When the initial postage cost, tax and bank non-sterling transaction cost were taken into account, the product cost me £77.67. The refund amounted to £37.99 - so it cost me £39.68 for a product that simply did not work. Had I not had to return the container it would have cost me £29.13, not great, but preferable. That is why I want to make other prospective customers aware of this.

Bottom Line: No, I would not recommend this to a friend

---

Fabulous product

By Selina C.

,

Select...

,

Sep 22, 2019
Verified Reviewer

While it did not make an instant difference, after 8 weeks I am really seeing my skin looking less crepey - after losing 10kgs, it had become loose and more crinkly. InvisiCrepe Body Balm feels silky to put on, and smells really nice - and my skin drinks it in leaving it feeling great. Will definitely order more as my very dry skin is feeling much smoother and hydrated, and I hope the crepey look will continue to be less obvious!

Bottom Line: Yes, I would recommend this to a friend

---

City Beauty InvisiCrepe

By Rosemary G.

,

West Midlands, United Kingdom

,

Sep 22, 2019
Verified Reviewer

I bought this product after reading City Beauty's glowing testimonials about how well it gets rid of crepey skin. After using it for about 5 weeks and now having an empty pot of cream, there is absolutely no difference to my skin. I feel disappointed and let down by this product and also the company itself as I emailed three times and have not even had an acknowledgment. The cream, unfortunately, is a waste of money and the customer service support is a complete waste of time. My advice would be not to waste your hard-earned money.

Bottom Line: No, I would not recommend this to a friend

---

Advertisement

---

Never thought there was help out there

By Kristina J.

,

New York

,

Sep 22, 2019
Verified Reviewer

I first tried the sculpting cream for my face and the results from that encouraged me to try the InvisiCrepe cream.

I was an athlete for most of my life and as the years came and went my thigh skin and my underarm skin became wrinkled and crepe-like. I have been so unhappy with this since I used to look so good.

Just like the face cream, the InvisiCrepe started showing obvious results within just one week. I have tried every product out there and had minimal results but this is something that penetrated my dry skin and showed positive results without any greasy or odd effects. I am so impressed with the product and I know that it will continue to get batter the more I use it. That was already proven with the face product.

I would say my only thought is why name it City Beauty. It seems like such a simple name for such a successful product. I mean if it has a fancy name it doesn't mean that its a better product but I do feel that the simplicity of the name might turn some people away or that it's just another product claiming to do the same thing, but I highly suggest trying it. Use it as advised and give it a full week. You will see the difference.

Bottom Line: Yes, I would recommend this to a friend

---

Have only been using product for three days. Too early to say.

By Donna L.

,

Montreal, Quebec, Canada

,

Sep 21, 2019
Verified Reviewer

I have only been using the product for three days so too soon to share too much. However, the product is easy to apply, no greasy residue and no odor. So far so good. I can't make up anything more at this time as it would not be true or accurate. Hard to be forced to write one hundred and eighty characters without losing what I have already written.

Bottom Line: Yes, I would recommend this to a friend

---

Confidence

By Patricia S.

,

New York

,

Sep 21, 2019
Verified Reviewer

I am a very active retired teacher. I am on the Board of Directors for The National Alliance on Mental Illness MID-HUDSON Affiliate. In that capacity, I speak at events including Crisis Intervention Team Training. I need to feel confident when I am in front of a classroom of Law Enforcement Officers. At 73 my skin had become loose and crepey.

I had tried another well-known brand, but InvisiCrepe has been superior in helping me feel more confident. I prefer the feel and absorption when I apply InvisiCrepe and the results last longer. Thanks for you for a helpful product.

Bottom Line: Yes, I would recommend this to a friend

---

Very disappointed

By Jo C.

,

Liverpool, United Kingdom

,

Sep 19, 2019
Verified Reviewer

Having used this since purchased on the 29th of June 2019, I finished the contents of the jar and can honestly say I can see no difference whatsoever to either my neck or the tops of my arms.

I would definitely not recommend this item. Unfortunately, I was outside the 60-day money-back guarantee.

Bottom Line: No, I would not recommend this to a friend

---

OMG...

By Leonora R.

,

Eagle, ID

,

Sep 16, 2019
Verified Reviewer

This product is amazing. I'm 67 years old and was noticing more wrinkles daily! Tried several products touted to diminish the look of wrinkles...none worked. Purchased this product. As soon as I applied this product I saw an imaging difference! I'm hooked! Less wrinkles and definitely younger tighter skin! Yay! Love it!

Bottom Line: Yes, I would recommend this to a friend

---

First experience with a lovely InvisiCrepe

By Nell W.

,

Australia

,

Sep 15, 2019
Verified Reviewer

I am 56 and had been a bit despondent about my crepey, sagging skin on my neck when I decided to try InvisiCrepe. I was a bit skeptical so only committed to the 1 jar, but after just over 1 week I am already noticing an improvement in the skin tone of my neck and am pretty excited to see such a quick change. I'm a fan already and look forward to seeing the results after a few months of use.

Bottom Line: Yes, I would recommend this to a friend

---

Best product out there!

By Frances S.

,

McKinney, TX

,

Sep 14, 2019
Verified Reviewer

I've used a similar product in the past. And they worked in the beginning but after a while, I stopped seeing any progress. So far I'm loving the Body Balm and the Sculpting Cream. I've seen results faster, like in two days. Not only have my face wrinkles started disappearing but my skin feels wonderful. My face even looks brighter. I'm 61 and a grandmother but I don't act like it and now when I look in the mirror I'm starting to see a young me too...

Bottom Line: Yes, I would recommend this to a friend

---