InvisiCrepe Body Balm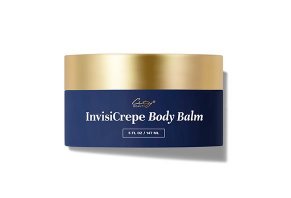 Summary
InvisiCrepe from City Beauty promises to improve your skin by repairing age-related thinning and wrinkles. It's likely to deliver a moderate benefit, but keep your expectations realistic.
Pros
Positive customer reviews
Ingredients show clinical evidence for effectiveness
Little risk of adverse side effects
Cons
Results may be subtle or nonexistent
Not fundamentally different from other skincare products available
InvisiCrepe Body Balm Review: A Detailed Look
InvisiCrepe Body Balm is a skin hydrating product from City Beauty that works to eliminate your crepey skin. City Beauty claims that this product will make long-term repairs to your skin barrier and help strengthen the skin's cellular protein matrix that will result in smoother, healthier skin.
City Beauty is a luxury beauty brand based out of LA that sells a range of cosmetic products, most of which are designed to counter the effects of aging.
Its products are claimed to go beyond benefiting the skin's surface to repairing the foundational layers to help you maintain results long-term.
Our detailed analysis will help you decide if this product is right for you.
Benefits
InvisiCrepe acts as a moisturizer and skin supporter. The body balm's primary goal is to boost your skin's collagen production to build up its support system so you get a smoother, plumper look and eliminate crepey skin.
"Crepey" skin is the term used for skin that is dry, thin, and sagging. It tends to occur first in places where the skin is naturally more delicate, including the neck, hands, chest, and upper arms. Short of surgical treatments, the best option for eliminating crepey skin is to keep it hydrated.
While traditional body lotions will only temporarily moisturize your skin, City Beauty claims that InvisiCrepe will both hydrate your skin and support its natural barrier so that you do more than merely moisten the surface.
This balm is considered safe for all skin types and should work better the longer that you use it.
To use, apply about a quarter-sized amount of InvisiCrepe onto your clean, dry skin at the area of concern. Massage the balm in with circular, upward motions until it is fully absorbed. You can use it daily.
Key Ingredients
City Beauty claims that InvisiCrepe targets the symptoms of crepey skin in three main ways: hydration, cell regeneration, and a protein support network. Does this align with the ingredients?
AcquaCell and DL Lipids are classified as hydration boosters that keep your skin moisturized while repairing the skin barrier. They work to fix flaws in the dermal matrix, which is the structure that supports structural proteins like collagen and elastin.
The company claims that DL lipid molecules can each carry up to 15 times its weight in water, which adds an instant boost of hydration to your skin.
Lactococcus ferment lysate and oat bran extract work together to increase the balm's thickness and activate skin cell regeneration. They work with niacinamide and ribose, two protein network synthesizers, that enable the potential for collagen and elastin to lift and tighten the skin for a smoother appearance.
According to a 2003 study, topical niacinamide can boost your skin's collagen production by up to 54%. Likewise, ribose is a carbohydrate that increases the energy levels of your fibroblasts by almost 19%, which are the cells that produce collagen.
The company claims that InvisiCrepe is formulated without potentially dangerous ingredients like parabens, sulfates, phthalates, mineral oil, and more. This purportedly makes it suitable even for more sensitive skin, though City Beauty suggests you do a patch test the first time you use it to be safe.
One safe ingredient exception is phenoxyethanol, a common cosmetics preservative that bothers people with sensitive skin and may lead to eczema and severe allergic reactions.
Pricing
Invisicrepe Body Balm costs $60 with free shipping for 5-oz container.
It's also possible to save 26% on every order by signing up for the "Autoship Monthly" program. This lets you receive a specified number of Invisicrepe products monthly for $44 each, delivered all at once.
Analysis of Customer Reviews
More than 150 customers have left reviews for Invisicrepe on our website, and these average 4.4 stars. Below, we've summarized the most common comments.
Common Compliments:
Made a significant difference after several months of use
Many users loved the scent and hydration benefits
Doesn't leave a greasy residue on the skin
Worked better than competing products for many users
Common Complaints:
Made no difference whatsoever in some participants skin
Too expensive for subtle benefits
Creates a slightly unpleasant tingling sensation
Product Alternatives to InvisiCrepe Body Balm
Two popular alternatives to InvisiCrepe Body Balm are Crepe Erase and the Crepe Correcting Body Complex by Beverly Hills MD.
| | InvisiCrepe Body Balm | Crepe Erase | Crepe Correcting Body Complex |
| --- | --- | --- | --- |
| Price | $60 for 5-oz | Products range from $22–$79 | $100 for 4-oz |
| Active Ingredients | AcquaCell, DL Lipids, lactococcus ferment lysate, oat bran extract, niacinamide and ribose | Glycerin, propanediol, coconut oil, shea butter, dimethicone | Lactococcus ferment lysatee, lens esculenta (lentils), santalum album (sandalwood) extract, sodium hyaluronate |
| Customer Rating | 4.4 (160+ reviews) | 1.8 (150+ reviews) | 4.6 (270+ reviews) |
City Beauty and Beverly Hills MD are offering relatively similar products for crepey skin reduction. Both contain similar ingredients, though you'll pay approximately half as much for InvisiCrepe.
Customer reviews indicate that the majority of users have been happy with their purchases, so you might find either one works for improving your skin.
The Bottom Line
This product earns excellent reviews here and has an ingredients list that looks promising, with little risk of adverse side effects. However, it's important to stay realistic about what a product like this can accomplish.
Unfortunately, even the world's best balm can't make your skin look two decades younger on its own. Using this product will make your skin healthier, which is a sign of youthfulness, but it's unrealistic to expect it to vanish your wrinkles altogether.
The best way to avoid crepey skin is to prevent it in the first place. We recommend following a healthy lifestyle by eating nutrient-rich foods, getting regular exercise, and slathering on sunscreen whenever you go outside.
Customer Reviews
Posted on Nov 20, 2021
Very disappointed
I used 5 jars of InvisiCrepe to give it a good try, following the directions and using it twice a day on my neck and arms. I noticed absolutely no difference.
I am now trying the sculpting cream.
Length of Use: 3–6 months
Bottom Line: No, I would not recommend this to a friend
Pros and Cons
Went on smoothly
Did not help
Posted on Jun 9, 2021
Does not work
I thought about buying this product for a long time. I have crepey skin on the top of my upper arms and decided to try it as the reviews were good. I used it for 7 weeks and found absolutely no change at all, it was no different from a normal moisturizer. I was very disheartened, TRUE crepey skin will not be improved with this product and you will waste your money.
Length of Use: Less than 3 months
Bottom Line: No, I would not recommend this to a friend
Pros and Cons
No "pros" were specified in this review
It did not work at all
Posted on Feb 19, 2021
Better than other body creams
Makes my skin really soft and a bit less crepy. The hydration lasts way longer than after using other creams. Only on the first pot so my skin may improve more.
Length of Use: Less than 3 months
Bottom Line: Yes, I would recommend this to a friend
Pros and Cons
Makes skin really soft
Slightly less crepiness
Really hydrates, lastingly
Expensive
Takes a long time in transit to NZ
Postage to NZ is expensive
Posted on Jan 18, 2021
It works
I am on my 6th tub of the stuff and love it. My problem area was bingo wings and I had tried a number of creams, oil, and exercise with no improvements. It takes a couple of tubs before you see a difference but after that the improvement for me was significant. Multibuy is certainly the best way. I would highly recommend it.
Length of Use: 6–12 months
Bottom Line: Yes, I would recommend this to a friend
Pros and Cons
The results
The feel of my skin once applied
The smell
Having to pay customs charge
Length of time for delivery
Posted on Jun 21, 2020
False bottom in container
Have only used this for three weeks or so. Not sure of the effects yet, but I am very disappointed to finish the jar and find out when I thought I was halfway through it, to find that the jar has a false bottom in it to make you think you are getting more of the balm than you really are. It doesn't give a volume on the jar but this is deception! So with as much money as it cost I expected them to at least be honest. I am suspect.
Length of Use: Less than 3 months
Bottom Line: No, I would not recommend this to a friend
Posted on Feb 15, 2020
Used Body Balm and for eyes
I used your product, the InvisiCrepe Body Balms cream and the eye cream for a couple of months. I saw a huge difference in the texture of my face, making everybody ask what did I do to my face. They can't believe I'm turning 65 and totally not look it. They wished they look like me when they reach my age. I will re-order, and I posted it on Facebook with actual products.
Bottom Line: Yes, I would recommend this to a friend
Posted on Nov 12, 2019
Product does not live up to marketing claims
Very disappointed - InvisiCrepe had no effect whatsoever. Although the company promised a full refund if not satisfied (which encouraged me to purchase) it wasn't until I tried to exercise this promise that I realized they insisted that I send the empty container back (via a tracked service)! A number of unanswered emails added to my frustration during this period. From the UK to the US the cost to return the empty container was £10.55. When the initial postage cost, tax and bank non-sterling transaction cost were taken into account, the product cost me £77.67. The refund amounted to £37.99 - so it cost me £39.68 for a product that simply did not work. Had I not had to return the container it would have cost me £29.13, not great, but preferable. That is why I want to make other prospective customers aware of this.
Bottom Line: No, I would not recommend this to a friend
Posted on Sep 22, 2019
Fabulous product
While it did not make an instant difference, after 8 weeks I am really seeing my skin looking less crepey - after losing 10kgs, it had become loose and more crinkly. InvisiCrepe Body Balm feels silky to put on, and smells really nice - and my skin drinks it in leaving it feeling great. Will definitely order more as my very dry skin is feeling much smoother and hydrated, and I hope the crepey look will continue to be less obvious!
Bottom Line: Yes, I would recommend this to a friend
Posted on Sep 22, 2019
City Beauty InvisiCrepe
I bought this product after reading City Beauty's glowing testimonials about how well it gets rid of crepey skin. After using it for about 5 weeks and now having an empty pot of cream, there is absolutely no difference to my skin. I feel disappointed and let down by this product and also the company itself as I emailed three times and have not even had an acknowledgment. The cream, unfortunately, is a waste of money and the customer service support is a complete waste of time. My advice would be not to waste your hard-earned money.
Bottom Line: No, I would not recommend this to a friend
Posted on Sep 22, 2019
Never thought there was help out there
I first tried the sculpting cream for my face and the results from that encouraged me to try the InvisiCrepe cream.
I was an athlete for most of my life and as the years came and went my thigh skin and my underarm skin became wrinkled and crepe-like. I have been so unhappy with this since I used to look so good.
Just like the face cream, the InvisiCrepe started showing obvious results within just one week. I have tried every product out there and had minimal results but this is something that penetrated my dry skin and showed positive results without any greasy or odd effects. I am so impressed with the product and I know that it will continue to get batter the more I use it. That was already proven with the face product.
I would say my only thought is why name it City Beauty. It seems like such a simple name for such a successful product. I mean if it has a fancy name it doesn't mean that its a better product but I do feel that the simplicity of the name might turn some people away or that it's just another product claiming to do the same thing, but I highly suggest trying it. Use it as advised and give it a full week. You will see the difference.
Bottom Line: Yes, I would recommend this to a friend
Posted on Sep 21, 2019
Have only been using product for three days. Too early to say.
I have only been using the product for three days so too soon to share too much. However, the product is easy to apply, no greasy residue and no odor. So far so good. I can't make up anything more at this time as it would not be true or accurate. Hard to be forced to write one hundred and eighty characters without losing what I have already written.
Bottom Line: Yes, I would recommend this to a friend
Our Promise to You
In order to safeguard you and ensure helpfulness and relevance, our compliance team manually assess every customer review before it goes live.
We have a zero-tolerance policy for fake reviews, and companies cannot control or alter any reviews at any time.