Crepe Erase Reviews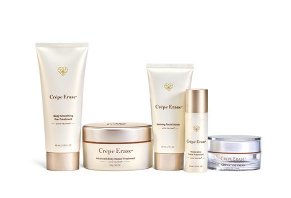 Summary
Crepe Erase is a set of skincare products intended to restore moisture and elasticity to dry skin and eliminate the appearance of crepey skin. Although safe and can provide short-term benefits, the results aren't permanent.
Crepe Erase Review: Is It Safe and Effective?
Crepe Erase is an anti-aging treatment set that allegedly helps reduce the appearance of your crepey skin on your face, arms, and chest.
The company states that its product line contains moisturizing ingredients that will plump up your skin, improve firmness, and reduce the appearance of fine lines and wrinkles.
No matter who you are, aging will take a toll on your skin. Due to sun damage and diminishing amounts of elastin and collagen, it's natural for your skin to start becoming thinner and lose its ability to retain moisture as you get older.
This creates the right conditions for developing a crepey appearance, fine lines and wrinkles, and dry, scaly skin.
Most of us begin to see crepey skin as we age due to loss of collagen and elasticity. Dryness and weight loss can also play a factor.
This review examines the safety and effectiveness of the commonly used ingredients in the Crepe Erase anti-aging sets and products.
Available Products
Crepe Erase offers six products that are available in different combinations depending on what package deal you order:
Body Smoothing Pre-Treatment
This gentle exfoliator is designed for daily use and preps your skin for the Advanced Body Repair Treatment. With consistent use, the company states that you will "uncover visibly smoother, softer skin from the neck down."
To use, you'll need to apply the cream to wettened crepey skin, and massage with gentle circular motions for several minutes before rinsing with warm water.
Top-five Ingredients: Sodium C14-16 olefin sulfonate, hydrogenated castor oil, comaidopropyl betaine, glycerin, propanediol.
Advanced Body Repair Treatment
Containing Crepe Erase's proprietary TruFirm® Complex and 9 Super Hydrators™, this fast-absorbing formula is intended to improve the tone, texture, and elasticity of your skin to give you a more youthful appearance on your arm, knees, chest, and neck.
After exfoliating your skin, you can apply the treatment to the problem area in gentle circular motions until it is absorbed.
Top-five Ingredients: Olea europaea (olive) fruit oil, stearic acid, hydroxystearic/linolenic/oleic polyglycerides, dimethicone, glycerin.
Refining Facial Scrub
This facial scrub was designed to promote healthy cell turnover and visually repair and restore a dull, aging complexion. For best results, use it daily on your face and neck, gently massaging into place for one to two minutes.
Top-five Ingredients: Sodium Laureth Sulfate, Glycerin, Acrylates Copolymer, Cocamidopropyl Betaine, Cetyl Esters
Restorative Facial Treatment
This treatment is infused with the company's TruFirm complex to visibly plump, firm and repair dry, dull skin to diminish the appearance of fine lines and wrinkles.
You are meant to massage the treatment into your face and neck for one minute, or until completely absorbed.
Top-five Ingredients: Butyrospermum Parkii (Shea) Butter, Cocos Nucifera (Coconut) Oil, Olea Europaea (Olive) Fruit Oil, Theobroma Cacao (Cocoa) Seed Butter, Cetearyl Alcohol
4-in-1 Line Smoothing Capsules
This serum contains a concentrated formula meant to reduce the signs of fine lines from your face. The company states that you'll get the best results from using one capsule a day. To use, twist a capsule open and gently apply the serum where your face needs the nourishment.
Top-five Ingredients: Isododecane, neopentyl glycol diheptanoate, dimethicone crosspolymer, phenylpropyldimethylsiloxysilicate.
Are Crepe Erase Ingredients Safe and Effective?
Because it is standard practice to sort ingredients list by greatest concentration, we chose to look at just the top five ingredients in every Crepe Erase product to see whether they stood out to us.
Generally, the ingredients within these products fall under the categories of skin conditioning agents, cleansing agents, solvents, binding agents, and fragrance ingredients. These kinds of ingredients are standard in many skincare products.
One common compound in Crepe Erase products is glycerin. This moisturizing powerhouse is used to hydrate the skin and prevent dry, rough patches.
It's created during the soap-making process when glycerin splits away from fatty acids and blends with water, and the compound is often extracted for other cosmetic products.
Propanediol is another common ingredient in personal care products. It's considered safer than propylene glycol, a compound it often replaces, and should not cause any serious side effects
Are there any ingredients that you should be aware of? Two caught our attention for having potentially troubling side effects.
First, cocamidopropyl betaine is a synthetic detergent that is often used to increase the foaming properties of skin and hair products. The EWG notes that there is a moderate risk of allergies and skin irritation from using products that contain it.
Second, dimethicone, a silicone-based organic polymer, can typically be used on your skin without a problem, though some people experience burning, stinging and redness from using it.
Key Takeaway
Crepe Erase product's main ingredients include common skin conditioning agents. A few products contain compounds that may irritate the extra sensitive skin, but most people should be able to use these products without ill effect.
Pricing
You can purchase Crepe Erase products off the company website individually or in multi-product systems.
Individual product purchases are at the following price points:
Lift & Smooth Neck Firming Treatment: $84
Anti-Aging Hand Repair Treatment: $22
Body Smoothing Pre-Treatment: $51
Advanced Body Repair Treatment: $79
Refining Facial Scrub: $44
Restorative Facial Treatment: $44
4-in-1 Line Smoothing Capsules: $38
Flaw-Fix Eye Cream: $75
Flaw-Fix™ Intensive Lip Repair Treatment: $22
Overnight Facial Plumping Treatment: $54
Flaw-Fix™ Refining Lip Polish: $30
You can save 15% off any individual order by signing up for an auto-delivery subscription in which you receive a new shipment every three months. The subscription is optional for certain products when purchasing individually, but not in all cases.
The Systems range in price from $39.95 to $56.96, and they each contain different combinations of the products mentioned above. All first purchases qualify for free shipping, and they automatically enroll you in an auto-ship subscription.
This means that after one month and then every three months after, you will be sent new products and auto-charged the full purchase price three times, plus $2.99 for shipping and handling.
Your first order of the Advanced 5-Piece Body + Face System will cost $47.96, but each delivery after that will cost $179.85 (broken down into three monthly payments).
The only way to opt-out of this program is to contact customer service at (888) 708-2042.
All Crepe Erase products are covered by a 60-day, money-back guarantee (minus shipping and handling).
Be cautious when signing up for your first order to ensure you're aware of any additional future recurring charges.
What Do Customers Think of Crepe Erase?
Close to 150 customers have weighed in on Crepe Erase on our website, and the product averages 1.8 stars. Here are key takeaways from the reviews:
Improvements to Crepey Skin
Twenty reviewers left Crepe Erase a five-star review. These reviewers raved that the products worked as described and that their skin was looking better than ever after using them regularly.
Products Didn't Work
A large portion of Crepe Erase customers thought that this product made little, if any, difference for their skin. A few noted that the products worked as well as standard moisturizers and did little to reduce the appearance of crepy skin.
Works Only with Consistent Use
Some users noted that they saw improvements in their skin after using Crepe Erase products, but that the results were only temporary.
In a few cases, customers wrote that they occasionally skipped a treatment day and that their progress disappeared immediately when they did so.
Trouble with the AutoShip Program and Returns
By far, the biggest complaint we noticed about Crepe Erase was that shoppers ended up paying for than they expected. Some didn't realize they were signing up for an auto-ship program while others continued to be billed even after they thought they had canceled their account.
Many reviewers reported frustrating experiences getting in touch with customer service and cancel their subscription, as they were often on hold for up to an hour before getting in touch with someone.
Key Takeaways
Though some customers are happy with Crepe Erase, most think the products are too expensive, don't work as promised, and come with a questionable auto-shipment policy.
The Bottom Line
Crepe Erase products show some potential to keep your skin healthy and moisturized.
While skincare products could make a significant short-term difference in your skin's appearance, a moisturizing cream can't do enough to restore the hydration that it loses over time.
Topicals like Crepe Erase can temporarily plump up the of the skin and even boost collagen production, but the customer reviews for Crepe Erase show us that the overall effect is often subtle or even unnoticeable.
Likewise, many customers have taken issue with the company's return policy and auto-ship program.
Creams can help crepey skin, but they don't match the effects of a medical procedure.
If you choose to go that route instead, Dr. Tsippora Shainhouse, a board-certified dermatologist in Los Angeles tells us that micro-needling (Dermapen), radiofrequency, ultrasound, or laser treatments.
However, the best way to avoid crepey skin is to prevent it in the first place. Stay moisturized, keep out of the sun if you aren't wearing SPF, and follow a healthy diet. These lifestyle choices can help you keep your skin at its best for as long as possible.
Customer Reviews
Posted on Aug 21, 2020
My complaint is the same as many others. Impossible to stop the products from being shipped and charged.
Saw no results. Impossible to get out of subscription I never signed up for. They finally agreed to cancel my subscription, only after asking me to pay for two extra months of products. Do not get involved with this company, please. I regret ever having ordered this product. I am reporting them to the BBB.
Length of Use: 3–6 months
Bottom Line: No, I would not recommend this to a friend
Pros and Cons
No "pros" were specified in this review
Does not work as claimed
Impossible to cancel once you start
Posted on Jul 3, 2020
Outrageous price and does not work
I gave Crepe Erase a try, but did not notice any improvement except for my clothes getting sticky if I put them on too quickly after applying the same.
The price is outrageous for a bogus product. I called to cancel, but they continued to insist that I owed them money.
DO NOT order this product because it does not work. Don't waste your money.
Length of Use: 3–6 months
Bottom Line: No, I would not recommend this to a friend
Pros and Cons
No "pros" were specified in this review
Cost
Ineffective
Sticky
Posted on May 7, 2020
Nothing but regrets
I didn't realize I was joining some ridiculous membership, resent their approach to business, and regret giving my credit card info. They couldn't care less, and refused to cancel my order until three monthly installments or the whole amount for 3 months had been paid.
Terrible product and company.
Bottom Line: No, I would not recommend this to a friend
Posted on Feb 22, 2020
Stop the reoccurring purchase
The product is fine, however, I don't use it enough to get it every month and want to stop the re-occurring shipment and payment. I need to stop the reoccurring purchase and having a difficult time. If anyone can assist, please email me ASAP! Thank you.
Bottom Line: No, I would not recommend this to a friend
Posted on Oct 16, 2019
Hoax
I have reached out to return this product that doesn't work!
Would like to return for the money-back guarantee. All I receive are letters threatening me with collection if I don't pay. They sent me product on auto-pay which I didn't sign up for and I called about how to return, but no help or didn't send a return shipping label or where to send; just wanted money, no refund for product that doesn't work and no help or willing to help in any way! So disappointing when endorsed by all those seemingly important people.
Bottom Line: No, I would not recommend this to a friend
Posted on Sep 30, 2019
No refund
I was delayed in starting to use the product and called. I was given an extension, I was told I could have until September 30th. I did get the operator name and number but that didn't matter. I fully think the buyer should be informed that there would be an additional charge of $42.75 for the next 2 months for a total of $119.85.
The product smells and feels nice but didn't work for me.
Bottom Line: No, I would not recommend this to a friend
Posted on Sep 22, 2019
Hoax
Wow! This entire process has been daunting. This company reminds me of one of those old-time used cars salesmanship or those people who go door to door with "church" pamphlets. Ridiculous! I fell into the wonder of trying the products and got the initial package. The products were fine but nothing major. They did moisturize, and my skin seemed so soft, but that was mostly because I was being very diligent about using it. My consistency was the key. There have been no breakthroughs and my skin looks the same as it did prior to starting.
I was concerned that too much product would be sent too often so that they could charge $59+. I called midway thru and asked for a postponement. That went ok, other than many questions asked.
Today I called to cancel, using the number provided in this excellent article above. The recording could not "read" my number. It is the same number that I always use. Finally, after having to use 4 different sources of identification, I got through to somebody. I told him I would like to cancel. He asked if I liked the products. I asked again to have help terminating my account. He said that would mean "all of my benefits as a member." I had no idea any existed.
His tone changed as I persisted. Finally, I spoke over him and told him directly to close my account. What a difference in attitude. It was as if I was taking all his money. He said something snarky but I asked him to verify that I have only been charged once (remembering what other reviewers have mentioned) and there had been only one. He quickly TOLD me if there is anything else. He made it clear he was finished with me. So I thanked Oliver and ended the conversation.
Never will I fall for these things again.
Microneedling and deep peels show way better results and end up cheaper eventually.
Bottom Line: No, I would not recommend this to a friend
Posted on Sep 19, 2019
No good
I purchased these products two months ago, I use all the products for my arms. I exfoliate and spent 30 minutes twice a day. Did nothing, absolutely nothing. I want a refund immediately.
Bottom Line: No, I would not recommend this to a friend
Posted on May 27, 2019
A scam
I should have read reviews before I called; I didn't. I ordered at about noon on a Saturday - did not want anything other than the trial offer. I checked my bank account at about 6 pm on Saturday, and noticed TWO charges of $42.35 and called and talked to yet another representative. She couldn't bring my account up (AMAZING) since I was able to bring up my bank charges. She suggested I call the following day at any time so we could fix the issue. Oh BTW, her excuse for the second charge on my credit card was to assure my bank would honor the FIRST charge.
I called today, and lo and behold there was yet a THIRD charge for $42.35. I have since printed out a screenshot of my bank statement - which I am taking to my bank tomorrow to cancel ALL charges from Crepe Erase.
OK, so today's person told me that my shipment had already been sent, but following the script that these people follow, the reason for the added charges, was to confirm that my bank will honor the FIRST charge. Then changed her story to ask me to send a copy of these charges to them so that they could investigate!
I told her I wanted ALL shipments stopped - and that I found it unbelievable that it had already been shipped since I complained the same day. I then asked to talk to a supervisor - and imagine my surprise when the supervisor was on another call with another client!
I was told today that I couldn't cancel further shipments until I returned the first. And that the 2 other charges would be dropped, and I would only have to pay the first! After reading the above reviews, I can probably now expect to have to return the product at my own cost, and receive and reduced 60-day return free policy to include their fees (for screwing my order up in the first place).
Bottom Line: No, I would not recommend this to a friend
Posted on May 18, 2019
Won't refund or deliver lost product
I did not find the product to live up to its advertising. I have much better moisturizers. They claim I had ordered a subscription, so I canceled it. I moved, and the last produce shipment was refused and returned, but they continue to dun me with bills for $140.98. I have even offered to pay the bill if they actually deliver the product I don't want, but they refuse. I do not trust them to actually deliver the product if I pay for it sight unseen. I am going to have my lawyer send them a "stop dunning me letter" and copy the Better Business Bureau and the California Department of Consumer Affairs.
Bottom Line: No, I would not recommend this to a friend
Posted on May 7, 2019
Not what I was hoping for
I was excited at first...arms and hands looked good, but it is something that has to be constant!
If you miss for any reason, even one night, the crepe is back. If your hands are in water...more crepe. For the price it doesn't really make a big difference...it's ok for a hand cream but there's a lot of cheaper hand creams. SAVE YOUR MONEY.
NO MIRACLES HERE.
Bottom Line: No, I would not recommend this to a friend
Our Promise to You
In order to safeguard you and ensure helpfulness and relevance, our compliance team manually assess every customer review before it goes live.
We have a zero-tolerance policy for fake reviews, and companies cannot control or alter any reviews at any time.