TULA Probiotic Skincare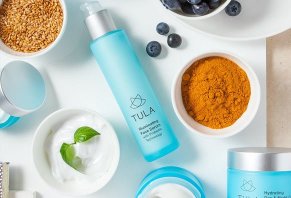 TULA's Probiotic Skincare lineup focuses on nourishing and hydrating skin in order to leave it looking healthy, balanced, irritation-free, and glowing.
About TULA Probiotic Skincare
Created by Dr. Roshini Raj, TULA Probiotic Skincare products combine beneficial bacteria with clean, high-quality, clinically-proven ingredients to help moisturize and protect the skin, fight against free radicals and environmental stressors, reduce the appearance of redness and irritation, and soothe inflammation.
The result, the website tells us, is "deeply nourished skin" with improved clarity and tone, reduced fine lines and wrinkles, and a more radiant, hydrated, and balanced appearance. And all of this without the use of phthalates, parabens, petrolatum, or mineral oil, and without testing on animals.
There's no doubt that many of the core ingredients—including probiotics—found in TULA's formulas can have internal benefits. But will their "superfood smoothies for your skin" provide similar benefits when applied externally? Are there other probiotic-based anti-aging products you should consider?
Give us a few minutes, and we'll walk you through the company's lineup, pricing, customer reputation, and competition, all aimed at helping you make an empowered purchase.
The Link Between Probiotics and Healthy Skin
As we age, our skin naturally loses proteins like collagen (firmness) and elastin (elasticity), resulting in common signs of aging like sagging, fine lines and wrinkles, crepe-iness, and dullness. However, this process can be (sometimes greatly) accelerated by lifestyle habits and other factors.
The American Academy of Dermatology reports that the most common causes of premature aging (i.e., those not cause by the natural aging process) include exposure to the sun's ultraviolet rays, smoking cigarettes and drinking too much alcohol, repetitive facial expressions, not eating a balanced diet or getting enough exercise, and less-than-stellar beauty regimens.
But is there sufficient evidence indicating that a bacterial imbalance on the surface of the skin can lead to premature aging, as promoted on the TULA website?
Like with the intestinal tract, recent advances in technology have allowed the scientific community to start looking at the diverse and variable types of bacteria (collectively known as flora, or the microbiome) that commonly live on our skin, as well as the importance they play in our overall health.
And browsing websites like the National Institutes of Health's PubMed and Google Scholar, as well as specific journals like Nature and the Public Library of Science (PLOS), we found several studies exploring the link between skin bacteria and signs of aging, as well as specific factors like immune triggers, redness, and irritation.
However, none of these sites reported a sufficient overall body of clinical evidence indicating that applying probiotics directly to the skin can meaningfully prevent these common signs of aging (e.g., fine lines and wrinkles, dark spots, etc.) from occurring, or reduce their appearance once they manifest.
With this caveat in mind, which of TULA's products contain potentially beneficial probiotic bacteria?
Taking a Closer Look at TULA's Probiotic Skincare Lineup
According to their website, all TULA formulas are designed to lock in moisture and are tested by independent third-party laboratories and dermatologists for safety, efficacy, and potency. Also, to ensure they don't cause irritation or sensitization, and that their bacteria remain viable at a variety of temperatures.
If you need assistance, you can take the company's five-step quiz to learn which products might work best for your skin.
Advanced Neck Cream
A balm-like cream that's suitable for all skin types (oily, dry, normal, combination, sensitive, mature) and uses Bifida ferment lysate to help improve hydration and firmness, as well as reduce the appearance of fine lines, wrinkles, and crepey skin in the neck area.
Daily Probiotic & Skin Health Complex
Take one capsule of this vegetarian supplement per day with food, and the manufacturer advertises it could help balance your digestive system and support your skin's health from within by helping it retain moisture, while visibly firming and boosting tone.
Dual-Phase Skin Reviving Treatment Pads
TULA designed each of these pads with two sides: a white, smooth side that uses natural plant fibers to disperse an activating serum (contains Lactococcus ferment lysate) to remove surface debris, and a textured side to help exfoliate and resurface skin.
Simply use for one to two minutes, one to two times per week, and the company claims you'll experience "an instant facial," regardless of your skin type.
Exfoliating Treatment Mask
Uses bentonite clay, plant-based, biodegradable beads, and Bifida ferment lysate (lactic acid) to exfoliate impurities and debris, lock in moisture, and improve skin tone, without stripping it of essential oils. Use two to three times per week, as preferred.
Kefir Moisture Repair Pressed Oil
This oil contains Bifida ferment lysate to help promote hydration and balance tone, as well as Kefir Hydro Complex to provide an extra layer of protection to the skin, while also soothing.
It can be used morning and night as a one-step moisturizer, as well as on top of another moisturizer to seal in hydration, and reapplied as needed.
Kefir Replenishing Cleansing Oil
Also formulated with natural kefir oils to bind with the 'bad' oils on your skin, gently dissolve makeup and residue, as well as to provide nourishment, soothing, and hydration. Suitable for oily, dry, normal, combination, sensitive, and mature skin.
Hand & Nail Therapy
Containing 18 percent shea butter and a variety of probiotic strains (Bifida ferment lysate, Lactobacillus casei, L. acidophilus, Micrococcus lysate), this moisture cream promises to deeply condition, reduce fine lines and hyperpigmentation, and soothe and firm skin and cuticles. Fragrance-free.
» Related: Best Anti-Aging Creams for Hands Buying Guide
Hydrating Day & Night Cream
A formula that claims to help reduce the appearance of fine lines, wrinkles, and distressed skin; boost suppleness, increase glow, deliver an even tone, and soothe redness, whatever your skin type. Apply morning or night.
Illuminating Serum
According to TULA, after applying a dime-size amount to your skin on a regular basis, the Bifida ferment lysate and other ingredients in this formula will even out skin tone, smooth texture, reduce the appearance of dark spots, and provide extra glow under makeup. Suitable for all skin types.
Multi-Spectrum Eye Renewal Serum
A caffeine-packed formula to help reduce the appearance of crow's feet and fine lines, decrease puffiness, and improve the look of tired eyes. Features a "specially designed cooling metal applicator [that] delivers the perfect amount of product." For morning and night use.
Overnight Skin Rescue Treatment
A more intense anti-aging treatment targeted at reducing fine lines and wrinkles, increasing firmness, improving glow, reducing the appearance of pore size, and leaving skin looking nourished and balanced. Features Bifida ferment lysate, Lactobacillus casei and acidophilus, and Bacillus coagulans ferment for a "nourished, balanced look."
Pro-Glycolic 10% PH Resurfacing Gel
An alcohol-free formula to exfoliate skin, remove excess dirt and oil, diminish the appearance of pores, and deeply hydrate and condition skin. Uses Lactococcus ferment lysate to hydrate and lock in moisture.
Purifying Cleanser
A Bifida ferment lysate-based gel cleanser that removes impurities from pores and promotes a natural moisture balance, without over-stripping or drying. Suitable for all skin types and advertised as excellent for dry skin.
Revitalizing Eye Cream
Formulated with antioxidants and probiotics (Bifida ferment lysate) to "deeply hydrate the delicate skin around the eyes," while minimizing the appearance of fine lines and dark circles. Suitable for all skin types, when used morning and night.
Urban Defense Hydrating Mist
After spritzing one to two times, this rose-scented formula uses Bifida ferment lysate and other nutrients to help dry, normal, combination, sensitive, and mature skin fight free radical damage, hydrate, reduce the look of inflammation, and shield it from irritants. Can be applied over makeup multiple times per day.
Volume Defense Deep Wrinkle Serum
After applying a thin layer to your face morning and night, TULA tells us this milky, Bifida ferment lysate-based formula will target the look of deep wrinkles, restore volume and elasticity, and protect against environmental toxins. Suitable for all skin types, as well as for the face and neck.
What Benefits Could TULA's Core Ingredients Provide?
Since TULA boasts an extensive product lineup, it could take an unnecessary amount of time to discuss all of the ingredients in each one. Instead, we'll only focus on those highlighted on the Ingredients page of the company's website:
Rice Nutripeptides – A peptide is a chain of amino acids typically smaller than a protein, but that carries out similarly important biological functions. Other than sites directly related to TULA, though, we didn't encounter any information about nutripeptides, whether from rice or otherwise.
Vitamin E – An antioxidant that could help fight free radical damage.
Blueberry – A fruit high in antioxidants.
Vitamin C – Another vitamin that acts as an antioxidant, which Paula's Choice notes can also "create younger-looking, firmer-feeling skin, while signs of uneven skin tone and spots seem to disappear."
Apple Extract – Paula's Choice also reports there is "more research [needed] concerning the health benefits of eating apples rather than applying them topically via skincare products."
White Tea – White tea is also thought to have antioxidant properties, while its natural caffeine content could help temporarily tighten skin.
Vitamin A – Another antioxidant.
Chicory Root – Searching the National Institutes of Health's PubMed, we only encountered one clinical study looking at the relationship between chicory root and skincare, which specifically referenced its ability to affect skin barrier function.
Flaxseed – Contains high levels of omega-3 fatty acids, which when consumed through foods, have been shown to play an important role in maintaining healthy skin.
Yogurt Cultures – According to TULA, yogurt cultures are "rich in vitamins and minerals" and "full of nutrients that help increase hydration and calm stressed skin."
Turmeric – Healthline reports this ingredient could help reduce inflammation.
What About the Probiotics in TULA's Skincare Products?
The short version: While there is a lot of clinical evidence indicating that internal probiotic supplements can provide real-world benefits in humans, the evidence for TULA's proprietary strains is limited, and only references skin conditioning (moisturizing).
The detailed version: The HighYa team has collectively written about dozens of probiotic supplements, and we've learned that there's sufficient clinical evidence indicating they could help improve digestion, reduce gassiness and bloating, and reduce diarrhea and IBS and IBD-related symptoms, to name just a few potential benefits.
And among some of the most common bacteria strains found in this class of dietary supplements are Bifidobacterium and Lactobacillus, both of which are also listed in many of TULA's products.
However, there are a couple of important distinctions: First, the most obvious is that TULA customers will apply these bacteria to the surface of their skin, versus ingesting them via capsules or tablets.
Second, the only two products in the company's lineup that contain traditional probiotic strains are their supplement, and the L. acidophilus found in their Hand & Nail Therapy. Other than this, it's only Bifida ferment lysate, Lactococcus ferment lysate, and Micrococcus lysate, depending on the formula.
Comparatively, each of these is a proprietary ingredient manufactured by CLR Berlin, which, according to Paula'sChoice.com, comes with a 'good' rating.
They explain this "specific type of yeast [is] obtained by the fermentation of Bifida. Limited research has shown that yeast ferment filtrate (a compound different from Bifida ferment lysate) offsets oxidative skin damage in the presence of UV light, but this research also showed that many other antioxidants have a similar effect."
They conclude that "this ingredient likely has hydrating and possibly some degree of soothing properties, but we'd only advise using it in products that contain other ingredients with more research supporting their benefits for the skin."
Could TULA's Probiotic Skincare Ingredients Cause Side Effects?
Based on what we learned from sites like EWG.org, Paula's Choice, and Truth In Aging, most of the ingredients found in TULA's products won't cause any side effects worse than mild, temporary redness and irritation (no specifics or dosages noted). This is especially the case for individuals with sensitive skin.
However, EWG indicates there are no data available regarding Bifida, Lactococcus, or Micrococcus lysate's potential side effects or health concerns.
For these reasons, it's important that you speak with your dermatologist before ordering or applying any new skincare product.
How Much Do TULA Probiotic Skincare Products Cost and Where Can You Buy?
If purchased directly through the manufacturer, TULA's products are priced as follows:
Advanced Neck Cream (1.7 oz): $80
Daily Probiotic & Skin Health Complex (30 capsules): $39
Dual-Phase Skin Reviving Treatment Pads (16 pads): $59
Exfoliating Treatment Mask (1.7 oz): $54
Kefir Moisture Repair Pressed Oil (1 oz): $65
Kefir Replenishing Cleansing Oil (4.7 fl oz): $32
Hand & Nail Therapy (2.5 oz): $22
Hydrating Day & Night Cream (1.7 oz): $52
Illuminating Serum (1.6 fl oz): $78
Multi-Spectrum Eye Renewal Serum (0.5 fl oz): $68
Overnight Skin Rescue Treatment (1.67 oz): $85
Pro-Glycolic 10% PH Resurfacing Gel (2.7 fl oz): $34
Purifying Cleanser (6.7 fl oz): $28
Revitalizing Eye Cream (0.5 oz): $52
Urban Defense Hydrating Mist (1 fl oz): $28
Volume Defense Deep Wrinkle Serum (1 fl oz): $98
Customers can also save 10-15 percent (depending on the product) by signing up for automatic monthly deliveries.
Also, several popular third-party online retailers sell TULA's skincare products for the same general prices, including Amazon, QVC.com, and Dermstore.com. They were also sold through local retailers like Nordstrom, Neiman Marcus, and Bloomingdale's, which could potentially put them in your hands faster.
All direct purchases come with a 30-day refund policy (from the date of purchase), less S&H charges. Customer support can be reached at 646-759-1156 or help@tula.com.
What Can We Learn from Customer Reviews for TULA Skincare?
On TULA's website, their products had several hundred combined customer reviews at the time of our research, with an average rating of about five stars.
Common compliments referenced effective results (improved look and feel of skin, reduced breakouts, effective cleansing, etc.) and good value, while the relatively few complaints often related to no results, high prices, and side effects like irritation and breakouts.
We found much of the same feedback and overall average ratings across third-party sites like Amazon, QVC.com, and Dermstore.com.
From a company perspective, TULA Life, Inc. is based out of New York City and has been in business since 2013. It was co-founded by Dr. Roshini Raj, a board-certified gastroenterologist and internist, an Associate Professor of Medicine at NYU School of Medicine, as well as an Attending Physician at NYU Langone Medical Center.
Per the TULA website, the name means 'balance' in Sanskrit, since the company's mission is to "help women and men feel more balanced, beautiful, and confident through our products and our community."
What to Consider When Purchasing a Probiotic Skincare Product Like TULA
With the runaway success of probiotic dietary supplements, along with the potentially beneficial relationship between balanced bacteria levels and skin health, dozens of probiotic-focused beauty brands have emerged over the last several years.
In addition to TULA, popular options include AO Biome, Glowbiotics, Aurelia, Esse, and Probulin, most of which come with similarly steep prices. How can you decide which one will best meet your needs?
First, as we discussed at the beginning, it's important to maintain realistic expectations. Dermatology Times points out the evidence is still very preliminary that topically applied probiotic bacteria can have any meaningful benefits, whether related to anti-aging or otherwise. And even then, it might only relate to photoaging and glow.
Regarding the overall clinical evidence available, a different Dermatology Times article had this to say:
"The studies reviewed suggest that topical prebiotics, probiotics and bacterial cell lysates do provide demonstrable skin benefits. Skincare products containing these are well positioned for treating conditions characterized by an altered microflora. Cosmetics containing probiotics may also be helpful for improving skin health and beauty."
However, they concluded that "at this time, it appears that more studies are warranted to determine if these products are really worth the hype."
With this said, if your dermatologist recommends that a probiotic-packed topical cream or serum will deliver a lot of value, as a consumer advocacy organization, we'd only recommend doing business with companies who:
Don't make over-the-top marketing claims about the benefits of their products.
Provide a complete list of all ingredients, including dosages (when applicable).
Offer at least a 30-day money back guarantee, with realistic S&H charges and no penalty fees (restocking, etc.).
Come with a mostly positive online customer reputation across a variety of well-established websites.
How does all of this look when applied to TULA?
Our Final Thoughts About TULA Probiotic Skincare
Tula's skincare brand contains many ingredients that may help cleanse and exfoliate skin, provide moisture, and protect it from some common external causes of premature aging.
However, whether or not their products will deliver better results than some of the competition (lower-priced or otherwise) will largely depend on your dermatologist's diagnosis-based recommendations.
But if they advise that TULA's lineup will provide the level of value you're looking for, direct purchases come with a 30-day refund policy. And while this might not be sufficient to gauge long-term benefits, it should be plenty of time to decide if it meets your skincare needs and preferences.
» See Also: 5 Best Makeup Brands for Women Over 40