Robin McGraw Revelation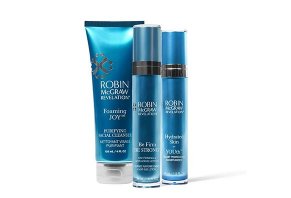 Summary
The Robin McGraw Revelation is an anti-aging skincare brand from the wife of Dr. Phil that promises to deliver only beneficial ingredients to your skin.
Pros
Cute names for all products
Transparent ingredients lists
Many customers say the products work as described
Cons
Ingredients don't seem unique compared to other skincare brands
Small product size per order
May not deliver promised benefits
Robin McGraw Revelation Review: What You Should Know
The Robin McGraw Revelation is a luxury skincare collection from Robin McGraw, the wife of famous TV therapist Dr. Phil McGraw.
This California-based brand launched in 2014 as an option for customers to secure products made without harmful ingredients like sulfates, mineral oil, or parabens. For the first year, McGraw partnered with the Home Shopping Network and broke sales records during every appearance.
Today, you can purchase these same skincare products exclusively through the company website. They are designed for women who are starting to show signs of aging and want to recapture their youthful appearance.
Our review will help you decide whether the Robin McGraw Revelation product line is worth considering.
About Dynamic Infusion Technology
One of the primary selling points for the Robin McGraw Revelation is the company's "unique, multi-patented Dynamic Infusion Technology."
The company claims that this technology acts as a delivery system to carry the product's active ingredients through the epidermis up to 26 times faster than they could otherwise.
This proprietary technology with purportedly shrink the molecule size of each ingredient so that they can deliver benefits where they are needed most.
This skincare brand currently holds four patents for this technology, and it links to a 2018 study on the benefits of this technology for transporting topically-applied ingredients from serums and lotions into the skin for collagen formation and skin-plumping benefits.
Notably, this study found that the DIT process was well tolerated by all participants and didn't lead to any adverse side effects.
Keep in mind that the Robin McGraw Revelation funded this study. We couldn't find any other clinical information about this process.
Robin McGraw Revelation Product Line
Below is a small sample of the available products from Robin McGraw Revelation.
| Product | Description | Price | Top Five Ingredients |
| --- | --- | --- | --- |
| OMG Is This Really Me? Instant Face Shaper | A potent gel with clay-derived compounds for an instant tightening effect around the face, neck, and eyes | $34 for 0.5-oz | Propanediol, Sodium Silicate, Sodium Carbomer, Acetyl Octapeptide (SNAP-8), Palmitoyl Tripeptide-5 (SYN-Coll) |
| Firm Skin=Happy Skin | A daily lotion with caffeine, seaweed extract, and hyaluronic acid to plump and tighten your skin. | $28 for 1.5-oz | Caprylyl Methicone, Isononyl Isononanoate, PEG-12 Dimethicone Crosspolymer, Glycerin, Tetrahexyldecyl Ascorbate, Xylitylglucoside |
| Starlight, Face Bright | A brightening night cream designed to fade dark spots and prevent new ones from forming | $27 for 1-oz | Caprylic/Capric Triglyceride, Cetyl Alcohol, Glyceryl Stearate, PEG-100 Stearate |
| Under Eye Recovery Mask | These undereye masks target fine lines and puffiness associated with not getting enough sleep to help you look rested | $18 for a 3-pack | Butylene Glycol, Glycerin, Trehalose, Hydroxyacetophenone 1,2-Hexanediol |
| Georgia Eau de Parfum | A daily fragrance with hints of bergamot, lotus blossoms, rose, and patchouli for a fresh, feminine scent | $17 for 1.7-oz | SD Alcohol 40-B, Water (Aqua), Fragrance (Parfum), BHT, Red 4 (CI 14700), Yellow 5 (CI 19140) |
| Twinkle Twinkle, You're a Star | Shrink your pores, fade dark spots, and smooth rough patches with this multi-action polish designed to detoxify with pumice stone and bentonite clay | $23 for 1.7-oz | Caprylic/Capric Triglyceride, Bentonite, Cucumis Sativus (Cucumber) Fruit, Pumice, Hamamelis Virginiana (Witch Hazel) Water |
A Closer Look at the Ingredients
Beyond the top-five ingredients listed above, the Robin McGraw Revelation product line claims to contain a host of ingredients that have potent anti-aging and skin moisturizing benefits. Here are a few that the company highlights explicitly.
Peptide Complex: This is a term used to describe a chain of amino acids, which act as protein builders in the skin. Using topical skincare products with peptides can help boost collagen production and lead to more elastic skin with fewer wrinkles.
Hyaluronic Acid: Considered to be a key molecule for anti-aging, hyaluronic acid is renowned for its water retention abilities and ability to reduce the appearance of fine lines and wrinkles by giving your skin a temporary plumping effect.
Retinol: This synthetic form of vitamin A is often added to skincare products to boost your collagen production and reduce the appearance of fine lines and wrinkles. However, too much topical use can leave your skin dry and flakey.
Squalane: This saturated oil is naturally produced by your body, though levels go down as you age. It's often added to skincare products to restore your levels and keep your skin well hydrated.
Green Tea Extract: Green tea contains polyphenols that can deliver antioxidants to your skin, which helps it fight off free radical damage, especially from too much sun exposure.
Caprylic/Capric Triglyceride: This natural emollient comes from coconut oil mixed with glycerin and works to restore your skin's surface and prevent the moisture loss that leads to a weathered appearance.
Tetrahexyldecyl Ascorbate: Another ingredient known to increase your collagen levels, tetrahexyldecyl ascorbate is a form of vitamin C that offers antioxidant benefits to skincare products.
Overall, many of the ingredients in Robin McGraw Revelation products show promise for delivering anti-aging benefits by keeping your skin plump and hydrated.
However, these ingredients are also some of the most commonly used in topical products. They don't seem to differentiate this product line in any meaningful way, so keep that in mind when you're shopping around.
Shipping and Return Information
The company website makes it clear that it is the only verified place to purchase Robin McGraw Revelation products. Other retailers (like Amazon) might not be selling authentic items.
All site purchases over $50 qualify for free shipping; expect to pay about $7.99 for shipping on smaller orders.
All purchases qualify for a 30-day satisfaction guarantee, which means that you can request a return authorization form at any point in that time frame to return your order and receive a full refund.
If you need help with your order or choosing which products are best for your skincare needs, you can contact the customer service department at cs@robinmcgrawrevelation.com or at (888) 990-9267.
Analysis of Customer Reviews
Here at HighYa, readers have posted eight reviews for the Robin McGraw Revelation, averaging two stars. There are also reviews on Amazon for individual products, like the Awaken Youth Overnight Cream, that average under three stars each. Here are some takeaways from their comments:
Compliments:
Products worked as described to improve skin and provide anti-aging benefits
Complaints:
Many people paid more than they initially expected for their orders
Products overpriced for the benefits
Slow shipping times
Inconsistent product quality
Some products didn't work as described
Product size too small
Comparing Robin McGraw Revelation Pricing to Other Brands
One common customer complaint about this skincare brand is high pricing. Does Robin McGraw Revelation really cost more than equivalent products?
In the following chart, we compared some of the company's popular products to options from two other natural-focused anti-aging brands: Tatcha and Herbivore Botanicals.
| | Robin McGraw Revelation | Tatcha | Herbivore Botanicals |
| --- | --- | --- | --- |
| Night Cream to Fade Dark Spots | Starlight, Face Bright ($27 for 1-oz) | Luminous Dewy Skin Night Concentrate ($110 for 1.7-oz) | Moon Fruit Superfruit Night Treatment ($58 for 1.7-oz) |
| Facial Exfoliant | Twinkle Twinkle, You're a Star ($23 for 1.7-oz) | The Rice Polish: Classic ($65 for 2.1oz) | PRISM 12% AHA +3% BHA Exfoliating Glow Serum ($54 for 1-oz) |
| Facial Revitalizing Serum | Face It, You Look Amazing! ($38 for 0.5-oz). | Violet-C Brightening Serum ($88 for 1-oz) | Lapis Face Oil ($72 for 1.7-oz) |
| Single-Use Face Mask | Fine Lines & Wrinkles Sheet Mask ($24 for three) | Luminous Dewy Skin Mask ($12 each) | Blue Tansy Resurfacing Clarity Mask ($48 for 2.3-oz) |
All three of these brands emphasize natural skincare products that will purportedly leave your skin looking younger. Tatcha is a Japanese luxury beauty brand, while Herbivore is similar to the Robin McGraw Revelation with its emphasis on products that are made without parabens, sulfates, and mineral oil.
What's interesting to note is that both brands are significantly more expensive than Robin McGraw, even when factoring in product size.
Granted, this is a small sample size, and all three brands might cost more than what you prefer to spend on skincare. But even so, this comparison shows that Robin McGraw Revelation products might be reasonably priced for the industry.
The Bottom Line: Is the Robin McGraw Revelation Worth It?
The Robin McGraw Revelation skincare product line promises to help aging women reclaim their youth and their confidence with a skincare line that will take years off their face by adding moisture and filling out fine lines and wrinkles.
However, the most common customer complaint about this skincare line is that each product is small and not exceptional when it comes to delivering what it promises, especially when you consider the ingredients lists.
Likewise, there isn't much information available about the company's proprietary DIT technology and whether its more than a marketing ploy.
Overall, Robin McGraw Revelation products will likely leave your skin looking healthier and better moisturized. Still, there's little evidence it can deliver exceptional anti-aging benefits that would make it stand out from its competitors.
Buy this brand if the products resonate with you, but don't feel like they are the only solution for restoring your lost youth.
Customer Reviews
Posted on Dec 22, 2020
Bad odors
The only product I really like is the foamy face wash. I ordered $700 worth of products and gave them all away.
The moisturizers left my skin feeling dry and tight instead of soft and moisturized.
Some of the products were too harsh for my skin. I was very disappointed.
Length of Use: 3–6 months
Bottom Line: No, I would not recommend this to a friend
Pros and Cons
No "pros" were specified in this review
The quality of the products just didn't live up to the hype
I like a fresh fragrance in products, especially if there are flower compounds in the products, they smelled medicinal, ick
Too much hype
Posted on Dec 2, 2020
What happened?
I loved Robin McGraw products but I can't find them anymore. They used to be a great company to work with. The phone number doesn't work. Her website is nonexistent as far as actually buying products. It seems so irresponsible to not let people know where everything went and very surprising with Robin. She seems so trustworthy. Did she move out of the country? What's the deal? I'm very let down by Robin. No answer, nothing.
Length of Use: 1–2 years
Bottom Line: No, I would not recommend this to a friend
Pros and Cons
Phil's program
They don't exist anymore, that's all I know
Posted on Oct 24, 2020
Robin McGraw Revelation still in business?
I have been trying to reorder some products that I had liked, for the past 2 months, and I can't access her website where I had purchased products prior. I feel she no longer sells her products on the website, and there has been no feedback on her FB page!
Length of Use: 6–12 months
Bottom Line: No, I would not recommend this to a friend
Posted on Oct 1, 2020
Excellent product
Would like to order the revelation duo x 1 but unable to get through on the phone, how can you reorder these products? I ordered this for my friend on her birthday and she loved it, now her husband wants to get this for her birthday again.
Length of Use: 1–2 years
Bottom Line: Yes, I would recommend this to a friend
Pros and Cons
Product
Phone
No way to reorder
Posted on Sep 23, 2020
Problem getting customer service
I ordered the sample for $5.00 and before I knew it was ordering the eye cream and expedited shipping. I have been trying to reach customer service for 2 days. It rings once then goes to busy. I want to cancel the whole order. I'm disappointed before I even try the product!
Bottom Line: No, I would not recommend this to a friend
Pros and Cons
No "pros" were specified in this review
Customer service is terrible
Posted on Aug 4, 2020
Some good, some bad
I've tried several of her products so far. The ones I hate because of how sticky they go on are the Rosacea products and the sunscreen. Almost impossible to put on foundation after using them. Also hate the instant firming face shaper one. It goes on very grainy and dry. I'm throwing that one away. Her brightening duos I do like alot. Very light and creamy. No problem with shipping or anything else.
Length of Use: 3–6 months
Bottom Line: Yes, I would recommend this to a friend
Pros and Cons
I like that they will apply several promotions at one time
Everything ships fast
Always got everything I ordered
Like I said above about individual products
I can't leave reviews on their web site
Posted on Jul 9, 2020
In my opinion, the products are great!
I'm not sure where the reviewers that left low reviews purchased their products, but I purchased mine directly from the website and have had no problems at all. The shipping was faster than I expected and I love the products and do see a difference in my skin. I too had brown spots in annoying places on my face and this is the first brown spot remover that actually worked. They've faded to almost gone! Overall great experience to the point that I bought the entire line for my daughter as well. The adorable free chapstick that you can receive with your order also works well!
Length of Use: Less than 3 months
Bottom Line: Yes, I would recommend this to a friend
Pros and Cons
I love the cause behind Robin's company
The brown spot remover and vit C drops
The shipping speed
The caps do not stay on well
The silver part of the foaming cleanser chips off and has gotten on my face as well as in my eye, this definitely needs to be changed
Posted on Jul 9, 2020
I only received half of my order
I ordered two samples, Youth Renew Face Cream and the eye serum.
I only received the face cream. I think this is a scam.
Bottom Line: No, I would not recommend this to a friend
Pros and Cons
No "pros" were specified in this review
Very poorly run
Only received one of two product samples ordered a few weeks ago
Posted on Jan 16, 2020
RIP OFF
They have taken $88.97, $88.99 just in January. I would never ok that because I'm on Social Security and cannot afford this. I can't find a way to stop this. It's a scam, don't do it. I thought I was getting a sample for shipping, well, I was wrong. This order number is from the one I received today. The other one I guess has the same order number, they're the same product.
Bottom Line: No, I would not recommend this to a friend
Posted on Nov 25, 2019
The products are sold by a chain company and has taken two debits from my bank account.
Do not by from Dr. Phi's show. A fraudulent company is involved in their products. And it is not the real products of cosmetics. I'm so upset and they owe me from taking from my bank account.
I initially got the product for a trial period which was only $5.00 but this month they have taken $206 and the product was canceled in September 2019.
Bottom Line: No, I would not recommend this to a friend
Posted on Sep 20, 2019
Extremely disappointed!
I am so disappointed right now! I started using Robin McGraw's products a little over a year ago - because I wanted quality products that did not perform animal testing. The products are fair, but overpriced. I only purchased them when they were on sale, or I could get a discount code. However, I placed an order over 3 weeks ago that I have not received. I have emailed customer service 5 times! They said they would look into it, but never provided an update. Then, I was told they were shipping a replacement order, but they never did. Their customer service is absolutely horrible! I have requested a refund, since neither order ever shipped - but have yet to receive it! I will never purchase from them again because of the hassle - there are other quality products that are much easier to deal with.
Bottom Line: No, I would not recommend this to a friend
Our Promise to You
In order to safeguard you and ensure helpfulness and relevance, our compliance team manually assess every customer review before it goes live.
We have a zero-tolerance policy for fake reviews, and companies cannot control or alter any reviews at any time.