Robin McGraw Revelation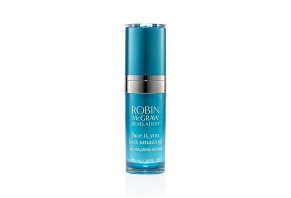 The Robin McGraw Revelation skincare line offers a collection of cleansers, serums, moisturizers, exfoliators, beauty routines, and even a sterling silver Swarovski ring in the shape of a bow.
Robin McGraw Revelation Review: Is It the Right Option for Your Skin?
In 2016, philanthropist and two-time No. 1 New York Times best-selling author, Robin McGraw, created the Revelation skincare line of luxury beauty products.
Here, you'll find a comprehensive collection of facial treatments, age-defying serums, bath and body products, gift boxes, as well as candles, and even jewelry.
Before creating her skincare line, Robin had been a sought-after public speaker, writer, and wife of the famous Dr. Phil. She has made appearances on The Today Show, Rachel Ray, The Oprah Winfrey Show, and of course, on many of the Dr. Phil shows.
According to the company, having a few products daily that you use in your beauty routine that features positive quotes about beauty from within, and taking care of yourself, could potentially offer more than just a skin care product.
We're told they can serve as little reminders that beauty is more than skin deep, which brings us to the central question: Does Robin McGraw's Revelation lineup offer more than other skincare brands or are their marketing claims only skin deep?
To help you find some actionable answers, let's begin and work our way up from there.
How Much Do Robin McGraw Revelation Skincare Products Cost?
Based on what we learned during our research, the company recently underwent a complete facelift, from their formulas themselves all the way to the look of the products.
To create this new-and-improved lineup, Robin teamed up with Jessica Wu, MD, a board-certified dermatologist and assistant clinical professor of dermatology at the University of Southern California.
Jessica mentioned in a press release that their goal is to offer a professional-grade skincare line, at attainable prices. Here is a quick list of those prices, which include the cost of individual items and sets of multiple items:
Revelation Cleansers ($22 - $89)
Each of these options works to gently exfoliate and buff away dead skin cells, while Foaming Joy also lathers away makeup, grime, and oil, Polish to Perfection stimulates collagen production and defends against the signs of aging, and Twinkle, Twinkle, You're a Star promises to detoxify pores and diminish hyperpigmentation.
Revelation Moisturisers ($42 - $100)
Each of these options is advertised to help moisturize skin, although 50 Fierce also contains a broad-spectrum SPF 50 for UV protection.
Hydra Qwench won the 2017 Oprah Magazine Fall Beauty O-Ward for the best night cream, Hydrated Skin won't leave behind an oily residue, and the vitamin c and ferulic acid in Vita-Boost could help stimulate collagen production and correct skin discoloration from age spots, melasma, and sunspots.
Revelation Treatments ($34 - $108)
The Dot Your Eyes serum uses "Dynamic Infusion Technology" to reduce the appearance of puffy eyes, dark circles, and crow's feet, while Face It –You Look Amazing plumps, hydrates, and smoothes.
Let There Be Bright is a brightening and dark spot correcting serum. Live Life Lifted uses peptides to target the neck and décolleté area, and OMG! Is This Really Me? Uses the same their "Dynamic Infusion Technology," but in a gel-based formula.
Finally, Welcome Back YOUth uses 0.3% retinol and vitamin C to stimulate collagen production and speed up skin cell turnover.
The Georgia Line from Robin McGraw Revelation ($20 - $120)
Inspired by her mom Georgia, this line of the same name contains a total of four products: Hydrating Body Butter, Foaming Shower Gel, Moisturising Hand Cream, Eau de parfum, and "From my heart to yours" candle. You can buy each item individually or you can purchase them as a gift-box set.
The Bow Ring ($189)
If bow rings are your thing, you can purchase a sterling silver model adorned with Swarovski crystals as a reminder of something important. The Revelation lineup also offers a collection of whole-face sheet masks, and an under-eye recovery mask called "I want to look just like her."
Shipping, Handling, and Refund Details
An additional shipping and handling fee will be added to your order after you have filled in your contact information, which will vary depending on your location.
And if you're not happy with your purchase, you can contact the company for a full refund of the purchase price, less the shipping and handling fee.
Key Ingredients and Potential Side Effects for Revelation's Common Ingredients
At first glance, the new and improved list of ingredients in Robin McGraw's Revelation lineup seems to contain a few potent anti-aging, and skin moisturizing elements, such as plant stem cells, chamomile extract, apple fruit extract, plankton extract, Japanese green tea extract, Ecuadorian ivory seed powder, and peptides.
Some advice we found on WebMD suggested adding certain plant extracts, such as green tea extract and plant stem cells, topically to the skin, as they could offer potent antioxidant properties that protect it against cell degradation, reduce the appearance of wrinkles, and treat rough skin and age spots from sun exposure.
Other notable anti-aging ingredients, which reputable sites such as PubMed, Healthline, and the American Academy of Dermatology suggest to be potentially useful for protecting skin and reducing specific signs of aging, include vitamin C, CoQ10, and retinol.
Skincare experts such as Paula's Choice also recommend including water-binding agents like hyaluronic acid and konjac root in your beauty routine, as they could temporarily plump and soften the skin.
The company claims their products were never tested on animals and had been formulated without parabens, artificial dye, SLS or mineral oils. However, for the purist at heart, there are several synthetic conditioning agents such as silicone and potentially irritating preservatives such as phenoxyethanol which you may not agree with.
According to the US National Library of Medicine, excessive exposure to phenoxyethanol can cause moderate eye irritation and skin irritation.
Although the use of this preservative is debatable, it is regarded as safe when used in modest amounts, not exceeding 1%, according to the International Journal of Toxicology recommendations.
Is There Any Proof of Clinical Testing for Robin McGraw's Revelation Lineup?
As far as proof of clinical testing is concerned, there is only a brief mention of "2018 clinical data on file" written on their website.
While we could find no information on their site and our attempts to call their customer service line did not result in any additional information about this clinical data, the company reached out to us and provided the preliminary results of clinical product testing that are, at the time of publishing, under peer review.
Revelation asked us not to publish the results of their testing, which is a reasonable request considering the results are under review. We'd like to point out that the study Revelation provided analyzes the effectiveness of Revelation's proprietary Dynamic Infusion Technology.
Skincare Brands to Compare with the Robin McGraw Revelation Line
Here are two other skincare brands that offer similar products to the Robin McGraw Revelation Line, since you'll also find a range of paraben free face cleansers, eye serums, and skin treatments containing similar ingredients that are potentially beneficial for anti-aging and skin protection.
Olay
A brand that claims to be paraben free with a range of anti-aging night creams and serums, which you can easily find in most department stores such as Ulta, Walmart, and Target. They have an extensive range of eye treatments, and skin tone treatments, which have won The Best Beauty Products, and The Best of Allure Awards and are priced between $7- $45.
La Roche Posay
La Roche Posay offers a range of paraben-free facial foaming cleansers, and anti-aging skin care products that contain ingredients such as retinol, hyaluronic acid, and vitamin c.
Their skincare products are also available at a wide range of retailers and typically range in price between $5 and $30+.
Our Conclusion on the Robin McGraw Revelation Skincare Line
The Robin McGraw Revelation collection claims to be more than just a brand that's also about self-care, as well as taking pride in your unique beauty, health, and happiness. Robin's products have been named Beauty O-Ward winner in O and featured in Allure, The Oprah Magazine, People Magazine, and the Los Angeles Times.
Overall, it does appear as if the new and improved skin care collection created is both fun and appealing to customers (with its motivational quote from Robin under each lid to empower women and help them live each day with a smile), and are available at similar prices as you would find in a department store.
They also contain a handful of quality anti-aging ingredients, such as retinol and hyaluronic acid, which skincare experts and reputable sites like The American Academy of Dermatology and Paula's choice recommend including in your beauty care.
Whether you choose to try out the Robin McGraw Revelation collection as result of the ingredients contained (or not contained, as in the case of parabens) their products, the positive reminders on beauty, or the status that comes with the name alone, they seem to come with affordable prices ranging from $22 – $62. And if they don't meet your needs, you can always try it out or get your money back, less shipping and handling.
» See Also: How to Take Care of Your Skin: 10 Steps to Good Skin
RIP OFF

By Deb R.

,

Clearfield, PA

,

Jan 16, 2020
Verified Reviewer

They have taken $88.97, $88.99 just in January. I would never ok that because I'm on Social Security and cannot afford this. I can't find a way to stop this. It's a scam, don't do it. I thought I was getting a sample for shipping, well, I was wrong. This order number is from the one I received today. The other one I guess has the same order number, they're the same product.

Bottom Line: No, I would not recommend this to a friend

---

The products are sold by a chain company and has taken two debits from my bank account.

By Rosalind C.

,

Massachusetts

,

Nov 25, 2019
Verified Reviewer

Do not by from Dr. Phi's show. A fraudulent company is involved in their products. And it is not the real products of cosmetics. I'm so upset and they owe me from taking from my bank account.

I initially got the product for a trial period which was only $5.00 but this month they have taken $206 and the product was canceled in September 2019.

Bottom Line: No, I would not recommend this to a friend

---

Advertisement

---

Extremely disappointed!

By Angela L.

,

Arkansas

,

Sep 20, 2019
Verified Reviewer

I am so disappointed right now! I started using Robin McGraw's products a little over a year ago - because I wanted quality products that did not perform animal testing. The products are fair, but overpriced. I only purchased them when they were on sale, or I could get a discount code. However, I placed an order over 3 weeks ago that I have not received. I have emailed customer service 5 times! They said they would look into it, but never provided an update. Then, I was told they were shipping a replacement order, but they never did. Their customer service is absolutely horrible! I have requested a refund, since neither order ever shipped - but have yet to receive it! I will never purchase from them again because of the hassle - there are other quality products that are much easier to deal with.

Bottom Line: No, I would not recommend this to a friend

---

Disappointed

By Mary S.

,

Florida

,

Aug 22, 2019
Verified Reviewer

I received an email two days after I received the product asking for a review. Two days really, I barely opened the product. I purchased Hydrated Skin and To The Point dark spot corrector. I have now used up the dark spot corrector and I still have dark spots. I really don't like the smell of either one. My completion doesn't look any different. I'm very disappointed.

Bottom Line: No, I would not recommend this to a friend

---

Advertisement

---

New sheet masks are too heavy and way too big

By Cyn M.

,

New York

,

Jun 18, 2019
Verified Reviewer

I actually contacted RMR customer service about how HUGE ther cellulose sheet masks are. I ended up with several folds in the mask because it was way too long and wide for my face. Customer service implied I was not smart enough to smooth it down, but there's no way to do that. Also, as I sat watching TV, the mask kept sliding down over my eyes because it's too heavy. So I spent MY "relaxing" 15 minutes trying to keep the mask on my face while trying to re-arrange all the folds in it. After all was said and done, this particular hydrating mask made my face break out in hives 10 minutes later. Wish I could send them back, since I really don't have any friends or family with huge round faces.

As a side note, I have unsubscribed from their email list but I still keep receiving marketing emails and requests to review their product. Funny thing, they won't publish my review.

Bottom Line: No, I would not recommend this to a friend

---

I look 25 again!

By Sharilyn F.

,

Frederick, MD

,

May 1, 2019
Verified Reviewer

Okay, I'm 56 and sagging jowls are my issue. After using the night time moisturizer and eye cream, my skin looks like 25 again, my jowls have shrunk, my forehead frown line is not as deep anymore, I can't believe it. I've been a Clinique girl for 30 years not anymore! Thanks Robin. I'm going to try and send a pic of how great I look with no surgery whatsoever!

Bottom Line: Yes, I would recommend this to a friend

---

My first 3 months of using this great product!

By Ginette W.

,

Huntsville, AL

,

Mar 20, 2019
Verified Reviewer

I'm in my mid 70's and started using these products this past holiday. I love the following five: Foaming Joy, Dot your Eyes, Youth Moisturizer, Retinol Serum and Exfoliating Scrub! I've noticed a surprising pleasant shine on my face. This is a great product!

Bottom Line: Yes, I would recommend this to a friend

---

Robin and her crew blocked me on Facebook for telling the truth!

By Tammie S.

,

Seattle, WA

,

Jan 19, 2019
Verified Reviewer

These products are very small. The product came out clumpy and left specks on my face! The smell is terrible! Robin and her crew blocked me on Facebook for telling the truth! Very rude, petty, and immature!

Bottom Line: No, I would not recommend this to a friend

---