Meaningful Beauty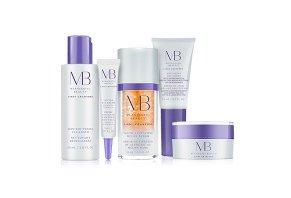 Meaningful Beauty is a skin care system collaboration between model Cindy Crawford and her dermatologist Dr. Jean-Louis Sebagh, and it promises to keep you looking wrinkle-free and gorgeous.
Meaningful Beauty Review: Is It Worth It?
What Is Meaningful Beauty?
Created by model Cindy Crawford and her personal dermatologist Dr. Jean-Louis Sebagh, Meaningful Beauty is a skincare system designed to give you gorgeous skin no matter your age.
This line of skincare products relies on superoxide dismutase (known as "SOD"), which is an antioxidant found in Charentais melons, an heirloom variety from the South of France.
According to the company website, this compound deserves credit for helping Crawford keep her youthful glow for the past twenty years.
The company's self-reported clinical findings share similar results, as the Meaningful Beauty states that more than 90% of their test participants thought their skin appeared firmer and that their pores looked smaller at the end of a 12-week perception study.
There's reason to believe there's something to these claims, as a 2018 review of SOD's potential showed that this enzyme offers a powerful defense against oxidative stress, which can lead to physical deterioration and age your skin's appearance.
But will the Meaningful Beauty line actually give you the skin of a model? We'll look closer at those claims in the rest of this article. First, let's look at what products they sell.
Meaningful Beauty Products
At the time of writing, Meaningful Beauty offered a range of skincare products that included the following: (Because cosmetic ingredients are traditionally sorted by most prevalent to least on the label, we've highlighted either the top five ingredients or the listed active ingredients for each product.)
Skin Softening Cleanser
This mild cleanser is formulated to gently remove oil and impurities while keeping your skin at its natural pH level. You're supposed to use it twice daily, cleansing your skin with gentle circular motions before rinsing it off with warm water.
Top five ingredients: Propylene glycol, cetyl alcohol, stearyl alcohol, sodium laureth sulfate, sodium laureth-8 sulfate.
Youth Activating Melon Serum
This serum contains melon leaf stem cells to visibly plump and firm your skin for a brighter, more even skin tone. The company states it also works to prevent the signs of sun damage by keeping your skin protected and moisturized. It's best to apply one pump of serum to both your face and neck twice a day.
Top five ingredients: Glycerin, isononyl isononanoate, propanediol, betaine, pentylene glycol.
Anti-Aging Day Creme with Environmental Protection SPF 30
This daily moisturizer is meant to protect your skin from the sun and other environmental aggressors like blue light, infrared light, and pollution that can lead to signs of premature aging. For best results, apply a thin layer to your face and neck after using the Melon Serum, and gently massage it into your skin.
Active Ingredients: Avobenzone 3.0%, homosalate 10.0%, octisalate 5.0%, oxybenzone 4.5%.
Age Recovery Night Creme with Melon Extract and Retinol
Meant to restore your skin overnight, this night crème relies on melon stem cells and retinol to help you wake up with firmer, smoother skin with fewer visible fine lines and wrinkles. Apply a thin layer of the crème before bed to let its active ingredients work on your skin all night.
Top five ingredients: Isononyl isononanoate, ethylhexyl palmitate, polyglyceryl-10 distearate, prunus amygdalus dulcis (sweet almond) oil.
Lifting Eye Creme- Advanced Formula
Designed to banish the appearance of dark circles under your eyes, this crème has a lightweight, silky formula that contains hyaluronic acid to restore moisture and elasticity to your face. The crème is meant to be applied twice a day, and you can wear it over the Eye Enhancing Serum for the best results.
Top five ingredients: Oleyl erucate, glycerin, dimethicone, hydrolyzed hazelnut protein, cetearyl alcohol.
Skin Brightening Decollete & Neck SPF15
This cream is designed to protect your neck and chest from the signs of aging by adding moisture back to dull, dry skin so that it becomes smooth and soft again. You can apply the cream in the mornings on dry skin, taking care to massage it all in.
Active Ingredients: Avobenzone 3.0%, octinoxate 7.5%, octisalate 5.0%, oxybenzone 5.0%.
Dark Spot Correcting Treatment
Designed to fight the signs of sun damage on your skin, this treatment relies on 2% hydroquinone to fade dark spots and other pigment discolorations. You can apply it to the areas you want to fade and then put sunscreen overtop for an extra level of protection.
Active Ingredient: hydroquinone 2%.
Meaningful Beauty Ingredients: Benefits and Possible Side Effects
To get a better sense of what Meaningful Beauty ingredients mean for your health, we chose to look at their purpose and possible side effects on the EWG (Environmental Working Group) cosmetic database.
From what we found, the majority of the most common ingredients in these products fall into the following categories: fragrance agents, emulsion stabilizers, surfactants, skin conditioning agents, solvents, sunscreen agents, and a skin bleaching agent (hydroquinone). This is standard for skincare products.
Are there other takeaways from these ingredients? We think a few are worthy of extra attention, including sodium laureth sulfate, the alcohols and fragrance agents, and the active ingredients in the sunscreen products.
According to the cosmeticsinfo.com, sodium laureth sulfate is a surfactant that is popular in many skincare products. There have been widespread rumors in recent years that the compound can trigger potentially worrisome health effects like cancer.
However, a re-review of the compound in 2002 by the Cosmetics Ingredient Review deemed it safe for use in cosmetics and personal care products. Saying that, some people find sodium laureth sulfate to be irritating because it can disrupt your skin's natural sebum production and dry it out.
The EWG database calls attention to potentially troubling ingredients in sunscreen products. Because sunscreens are meant to be spread thickly over large parts of your body, even trace amounts can lead to problems.
According to the database, active ingredients like oxybenzone and avobenzone—both found in Meaningful Beauty products—can mimic hormones and lead to unintended health effects that aren't well understood. Oxybenzone is considered the most troubling, as it can trigger allergic skin reactions.
Likewise, the labeling of many Meaningful Beauty ingredients as "fragrances" doesn't tell us much about them. That's because the EWG database states the term is often used to represent an undisclosed mixture of different scent compounds. This may be cause for concern, as some companies use it as a legal loophole to find the names of "extra" ingredients, and some fragrance agents can trigger allergies or lead to respiratory distress.
Meaningful Beauty Cost
At the time of writing, Meaningful Beauty products are sold on the company website in bundles.
The company offered both a five-piece ($49.95) and seven-piece ($69.95) system, with shipping included in the price.
Each system provides you with a thirty-day supply of the product, and the primary difference between the two is that only the seven-piece system includes the Skin Brightening Neck & Decollete and Dark Spot Correcting Treatment.
Regardless of which option you choose, you can also select a collection of free add-ons with your first order. This is either a Skin Rejuvenating Trio (valued at $90) or an Eye Crème & Lip Duo (valued at $80).
Both of these purchases automatically enroll you in Meaningful Beauty's auto-delivery program, which means that you will be shipped new products every twelve weeks. It's possible to adjust this frequency from four to 20 weeks if you need a different timeframe.
The add-ons aren't included in future orders and that the size of the order triples so you will need to pay three times your initial order cost plus $14.99 for shipping.
It's possible to customize the amount and type of products you receive each order by logging into your online account, and the Meaningful Beauty's terms and conditions state that you can reschedule or cancel future orders at any time by contacting customer service online or at (800)927-0047.
All Meaningful Beauty purchases come with a 60-day money back guarantee. If you aren't happy with your purchase, you can return the containers—even if they are empty—and they will refund your full purchase price, minus shipping and handling.
A Look at Customer Reviews of Meaningful Beauty
To be frank, customer feedback of Meaningful Beauty on our website wasn't optimal. The company averaged under two stars after 35 reviews, and the majority of negative complaints came from people who struggled with their return policy.
Specifically, they reported that they couldn't get the company to refund their purchase price and that customer service was difficult to work with.
Many people also wrote that the results they noticed weren't worth the monthly cost for the products, though others mentioned that their friends and family were commenting on how well rested and younger they looked.
Wellness advocate Mary Beckett from Blue Ice Essentials told us that she is a big fan of Cindy's product line.
"I have used it for nine years. My skin looks better now than when I started and when I started, everyone I knew noticed the difference," she said.
Amazon reviews also offer insight into Meaningful Beauty's reputation. Both collections and individual products average between 3.5 and 4 stars, and many people reported that using the products led to subtle improvements in their skin.
Others stated that the results weren't impressive and that they didn't approve of the ingredients within the products so they weren't planning on repurchasing them.
Our Test of Meaningful Beauty
Below, is our video review of this product line with an in-depth analysis of the effectiveness of these products and our tips for navigating the company's automatic subscription policy.
"Overall, these products are formulated with ingredients that are really good for your skin, with the exception of the occasional alcohol and fragrance…[saying that], for those with acne-prone skin these products might be too heavy," HighYa reviewer Olga Belous concluded. "Because these products tend to feel heavier on the skin, I would be careful if you are someone who is prone to breaking out."
The Bottom Line
Saying all this, do we think that Meaningful Beauty is worth a purchase? We are hesitant to give it a glowing recommendation, as our video review and previous customer feedback highlight some concerns about the value of these products compared to the competition and the potential difficulty of dealing with customer service to cancel your membership.
Overall, we think that reviews show that using Meaningful Beauty can lead to subtle improvements in your skin.
Those who want more dramatic results or who are prone to breaking out might want to look elsewhere, as we learned that these products have the potential to clog your pores and potentially exacerbate acne.
If you don't want to get tied into an auto-subscription service, we recommend looking into buying Meaningful Beauty products from other retailers like Amazon or Ulta Beauty. This lets you purchase just the products you want without getting tied into a reoccurring order.
And, if you're curious about the oxidative stress-fighting effects of superoxide dismutase, it might be worth tracking down some Charentais melons for the dinner table.
Though this French heirloom might be hard to find in American grocery stores, I've personally had success ordering the seeds online and growing them in my home garden.
Clinical evidence supporting the fact that consuming SOD gives you similar skincare benefits is lacking.
Following a healthy diet filled with fruits and vegetables can do wonders for your skin. Either way, it's never a bad idea to add more fresh produce to your diet.
---
Misleading information, buyer do not buy

By Tracy E.

,

Illinois

,

Aug 13, 2020
Verified Reviewer

Length of Use: Less than 3 months

Overall Experience:

Misleading information, customer service, poor products! I canceled my membership after products tuned my skin orange. After receiving an email that the membership was cancelled and my account balance was zero, three days later I received a charge for a shipment of products I did authorize. I called Meaningful Beauty and they said they could not do anything.

Pros and Cons:

No "pros" were specified in this review
Misleading information
Charging for products after canceled membership
Poor customer service

Bottom Line: No, I would not recommend this to a friend

---

Fraudulent company

By Kizzie P.

,

Portland, OR

,

Jan 7, 2020
Verified Reviewer

Overall Experience:

I wish I could give this company a negative star rating because they are terrible. They don't make it easy to cancel your subscription and then they fraudulently hacked a credit card number and processed a shipment with it, I never gave them the info. DO NOT BUY PRODUCTS FROM THIS FRAUDULENT COMPANY! They will apparently do anything to steal your money.

Bottom Line: No, I would not recommend this to a friend

---

Good grief

By Carrie A.

,

Florida

,

Jan 6, 2020
Verified Reviewer

Overall Experience:

Tried to cancel a few weeks ago and was sent some capsules for free that would take at least 2 weeks to see results. Big waste of packaging for so little product and only received a week's worth to try. Just tried to cancel again and it seriously took 15 minutes of a never-ending loop of we'll send you this other product. Finally just had to get short with them. Made sure I took a screenshot saying nothing was owed. Too many steps for little results and rather expensive, but the customer service is just awful.

Bottom Line: No, I would not recommend this to a friend

---

DISAPPOINTED

By Nicole S.

,

Eugene, OR

,

Dec 17, 2019
Verified Reviewer

Overall Experience:

I have read the reviews on here and have the same results as most - the serum is so sticky on! The day cream is oily and just sits there. Also BEWARE of Guthy Renker, that is who bills you for the product and sends it out, they are a real pain in the butt to get things right and will keep billing you. The people on their phone lines are terrible, so disappointed.

Bottom Line: No, I would not recommend this to a friend

---

Advertisement

---

Misleading sales model

By Meredith G.

,

Colorado

,

Dec 10, 2019
Verified Reviewer

Overall Experience:

I canceled my kit over a month ago and received an email saying that my Account Balance was $0. But I got yet another charge for something that I didn't want and canceled. When I called the company, they said that I still have two more installments. But no one told me that when I canceled nor did it say that in the cancellation email. This is a misleading sales model and I'm reporting them. The annoying this is the products were fine. Not amazing, but good. It's their misleading sales model.

Bottom Line: No, I would not recommend this to a friend

---

Not what I had hoped for

By Vicki P.

,

Waunakee, WI

,

Oct 21, 2019
Verified Reviewer

Overall Experience:

The youth serum was very sticky and didn't seem to absorb into my skin. The night cream also sat on top of my skin. When I took a shower in the morning, I could feel the cream just slide right off my face. Everything said "keep away from eyes," even the eye lifting cream! What is up with that? The ONLY thing I did like was the exfoliator. You leave it on for 5 minutes and it basically becomes a masque after exfoliating.

When I called to cancel, they tried REALLY hard to get me to keep getting it for 60-90 days to get all the true benefits. I said NO, I need a cancellation number now, please.

Bottom Line: No, I would not recommend this to a friend

---

It doesn't work

By Latrice B.

,

New York

,

Oct 8, 2019
Verified Reviewer

Overall Experience:

This product doesn't work. They use people that have good genes for the commercial, my 43-year-old sister could have been on TV because she looks like she's in her late twenties. Buying this product is a waste of money when they have better products in the pharmacy that actually work, like Aveeno. I use this product a lot and I see the difference in my skin dramatically. I was very very disappointed when I brought this product.

Bottom Line: No, I would not recommend this to a friend

---

Vitamin C

By Lena B.

,

Phoenix, AZ

,

Sep 17, 2019
Verified Reviewer

Overall Experience:

I started using Meaningful Beauty and after about 6 months my skin began to slightly darken. My family thought maybe I wasn't getting enough rest, skin looks worn out and tired suddenly. So I compared my old regimen to Meaningful Beauty and realized there's no Vitamin C in the facial wash and toner. Meaningful Beauty should cater more to African American anti-aging needs by adding Vitamin C to the facial wash and toner. Disappointed.

Bottom Line: No, I would not recommend this to a friend

---

Not happy

By Sherri L.

,

Utah

,

Sep 9, 2019
Verified Reviewer

Overall Experience:

All of her line sucks, used it consistently and as directed, nothing works and I gave it plenty of time. I work for a couple of beauty companies so I know what I am talking about, This is another scam with a celebrity trying to make more money they don't need. Also, Cindy and her celebrity friends have good genes anyway so everyone takes that into account. Just stick to being a mom and wife. Your acting career is over and you don't model anymore, or keep helping with your restaurant you have or better yet be a philanthropist. I have much respect for celebrities who are helping others with their time and giving their money away like they should!

Bottom Line: No, I would not recommend this to a friend

---

Unknowledgeable custom service reps

By Dawn V.

,

Florida

,

Sep 8, 2019
Verified Reviewer

Overall Experience:

I asked for a product that would help me with dark and puffiness underneath my eyes. Unfortunately, the customer service representative from Meaningful Beauty recommends dark spot correcting treatment. Which she said would correct my problem. I explained to her I have no wrinkles or sun spots on my face, she explained to me this product is perfect for underneath the eyes. I asked for the manager to make sure I was ordering the correct product and she told me the product I purchased would not help my problem area and she gave me no resolution. Don't believe what anyone from the company says, they do not know what their products are used for and don't waste your money purchasing them!

Bottom Line: No, I would not recommend this to a friend

---

12 plus years using Meaningful Beauty

By Pamela B.

,

Florida

,

Jun 19, 2019
Verified Reviewer

Overall Experience:

This product is absolutely amazing! I've been using this product for years, I dearly love how it has helped my skin with the aging process. I am 53 years old and have used it since the first commercial I saw years ago. I don't have wrinkles like most women my age. I have to give credit to Meaningful Beauty. Thank you Cindy Crawford and your famous doctor in helping develop and market this product.

Bottom Line: Yes, I would recommend this to a friend

---