Genucel
Claimed This company has claimed this profile, is getting alerted on any new customer reviews entering this page, and may engage in dialogue with its customers to address their matters.

Companies cannot pay money or provide goods in order to remove or alter customer reviews.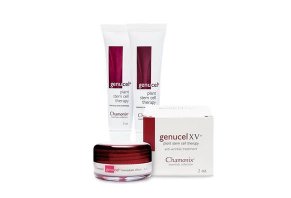 Genucel is a plant-based stem cell eye treatment that claims to help reduce the appearance of fine lines and wrinkles around your eyes, as well as to decrease eye-related puffiness.
Genucel Review: Important Things to Consider Before You Buy
Manufactured by Chamonix, Genucel is a line of clinically tested anti-aging products based on the company's Swiss apple Plant Stem Cell Technology, in addition to other essential ingredients.
We're told that Genucel's powerful formulations can help you achieve everything from reduced eye bags and puffiness to a brighter, more youthful complexion. In fact, Chamonix claims that some Genucel products can deliver results in as little as 12 hours!
And to top it off, Genucel products are equally effective for both men and women.
Now, Genucel's main website might have appeared pretty cut and dry at first glance, but if you dig under the surface a bit, it's actually a little more complicated than it seems.
To help simplify things, we'll start off by discussing the offer you'll find at www.genucel.com. Then, we'll talk more about Genucel-branded products listed on Chamonix's main website.
What's Included in the Genucel TV and Radio Package?
At the time of our research, Chamonix only offered a TV and Radio package on the primary Genucel website, which included the following four products:
Genucel Plant Stem Cell Eye Therapy
The Eye Therapy formula uses plant stems cells from the Malus Domestica apple species to help your skin look younger.
Chamonix claims that one of Eye Therapy's main ingredients, Eyeseryl, was clinically shown to reduce under-eye puffiness by up to 70% within 15 days, and by up to 95% by the end of testing. In fact, we're told Eye Therapy's formula features double the concentration used in the clinical studies!
Additional ingredients include:
Genucel Immediate Effects
Chamonix tells us that Genucel Immediate Effects utilizes Relaxoderm Technology, along with other safe, natural ingredients, to smooth away the appearance of lines and wrinkles around the eyes.
We're also told that Immediate Effects underwent a clinical trial in 2006, which resulted in a "visual reduction of fine lines and wrinkles" of about 28.81%, without adverse side effects or unexpected reactions.
Esotique-RF with ​​Matrixyl
According to Chamonix, Esotique-RF with Matrixyl (Protein Polypentapeptide) is the company's best-selling—and most effective—anti-wrinkle treatment, because it will make your skin feel healthier and look more youthful.
Key ingredients include:
We're told you need to apply Esotique-RF to a clean face twice daily. If applying Esotique-RF on top of another anti-aging product, make sure it's fully dry beforehand.
L'essence with Vitamin C Advanced Neck Treatment
Using certified organic purified water, green tea (and the antioxidants it contains), vitamin C, safflower oil, aloe leaf juice, and a proprietary Calendula extract, L'essence promises to help tighten skin on the neck area and leave it feeling "silky smooth."
Chamonix recommends generously applying L'essence to the neck and décolletage in the morning and evening.
The Complete Genucel Product Line
Overall, there are six Chamonix products bearing the Genucel name (few of which we've already discussed above):
Genucel Deep Firming Serum with Plant Stem Cell Technology
Genucel DFS' active ingredient is 7.5% vitamin C, which we're told is delivered to the skin via Liposome Technology and "the latest in plant stem cell technology."
Chamonix claims their DFS formula delivers "astonishing luxury and effectiveness" that can provide the appearance of flawless skin, 24-hour hydration, and smooth texture.
To accomplish this, you're instructed to apply a few drops of Deep Firming Serum onto your fingertips, and then massage into your cleansed face.
Genucel XV Plant Stem Cell Therapy Anti-Wrinkle Treatment
Along with their Plant Stem Cell technology, calendula flower, and essential oil extracts, Genucel XV adds peptides, hyaluronic acid, CoQ10, and an Enzyme Activation group containing vitamins B3 and B6.
As a result, we're told you can expect "outstanding moisturizing and anti-aging effects" that are made without mineral oil, petroleum byproducts, or pharmaceutical preservatives that might cause sensitivity or clog pores.
Genucel Dark Spot Corrector
Whether on the face, hands, shoulders, arms, or anywhere else on the body, Genucel's Dark Spot Corrector promises to lighten their appearance, brighten skin, and visibly even skin tone.
To accomplish this, Dark Spot Corrector contains four key ingredients:
Genucel Plant Stem Cell Therapy Exfoliating Masque
While no ingredients are listed on the Chamonix website, Genucel's Exfoliating Masque promises to feature a new formulation that delivers "maximum nourishment and moisture retention."
To use, we're instructed to apply in a circular motion for 2-3 minutes and rinse with water, 2-3 times per week.
Clearly, most of Genucel's formulations place a great deal of emphasis on plant stem cells. But what's the deal with them anyway, and can they really deliver results?
Plant Stem Cells vs. Human Stem Cells
Whether in humans or in plants, stem cells are undifferentiated. This means they can become any other type of cell in the organism. However, there are some key differences between the two.
For example, a plant's stem cells not only have the ability to become any type of tissue, but they also have the ability to become an entire organism. This is known as totipotency.
Human stem cells, on the other hand, can't "give rise to an entire functional organism" (at least not after four days of embryonic cell division), but they can still become any kind of human tissue. This is known as pluripotency.
Well, this isn't exactly the whole picture, since human stem cells can be further classified into:
Embryonic Stem Cells – These stem cells are the pluripotent ones we just discussed, as they can become any type of tissue. While the potential medical benefits of these stem cells might be limitless, they're a hot topic of debate, since the embryo is destroyed in the process.

Adult Stem Cells – Adult stems cells are multipotent, which means they can only become a tissue of the same type. So, a heart muscle stem cell could only become a heart muscle cell; a skin cell another skin cell, and so forth.
Given the potential concerns surrounding embryonic stem cells, along with the greater developmental ability of plant stem cells, is there any benefit to applying them to your skin?
Are Plant Stem Cells Effective on Human Skin?
As it turns out, this largely depends on how you define "effective." Let's explain.
First, another similarity between plant and human stem cells is that they're extraordinarily fragile. In other words, if you put them directly into a cream, it's likely that the majority (if not all) would perish before finding their way to your home.
Second, even if they did survive the journey, your skin is exceptionally good at keeping things out. As a result, stem cells are far too big to pass through the epidermis (the outer layer of the skin), so they'll just sit there until evaporating or being washed off at the end of the day.
Here's a quote from a 2015 USA Today article that pulls these first two thoughts together nicely:
"Stem cells that are in contact with skin are not really alive anymore," said Margaret Foster Riley, a law professor and expert on food and drug law at the University of Virginia. "So I don't really see how a stem cell product is working on the skin. I suppose some of them may actually work in a way that cosmetics work otherwise, because of moisturizing capability. But it's not stem cell capability that's working there to the degree we know how stem cells work."
Third, even if these plant stem cells could survive their journey and be absorbed through the skin, authority websites indicate there is very little high-quality clinical evidence showing that plant stem cells in general—or the Swiss apple ones in Genucel's lineup—can reliably provide anti-aging benefits in humans.
But, What About Genucel's Other Ingredients?
Here again, your definition of "effective" is going to play a big role in answering this question.
For example, Matrixyl is a proprietary ingredient the manufacturer claims can boost collagen, although authority websites indicate there's limited clinical evidence supporting this.
The natural caffeine in Plant Stem Cell Therapy's formulation might help temporarily tighten skin, and the topical application of hyaluronic acid can increase cell turnover and boost moisturization.
However, these are very common ingredients in OTC beauty treatments, so there doesn't appear to be anything revolutionary here.
Finally, collagen is the most abundant protein in the human body and acts as an underlying foundation for strong skin, but—like the stem cells we already discussed—it can't be absorbed by the skin and therefore provides little more than moisturization.
How Much Do Genucel Products & Packages Cost?
Genucel's TV and Radio Special is priced at $139.95, plus free S&H, which will save you over 50% off the list price. You'll receive:
2 Tubes of Genucel Stem Cell Eye Therapy
Genucel Immediate Effects
Esotique-RF with Matrixyl
L'essence Advanced Neck Treatment
Important note: If you order the TV and Radio Special, you'll be signed up for Chamonix's Preferred Customer Program.
Here, you'll receive a fresh supply of all these items once per month and your credit card will be charged $139.95 each time. You can contact customer service to cancel or change your shipments at any time.
On the other hand, if purchased individually on Chamonix's main website, you'll pay:
Genucel Stem Cell Eye Therapy: $89 (BOGO $133.50)
Genucel Immediate Effects: $79 (BOGO $118.50)
Esotique-RF w/Matrixyl: $99 – $247.50
L'essence Advanced Neck Treatment: $93.50 – $140.25
The remaining products in Genucel's lineup are priced at:
Genucel DFS: $92 – $138
Genucel XV: $110 – $297
Dark Spot Corrector: $129 – $193.50
Exfoliating Masque: $69 – $103.50
All Chamonix products come with a 60-day money-back guarantee, less S&H charges. However, remember that there are no refunds on the Preferred Customer Program. Here's how the company puts it:
"Only merchandise exchange [is available] with exception to your first initial sign up order. Once a recurring shipment is sent out, the package is non-refundable and can only be used towards company credit."
In order to request a refund or adjust/cancel your Preferred Membership, you'll need to contact customer service at (800) 754-6211 or cs@unimedint.com.
Do Genucel Products Come With Solid Customer Reviews?
Here on HighYa, 44 readers provided feedback about their Genucel experiences since our original investigation, giving it an average rating of 1.7 stars, with most complaints referencing no noticeable results.
Other common complaints referenced side effects like dried-out skin (one even claimed to have experienced an allergic reaction), along with difficulty obtaining refunds and/or canceling recurring shipments.
Outside of this, there was little-to-no customer feedback on third-party websites about Genucel at the time of our research.
From a company perspective, Chamonix held an A+ rating with the Better Business Bureau, with 44 closed complaints (as of 10/28/16).
There, most complaints cited repeated high-pressure sales tactics, problems obtaining refunds, difficulty canceling recurring shipments, and unhelpful customer service.
We've admittedly covered a whole lot of territory here, so let's go ahead a bring it everything together as we wrap up.
What's the Bottom Line About Genucel's Anti-Aging Products?
The manufacturers behind many of the proprietary ingredients in Genucel's formulations, like Matrixyl and Eyeseryl, promote the fact that they're clinically proven.
Unfortunately, these clinical trials largely aren't available for public review, so there's no way to verify their findings.
On the other hand, Chamonix does provide the ability to review the details of their 2006 study for Immediate Effects, which is certainly positive. However, it appears to be a standalone study that wasn't double-blind, so it's a long shot to say that it's clinically "proven" to work as advertised.
According to these same authority websites, we also learned that plant stem cell technology—at least from a topical anti-aging perspective—doesn't seem to hold a lot of promise, either.
Taken together, only you can decide whether or not this information means Genucel's products are worth the relatively high price, or that you should keep looking.
If you feel like giving them a shot, though, it's positive that Chamonix stands behind their products with a 60-day refund policy. Although based on common customer complaints, you might experience some difficulty processing one.
» Recommended Reading:
Neck cream worked for me!! Really well!

By Dahn Z.

,

Colorado

,

Feb 22, 2020
Verified Reviewer

I tried a special through a podcast ad, I honestly don't know if the other products in the package work that well BUT the neck cream really worked for me!

There was a noticeable difference with my "turkey neck" before the tube was even empty, it was awesome. I'd love to purchase just the jaw product but you really can't and they seem ridiculously overpriced by themselves.

If they changed that, and the prices for one product weren't so much, I'd be on that bandwagon in a heartbeat! I'll keep checking to see if they change how you order though, just in case. The thing I didn't like was the auto-ship and payment that was in the fine print, but I was able to cancel with no problem.

I've tried other neck creams that were highly rated from Allure and other sites, but none of those has made the difference that neck cream did for me.

Bottom Line: Yes, I would recommend this to a friend

---

This is a rip off

By Carrie L.

,

Panama City, FL

,

Nov 8, 2019
Verified Reviewer

This product is bad, it made my face twitch, I had difficulty swallowing. Eyes burned, this is a bad product. Watch out, they will send you another supply that you didn't request and take it out if your checking account and will not refund your money. These folks should not be allowed to do business in this country. Call your state representatives to get them banned.

Bottom Line: No, I would not recommend this to a friend

---

My experience

First of all, my package didn't come with all the instructions that are enclosed here. It didn't work for me but when I reported it to Genucel, she replied that they had another product I should try, which turned out to be a duplicate of what I had. I spent approximately $300 for nothing.

Forget about a refund. Their incoming calls are designed to make sure one won't reach customer service. A scam company!

Bottom Line: No, I would not recommend this to a friend

---

Works for me!

By Kathy N.

,

California

,

Aug 23, 2019
Verified Reviewer

I've been using various Chamonix products for several years now, and overall it works very well for me. Some products are great - instant effects, eyelid treatment, genucel XV with Matrixyl, gen90, new jawline treatment, body lotion, hand lotion, toner. Others not so good - l'essence neck, night repair face cream, eye creme with renovage. Lots more products work than those that don't, you just have to try them to see which work for you. Yes, they have an auto-ship program that provides a great discount. After your initial order, call the company and YOU can set the interval and the products you receive. After my first order, I changed my auto-ship to one toner every three months. You can push this out as many times as you want. I do this when I buy products at sale prices. Auto-ship membership gets you access to great sales like buy 3 at 35% off and get 2 free, which is a great deal! Read and follow the directions, and no problems!

Bottom Line: Yes, I would recommend this to a friend

---

Advertisement

---

Not as advertised

By Helen B.

,

Florida

,

Jul 20, 2019
Verified Reviewer

Although this lotion is moisturizing, it does not do as advertised, which is to reduce wrinkles and puffiness immediately or over time. I purchased $169 worth of under-eye cream, jawline cream, eyelid cream and a retinol overall face cream. I will use until I finish it but it does not reduce the lines or bags as advertised.

Bottom Line: No, I would not recommend this to a friend

---

Another scammer company

By Ron S.

,

North Carolina

,

Jul 14, 2019
Verified Reviewer

I heard about the products on Sean Hannity, Mark Levin, Laura Ingraham and Rush Limbaugh. All reputable TV and radio personalities. I purchased some of their products and of course checked the box that makes you agree to the terms and conditions of the sale. They won't sell it to you unless you agree. When you agree to the terms they ship. Then 60 days later they ship you another order. My wife does like the product so when I found out about another shipment being on its way I tried to cancel it and was told it's too late. The only credit you can get back is a merchandise credit for products you don't want. This is a scammer company.

Bottom Line: No, I would not recommend this to a friend

---

Stay away

By David T.

,

North Carolina

,

Jul 13, 2019
Verified Reviewer

The product was average. The order I placed was a one time gift. 60 days later my debit card was charged and order sent. I called to return and was told they would stop future orders but they would NOT let me return the second order. I was told that I checked that I accepted the "terms and conditions" and in the fine print it says you will accept future orders. That's a scam and bad business. Be very careful and find a better product.

Bottom Line: No, I would not recommend this to a friend

---

It's a scam

By Jacque S.

,

Henderson, NV

,

Apr 10, 2019
Verified Reviewer

Try to cancel your order. You can't. They just keep sending more and more product. When you try to cancel, they have to call you back and then they don't. Save your money. The product stinks.

Bottom Line: No, I would not recommend this to a friend

---

Genucel doesn't work

By Linda D.

,

Silver Grove, KY

,

Mar 1, 2019
Verified Reviewer

I bought a set of Genucel on eBay. The kit includes the instant eye treatment, the stem cell eyes treatment, and the neck treatment. The instant never has worked. Anyway, I have been using the treatments for three weeks now twice a day. I thought that if I used it, it might eventually get rid of the bags under my eyes, which are not severe but, they are there. Absolutely nothing, NOTHING has happened. I bought it on eBay as it was only $ 49.00. I'd be really sick if I had spent over a hundred!

Bottom Line: No, I would not recommend this to a friend

---

Watch out for the auto renew rip offs.

By Cory O.

,

Arizona

,

Feb 22, 2019
Verified Reviewer

I purchased a package online and wasn't aware that you are automatically put onto an auto renew status. I received an update from my credit card that a purchase was just made so I called in immediately as I did not want to make another purchase at the time and told them I'd like to cancel the auto renew and be reimbursed for the order that was just placed on auto renew. I was informed that the order was already sent even though I was just charged not an hour before and they could not refund what they charged me. I'm now out $200. Terrible customer service for someone who supposedly guarantees their product. Unbelievable! I would not recommend a company with scams like this to anybody!

Bottom Line: No, I would not recommend this to a friend

---

Read the fine print

By Steven M.

,

Colorado

,

Feb 17, 2019
Verified Reviewer

I thought I was taking advantage of a one-time holiday special advertised on the radio. And ordered a package special for $164.00.

Low and behold...two months later my credit card was charged another $164.00 for a box of little tubes and jars of creams that are supposed to make you look younger.

Save your money. If you do order this stuff, don't forget to cancel in a week or you'll keep paying.

Bottom Line: No, I would not recommend this to a friend

---