Thrive Skin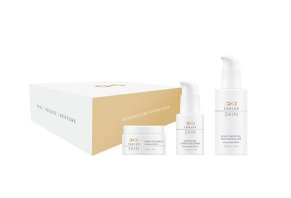 Summary
Thrive Skin is a three-product skin system offered by Le-Vel that purportedly uses CBD extract to provide your skin with antiaging benefits and give it a youthful glow.
Thrive Skin Review: Is It Really Worth It?
Offered by Le-Vel, Thrive Skin is a three-step skincare system designed to deliver anti-aging benefits through exfoliants and lotions that contain a proprietary blend of CBD oil.
The three products within this package work to peel off dead skin cells, reduce patchiness and skin discoloration, and restore your youthful glow.
Le-Vel is the self-proclaimed world leader in human nutrition innovation, and they are the parent brand behind Thrive Experience, a multi-level wellness system that sells supplements and nutrition shakes designed to help you lose weight, lessen your pain, and improve cognitive performance.
Thrive Skin is offered as the brand's standalone skincare system, though its target audience is people who already enjoy Thrive products.
According to the company website, the Thrive Skin line was developed after a year of internal CBD biohacking efforts focused on creating a proprietary blend of CBD oil with a host of health and anti-aging benefits.
But what are they, and will the products work as promised? HighYa does the research to find out.
How Does Thrive Skin Work?
At the time of writing, the Thrive Skin system consisted of three products: an Infinite CBD Enzyme Peel, Infinite AM/PM CBD Moisturizing Elixir, and Infinite CBD Correcting Serum.
Users are meant to start their skincare routine with the Enzyme Peel, which contains enzymes the company claims can naturally digest dead skin cells without causing an uneven skin tone. You can apply a thin layer to your face, massaging it in place until it stops peeling and then rinse it off and pat your skin dry.
You'll know you're using it right if small round particles of your dead skin start to form as you're massaging it in. The company suggests using the peel 3-5 times a week.
Next, you will apply a small amount of the Infinite CBD Correcting Serum to your face and neck and massage it in place. This product is meant to reduce the negative effects of oxidative stress like redness and fine lines to increase moisture and keep your skin looking young. You can use it up to twice a day for best results.
Finally, the company suggests applying a small amount of the Infinite AM/PM Moisturizing Elixir to your face and neck to lock in the benefits of the other products, moisturize and even out the toning of your skin, and improve the appearance of aging skin.
How Does CBD Relate to Skincare Products?
CBD is a trending ingredient in a variety of personal care products because of its purported benefits, which include pain relief, relaxation, and less inflammation. But can this compound also keep your skin looking youthful?
According to Consumer Labs, cannabidiol (CBD) is a compound that makes up to 40% of the cannabinoids in hemp plants. Unlike tetrahydrocannabinol (THC), CBD isn't considered to give you a mental "high" that affects your thoughts and behavior, but instead offers physical benefits like pain relief.
CBD is often applied topically through creams and lotions to treat muscle or joint pain and arthritis. However, Consumer Lab's reports that most research to date hasn't shown conclusive benefits from the compound, and few (if any) studies have looked at the compound's potential for skin rejuvenating.
That's not to say that CBD doesn't have any benefits for your skin. According to Dr. Rhonda Klein, a Partner at Modern Dermatology of Connecticut, CBD can help combat many skin conditions.
"For my patients with inflammatory skin conditions like acne and rosacea, I sometimes will recommend integrating a topical CBD skincare product into their routine. I've seen it to be highly effective in reducing inflammation, and there is even ongoing research probing whether it can regulate skin hydration and oil production," Klein said. "Additionally, CBD packs vitamins A, D, and E, and essential fatty acids, which all promote healthy skin."
While CBD may counteract the side effects of certain skin conditions, does it offer anything of value for those who merely want to maintain a youthful glow?
As Dr. Klein told us, there's a good chance that it will because of its antioxidant content. Like other plant-based compounds, the antioxidants contained in CBD can counteract the effects of free radical damage to diminish wrinkles and dull skin.
However, it's important to note that we didn't find any clinical studies that show CBD antioxidants are more effective than other varieties. Until further research comes out, you might be just as well off turning to products that contain vitamin C, retinol, vitamin E, and other natural antioxidants.
Thrive Skin Ingredients
Thrive Skin lists the full ingredients for each of their products online. Beyond each containing cannabis sativia stem oil (CBD) as its second ingredient, each formula contains a number of emollients, moisturizers, skin conditioning agents, natural plant extracts, and preservation agents.
These are standard ingredients in the majority of skincare products, and they are typically used to provide the skin nourishing benefits that Thrive Skin Claims.
That begs the question as to whether the CBD in Thrive Skin is making enough of an impact to be worth the cost.
As we stated previously, one of the biggest benefits of CBD for your skin is its high antioxidant content. However, there are other ingredients within the products that offer similar benefits.
For instance, tocopherol acetate, an ingredient in these products, is another name for vitamin E and is a potent antioxidant that also works to neutralize free radicals.
Other plant-based compounds within Thrive Skin that offer these benefits include daisy flower extract, green algae extract, aloe leaf extract, pineapple fruit extract, sage extract, and green tea leaf extract.
We think there's a reason to believe that the purported benefits of Thrive Skin are less due to the CBD content than the other ingredients they contain.
However, CBD is listed as the second ingredient for all three products, which highlights that they do include a significant amount of the compound.
Information on the CBD concentration in their skincare products was not available.
This lack of information may pose a problem from a benefits perspective. Consumer Labs reports that most CBD research has involved high doses—often several hundred milligrams a day.
However, most commercially available products contain significantly less than this and consequently might not be capable of delivering the benefits they claim.
Thrive Skin Cost
At the time of writing, Thrive Skin cost $185 for the three-step system, which gives you enough of each product for a month's use. It's also possible to sign up for a monthly auto-ship program at a reduced rate of $150.
Regarding returns, Le-Vel offers a 30-day return policy on all products and delivers refunds for unopened, undamaged products, minus a 10% restocking fee. Open or partially used products qualify for a 50% refund. Return shipping costs won't be reimbursed.
All Thrive customer support issues take place in Le-Vel's cloud system, so you will need to request an Online Support Ticket from your account to initiate the refund process.
The Bottom Line: Should You Try Thrive Skin?
Putting this information into context, do we think that the Thrive Skin line makes sense? There are some things that give us concern.
First, Le-Vel is selling Thrive Skin as a high-end skincare line with a price tag to match. Using each product as much as they suggest will cost you at least $150 per month ($1,800 per year), which is a significant amount compared to the cost of many other skincare products.
For this price point, we wish there was more detailed information about what benefits Thrive Skin can give you. But at the time of writing, we weren't able to find much information about what the CBD in each product is supposed to accomplish and how much you can expect per dose.
We also weren't able to find any reviews of the Thrive Skin system at the time of writing, so that impacts our ability to comment on the system's overall effectiveness for real people.
For these reasons, we think there's a good chance that using this skincare line will nourish your skin, but it's probably not going to deliver an anti-aging solution beyond what other products that also contain antioxidants can provide.
Customer Reviews