Specific Beauty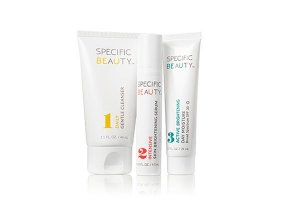 Summary
The Specific Beauty Regimen is a collection of skin care products specifically designed for darker skin. These daily-use products are meant to even your skin tone and permanently lighten dark spots.
Pros
Products are considered suitable for all skin types and tones
Clinical evidence supports the ingredient's effectiveness
Generally positive customer reviews
Generous 60-day refund policy
Cons
All purchases automatically sign you up for an auto-ship program
Initial pricing might be misleading
Might be challenging to purchase individual products separate from a kit
Specific Beauty Review: A Detailed Look at Its Effectiveness and More
The Specific Beauty product line consists of a collection of daily-use skincare products that are specially formulated for the common skin concerns of women of color, including dark spots and hyperpigmentation.
Within 14 days of use, the company claims you will experience 'brighter, smoother, and more even-toned skin' and that your dark darks will lighten after four weeks of consistent use. While the products were designed with darker skin in mind, the product website states that everyone can benefit from using them, even men.
Specific Beauty currently sells two beauty regimens: the Daily Brightening Essentials Kit and the Day and Night Deluxe Kit.
The Specific Beauty product line is the creation of dermatologist Dr. Heather Woolery-Lloyd, M.D., a graduate of the University of Miami School of Medicine. There, she was appointed the head of the first ethnic skincare department at a major university in the United States.
Since then, Dr. Woolery-Lloyd has become a nationally recognized voice for ethnic skincare. She sits on several dermatology boards and frequently gives lectures at the Skin of Color Seminar Series.
The Specific Beauty product line is Dr. Woolery-Lloyd's solution for solving uneven skin tone, texture, and hyperpigmentation in melanin-rich skin types.
What Causes Dark Spots, Uneven Skin, and Dryness?
Dark spots are flat black, brown, or gray spots on the skin that can result because of uneven melanin levels in the skin. Also called age spots, liver spots, or sunspots, these distinctive marks
These spots are caused by overactive pigment cells, often triggered by aging skin, pollution, unbalanced hormones, and sun damage. Though the spots are harmless, they are occasionally the result or an indicator of an illness. Nonetheless, most people who reduce them do so for purely cosmetic reasons.
Age spots are most often treated with prescription-strength bleaching creams. The active ingredient in these products is usually hydroquinone, which works by chemically blocking the process that leads to skin discoloration.
Several medical procedures can also permanently remove age spots, including chemical peels, dermabrasion, and cryosurgery. Over-the-counter skin products (like Specific Beauty) also are used to remove age spots, but they tend to be less potent than prescription products.
How Does Specific Beauty Claim to Combat Dark Spots?
Specific Beauty products claim to target the causes of hyperpigmentation through a 'breakthrough system' with a formula that's tailored to stop the skin from overproducing melanin. This lessens the appearance of dark spots and creates brighter, more even, and youthful-looking skin.
These products rely on Specific Beauty's proprietary process of MelaTone Therapy, which the company website states is an approach to skincare that "fuses potent scientific and natural ingredients" together to lessen hyperpigmentation. This therapy is designed to reduce the appearance of existing dark spots while protecting skin from the environmental stressors that cause them.
MelaTone Therapy purportedly works to fight uneven skin tone through a '1-2-3 punch' that diminishes the appearance of dark spots, exfoliates skin to even out its texture, and calms skin down while fighting free radical damage to prevent future dark spots.
Regarding clinical research, the Specific Beauty website references a company-funded clinical trial of 55 participants that showed a noticeable difference within two weeks of use. After four weeks, the website states, 84 percent of participants found that their dark spots were reduced in visibility by over 71 percent.
Product Line
There are five main products in the Specific Beauty product line:
Advanced Daily Gentle Cleanser
Intensive Skin Brightening Serum
Advanced Dark Spot Corrector Pads
Lightening and Brightening Eye Cream
Radiance Repair Night Treatment.
Also included with each initial kit purchase are two bonus products, the Active Radiance Day Moisture and Accelerated Dark Spot Corrector.
Advanced Daily Gentle Cleanser
This fragrance-free, sulfate-free formula is designed to gently remove dirt and oil from skin to leave it smooth and moisture balanced.
Key Ingredients: Cetyl Alcohol, Propylene Glycol, Peg-100 Stearate, Decyl Glucoside, Propylheptyl Caprylate, Sodium Benzoate.
Intensive Skin Brightening Serum
This treatment is designed to fade dark spots and hyperpigmentation through antioxidant-infused ingredients like ginger root extract.
Key Ingredients: Butylene Glycol, Dimethyl Isosorbide, Niacinamide, Aluminum Starch Octenylsuccinate, Glycyrrhiza Glabra (Licorice) Root Extract, Tocopheryl Acetate, Phenoxyethanol.
Advanced Dark Spot Corrector Pads
These pads work to fade dark spots by brightening your skin tone, calming it down, and protecting against environmental damage.
Key Ingredients: Ethoxydiglycol, Camellia Sinensis (Green Tea) Leaf Extract, Arctostaphylos Uva¬ Ursi (Bearberry) Leaf Extract, Glycyrrhiza Glabra (Licorice) Root Extract, Phyllanthus Emblica Fruit Extract, Glycerin, Kojic Acid, Sodium Benzoate, Phenoxyethanol.
Lightening and Brightening Eye Cream
Filled with antioxidants and hyaluronic acid to diminish the appearance of dark circles, this eye cream is designed to reduce puffiness and enhance elasticity.
Key Ingredients: Glycerin, Glyceryl Dilaurate, Acrylates Copolymer, Acrylates/Steareth-20 Methacrylate Copolymer, Octyldodecyl Stearoyl Stearate, Tocopheryl Acetate, Sodium Hyaluronate, Camellia Sinensis (Green Tea) Leaf Extract, Cucumis Sativus (Cucumber) Fruit Extract, Chamomilla Recutita (Matricaria) Flower Extract, Leuconostoc/Radish Root Ferment Filtrate, Phenoxyethanol.
Radiance Repair Night Treatment
Designed to work on your face while you sleep, this professional-strength product relies on retinol to diminish fine lines and wrinkles.
Key Ingredients: Hydrogenated Polyisobutene, Glycerin, Niacinamide, Cetearyl Alcohol, Ceteareth-20, Squalane, Butylrospermum Parkii (Shea Butter), Olea Europaea (Olive) Fruit Oil, Tocopheryl Acetate, Butylene Glycol, Glycyrrhiza Glabra (Licorice) Root Extract, Phenoxyethanol.
Active Radiance Day Moisture
This daily oil-free moisturizer contains broad spectrum SPF-30 to maintain an even tone and hydrated skin.
Active Ingredients: Octinoxate 5.0%, Octisalate 5.0%, Oxybenzone 5.0%, Avobenzone 3.0%, Octocrylene 2.4%.
Other Key Ingredients: Caprylyl Methicone, C12-15 Alkyl Benzoate, Niacinamide, Butylene Glycol, Glycerin, Steareth-21, Mica, Cetearyl Alcohol, Ethylhexyl Methoxycrylene, Titanium Dioxide, Tocopheryl Acetate, Glycyrrhiza Glabra (Licorice) Root Extract, Phyllanthus Emblica Fruit Extract.
Accelerated Dark Spot Corrector
Containing 2% hydroquinone, this potent formula is designed to fade dark spots and marks. For safety, the company recommends using it just 14 days out of every two to three months.
Active Ingredient: Hydroquinone 2.0%.
Other Key Ingredients: C12-15 Alkyl Benzoate, Butylene Glycol, Ethoxydiglycol, Stearyl Alcohol, Glyceryl Stearate, Cetyl Alcohol, Tocopheryl Acetate, Panthenol, Allantoin, Dimethicone, Squalane, Polysorbate 60, Steareth-2, Phenoxyethanol.
Analysis of Key Ingredients
Specific Beauty's website claims that their product formulas are free of fragrances, parabens, synthetic dyes, and lanolin. Does this ring true? Let's dig deeper into the ingredients lists to find out.
Hydroquinone is the active ingredient in Specific Beauty's Accelerated Dark Spot Corrector. As a natural bleaching agent, hydroquinone can be dangerous at levels above a 2% concentration. This puts the Dark Spot Corrector within the safe zone for a cosmetic sold in the United States.
Many of the ingredients within Specific Beauty Products are classified as skin conditioning agents. Glycyrrhiza glabra root (licorice) extract, kojic acid, phyllanthus emblica fruit extract, arbutin, and C12-15 alkyl benzoate are all antioxidants that are known to improve skin texture and tone.
Niacinamide (vitamin B3) and tocopheryl acetate (vitamin E) are also commonly used as conditioning agents in personal care products.
Several of the formulas also contain the naturally occurring alcohols glycerin and butylene glycol to improve skin texture. Sodium benzoate and potassium sorbate are common preservatives that don't have any known harmful side effects.
Rounding out the list of skin-nourishing ingredients, the product formulas also contain naturally occurring cetyl alcohol and stearyl alcohol as emulsifying ingredients, and aluminum starch and disodium EDTA to control viscosity.
Though the website states that its products are fragrance-free, most of the formulas include phenoxyethanol, a preservative and fragrance agent. However, phenoxyethanol is a colorless liquid that enhances existing fragrances, rather than adding them to the product itself.
That being said, there are some other troubling properties with this ingredient that might lead to adverse side effects.
Possible Side Effects
Some ingredients in Specific Beauty products might cause problems for your skin.
Kojic acid is an antioxidant with the potential to mess with hormone levels as an endocrine disrupter at concentrations above one percent. While the concentration of kojic acid is unknown in Specific Beauty products, the ingredient is low enough on the ingredients lists that it likely isn't high enough to warrant concern.
Likewise, butylene glycol can irritate the skin, eyes, and lungs if you have sensitive skin. However, allergic reactions like this are uncommon.
Phenoxyethanol is listed as one of the last ingredients in Specific Beauty's products. Found in every product besides the Advanced Daily Gentle Cleanser, this preservative is known to cause skin irritation, and it can be toxic if ingested, especially for infants.
Because of this concern, the Scientific Committee of Consumer Safety recommends that nursing mothers avoid wearing products that contain more than one percent phenoxyethanol to prevent possible transmission to their child.
The Active Radiance Day Moisture contains a collection of UV absorber ingredients (octinoxate, octisalate, oxybenzone, avobenzone, and octocrylene) which the EWG database states have potentially dangerous side effects at any concentration. Many can create changes to your skin on a cellular level, and they tend to build up in the environment to toxic levels.
Because of these concerns, EWG states that consumers should specifically avoid sunscreen products that contain oxybenzone.
At the time of writing, we couldn't find information on the Specific Beauty website that addressed these ingredients. However, there's no reason to believe that the Active Radiance Day Moisture is more dangerous than other forms of sunscreen.
Pricing, Subscription, and Refunds
If you are purchasing Specific Beauty products from the company website, there are two ways that you can do so.
The Daily Brightening Essentials Kit provides a thirty-day supply of the Gentle Daily Cleanser (1.5-oz), Intensive Skin Brightening Serum (0.33-oz), and Active Radiance Day Moisture SPF 30 (0.7-oz) for $39.95, and free shipping.
The Day and Night Deluxe Kit contains the previously mentioned products as well as the Lighten and Brighten Eye Cream (0.5-oz) and Radiance Repair Night Treatment (0.6-oz) for $59.95.
Included with both kits are three free gifts: Radiance Repair Night Treatment (0.7-oz), Advanced Dark Spot Corrector Pads (30-ct), and Accelerated Dark Spot Corrector (0.5-oz).
Automatic Subscription
All Specific Beauty products are sold as a subscription, meaning that you will receive refills in the mail one month after your first order, and then every three months after.
Each shipment is charged to your credit card on file for $39.95 or $59.95 per month (depending on the kit you purchased), plus $3.33 for shipping per month.
Note that this pricing is three times what you will pay for the first month of Specific Beauty, or a total cost of $119.85 or $179.85 per order, plus $9.99 for shipping.
Refund Policy
The company website makes it clear that there is no commitment to stay a subscriber and no minimum to buy. You can cancel your order at any time by calling their customer service at (888) 410-5711.
Likewise, every order comes with a 60-day Money Back Guarantee for your purchase price, minus the cost of shipping and handling.
Analysis of Customer Reviews
Amazon has reviews for numerous Specific Beauty products, including the Brightening Serum (2.4-stars after 31 reviews), Accelerated Dark Spot Remover (4-stars after 62 reviews), and the Lighten & Brighten Eye Cream (3.5-stars after 17 reviews), among others.
Here's a closer look at what customers are saying about them.
Common Compliments:
Many thought the products worked as described for addressing their skin issues
Skin Brightening Serum visibly fades severe hyperpigmentation
Lighten & Brighten Cream eliminates signs of wrinkles
Common Complaints:
Products didn't deliver any discernable benefits
Pump dispensers on Skin Brightening Serum dispense too much product
Small size, too expensive for benefits
Overall, Specific Beauty users seem split between two viewpoints. Some believe these products work exactly as described, while others found them to be ineffective or too expensive for the product size and any benefits.
Popular Alternatives
Removing dark spots is a common concern for women, so there are numerous beauty products available to tackle the task.
To see how the Specific Beauty product line stands with the competition, we looked at two other products that purportedly help fade dark spots and improve overall skin tone: Admire My Skin 2% Hydroquinone Dark Spot Corrector and Murad Rapid Lightening Regimen 30-Day Kit.
The Admire My Skin Dark Spot Corrector can be compared with Specific Beauty's Accelerated Dark Spot Corrector. Both products contain 2% hydroquinone (the level considered safe and effective for lightening age spots), and Admire My Skin includes ingredients like kojic acid that can be found in other Specific Beauty Products.
However, this corrector is designed to be used continuously for four weeks, or twice as long as the Accelerated Dark Spot Corrector.
On Amazon, the product has almost 9,000 reviews and average of four stars. A four-week supply costs $23.00, or about $18 below the price of your first month's supply of the five-piece Daily Brightening Essentials kit.
Like the Specific Beauty Daily Brightening Essentials kit, the Murad Rapid Lightening Regimen 30-Day Kit is a collection of five products that are designed to improve skin health and lessen the appearance of dark spots. The three-step regimen is designed to treat skin discoloration from hyperpigmentation caused by sun, genetics, hormones, and inflammation; just like Specific Beauty.
The Murad Rapid Lightening Regimen includes products to cleanse, lighten, and protect skin from further damage, and the active ingredients are similar to Specific Beauty's. On Amazon, a 30-day supply costs $39.99, the same price as the first month of the Daily Brightening Essentials Kit. If you purchase it off the company website, you can sign up for an auto-ship program.
Which products are best for your skin? If you are looking to lighten dark spots without committing to a complete skin care regimen, a single item that contains 2% hydroquinone like Admire My Skin 2% Hydroquinone Dark Spot Corrector might be all you need.
If, however, you want to follow a more intensive skin regimen and prefer to commit to a full range of products, a subscription service or 30-day kit like Specific Beauty and Murad offer might better suit your needs.
The Bottom Line: Is It Worth It?
The product line from Specific Beauty claims to be a breakthrough in skincare for women of color. Our research into the causes of dark spots and the product ingredients lists revealed that these products utilize a wide range of natural ingredients to improve skin tone and texture.
We didn't find much evidence that Specific Beauty products are extra useful for women of color, possibly because the company website makes it clear that they believe their products can improve skin tone for everyone.
As previously mentioned, some of the ingredients like butylene glycol, phenoxyethanol, and the UV absorbing agents are cause for concern, especially if you have sensitive skin or are a mother with young kids. However, most of the ingredients in these products are considered harmless and have clinically proven skin conditioning benefits.
Should you commit to Specific Beauty products? Our research shows that they may help you achieve brighter, smoother skin, and permanently fade your dark spots. If you try the products and aren't satisfied with your results, Specific Beauty's 60-day refund policy lets you receive a full refund.
Customer Reviews