Murad Resurgence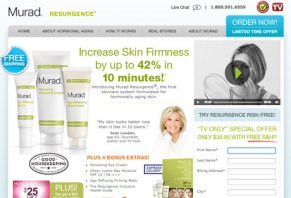 Murad Resurgence anti-aging products are claimed to tighten, firm, and brighten skin that has lost its luster due to the natural process of hormonal aging.
Murad Resurgence Review: Is It an Ideal Choice for You?
Murad's Resurgence goes beyond skin care by promising to turn back hours spent sun worshiping, or even just the natural effects of passing time. Murad claims this line of topical skincare is designed to target the sagging and dullness directly related to hormonal aging, and promises regular use of their products results in tightened and firmer skin.
Resurgence is the newest of treatments developed by Murad Skincare Inc., a line of skincare products developed and promoted by Dr. Howard Murad, M.D., F.A.A.D.
Dr. Murad is a trained pharmacist and associate clinical professor of medicine at U.C.L.A. He is also president of the University for Inclusive Health and a physician who specializes in both inclusive health and dermatology. With his ongoing medical practice, authored books and position with the University of Los Angeles, it's easy to understand why so many consumers flock to the Murad line of doctor-branded skincare.
Resurgence Products
The complete Murad Resurgence Youthful Skin Renewal kit comes with four different products that are "infused with hydrating proteins" and promise to "increase skin firmness up to 42% in 15 minutes." Each are priced at $39.95 with free shipping:
Murad Renewing Cleansing Cream (1.5 oz.) – Contains apricot oil and essential fatty acids to hydrate, while papaya enzymes are said to gently exfoliate dead skin.

Murad Hydrating Toner (.5 oz.) – Claimed to refresh and "neutralize surface impurities," while lecithin helps lock in moisture.

Murad Age-Diffusing Serum (.33 oz.) – A water-based serum mixed with silicones for a silky texture. This serum is meant for daily use and contains both soy and wild yam, which Murad claims help balance the loss of naturally occurring skin-renewing hormones.

Murad Age-Balancing Night Cream (.6 oz.) – A richly textured night cream that promises to naturally reduce redness and smooth skin tone for a visibly healthy balance. Additionally, this cream contains chaparral extract, which the product description claims is clinically proven to inhibit unwanted facial hair growth by 22% in 12 weeks.
Red Flags in the Fine Print
If you don't like Resurgence, you are allowed 60 days to return the kit for your money back.
However, to purchase these products online, you must sign up for a 90-day auto-renewal program. This means that once every 30 days, a new supply of products will be sent to you and your card with automatically be charged. Please be aware that many consumers report difficulty (or at least some inconvenience) canceling an auto-ship order, or disputing charges. As such, we here at HighYa often recommend using caution before signing up for an autoship program.
What Else Is in This Stuff?
Taking a closer look at Murad Resurgence's formulations, we couldn't find any new ingredients in them. In fact, the only truly active ingredient was a low amount (8%) of glycolic acid.
That "resurrection plant" the product lists? It is a real thing, and is a term used to describe a number of poikilohydric plants. They can survive complete dehydration for months – or even years – only to be revived with the addition of water. Despite its fantastic regenerative abilities, topical application is not reported to have an equal effect on the skin.
Can a Beauty Cream Deliver Hormonal Balance?
Women who are combating the aging effects of estrogen loss are probably already familiar with creams that deliver balancing doses of hormones to the skin.
However, those prescription-strength topical treatments carry actual doses of hormones through to the user's bloodstream. Can the ingredients in an over-the-counter beauty treatment really counteract the natural imbalance that occurs as we age?
The Murad Resurgence website doesn't list any ingredients that would separate it from the typical mix of modern skincare preparations, buffered by fillers and volumizers, and appears to be just a light exfoliating and moisturizing system.
What People Are Saying About Murad Resurgence
Murad's Resurgence Age Diffusing Serum had an average rating of 3.5/5 on MakeupAlley.com, with 62% of reviewers stating that they would purchase this again.
While these reviews were specifically for the serum, there were some very positive comments that usage reduced irritation, redness, and blotchiness, which remained from previous AHA usage. Those with sensitive skin appear to have enjoyed this product more than average.
"After seeing an infomercial with Dr. Murad and Joan Lunden I decided to give Resurgence a try. I was very skeptical and had planned on sending it back for a refund. I was so surprised and pleased when I tried the product. It had a great scent and I had no negative reaction to it at all. I now spread it all the way up to my eyes and still no reaction." (Source)
On the other hand, users looking for improvement in fine lines and wrinkles seemed to be less pleased with the Murad serum overall:
"I have fine lines and there was no change at all in their appearance, and my skin did not feel softer or smoother after constant use of this." (Source)
Final Thoughts on Murad Resurgence
Based on our experience, none of the ingredients contained in Murad products as appear to be harmful or irritating, and users with sensitive skin may enjoy the gentleness of these products.
However, aside from that low amount of glycolic acid, nothing in Resurgence is proven to affect the tone or texture of skin, even with prolonged use. In our opinion, the lack of potent ingredients fails to justify the very high cost (much higher than average), and length of time before you experience results (30 days minimum, according to the website).
» See Also: Can Creams Really Help Crepey Skin?
Terrible service, liars

By Leah

,

Kentucky

,

Jul 17, 2017
Verified Reviewer

I ordered a 30-day acne kit for $29.95 (before taxes) on May 8, 2017, while speaking to a customer service agent on the phone. The very next day I received an email telling me the product I ordered was on back order.

It is now July 12, 2017, and I call in to check what is going on, and they discontinued the product I ordered AND NEVER TOLD ME. They never emailed me to let me know or anything. The customer service agent I just spoke to raised his voice at me and argued with me as well about it. I have never had such AWFUL customer service. How can one of their agents order a product for me and NEVER tell me that they discontinued the product? The skin care may be good, but I never got to try it, and thanks to the rude customer service agent, I will NEVER give this company an ounce of my money.

While speaking to the customer service rep they pulled my order up by the order number that I logged onto my account to get for them. I hang up, and they remove the order completely from my account to make it seem like I never ordered anything, I'm assuming. The customer service rep never gave me his name and truly made the company look foolish.

If you're smart, you won't order from this company, or maybe you should call in before ordering to make sure the product is even available. And did I mention that I logged onto the account and looked over the products to see that the product I ordered is still available and shows can still be ordered? TERRIBLE.

Bottom Line: No, I would not recommend this to a friend

---

Worthless Product & Disreputable Company

By Celeste King

,

Alexandria, VA

,

Nov 16, 2016
Verified Reviewer

Not only are the products not worth the money because they're all hype and don't really work, but they are also a disreputable company who, once they get your credit card number, will be charging you regularly for things you haven't ordered.

I thought it was a mistake, so I called them about the unauthorized $50 charge against my account. I was shocked when instead of apologizing about the mistake, begging my pardon & promptly returning my money, they informed me that this was their standard practice!

Apparently, once you order something from them they feel that they are justified in making future orders in your name and in using your financial information that they obtained when placing your legitimate purchase to charge you for them, all without your knowledge or consent. It's called fraud & theft in my book, but they call it creative sales/business.

Any way you slice it, they're crooks! They ought to be ashamed of themselves, Dr. Murad. With their Education & Credentials ,they could have done the industry & people a service & made a good living at it, but instead, they chose to use their Education to prey on those people and steal from them.

They're a disgrace to their field!

Bottom Line: No, I would not recommend this to a friend

---

Advertisement

---

Best stuff

By Mora

,

Crossville, TN

,

Oct 1, 2016
Verified Reviewer

I have used many of the Resurgence line for about five years. My face has few wrinkles and has a smooth, dewy and youthful look. I will be 80 in several months. I have men in their 50's interested in me. That doesn't work for me but it gives testimony to what these products will do if you use them daily. A little on the expensive side but at my age I feel I am worth every cent I spend to look like I do.

Bottom Line: Yes, I would recommend this to a friend

---

Bad customer service

By Craig Lebaron

,

Jan 12, 2016

I bought the starter kit they advertised. I called and ask to cancel my membership after they deducted $100 out of my account. I was told to keep the crap and no more would come out or I could return for a refund. They took another payment 30 days later. When I called to ask why he said I needed to send the crap back for a refund.

Now I am out of the time period to send it back. This is very poor customer service.

Bottom Line: No, I would not recommend this to a friend

---

Advertisement

---

It's a scam.

By Janet Kemp

,

Clearwater, FL

,

Jul 20, 2015

I accepted the initial trial order. I emailed Murad in plenty of time (one month prior to auto-ship) to not send shipment and not charge my credit card. They shipped and charged my card then refused to take it back. Thank God I have a reputable credit card company as I have evidence of my notification to them to not ship/charge in plenty of time. These products are simply not worth the price, go with Dr Perricone.

Bottom Line: No, I would not recommend this to a friend

---

"Free Samples" size for $39.95

By Dewa

,

Houston, TX

,

Jun 24, 2015

I will never order anything on TV again. After giving my credit card info, my order was immediately put through and then I noticed I would be auto sent & charged every month after! No, this was not clear. If a product is for real, sneaky, deceptive tactics are not needed. I was so angry at the sneakiness that I called customer service immediately to cancel my order & was told "the order has already gone through." Really? Within minutes? I got suspicious when every person I spoke to opened with some comment about how awesome Resurgence is, obviously a job requirement. I was able to cancel the auto future orders, thank goodness, but maybe that's because I said I was contacting my credit card not to accept any further charges by them.

When I received the set, everything is sample size. Tiny, tiny tubes, like a joke. I suspect they've flooded comments with their own self-praising to push complaints by actual customers to the bottom so fewer people get to them.

BTW, Joan Lunden has always looked good. Resurgence didn't suddenly do it.

Bottom Line: No, I would not recommend this to a friend

---

Murad Scam

By Christine Decker

,

Rochester, NY

,

Jun 23, 2015

I ordered they sample introductory special offer. I got an extra package six weeks later. A big sticker said free gift inside. What I got was a bill that spreads out three payments totaling $147.90. I called customer service right away, I got the run around. I am an intelligent consumer and I was not aware that I had signed up for future charges to my credit card or any monthly 'membership' shipments.

Bottom Line: No, I would not recommend this to a friend

---