Beverly Hills MD Reviews
Claimed This company has claimed this profile, is getting alerted on any new customer reviews entering this page, and may engage in dialogue with its customers to address their matters.

Companies cannot pay money or provide goods in order to remove or alter customer reviews.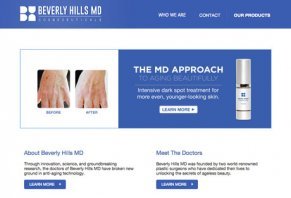 Beverly Hills MD products claim to contain a variety of proprietary ingredients that can reduce the appearance of lines and wrinkles and other signs of aging.
About Beverly Hills MD
Beverly Hills MD is a line of cosmoceuticals that are claimed to treat and prevent some of the most difficult skin problems and to provide real, accessible solutions that can help you look and feel your very best.
In fact, by including "revolutionary, clinically-proven ingredients," Beverly Hills MD claims that their products have "broken new ground in anti-aging technology."
Beverly Hills MD Anti-Aging Products
Founded by two plastic surgeons Drs. John Layke & Dr. Payman Danielpour, Beverly Hills MD's anti-aging products are claimed to be safe and effective and to contain only the highest quality ingredients that are free of harsh chemicals and irritants.
In addition, Beverly Hills MD claims that none of their products are tested on animals. These include:
Venox Anti-Aging Serum – Contains SYN®-AKE, a synthetic peptide that inhibits muscle contractions and promotes collagen production for firmer, younger-looking skin, and the reduced appearance of fine lines and deep wrinkles. Also includes palmitoyl peptides, ginkgo biloba extracts, and aloe leaf extract.

Scar Recovery Restoration Serum – Claims to be an intense, rapid treatment that reduces the appearance of all types of scarring. Contains APT-GPF, a red marine algae, Actipone green papaya, Lanablue (another form of algae), Erasyl, Fiflow BTX, Abyssine, oat extract and oat beta glucan.

Wrinkle Repair Night Treatment – Claims to be "formulated with Nobel Prize-winning ingredients," including Grant-X, epidermal growth factor (EGF), InvisaSkin Matrix Rebuilder-O, and hyaluronic acid to stimulate collagen production, soften fine lines and wrinkles, and rebuild skin from the inside out.

Lash Enhancing Serum – a non-prescription eyelash treatment that claims to use Myristol Pentapeptide-17 and hyaluronic acid to help your eyelashes grow "dramatically longer, thicker, denser, and darker," while also helping them become healthier and stronger.

Dark Spot Corrector – Claims to use Kakadu plum, DermalRx, daisy flower extract, and niacinamide (Vitamin B3) to help break up excessive pigment, diminish the look of dark marks, and prevent them from recurring.

Lift + Firm Sculpting Cream – Claims to contain Progeline, caviar extract, Liftessence, Idealift, Sculptessence, and silk peptides to help enhance your skin's internal support structure, thereby lifting it and giving a firmer, tighter look.
According to the Beverly Hills MD website, their products should be used 1-4 times per day, depending on the type of product you're using and the desired effect you're looking to achieve. Because of this, be sure to read all included instructions before applying.
Beverly Hills MD Product Pricing and Refund Policy
Dark Spot Corrector - $129.95
Lift + Firm Sculpting Cream - $120.00
Wrinkle Repair Night Treatment - $88.00
Dark Circle Corrector - $99.00
Lash Enhancing Serum - $85.00
Line Smoothing Serum - $149.00
Emergency Under-Eye Fix - $65.00
Anti-Aging Lip Enhancer - $31.99
Derma Repair Complex - $58.00
Crepe Correcting Body Complex - $99.990
Deep Regenerating Stem Cell Moisturizer - $150.00
Body Smooth Exfoliator - $58.00
Repair + Reverse Daily Serum - $125.00
Rose Stem Cell Daily Cleanser - $70.00
Each product also comes with the ability to save more money by purchasing multiple bottles per order.
Beverly Hills MD anti-aging products come with a 60-day refund policy, less S&H charges. In order to initiate the process, you'll need to contact customer service at 877-828-5528.
Finally, keep in mind that by placing an order to the Beverly Hills MD website, you'll be required to adhere to an arbitration agreement, which means that you won't be able to litigate against the company as a plaintiff or as part of a class action lawsuit.
Beverly Hills MD Product Ingredients Breakdown
Beverly Hills MD products contain a number of proprietary ingredients from third-party manufacturers, as well as some that we've never seen included in an anti-aging product before, so let's take a closer look at each.
Venox Anti-Aging Serum
SYN®-AKE is a product of Pentapharm, and is claimed to mimic the activity of Temple Viper venom by relax facial muscles for decreased appearance of lines and wrinkles. The company claims that clinical trials show SYN®-AKE to be effective, although the results are not available through third-party websites.
Palmitoyl peptides may help trick your skin's cells into creating more collagen, thereby enhancing its appearance. However, it's important to note that there are numerous types of peptides, and we're not informed which ones are present in Venox.
Ginkgo biloba and aloe leaf extract contain high levels of antioxidants, which can help your skin prevent damage caused by free radicals. However, whether or not Venox Anti-Aging Serum contains enough of these ingredients to make any difference in your skin is unclear.
Scar Recovery Restoration Serum
APT-GPF, is a product of Centerchem, and is derived from red marine algae to "increase cell turnover, firmness, elasticity and smoothness and bring about fine line reduction." However, neither Centerchem nor any third-party websites provide copies of the trial's results.
There isn't much information available online about Actipone green papaya, although it appears to provide antioxidant properties.
Lanablue, created by LucasMeyer Cosmetics, claims to be extracted from blue-green algae from the Cascadia region, and to smooth skin and reduce the appearance of wrinkles. However, clinical trials are not available online.
Erasyl appears to be focused on boosting collagen production, although very little information is available about this ingredient online.
Created by The Innovation Company, Fiflow BTX is claimed to instantly relax muscles and fill in facial lines and wrinkles. No clinical trials were available online at the time of our research.
Another LucasMeyer product, Abyssine claims to be an exopolysaccharide harvested from extremophil living near deep-sea vents that can reduce "the expression of ICAM-1 (a skin stress marker involved in skin reactivity)." This document provides an outline of what was found during clinical trials, although there are no copies of these trials available online.
Oat extract and oat beta glucan are included for their moisturizing properties.
Wrinkle Repair Night Treatment
Grant-X is claimed to be clinically proven to "gently improve the appearance of facial fine line and wrinkles by over 50%." However, there is no third-party verification of this clinical study available online.
Epidermal growth factor (EGF) is a "growth factor that stimulates cell growth, proliferation, and differentiation" and may help reduce the signs of aging.
Created by Grant Industries, InvisaSkin Matrix Rebuilder-O claims to be an "anti-aging skin care complex combining the activity of Palmitoyl Hexapeptide-14 and plant derived glycoconjugates (Goji berry extract) for a maximum synergistic effect rebuilding skin's extra cellular matrix." However, copies of clinical trials were not available online.
Hyaluronic acid is a common ingredient found in almost all anti-aging products, although WebMD states that there is insufficient evidence showing that it can prevent the effects of aging.
Lash Enhancing Serum
Myristoyl Pentapeptide-17 is a peptide found in many eyelash products and has been shown to help some individuals lengthen and strengthen their lashes. However, this effect is often minimal, and there are some serious side effects related to its use, so you should speak with your physician before using.
Dark Spot Corrector
Kakadu plum (Terminalia ferdinandiana) is a flowering plant containing high levels of Vitamin C, which can act as an antioxidant and shield your skin from free radical damage.
DermalRx, a BioCogent product, is claimed to provide a variety of anti-aging benefits. However, it's important to note that there are 5 different DermalRx formulations, although we're not advised which one is included here.
As with most of these other formulations, there is no clinical evidence provided to support these claims.
Daisy flower extract is a common ingredient in lightening creams and serums, although there is no clinical evidence available showing its efficacy.
Niacinamide (Vitamin B3) has a vast number of benefits, although WebMD claims that there is insufficient evidence showing it can provide any anti-aging benefits.
Lift + Firm Sculpting Cream
For more product tests: Click here to subscribe to HighYa's YouTube channel
The third LucasMeyer Cosmetics ingredient used in Beverly Hills MD products, Progeline is a biomimetic peptide derived from Elafin that claims to reduce signs of aging, specifically sagging and wrinkles located around the jawline. No clinical trials could be confirmed, however.
Caviar extract is a relatively recent ingredient in anti-aging products, and any clinical trials conducted are the property of the respective manufacturers. However, this FutureDerm article claims, "But it's difficult to know exactly what you're getting under the name "caviar extract," particularly because it seems to be a catch-all for ingredients that come from fish eggs in general."
Two more LucasMeyer products, Liftessence and Sculptessence, are claimed to decrease wrinkles and volume along the jawline, with no clinical studies available to back up these claims.
Idealift is claimed to support tissue structure and stimulate elastin synthesis.
As with the other peptides present in Beverly Hills MD products, silk peptides are claimed to reduce the signs of aging due to their natural water solubility.
Who Is Dr. John Layke and Dr. Payman Danielpour?
Dr. John Layke & Dr. Payman Danielpour are co-owners of Beverly Hills Plastic Surgery Group based out of Beverly Hills, CA. Overall, looking at websites such as Yelp.com, Vitals.com, and HealthGrades.com, the doctors and their practice appear to have a mostly customer positive reputation.
Before co-founding Beverly Hills MD, Dr. Layke attended medical school at Nova Southeastern University in Fort Lauderdale, FL, trained in General Surgery at the University of Illinois Metropolitan Group Hospitals, and concluded his surgical training at the prestigious Long Island Plastic Surgical Group.
Dr. Layke is board certified by the American Board of Surgery and the American Board of Plastic Surgery and is affiliated with the top-ranked Cedars Sinai Medical Center in Los Angeles.
In addition to his integral role at Beverly Hills MD, where he focuses on using natural, "cutting edge" ingredients to "reclaim lost youth," Dr. John Layke is a frequent guest on radio programs and TV shows, as well as the author of several published articles in reputable medical and surgical journals.
Bottom Line
As part of an industry that's constantly evolving and trying to outdo the competition in one way or another, Beverly Hills MD's anti-aging products include a lot of proprietary, third-party ingredients that sound really cool and are made to appear effective, although verifiable clinical trials for these products appear to be scarce.
This would lead us to suggest speaking with your dermatologist about whether or not Beverly Hills MD products are right for you.
» Related: 19 Proven Ways to Reduce Wrinkles
This company is actively collecting reviews from its customers. All reviews submitted are subject to moderation and approval to ensure they meet our

Review Guidelines

.

Multiple products

By Lynda R.

,

Newport, KY

,

Feb 26, 2020
Verified Reviewer

I simply cannot say enough how thrilled I am to have discovered your products. I have in my arsenal the facial oil, the hyaluronic (sp) mask, the Sculpt + Lift (and also the booster). My skin is CLEARLY - and greatly - improved in texture and wrinkles and most importantly improvement in sagging skin on my neck. Thank you, thank you, thank you! Strongly recommend.

Bottom Line: Yes, I would recommend this to a friend

---

Excellent product

By Eileen K.

,

New Jersey

,

Feb 26, 2020
Verified Reviewer

I have those lines around my nose dragging down to my jaw. Smile lines I guess. This wrinkle filler did the job. I've had botox and professional fillers before, but I didn't want to keep doing that, plus that was expensive. So here I am loving this product!

Bottom Line: Yes, I would recommend this to a friend

---

Ageless Volume Hyaluronic Face Mask

By Mindy V.

,

Pansey, AL

,

Feb 26, 2020
Verified Reviewer

I absolutely love this mask! I've been using it 3 times a week for about 3 weeks now and the results have been amazing! My face feels so soft and refreshed after using and I definitely have noticed fine lines becoming less noticeable along with giving my face a more even tone. I would highly recommend this product to anyone!

Bottom Line: Yes, I would recommend this to a friend

---

I am loving this

By Karl Z.

,

Florida

,

Feb 26, 2020
Verified Reviewer

Just after using it for a couple of days I got fabulous compliments on how good I look. Of course I like to hear that, being a 70-year-old guy, it makes you feel good.

One of the best compliments I got was: What did you got done that you look so good and young?

Well, with this I say thank you Beverly Hills MD.

Bottom Line: Yes, I would recommend this to a friend

---

Advertisement

---

Amazing results

By Anna P.

,

Arizona

,

Feb 25, 2020
Verified Reviewer

Amazing results across the bridge of my nose, across the lines on my forehead, and on the fine lines on my upper lip. The fine line under my eyes were noticeably hidden. I have recommended to 3 friends and shared your website.

Bottom Line: Yes, I would recommend this to a friend

---

Impressive immediate results

By Theresa M.

,

Bethlehem, PA

,

Feb 25, 2020
Verified Reviewer

I purchased for my upper lip area and smile lines. I also have facial scarring due to Basal Cell Carcinoma (surgery) on my nose and never thought would help there, but it did! Its results were much more noticeable in Florida, my guess is the humidity, but still impressive in Pennsylvania!

Bottom Line: Yes, I would recommend this to a friend

---

Amazing product worth a million dollars

By Suzanne V.

,

Milwaukee, WI

,

Feb 25, 2020
Verified Reviewer

I am a senior with deep perioral wrinkles but nowhere else. I was upset. I tried this product and can say that after a few weeks of usage they have almost vanished. It is simply amazing. I am a true believer, I highly recommend this Deep Wrinkle Filler cream, I will continue to use this marvelous product.

Don't hesitate to try it.

Bottom Line: Yes, I would recommend this to a friend

---

Deep Wrinkle Filler

By Helen R.

,

Palos Heights, IL

,

Feb 25, 2020
Verified Reviewer

I have been using the Deep Wrinkle Filler for about 2 weeks now. The wrinkles on my forehead and between my eyebrows have softened. It really works, but it is expensive and not much comes in the tubes. I finished 3 tubes in 2 weeks. I would recommend but be sure to only use the smallest amount. Make it last.

Bottom Line: Yes, I would recommend this to a friend

---

Leaves my skin feeling so smooth and soft

By Connie M.

,

Texas

,

Feb 25, 2020
Verified Reviewer

I have been using the Beverly Hills MD products for about two years now. I added in the Repair + Reverse Daily Serum and love the way it makes my skin feel so soft and look like it has more volume. I have a lot of trouble spots around my mouth and chin area. When I use the products it's amazing how my skin starts to plump and really look a lot younger. I highly recommend these products to others.

Bottom Line: Yes, I would recommend this to a friend

---

Dermal miracle

By Sally B.

,

Sarasota, FL

,

Feb 25, 2020
Verified Reviewer

Love the product, but love all your products! This mask leaves my face so plump and full of moisture that I do not need anything more on it for days. Indeed, it is the only mask I will ever use.

Thanks, Doctors.

Bottom Line: Yes, I would recommend this to a friend

---

Thumbs up!

By Frances F.

,

Boise, ID

,

Feb 25, 2020
Verified Reviewer

This mask does a nice job of making my skin feel moist and more youthful. I actually use it more on my neck than my face and I feel it makes a difference. Even my husband says he can see a difference.

Bottom Line: Yes, I would recommend this to a friend

---