Mario Badescu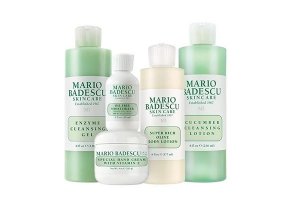 Summary
Mario Badescu skincare products claim to nourish your skin with botanical ingredients to improve any complexion concern you have.
Pros
Wide variety of products to choose from
Easy to find online and in various retail locations
Generous return policy
Save 15% on bulk orders
Cons
May dry out your skin or cause irritation
Some questionable ingredients
The brand was involved in a lawsuit for not being transparent about its ingredients
Mario Badescu Review: A Detailed Look
Mario Badescu is a European-influenced skincare brand that claims to use botanical ingredients to nourish your skin and give you a younger-looking face.
Romanian founder Mario Badescu started the company in 1967 as a small salon in his NYC apartment as a way for Americans to experience the benefits of European-style facials.
Today, you can still visit the company's NYC salon, and the brand's 200+ products are sold through the company website and other online beauty chains, as well as boutique stores like Urban Outfitters and Anthropologie.
This range of skincare products claims to tackle numerous concerns, from acne treatments to anti-aging regimens. You can take the site's quick skincare analysis to receive a specially curated list of products to try.
Have Mario Badescu skincare products deserved to withstand the test of time, or are there better brands available? You'll come away with a more definite sense of this brand's benefits and drawbacks after reading our analysis.
How It Works
The Mario Badescu skincare product line consists of several hundred products, including cleansers, toners, masks, makeup removers, eye creams, acne products, serums, sun protection products, body soap, exfoliants, and a lot more.
You can search the company website by your skin concern (acne-prone, anti-aging, dullness & discoloration, uneven texture, oiliness, dryness, or sensitivity), or merely browse the company's bestsellers.
One way to choose products on Mario Badescu is to take the site's online skin analysis. This includes questions about how your skin looks first thing in the morning, how frequently you break out, whether your face is showing signs of aging, and whether you are currently working with a dermatologist for any skincare issues.
At the quiz's completion, Mario Badescu will recommend a personalized regimen. It's possible to purchase the products individually or to buy them all at once for a savings of 15% on any orders over $35.
When I took the quiz, Mario Badescu recommended nine products for me:
Enzyme Cleansing Gel: The company's best-selling facewash ($14 for 8-oz)
Seaweed Cleansing Lotion: A universal skin toner and hydrator ($15 for 8-oz)
Hyaluronic Eye Cream: An eye cream designed to smooth and tighten delicate skin ($18 for 0.5-oz)
Oil-Free Moisturizer: Absorbent, lightweight moisturizer ($20 for 2-oz)
Flower & Tonic Mask: A mild face mask to refresh the skin without drying it out ($18 for 2-oz)
Botanical Exfoliating Scrub: An award-winning facial scrub ($26 for 3.4-oz)
Cellufirm Drops: A concentrated serum that smooths out fine lines and wrinkles ($25 for 1-oz)
Drying Lotion: On-the-spot acne drying solution ($17 for 1-oz)
Herbal Hydrating Serum: An oil-free gel that hydrates your skin ($30 for 1-oz)
After accounting for the 15% bulk discount, this order would have come to $155.55.
A Closer Look at the Ingredients
The Mario Badescu product line claims to contain lots of nourishing, botanical-based products that will benefit your skin in the long run.
There's no space here to discuss every ingredient in every product, so here's a cursory look at the standouts in three of the company's best-selling products:
Rose Hand Cream with Vitamin E: a light, fast-absorbing hand cream to soften and smooth rough hands.
Ingredients: Aqua (Water, Eau), Glyceryl Stearate, Paraffinum Liquidum (Mineral Oil, Huile Minérale), Zea Mays (Corn) Oil, Tocopheryl Acetate, Propylene Glycol, Cetyl Alcohol, Triticum Vulgare (Wheat) Germ Oil, Retinyl Palmitate, Glycerin, Parfum (Fragrance), Triethanolamine, Propylparaben, Benzyl Alcohol, Citronellol, Geraniol, Hexyl Cinnamal, Hydroxycitronellal, Linalool, CI 77891 (Titanium Dioxide).
Acne Facial Cleanser: This clarifying face wash contains salicylic acid and botanical ingredients to break down impurities for a better complexion.
Ingredients: Aqua (Water, Eau), Glycerin, Propylene Glycol, Triethanolamine, Aloe Barbadensis Leaf Juice, Sodium Laureth Sulfate, Isopropyl Alcohol, Salicylic Acid, Dimethicone, Chamomilla Recutita (Matricaria) Flower Extract, Thymus Vulgaris (Thyme) Leaf Extract, Sodium Hyaluronate, Carbomer, Parfum (Fragrance), Diazolidinyl Urea, Methylparaben, Propylparaben, Citric Acid, Potassium Sorbate, Sodium Benzoate, Benzyl Benzoate.
A.H.A. Botanical Body Soap: A grapefruit-infused body wash to refresh your skin.
Ingredients: Aqua (Water, Eau), Sodium Laureth Sulfate, Glycerin, Propylene Glycol, Sodium Chloride, Citrus Grandis (Grapefruit) Fruit Extract, Tilia Cordata Flower Extract, Panax Ginseng Root Extract, Panthenyl Hydroxypropyl Steardimonium Chloride, Phenoxyethanol, Ethylhexylglycerin, Parfum (Fragrance), Benzyl Alcohol, Citronellol, Geraniol, Hexyl Cinnamal, Limonene, Linalool, CI 19140 (Yellow 5), CI 15985 (Yellow 6), CI 16035 (Red 40).
Here's what stands out in this ingredients list.
As with many skincare products, the majority of these ingredients act as moisturizers, emollients, or preservation agents.
Many compounds, like aloe leaf extract, chamomile flower extract, thyme leaf extract, ginseng root extract, and grapefruit fruit extract are plant-based ingredients that include antioxidants that help your skin fight off free radical damage.
Other ingredients seem less beneficial. Paraffinum liquidum (mineral oil), is a synthetic ingredient derived from petroleum that is common in skincare products. While it's often praised for helping your skin retain water, it only offers temporary benefits and doesn't improve your skin for the long-term (though it doesn't harm it either).
Sodium Hyaluronate (hyaluronic acid) is also a common skincare ingredient because it will purportedly boost collagen production to give it a plumper appearance. However, most evidence for its effectiveness comes from hyaluronic acid injections, and there's less evidence that the ingredient will work as well when applied topically.
Titanium dioxide is another concerning ingredient, as it may have possibly carcinogenic effects when inhaled. There's less evidence it can cause problems when used topically, though some people experience some mild irritation. Since it's the last ingredient listed in the Rose Hand Cream, it seems that the product contains only a tiny amount.
Overall, these ingredients seem relatively standard within the skincare industry, though they don't seem to live up to the company's claims of using only "nourishing, plant-based ingredients."
Will It Dry Out Your Skin?
One common complaint against Mario Badescu products is that they can be drying and lead to skin irritation.
This reputation worsened when Mario Badescu was involved in a class-action lawsuit in 2009 for its Healing Cream (now discontinued). The lawsuit found that the cream contained steroid ingredients that weren't listed on the product label, one of which should only have been available through a doctor's prescription.
Some people who used the cream experienced adverse side effects like burning, itching, dryness, irritation, and inflammation over the treatment site. The company settled the suit in 2013 by making payments to those who purchased the offending product.
Regarding the current product offerings, we stated above that some Mario Badescu ingredients (such as mineral oil) won't work to nourish your skin over time, and they may cause dryness and irritation after continual use. These products also contain a lot of synthetic fragrance ingredients that many people are sensitive to.
So, while you're not likely to experience extreme side effects from Mario Badescu products, this brand has a reputation for causing irritation and drying out your skin. Keep that in mind if you tend to be sensitive to skincare products.
Pricing, Where to Buy, and Return Policy
You can purchase all Mario Badescu products online through the company website, and many options are also available in department stores and beauty retailers like Ulta and Sephora. They are also sold directly in the brand's NYC salon.
Prices per product vary but expect to spend between $15–$30 per item.
All purchases from the company website or salon qualify for a 30-day money-back guarantee, not including shipping costs.
You'll need to repackage each product with a copy of your invoice and instructions on whether you want a refund, brand credit, or an exchange, and ship it back to the following address: Mario Badescu, ATTN: Ecommerce Returns Department, 1150 King Georges Post Road, Edison, NJ, 08837.
You must return all items within a kit to obtain a refund, not just the product you were unhappy with.
If you need to reach out to customer service, you can do so at (212) 223-3728 or by live chatting on the website.
How Does Mario Badescu Pricing Compare to Alternative Brands
Mario Badescu is considered a mid-range beauty brand. Here's how the prices of some of its bestsellers compare to similar products sold by Versed and SkinCeuticals.
| Mario Badescu Product | Pricing | Similar Product from Botanics | Pricing | Similar Product from SkinCeuticals | Pricing |
| --- | --- | --- | --- | --- | --- |
| Rose Hand Cream | $8 for 3-oz ($2.66/oz) | All Bright Illuminating Radiance Balm | $13.99 for 1.69-oz ($8.27/oz) | Neck, Chest & Hand Repair | $71 for 2-oz ($35.5/oz) |
| Facial Spray with Aloe, Herbs, and Rosewater | $7 for 4-oz ($1.75/oz) | 100% Organic Refreshing Toning Spritz | $10.99 for 5-oz ($2.19/oz) | Blemish+ Age Defense | $92 for 1-oz ($92/oz) |
| Acne Facial Cleanser | $15 for 6-oz ($2.5/oz) | All Bright Micellar 3 in 1 Cleansing Solution | $6.99 for 8.4 oz ($0.83/oz) | LHA Cleansing Gel | $41 for 8-oz ($5.13/oz) |
| A.H.A. Botanical Body Soap | $8 for 8-oz ($1/oz) | All Bright Cleansing Foam Wash | $6.99 for 5-oz ($1.39/oz) | Body Retexturing Treatment | $61 for 6.7-oz ($9.1/oz) |
| Makeup Remover Soap | $12 for 6-oz ($2/oz) | All Bright Soothing Eye Makeup Remover | $6.99 for 5-oz ($1.39/oz) | Gentle Cleanser | $35 for 6.8-oz ($5.15/oz) |
While this chart doesn't dig into brand specifics or product ingredients, it gives us a starting point to see how Mario Badescu products pricing compare to other brands.
You can see that the company is relatively comparable to Botanics, a plant-based skincare company, regarding price per ounce. However, the higher-end brand SkinCeuticals, a company that used cancer research to develop anti-aging skin products, is much more expensive.
What will make the most sense for you will come down to your key selling points and what's most accessible. Mario Badescu stands out from both these brands due to its more extensive product range and how prevalent it is in various retail locations.
Analysis of Customer Reviews
Each Mario Badescu product has at least several hundred reviews on Influenster, and most products average between four and five stars. Ulta Beauty also sells multiple products from the brand, with similar average reviews. Here's a summary of some of the comments we noticed most often.
Common Compliments:
Products removed acne, dry spots, and wrinkles from facial skin
Scents are refreshing, don't smell synthetic
Great for hydrating the face before applying makeup
Great price points for the product size/benefits
A go-to brand for skincare products for many users
Common Complaints:
Some products may have recently had formula changes that bothered some users
Facial masks were too coarse and irritated skin for some users
Some products were too drying
The Bottom Line
Mario Badescu is a well-established skincare brand that has amassed loyal customers for decades. The company's wide range of products means that you're likely to find some that are designed to address your crucial skin issues.
While these products earn very positive reviews from customers, the company's ingredients lists and legal history gives us pause. Though the company brands itself as a source of plant-based, nourishing skincare solutions, the ingredients lists reveal that many Mario Badescu products contain synthetic ingredients that won't help your skin and may even harm it in the long run.
Granted, these kinds of ingredients are exceedingly common in similar skincare brands, but they don't fit the narrative that Mario Badescu has created for itself. Despite these concerns, there's still evidence that a lot of customers find these products to be beneficial for their skin. Consider trying them out if you're curious.
Customer Reviews