Ultra Renew Hand Rejuvenating Serum
This company has claimed this profile, is getting alerted on any new customer reviews entering this page, and may engage in dialogue with its customers to address their matters.

Companies cannot pay money or provide goods in order to remove or alter customer reviews.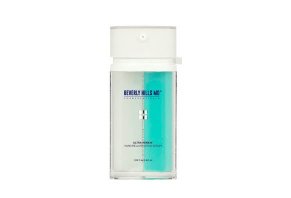 Summary
The Ultra Renew Hand Rejuvenating Serum by Beverly Hills MD promises to prevent and reduce the signs of aging on your hands like crepey skin and age spots.
Beverly Hills MD Ultra Renew Hand Rejuvenating Serum Review: Does It Work or Just Hype?
The Ultra Renew Hand Rejuvenating Serum promises to address these problems through an "advanced dual-action formula" that relies on the latest technology to visibly plump up thinning skin, smooth over "crepey" wrinkles, and reduce the visibility of dark spots.
The company claims that the serum can give your skin much-needed deep hydration without leaving a greasy residue.
This product purportedly works as two serums in one—the first to plump up your skin and the second to even out your skin tone.
Beverly Hills MD states that their serum is formulated to work with sensitive skin and is suitable for all ages and genders as a proactive anti-aging treatment. Saying that, they recommend that those with sensitive skin experiment with a small patch test before committing to it.
To use the serum, you'll dab a dime-sized amount into your hands and rub them together until everything is fully absorbed, focusing on the backs of your hands.
The brand suggests applying the product up to three times per day for the best results.
According to Clinical Dermatologist Dr. Carl Thornfeldt, "[visible hand aging] and unwanted dark spots can begin to show up on our hands in the early to mid-30s as the result of years of exposure to UV rays and a lack of sunscreen use."
Likewise, he told us that moisture levels in the skin decline with age, which leads to a dull, crepey appearance if you don't take steps to restore it.
Ingredients
We looked through the complete list of ingredients used in Ultra Renew Hand Rejuvenating Serum on the Environmental Working Group (EWG) cosmetic database.
The serum consists of a number of binding agents (sodium acrylates copolymer, pullulan, algin), skin conditioning agents (tetrahexyldecyl ascorbate, dimethicone, cyclopentasiloxane, xanthan gum, cholesterol, plankton extract, sodium hyaluronate, apple fruit extract, caprylyl and pentylene glycol, trehalose, phytosphingosine, serine, lecithin) and anticaking, solvent, emulsifying and stabilizing agents.
Generally speaking, these ingredients are pretty standard for skin creams. A few components within the cream stood out to us for having potentially negative side effects, so we've highlighted them below:
Phenoxyethanol: This common cosmetics preservative is a high risk for skin, eye and lung irritation, and the EWG database reports it can potentially lead to organ system toxicity.

Polysorbate 80: Polysorbate-80 is a surfactant used in personal care products that the Toxicology Data Network states can lead to organ problems if inhaled or ingested and that there is evidence it might cause skin irritation.

Glyceryl Polyacrylate: There is evidence that glycerol polyacrylate boosts the absorption of other compounds into your skin, which can potentially cause you to absorb a higher concentration of compounds that could be dangerous.

Ethylhexylglycerin: This skin conditioning agent can be an irritant if you have sensitive skin.
There is anything within these ingredients that mean you need to avoid the Ultra Renew Hand Rejuvenating Serum altogether, as the ones we've referenced are relatively standard in many skincare products.
However, keep in mind that the serum shouldn't be ingested or excessively inhaled, and you might want to perform a spot test before using it if you have sensitive skin.
The Cost
At the time of writing, the Ultra Renew Hand Rejuvenating Serum came in 40 ml (1.25 fl oz) tubes.
The Beverly Hills MD site sold it for
1 Tube: $110 per tube
2 Tubes: $198 ($99 each)
3 Tubes: $282 ($94 each)
As with all their products, Beverly Hills MD offers a 60-day money-back guarantee for purchasing the serum.
If you find your order doesn't meet your expectations, you can request a full refund within sixty days of purchase. You can start the return process by contacting the company through their contact page or by phone at (877) 828-5528.
Alternatives
If you're shopping for an anti-aging hand cream, there are dozens of options to consider. Two of the top selling options on Amazon are the ROBANDA Anti Age Hand Treatment and Medix 5.5 Retinol Cream.
You can buy the Robanda Anti Age Cream in a two-pack (two 3-ounce containers) for less than $17. The cream boasts that it works as an anti-aging treatment with retinoids to boost collagen production and increase skin cell turnover.
Like the Ultra Renew Hand Rejuvenating Serum, this cream contains natural fruit extracts to protect your skin and prevent free radical damage from showing your age.
The cream has more than 300 reviews on Amazon, and many people commented that it succeeded in reducing their age spots and kept their skin moisturized. We also noticed that users appreciated that it contained sunscreen to protect their hands further.
Medix 5.5 Retinol Cream promises similar skin rejuvenating benefits. Each 15-ounce bottle cost a little more than $13 at the time of writing, and it consists of natural ingredients like glycerin, xantham gum, and apple extract—compounds which are also found in the Beverly Hills MD serum.
The cream purportedly protects your skin from aging and sun damage, and the approximately 650 positive reviews on Amazon show that it's making a lot of customers happy.
If you're comparing these three creams, it's important to note that you'll get a lot more product for your money by choosing the alternatives to Beverly Hills MD.
Both products we looked at cost less than a quarter of the lowest price we found for the Ultra Renew Hand Rejuvenating Serum, but that's not necessarily a sign of value.
Because the serum is designed to go on such a small part of your body, even a small amount should last a long time, and it may be a better deal for you if it delivers what it promises.
The other two creams have positive customer reviews, so you might benefit from trying one of them instead.
The Bottom Line
Beverly Hills MD products have a long history on our site and the positive reviews to prove people tend to be happy with what they buy.
As with all physical signs of aging, the best strategy is prevention. In the words of licensed esthetician Evie Reyna, who spoke with us during our research of this product, "in order to delay the signs of aging, [you need to] protect your hands daily with an application of an SPF of 30 or higher."
She also suggests drying your hands thoroughly after washing them and immediately applying a moisturizing hand cream—like Hand Serum—to lock in hydration.
You'll pay more for this serum than the other skin creams we looked at, but the company stands by their products and promises to refund any purchase you aren't happy with so long as you get in touch within 60 days of purchase.
So long as you treat your hands in a similar way to how you treat your face, we think you can prevent some of the most apparent signs of aging from showing up on your skin.
Our Promise to You
In order to safeguard you and ensure helpfulness and relevance, our compliance team manually assess every customer review before it goes live.
We have a zero-tolerance policy for fake reviews, and companies cannot control or alter any reviews at any time.