FootMedix by Dermal Medix
Claimed This company has claimed this profile, is getting alerted on any new customer reviews entering this page, and may engage in dialogue with its customers to address their matters.

Companies cannot pay money or provide goods in order to remove or alter customer reviews.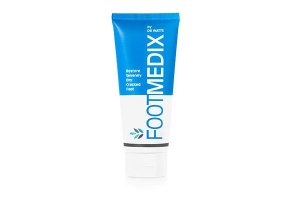 FootMedix is a medically formulated cream from Dermal Medix that is designed to restore and protect your dry, cracked, and painful feet.
FootMedix by Dermal Medix Review - Does This Formulation Work?
Medically Reviewed by Anthony Dugarte, M.D., C.S.C.S
What is FootMedix?
FootMedix by Dermal Medix is a topical solution that claims to strengthen skin, stimulate new growth, and increase circulation, aimed at protecting and restoring severely dry, cracked, and painful feet.
According to their site, the FootMedix active ingredients are intended to deliver rapid healing, provide deep moisturization, and keep sweat away from the skin.
Dr. Watts claims these ingredients can start working in just five minutes. According to the company, apply FootMedix to clean, dry feet twice daily, focusing on any areas where you're experiencing dry, damaged skin.
Can you expect FootMedix to leave you with healthier, more attractive feet?
We'll help you answer these questions and more by reviewing the active ingredients and highlighting any available support for their safety and efficacy.
What Causes Calluses and Dry Skin?
Calluses aren't much more than the flat build-up of hard skin, usually located on the bottom of feet and hands and caused by repeated pressure or friction in a specific area. These are different than corns, which typically feature a softcore that falls inward.
Although not directly related, dry skin (insufficient moisture)—which is often caused by environmental factors like weather, humidity levels, hot showers, and more—can cause calluses to become increasingly uncomfortable.
In general, calluses cause little more than minor discomfort. They can often be addressed by wearing shoes that fit, adding padding where needed, using salicylic acid to soften the callus (or soaking in warm water), and removing with a pumice stone, and more.
In some instances (creams like FootMedix aside), you might need to visit your podiatrist for professional callus removal, and/or to purchase specialized orthotics that can help prevent calluses from getting worse, while relieving at least some measure of discomfort.
Callus formation can be especially dangerous in those with diabetes or other conditions that alter sensation in your feet. They can be completely unaware of the presence of a callus. Over time, this can further develop into open wounds known as ulcers.
From a moisturization perspective, the American Academy of Dermatology recommends avoiding excessively hot baths or showers. Using a gentle, fragrance-free cleanser, applying an ointment or a cream (instead of lotion) immediately after bathing, and using a humidifier at home, especially during the winter months when heat can dry out the skin.
What Ingredients Are Found in FootMedix and Is the Formula Clinically Proven?
According to the Dermal Medix website, FootMedix contains the following ingredients:
Water, Glycerine, Glycine Soja (Soybean) Oil, Emulsifying Wax NF, Butyrospermum Parkii (Shea Butter) Dimethicone, Alcohol, Cetearyl Alcohol, Simmondsia Chinensis (Jojoba) Seed Oil, Propylene Glycol, Glyceryl Stearate, PEG-8, PEG-100 Stearate, PEG-40 Stearate, Beta-Glucan, Glyceryl Caprylate, Tocopheryl Acetate, Panthenol, Clotrimazole, Human Oligopeptide-1, 1,2-Hexanediol, Caprylyl Glycol, Disodium EDTA, Triethanolamine, Melaleuca Alternifolia (Tea Tree) Leaf Oil
Of these, we learned the vast majority work as surfactants, emulsifiers, humectants, emollients, and cleansing agents. This is common for any cream, foot-related, or otherwise, since they help clean skin and trap moisture, thereby improving symptoms of dry skin and helping to prevent irritation.
There are a handful of ingredients that Dermal Medix claims are responsible for the vast majority of the purported benefits, however. We'll dive a bit deeper into these.
Clotrimazole & Tea Tree Oil
Clotrimazole is an azole medication often used in over-the-counter creams to treat (or prevent) fungal skin infections, like athlete's foot and jock itch. Tea tree oil is thought to perform a similar function.
In a review of 72 trials, researchers found that azoles were effective in treating fungal infections. While another anti-fungal was slightly more effective, azoles are a more cost-effective treatment option.
The ability of tea tree oil to alleviate athlete's foot is less clear. Though it was as effective as another anti-fungal cream, it was comparable to the ability of placebo to relieve symptoms.
Human Epidermal Growth Factor (hEGF)
the human oligopeptide-1, which Amarte Skincare defines as:
… a small polypeptide of 53 amino acids that serves as a cytokine to stimulate epidermal cell growth and proliferation. This peptide is derived from non-human sources using recombinant DNA biotechnology. Also known as EGF or epidermal growth factor.
A recent review of 7 studies investigated the ability of hEGF to treat diabetic foot ulcers. They concluded that the use of hEGF in conjunction with standard wound care measures improved the rate of healing when compared to placebo.
The researchers do suggest considering these findings with caution as the number of available studies was limited, and many factors weren't discussed during these investigations.
More research is needed to better characterize the potential benefits.
FootMedix As a Stand-Alone Product
Dermal Medix claims that in clinical trials conducted by Dr. Watts, "100% of users reported improvement in foot calluses and dry skin, and a staggering 96% of FootMedix users reported results they classified as "phenomenal." Again, there is no available support for these claims.
We didn't locate a copy of this trial on the FootMedix website, so we reached out to the company for more details and they confirmed that they did conduct an internal study and showed us the results. However, due to their internal policies, we were asked not to make it public.
Will FootMedix Cause Any Side Effects?
Unless you have especially sensitive skin, these sites indicate you probably won't experience anything worse with FootMedix's ingredients than mild, temporary redness in the application area.
The greatest risk is for using this product to manage dry, cracked, and painful feet without first determining the underlying cause. If your symptoms are related to poor circulation or ineffective regulation of blood sugars, treatment will entail much more than a foot cream.
For these reasons, it is imperative to speak with a physician about your symptoms first.
How Much Does FootMedix Cream Cost?
FootMedix is only available directly through Dermal Medix, and is priced as follows:
1 Tube (1-month supply): $120
2 Tubes: $228
3 Tubes: $324
All of these options come with free S&H.
You will save if you purchase through Amazon; each tube is priced at $39.99 and ships free.
Regardless of how much you pay, though, Dermal Medix provides a 90-day risk-free guarantee on FootMedix purchases, less S&H charges. To request a refund, call customer service at 800-425-0243 or support@dermalmedix.com.
The Bottom Line
There is some available research for the key ingredients used in FootMedix but the support isn't stellar.
And while FootMedix seems to be up against a lot of other callus and cracked skin creams, you won't find their unique formulation anywhere else. It appears most customers are pleased with the formulation's results, despite its (sometimes much) higher price.
But if FootMedix ultimately doesn't provide the results or the value you were expecting, Dermal Medix seems to stand behind their formulation with a 90-day money-back guarantee. Nonetheless, the lack of strong scientific support does not seem to justify the high cost of these products.
You may be better off seeking relief with the more cost-effective options that are available.
Still, your best bet is to first touch base with your physician. Moisturizing your feet may be an important party of your plan of care, though you may need to take other steps.
---
This company is actively collecting reviews from its customers. All reviews submitted are subject to moderation and approval to ensure they meet our

Review Guidelines

.

Not just for feet

By Marie W.

,

Massachusetts

,

Jan 20, 2020
Verified Reviewer

Overall Experience:

I found that FootMedix not only works on my feet, BUT my hands and legs as well! My cuticles are no longer dry and cracking and bleeding. No more ashy skin cell residue inside my clothes. Everything stays moisturized! Can't say enough about this product.

Bottom Line: Yes, I would recommend this to a friend

---

Great stuff

By Cheryl W.

,

Atlanta, GA

,

Feb 25, 2019
Verified Reviewer

Overall Experience:

I LOVE THIS STUFF! You won't find a better foot cream to keep your feet happy, especially if you have dry skin that will crack on your feet and really hurt. This stuff really works. I like to use it at night and put my heel socks on and let it work all night long. If you can afford 6 at a time, it's really worth the price break and makes the cost more bearable. I certainly don't think you will be disappointed if you order and use this on a regular basis. Start out twice each day and after you have your feet back to their happy place you can move back to once a day. I love my feet now!

You have nothing to lose! Money back guarantee!

Bottom Line: Yes, I would recommend this to a friend

---

Scam - beware!

By Jonathan M.

,

Minneapolis, MN

,

Feb 13, 2019
Verified Reviewer

Overall Experience:

I ordered this once. Very clearly opted out of recurring delivery and signed up for one-time delivery only. Shipments started arriving with my roommate's name after the one order I received. Never authorized. He had no idea what this was. Numerous calls to the company and they would not stop. Letters to the company but they would not stop. Product sent back without being opened. After numerous calls and complaints, they finally stopped sending products. Then the calls started to mobile numbers asking for my roommate about Dermal Medix. They were spoofing Dr. Gundry's phone number. The last guy was swearing at me. Did not validate it was my roommate. I called back and got a competitor, so they were spoofing their competitors so they received the complaint calls. How very professional of them. I don't care if their product cures cancer. This is a scam and you can't cancel. Never authorized orders. Harassing calls asking to order. Trying to record you saying the word "yes" or "approved" so they can send you more. Stay away. The worst of the worst.

Bottom Line: No, I would not recommend this to a friend

---

Senior citizen found FootMedix helps keep feet in good repair.

By Carlene B.

,

Idaho

,

Jan 10, 2019
Verified Reviewer

Overall Experience:

FootMedix was recommended to my husband and myself by our physicians' wife. While in for office care some time ago, we mentioned we had very dry skin on the bottom of our feet. They would crack and bleed, especially during the Idaho winter months. She had a tube of FootMedix in her purse and offered for us to try it. She said, "it was the only product that has helped her in the past and she wouldn't be without it." We looked up the website for FootMedix and was happy to be able to order our own supply now. I found the ordering was easy to do, and the shipment was sent promptly. We will not be without FootMedix again. It has truly kept our feet in good condition now.

Bottom Line: Yes, I would recommend this to a friend

---

Advertisement

---

Awesome results

By Bill G.

,

Peru, IL

,

Jan 5, 2019
Verified Reviewer

Overall Experience:

After years of dry cracked heels and numerous attempts at remedies, I finally found what I was looking for...this product. In a matter of days, I saw a marked difference and after a month, they look great and feel better. It even got rid of the cracks. Now all I do is put it on once a day or two to keep them looking great and to maintain the fresh skin. It's really amazing. I was skeptical, to be honest, after trying various creams, lanolin, and vapor rub. Just for kicks, I put it on the dry skin of my knees and voila...better. Thank you for this product...it has really really made a difference.

Bottom Line: Yes, I would recommend this to a friend

---

Very satisfied with results

By Stephan H.

,

Georgia

,

Jan 5, 2019
Verified Reviewer

Overall Experience:

My wife is ecstatic. With a single application, the dry skin was removed and the bottoms of her feet are smooth. In my case, my feet were in much worse shape. After a week to 10 days and intermittent use (I sometimes forget to apply it), most of the dry skin on my heels is gone, but the corns and callouses, though improved, are still there. But the pain is greatly reduced.

Bottom Line: Yes, I would recommend this to a friend

---

Seems to work so far

By Susan W.

,

Los Angeles, CA

,

Dec 27, 2018
Verified Reviewer

Overall Experience:

I started taking it a few weeks ago, seems to be working I think. I will keep taking it to see if my feet feel smoother in the next couple weeks. I would like for my feet to still feel slightly softer, but I think I have seen a small difference. If it keeps working, I might try buying more.

Bottom Line: Yes, I would recommend this to a friend

Feb 20, 2020

Susan, thank you for sharing! We hope it's been working well for you - if you have any questions, don't hesitate to reach out to me at sloane@dermalmedix.com.

---

Excellent foot cream

By Russelyn W.

,

Indianapolis, IN

,

Dec 18, 2018
Verified Reviewer

Overall Experience:

I had contracted athletes foot fungus for the first time in my 62 years, and unfortunately, was allergic to it. My feet were in horrible shape and walking around was a task for sure. All of the skin on my feet and hands, unfortunately, was blistered and coming off it was very painful. After I started using Dermal Medix, they started clearing up, and now just about a month and a half later, they are cleared up and the calluses are almost gone. This has made walking much easier, and since my business is as a housekeeper for many clients I've worked for, for around 13 years. Thank you so very much for creating this amazing cream.

Bottom Line: Yes, I would recommend this to a friend

---

Excellent

By Esther M.

,

Bloomsburg, PA

,

Dec 10, 2018
Verified Reviewer

Overall Experience:

I have noticed my feet feel so much better. It has helped my dry heels and eased my calluses. I love it! I have a decrease in the pain and discomfort in my feet. Thank you FootMedix.

Bottom Line: Yes, I would recommend this to a friend

---

Had peripheral neuropathy both feet and in finger tips

By Robert V.

,

Atlanta, GA

,

Dec 4, 2018
Verified Reviewer

Overall Experience:

At times I have severe pain in my left foot, little toe area and have been taking pain medication to help relieve the pain. It does take the edge off, however, since the use of FootMedix I don't take as much pain medication and it has been reduced by leaps and bounds. My fingertips have responded the loss of sensation is reversing, and my fingers even look more healthy. I have diabetes type II. I have stopped doing fingersticks four times a day with the new 14-day FreeStyle Libre sensor. I feel I am finally on the right track to curb and reduce pain and some of the numbness I have experienced.

I keep looking forward to more reductions in my problems with the use of Dermal Medix. I gave a tube to a lady friend of mine and she too reports an improvement in her feet problems with the use of FootMedix.

Bottom Line: Yes, I would recommend this to a friend

---

FootMedix by Dermal Medix works great. Very satisfied.

By Ray M.

,

Arizona

,

Dec 3, 2018
Verified Reviewer

Overall Experience:

FootMedix by Dermal Medix works great. Very satisfied. I have even used it on my hands as they, especially the tips of fingers crack often. Great product. It also seems to work very well with my psoriasis.

Bottom Line: Yes, I would recommend this to a friend

---