Dr. Squatch Bar Soap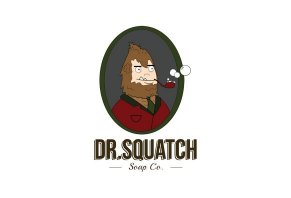 Summary
Dr. Squatch sells American made, all-natural soap bars for men in a variety that are free of harsh ingredients that strip your skin of moisture.
Pros
Made in the USA
Contains all-natural ingredients, including glycerin
Wide variety of male-pleasing scents
Suitable for sensitive skin
Simple subscription program and refund policy
Subscribers qualify for free shipping for all other products
Cons
Can be difficult to find from other retailers
Soap won't last longer than one or two weeks with regular use
Some people experienced shipping and delivery delays
Not gender-inclusive
More expensive per use than the competition
Dr. Squatch Bar Soap Review: Is It Worth It?
Buying personal care products for men can be tricky. How can you know if the soap you are considering is worth the cost, or whether it will lead to dried out, irritated skin?
Dr. Squatch Soap is designed for men, and it claims to keep your skin healthier and smelling better than other brands. You can purchase the soap on a subscription basis as an all-natural alternative to traditional self-care products.
Here, we've analyzed the claims of Dr. Squatch soap to help you decide if this is a brand worth considering.
What Is Dr. Squatch Soap?
Dr. Squatch Soap is a US-based, male-focused brand of all-natural personal hygiene products designed to keep you clean without exposing your skin to toxic ingredients. The company sells skin, hair, beard products, as well as home goods, but this article will focus on its bar soaps.
Company founder Jack Haldrup's central philosophy for the brand is that it refuses to cut corners in the quality of their ingredients. Each bar of soap is made using techniques designed to maximize the benefits of each component without exposing your skin to the harsh preservative agents found in conventional products.
Dr. Squatch's target audience is the low-maintenance man who wants to clean up without harming his skin with questionable ingredients in his personal care products.
How Is Dr. Squatch Soap Different from Normal Soap?
The Dr. Squatch brand is based around the idea that its soaps are both nicer to use and better for your skin than most conventionally available options. Let's look at how soap is made to understand these claims.
All soap is made through a process called saponification, which is the term used for the chemical reaction that takes place when oils are mixed with lye under heat. Though lye has a reputation for being harsh and potentially dangerous, this highly alkaline compound is used up during saponification, so no traces remain in the final product.
In fact, lye is used to make all types of soap, both commercial and hand-made.
During saponification, the oil's natural fats transform into a combination of soap and glycerin. Glycerin is a natural humectant, which means that it attracts moisture to your skin and helps to keep it healthy.
However, many large-scale soap manufacturers pull the glycerin out of their soap so that they can use it in other, more expensive products. Synthetic ingredients are then added as a replacement, which can include detergents and foaming agents that replicate the benefits of glycerin.
The problem is that these cheaper ingredients often don't have the same hydrating benefits, and they might leave your skin stripped of moisture over time.
Dr. Squatch leaves the glycerin in its soap so that the product doesn't pull moisture from your skin. But is this worth paying more for this ingredient?
There are many skin benefits associated with glycerin soap, especially for those with sensitive skin. Using skincare products with glycerin can combat the effects of acne, dermatitis, psoriasis, rosacea and other conditions associated with excessive dryness. Likewise, its nongreasy formulation makes it suitable for anyone with oily skin.
Likewise, there is some evidence that glycerin offers anti-aging benefits by evening out your skin tone and texture, which can reduce the appearance of fine lines.
The Takeaway
Many soapmakers keep costs down by pulling glycerin from the recipe and replacing it with less synthetic ingredients. Dr. Squatch claims to keep the glycerin intact to maximize the moisturizing benefits for your skin.
Cost, Subscription Program, and Return Policy
Dr. Squatch offered more than half a dozen varieties of bar soap with names like 'pine tar,' 'crisp IPA,' 'gold moss,' 'bay rum' and more. Each 5-oz bar costs $7 on the company website and should last for up to two weeks with regular use.
Every bar contains the same primary ingredients and some include oatmeal, sand, and other naturally exfoliating ingredients.
You can buy these soap bars individually online or in bundles based on scent. Expect to pay about $2 for shipping unless your order is over $40, at which point it is free.
You can also sign up for Dr. Squatch's "subscribe and save" program. This lets you save 15% per order and qualify for store-wide free shipping. It's up to you whether you want monthly or quarterly delivery, though plan to pay an additional $1 for handling if you choose monthly. Subscription costs are as follows.
Monthly Delivery:
Two bars/month: $13
Three bars/month: $19
Quarterly Delivery:
One bar/month (three per delivery): $18
Two bars/month (six per delivery): $36
Three bars/month (nine per delivery): $54
You can choose any combination of scents for your soap and will receive this same combination of scents automatically every delivery unless you change them through your account dashboard at least 24 hours before the next order processes.
It's possible to pause or cancel your subscription at any time through your online account.
You should contact the company directly if you are unhappy about your order. So long as your purchase was within the past thirty days, it qualifies for the brand's "100% Sudsifaction Guarantee". You will need to contact the company directly to learn what this means in your specific situation, but expect it will refund all or part of your order.
Dr. Squatch Soap Main Ingredients
Though each variety contains different fragrances and essential oils, most Dr. Squatch bar soaps are composed of the following ingredients:
Saponified Oils (Olive, Sustainable Palm Oil, Coconut)
These oils are common ingredients in natural soaps due to their high fat content and natural moisturizing abilities. Dr. Squatch blends these oils with lye at high heat to trigger saponification, the process of turning fats into soap.
Shea Butter
As the fat extracted from the nuts of the shea tree, shea butter is a popular cosmetic ingredient with moisturizing abilities—thanks to its high fatty acid content. When applied topically, the oil is quickly absorbed in your skin.
There's also evidence that the butter clears your skin of excess oil, which can prevent acne flare-ups.
Lye
Traditionally obtained by leaching ashes, lye is a strong alkali that is highly soluble in water. It's essential for the soapmaking process because it triggers the chemical reaction that creates it.
Lye is caustic, which means that it can burn skin and even cause blindness if you contact it directly. However, the compound is used up during saponification, meaning that lye-based soap products are entirely safe.
Sea Salt
Sea salt is often added to soap to act as a natural exfoliant. It also works to create a creamy lather, restore minerals to the skin, and reduce oil production that can lead to acne.
Some Dr. Squatch soap bars also include oatmeal and activated charcoal as exfoliants.
Kaolin Clay
This fine white powder is a common ingredient in skincare products. It is considered to be a mild clay, and it works to exfoliate the skin while cleansing it and increasing circulation.
Despite its natural absorbent properties, this clay does draw oil out of your skin and can be used by all skin types.
Are There Dr. Squatch Bar Soap Side Effects?
To the best of our knowledge, none of the ingredients in Dr. Squatch soap have known negative side effects associated with their topical use.
While lye has a reputation for being extremely dangerous when you come in direct contact with it, you aren't putting yourself at any risk by using a personal care product that used it for its chemical reaction.
Analysis of Customer Reviews
Hundreds of Dr. Squatch reviewers have weighed in on these soap bars, both on the company website and other platforms. Here's a summary of their perspectives:
Great Scents, Great Soap
Almost every soap scent on the Dr. Squatch website averages more than 4.5 stars. Users raved about the scents, smooth feeling, and moisturizing properties of each bar.
Many wrote that they used to deal with dry skin and irritation until they switched to the Squatch brand and that the soap successfully solved these skincare problems.
Good for Washing Hair
A few Squatch users reported that they used the bars to wash their hair with great success. They found the bars to be moisturizing and easy to wash out.
Soap Doesn't Last Long Enough to Justify the Cost
By far, the most common complaint against Dr. Squatch soap is that the bars don't last long.
Dozens of users wrote that their bars disappeared after a week of use, which is twice as fast as the company claimed. These customers reported that this made the bars cost-prohibitive for regular use.
Occasionally Slow Delivery
A few soap users complained that their order took more than two weeks longer than predicted to arrive and that they weren't able to get answers about the slow delivery time even after leaving multiple calls with customer service.
Overpriced and Overhyped
In several instances, Dr. Squatch customers accused the company of relying on clever branding to sell soap that wasn't better than the competition. Some of these users also didn't like that the soap's scent disappeared after they had showered.
Key takeaways
Squatch soap reviewers are enthusiastic about the company's bar soaps, stating that they had great scents and left their skin feeling better than normal.
The most significant drawbacks for most users seems to be the price and the relatively short lifespan for each bar.
Dr. Squatch Bar Soap vs. Dove and Baxter of California
There are numerous other brands of men's soaps to consider. The following chart compares Dr. Squatch Bar Soap to two popular options: Dove Beauty Bar and Baxter of California's Men's Exfoliating Body Bar.
| | Dr. Squatch | Dove Beauty Bar | Baxter of California's Men's Exfoliating Body Bar |
| --- | --- | --- | --- |
| Cost | $7 per 5-ounce bar ($1.40 per ounce) | $6.88 per 4oz 4-pack ($0.43 per ounce) | $19 per 7-ounce bar ($2.71 per ounce) |
| Subscription Available? | Yes | No | Yes |
| Number of Scents | 11+ | One | One |
| Key Ingredients | Saponified oils, shea butter, lye, sea salt, kaolin clay | Sodium lauroyl isethionate, stearic acid, sodium palmitate | Palm oil, pumice, coconut acid, sodium gluconate, jojoba seed powder, glycerin |
| Contains Glycerin? | Yes | No | yes |
| How Long Will It Last? | Two weeks with regular use | One week to three months, depending on whether you store it in the shower | 1-3 months with regular use |
As this chart shows, men's bar soap brands vary significantly in their cost per ounce, their ingredients, and how long you can expect them to last. Dr. Squatch is the only brand we looked at that offers a variety of fragrance options, which many people found to be a big selling point of the brand.
At $2.71 per ounce, Baxter of California soap is almost twice as expensive as Dr. Squatch. However, customer reviews of the brand show that many users love how long the soap lasted, as some reported that they could use a single bar for three months or longer.
This brought the cost down to $6.33 per month of use, compared to $14 for using Dr. Squatch for the same amount of time (two bars).
Pricewise, the Dove Beauty bar costs just a fraction of what you'll pay for the other two brands. However, this product doesn't contain glycerin, so you're missing out on this natural skin-moisturizing effect.
Key Takeaways
If you're looking for a basic daily soap and don't have any skin issues, you can probably get by with using an inexpensive soap brand like a Dove Beauty Bar.
If, however, you're looking for a skincare product with all-natural ingredients (including glycerin), then Dr. Squatch or Baxter's of California are better bets.
Just keep in mind if you go with Dr. Squatch that you'll need to restock often.
The Bottom Line: Who Is Dr. Squatch Bar Soap Best For?
Dr. Squatch bar soap lives up to its promises. This simple soap recipe contains only all-natural ingredients and the company leaves the skin-moisturizing ingredient glycerin intact. We like the company's simple subscription program and a variety of fragrance options.
While Dr. Squatch soap earns glowing reviews from most users, the biggest drawback seems to how long the bars last. This discrepancy is partly explained by the fact that the bars are naturally soft, meaning that they can dissolve more quickly than regular soap when left in the shower.
You can extend the life of your soap by storing it outside of the shower or by using a Dr. Squatch-brand Soap Saver to reduce soap scum (available on the company website). Even so, don't expect to get more than two weeks of use out of each bar. This means you should plan to pay about $14/month if you want to use this soap longterm.
That's likely worth it for those who love the scents or have skin issues that cause them to react to brands with harsher ingredients. For everyone else, though, that might be enough to regulate Dr. Squash Soap to an occasional indulgence rather than as a daily personal care product.
Customer Reviews
Posted on Feb 16, 2021
Not sure what everyone else is doing...
I received some bars for Christmas 2020. I am still on my first bar of soap. Granted, my wife was awesome enough to get me the soap saver as well. I use it in the shower only for my body (again, my amazing wife got me separate shampoo), and sometimes use it on a scrub-sponge thing or just the bar itself. Afterward, I place it above the ledge in the corner above and opposite the showerhead. Yes, the soap is softer, but after daily use, I think I am going to use it up in about a week or two. It is now February. With that being said, that bar has lasted for 30+ days/30 showers (at least).
I also just found out that they give Military/EMS/PD a 10% discount on all products which is cool.
Length of Use: Less than 3 months
Bottom Line: Yes, I would recommend this to a friend
Pros and Cons
Great product (superior)
Better/safer alternative
Advertising (necessary evil, though we pay for it)
Cost is a bit higher (but its a better product)
Posted on Feb 13, 2021
Great
With daily showers and the soap saver, I got 10 weeks with this soap. I guess the soap saver and not storing it in the shower helps?
Length of Use: 2+ years
Bottom Line: Yes, I would recommend this to a friend
Pros and Cons
Fast delivery
Organic
Cheaper than other organic soap
Lasts AT LEAST 6 weeks
Too many scents to choose from, I can't decide!
Posted on Jan 13, 2021
Great soap, doesn't last
I fell in love with the idea that it was finally a soap that could heal my dry skin and also give me a manly scent. I was not disappointed.
But then I realized how quickly the soap dissolves. One week. That's how long a single bar lasts. Even with the soap saver.
I only wish it would last longer.
Length of Use: Less than 3 months
Bottom Line: Yes, I would recommend this to a friend
Pros and Cons
Man's gentle soap
Manly scents
No "cons" were specified in this review
Posted on Jan 8, 2021
Good but bad
I received 3 bars for Christmas and I will say they smell and feel amazing but only after 5 showers the first bar is gone. I feel for how much the soap costs it should last longer than a week. If you have enough money, which is around $43 for 5 bars, then this is the soap for you. After my little stash of soap is gone I will not be getting more.
Length of Use: Less than 3 months
Bottom Line: No, I would not recommend this to a friend
Pros and Cons
Commercials
Cost
Not lasting
Posted on Dec 26, 2020
Dr. Squatch is a scam company
Do not buy from this company. I ordered a bundle weeks ago and never received a tracking number. The only way to communicate is through email and then a few days later you get what you think is a nice reply that they are on top of your order, but learn it is just an automated message. Finally, after I posted a bad review I was emailed by someone who told me they would FedEx my order 2-day ship and refund me the shipping charge. Well, 6 days later I never received my order, or tracking #, or can I reach anyone once again! Same automated message. Based on other reviews, I doubt I will see my products, and as far as I see they STOLE my money and I will make sure they will be reported and hopefully shut down! STAY AWAY unless you want to get ripped off!
Bottom Line: No, I would not recommend this to a friend
Pros and Cons
No "pros" were specified in this review
They are thieves
They lie
They have horrible customer service
They take your money and you get no product
Posted on Dec 26, 2020
No soap ever delivered
Hard to say anything positive about this overpriced soap when you can't even get it and their service department (Dan) can't help!
Placed my order on November 29th and they immediately charged my card. Today is December 21st and NO SOAP!
The first order was supposedly lost (even though Dan never shared the tracking number)! Hello, he lied, it was never shipped.
The replacement order from Dan never arrived either. Guess what, Dan never gave me a tracking number in the "second shipment" either. Once again Dan lied.
Is this a giant soap scam? I think so because they can't get me any soap!
What I do know:
1. They can't service their customer!
2. The soap, that you never get, is grossly overpriced!
3. Dan (in their Service Department), is a total liar!
Save money and buy something else.
Bottom Line: No, I would not recommend this to a friend
Pros and Cons
No "pros" were specified in this review
Hated everything
Liars, all of them
Way overpriced
Posted on Dec 1, 2020
Review
The soap is good, smells and feels good. The support staff is very helpful and friendly and do their best to help you. Wide variety of products to cater to all kinds of people.
Length of Use: Less than 3 months
Bottom Line: Yes, I would recommend this to a friend
Pros and Cons
The scents were amazing
It left my skin feeling truly cleaned
Great customer service
Delivery time (mainly due to COVID-19 though)
Posted on Nov 9, 2020
Ehhh
I bought a sample kit with different types of soap. To me, it smells like Irish Spring, except for the Bay Rum, which I liked. It is not worth 7 bucks a bar regardless. If you do buy, get the Bay Rum.
Length of Use: Less than 3 months
Bottom Line: No, I would not recommend this to a friend
Pros and Cons
Humorous commercial
No "cons" were specified in this review
Posted on Sep 2, 2020
This soap is garbage - snake oil at its best!
Not sure what was worse; the scent, the stains it left on the shower and washcloths, or the short life. If you have a white shower or white washcloths, they will be stained black from the pine tar soap. My wife was appalled at the smell, and even more PO'd at the mess it left in the shower and the washcloths. At best, it may have lasted 8-9 days before completely falling apart, an incredibly short life for a $7 bar of soap.
If you work with your hands for a living and get your hands and body dirty, this is not the soap for you. To get the dirt off, you better bring a wire brush with you into the shower - this soap simply won't cut it. Did I mention how it stained everything it came into contact with? Definitely not worth the inflated price you will pay for it. Next year I may buy more to seal the cracks in my bituminous driveway.
Length of Use: Less than 3 months
Bottom Line: No, I would not recommend this to a friend
Pros and Cons
Unlike others that have posted, my order showed up before the scheduled date
Poor quality
Overpriced
Smells terrible
Overhyped snake oil
Posted on Aug 18, 2020
Falls short on so many levels, but it does smell nice
All in all, I found this product to be missing on so many different levels. Before using their products, I happened to clean out the shower pipes, which were running beautifully. After three months of using their products, the drainage is significantly slower. That's because many of their products leave a soap residue. It's especially pronounced with a black soap because you can see it staining the shower after as little as one use.
The company may be onto something in terms of trying to get buy-in from the public. Unfortunately, the products have to stand up on their own, and almost every product has issues. I bought three soaps, the wooden soap holder, and the complete shave kit with face soap, mug, and brush. The shaving soap works well; however, the mug is oversized, and the brush holder is minimalist.
They are working from the Apple playbook. You are to become an early adaptor, happy to promote their products and buy frequently. Unfortunately, the items of value to me were the green soap holder (it does keep soap bars from sliding out of your hands), and the wooden soap tray is good to have. As far as everything else, too many minor issues when trying to justify buying more.
Length of Use: 3–6 months
Bottom Line: No, I would not recommend this to a friend
Pros and Cons
The smell of the IPA and forest soaps
Shave soap is nice
Boxing from recycled papers
It created a drain issue in the shower, noticeably slower
The black soap leaves a stain in the shower
The IPA crumbled into shards of soap, useless at the end
Posted on Aug 5, 2020
Update
I got the soap and it's amazing. Order and expect it to take a few weeks to get to you. Once it does, make sure you place your next order a few weeks before you are out. I highly recommend the pine tar. It comes off black but rinses clear and leaves you clean and smelling amazing.
Bottom Line: Yes, I would recommend this to a friend
Our Promise to You
In order to safeguard you and ensure helpfulness and relevance, our compliance team manually assess every customer review before it goes live.
We have a zero-tolerance policy for fake reviews, and companies cannot control or alter any reviews at any time.