Beverly Hills MD Crepe Correcting Body Complex Reviews
Claimed This company has claimed this profile, is getting alerted on any new customer reviews entering this page, and may engage in dialogue with its customers to address their matters.

Companies cannot pay money or provide goods in order to remove or alter customer reviews.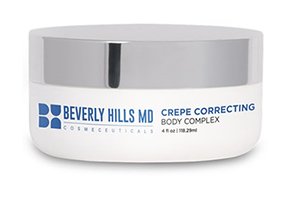 Beverly Hills MD Crepe Correcting Body Complex can help get rid of your "crepey skin," while improving elasticity and giving your a more youthful appearance.
About Beverly Hills MD Crepe Correcting Body Complex
Are some parts of your hands, chest, or underarms looking more like crepe paper than skin?
If so, Beverly Hills MD Crepe Correcting Body Complex is a rich, nourishing cream that can fix crepey skin, without surgery. You'll also be able to smooth the appearance of fine lines and wrinkles, hydrate your skin down to the cellular level, and improve elasticity.
In fact, 92% of Crepe Correcting Body Complex customers claimed their skin looked firmer, 96% claimed it looked smoother, and 100% reported that their skin appeared more youthful—after just one application.
The cream accomplishes this using a blend of advanced, highly effective ingredients that not only hydrate deeply, but that also stimulate collagen production, making Crepe Correcting safe and effective for any skin type.
Perhaps just as much as wrinkles, crepey skin can quickly reveal your age, even if the rest of your skin looks years younger. But can you expect Beverly Hills MD Crepe Correcting Body Complex to help, or are you paying too much for an underperforming cream?
Let's start by taking a look at the causes of aging.
What Causes Aging? Can You Prevent It?
Aging is a natural process, and everyone's bound to begin experiencing it at some point. But why?
While aging is a complex process, it basically involves two primary parts: genetic and environmental factors, which accumulate as we age and ultimately define how we look. In a very real way, "we are the sum of our life experiences."
Think about it this way: If you put twins side by side and exposed one to excessive sun (or some other impactful factor like smoking, air pollution, excessive stress, chronic lack of sleep, etc.) while the other was not, you can rest assured that one would look meaningfully older than the other after several years.
This is because these factors (and many other) damage the cellular matrix that gives skin a glowing, moisturized, and full look. Over time, as the damage accumulates, it can make us look old before our time, even among two people with the exact same genetic makeup (as with twins).
And this damage can manifest it in a variety of ways, including lines and wrinkles, dark age spots, and crepey skin.
Is there anything contained in Crepe Correcting Body Complex that can help prevent or reverse this process?
How Does Crepe Correcting Body Complex Work?
Crepe Correcting's label referenced the following ingredients:
Water, Cetearyl Alcohol, Caprylic/Capric Triglyceride, Lactococcus Ferment Lysate, Glycerin, Cyclopentasiloxane, Niacinamide, Hordeum Distichon (Barley) Extract, Butylene Glycol, Dimethicone, Glyceryl Stearate, PEG-100 Stearate, Lens Esculenta (Lentil) Fruit Extract, Pyrus Malus (Apple) Fruit Extract, Avena Sativa (Oat) Bran Extract, Aloe Barbadensis Leaf Juice, Vulgaris (Watermelon) Fruit Extract, Phellodendron Amurense Bark Extract, Santalum Album (Sandalwood) Extract, Sodium Hyaluronate, Ceteareth-20, Ribose, Phenoxyethanol, Chlorphenesin, Acrylates/C10-30 Alkyl Acrylate Crosspolymer, Caprylyl Glycol, Ethylhexylglycerin, Hexylene Glycol, Citrullus Allantoin, Cyamopsis Tetragonoloba (Guar) Gum, Xanthan Gum, Tetrasodium Glutamate Diacetate, Sodium Lactate, Glycolipids, Tocopherol, Carrageenan, Soybean Phytosterols, Sodium PCA, Sea Salt, Fragrance
Whew, that's definitely a lot of ingredients! But ultimately, they fall into one of three categories:
Skin conditioning agents – Including moisturizers, lubricants, and emollients. In general, these ingredients are intended to moisturize dry skin, as well as to help it retain moisture over several hours.
Fragrances – These ingredients help Crepe Correcting Body Complex smell better.
Preservatives – Just like in food, these ingredients help the cream last longer, while also preventing the buildup of microbes and bacteria.
This also means that there doesn't appear to be anything especially unique about Crepe Correcting Body Complex's ingredients that you wouldn't find in many other anti-aging creams at your local pharmacy. On top of this, there's not enough evidence showing these ingredients will do anything other than moisturize your skin (we'll come back around to this in the final section).
How much will these ingredients cost you?
How Much Does BHMD Crepe Correcting Body Complex Cost?
Crepe Correcting Body Complex is priced as follows:
1 Jar: $100
2 Jars: $175.98 ($87.99 per jar)
3 Jars: $239.97 ($79.99 per jar)
Like all Beverly Hills MD products (more about this next), Crepe Correcting Body Complex comes with a 60-day refund policy, less S&H charges.
In order to request a refund, you'll need to call customer service at 877-828-5528.
Now, let's talk about the company behind Crepe Correcting Body Complex.
Who is Beverly Hills MD?
Founded by Drs. John Layke & Dr. Payman Danielpour, who own and operate a private cosmetic surgery center in Southern California, Beverly Hills MD manufactures a line of anti-aging products including Lift + Firm Sculpting Cream.
Overall, these products seem to have a positive reputation here on HighYa, with common compliments citing positive results (immediate firming results, younger appearance with regular use) and pleasant consistency (non-greasy, goes on smooth).
On the other hand, some customers complained that the product didn't work, or that they experienced side effects (breakouts, welts, etc.). Several also weren't pleased with the high price.
From a company perspective, Beverly Hills MD had a 3.8-star rating here on HighYa (as of 11/2/15), based on feedback from 188 readers. Many of the compliments and complaints seemed to mirror those for the company's products.
Whenever a customer does complain though, BHMD's support staff seems to reply to them in an attempt to solve their problems or answer their questions.
Finally, Beverly Hills MD had an A+ rating with the Better Business Bureau at the time of our research, with no closed complaints.
Does this mean you should buy Crepe Correcting Body Complex?
Is Crepe Correcting Body Complex Right for You?
Remember how we talked about the causes of aging at the beginning? Well, the damage caused by those lifestyle and environmental factors can lead to dry skin (among other things), which can cause a lackluster, cracked appearance.
As a result, lines and wrinkles can appear more pronounced, making you look older.
To this end, Crepe Correcting Body Formula seems to contain a variety of emollients and moisturizers that can moisturize skin and hold this moisture throughout the day. So, if your skin is dry, the cream could reasonably help make it look healthier and more vibrant.
With this said, although Beverly Hills MD doesn't make specific claims about the results you can expect, it's important to keep your expectations realistic.
Could Crepe Correcting Body Formula help improve crepey skin all over your body? Sure, especially if your skin is dry. Will it immediately get rid of your crepey skin and make you look a lot younger? Probably not.
READ NEXT: Can Creams Really Help Crepey Skin?
This company is actively collecting reviews from its customers. All reviews submitted are subject to moderation and approval to ensure they meet our

Review Guidelines

.

Not as advertised

By Kathy L.

,

Illinois

,

Mar 13, 2020
Verified Reviewer

It's certainly difficult to erase crepey skin and it's no different with this version. I have gone through 2 jars, but the smoothing effect is very temporary and there are no permanent effects, as I was hoping. Maybe it's more effective for skin under 60!

Bottom Line: No, I would not recommend this to a friend

Mar 16, 2020

Hi Kathy. My name is Samantha and I am with Beverly Hills MD. I am sorry to read your review of our Crepe Correcting Body Complex. We have many satisfied customers that have seen their desired results, but we understand that we may not be the best choice for everyone. Beverly Hills MD always advises our customers to consult their physician prior to making any changes in their skincare regimen, as results may vary. If you have any questions or concerns, please do not hesitate to email me at sam@beverlyhillsmd.com. I would be happy to help you. I want to thank you for taking the time to leave your feedback. I wish you a wonderful day.

---

Hydration is good

By Theresa C.

,

Wisconsin

,

Nov 6, 2019
Verified Reviewer

Hello, I just received this as a gift and first time putting it on the hydration is amazing, you can feel it right away, feels amazing. But after it dried on my face if I swiped my face with my hand the product would start rubbing off in clumps, like dirt. Not sure what that's about and not a fan of it...but the hydration part of it is amazing, never had anything make my face feel more hydrated.

Bottom Line: No, I would not recommend this to a friend

Nov 14, 2019

Hello Theresa. I am Samantha with Beverly Hills MD. Thank you for taking the time to review our Crepe Correcting Body Complex. We have many satisfied customers who have seen great results, but we understand that we may not be the best choice for everyone. Please feel free to email me at sam@beverlyhillsmd.com for assistance returning your order for a full refund, if desired. I wish you a fantastic day.

---

Advertisement

---

Product review Beverly Hills MD Crepe Correcting cream

I didn't really hold much hope that it would do anything for my skin, but I was pleasantly surprised. My forearms and calves are dry, sun-damaged and I'm 64, so OLD tough skin, and no cream or scrubbing made any difference. The Beverly Hills MD cream made the skin on my arms and legs soft with the very first application and they are getting better every time I use the cream.

Bottom Line: Yes, I would recommend this to a friend

---

Great product!

I bought it for my wife and she is very happy with it. So I have always the right Christmas or birthday gift for her and I am pleased that their skin looks much smoother. Moreover, I would be happy if the price would move down a bit.

Bottom Line: Yes, I would recommend this to a friend

---

Advertisement

---

Great quality, with a variety of benefit factors

My cream just arrived 2 weeks ago, and I have been using the cream every day, mostly at night, but have started to use it after my morning shower. I do apply the cream to my shins, upper knee leg area, inner thighs, forearms, back of hands, inside upper arms, chest, neck and cheeks, and a bit on my upper eyelids where there is some creepiness on my hooded eyelids.

So, pretty much everywhere you could say, that's why my first jar of cream is almost finished. I have noticed that my skin is tighter, plumper, and less creepiness texture around certain areas. I purchased 9 jars on my order to take advantage of their remarkable savings to new clients. I'm looking forward to seeing more dramatic results over the next few weeks and long-term usage. I have enough jars to last me a year, LOL.

I do think it takes a bit of time for a major noticeable change. I'm only 51, and my skin is in pretty good condition, so this will be an earlier start for me and a proactive way to prevent any further lose skin and a tightening firming effect on many areas of my body. If you have enough product, then ladies, use it all over where your skin is loose and crepey. I'm glad I came across this product and website.

The only thing on my end is that I had to pay shipping and customs because I live in Canada, but it is worth it, especially at the special deal I got.

Thank you, Beverly Hills MD, for such an amazing product and offer.

Bottom Line: Yes, I would recommend this to a friend

---

Amazing results

By Nola Genao

,

New York City, NY

,

Nov 29, 2017
Verified Reviewer

I have been using the Crepe Correcting Body Complex for about a year with amazing results. It truly addresses the problem by actually changing the texture of crepey, dry, dull skin to incredibly soft, moisturized and smooth skin. I use it all over, from my feet to my neck and face!

As a 63-year-old post-menopausal woman, I feel happy because my skin looks and feels younger. I placed my first order with Beverly Hills because they sounded so caring when explaining what the Crepe Complex would do and I felt hopeful. After a year, I am more than satisfied and will continue to use it. I try to order as often as I can.

But more importantly, Beverly Hills has gained my trust as a company that is honest and sincere in its desire to produce the best quality products for its customers and patients. Thank you for being real.

Bottom Line: Yes, I would recommend this to a friend

---

30 days of use so far!

I have only used it for a month now. I have seen a bit of improvement, but they said to give it 60 days. Hopefully by then I will see a great improvement! I really hope it works and I did buy 6 jars of it.

Bottom Line: Yes, I would recommend this to a friend

---

Love the product

I have been using the Crepe cream for quite some time. I ran out of it and thought, I'd see wait and see if I could see a difference without it. It wasn't long, and I was reordering it in 3's so as not to run out. Thus, I love this product!

Bottom Line: Yes, I would recommend this to a friend

---

I can tell the difference

I've been using Crepe Corrector for maybe 6 months regularly. Just last week I lifted up my arms while looking in the mirror, and realized there were 2 areas near my armpit I had been missing, they were still crepey! Whoops, gotta fix that! The rest of my arms look great and the back of my hands is getting better, too.

Bottom Line: Yes, I would recommend this to a friend

---

Crepe Correcting Body Complex

I have been using these products and they are amazing. My skin is soft to the touch, and when I tell people my age, they don't believe me. When we discuss age, they don't believe me. I am 62 and beautiful.

The Crepe Correcting Body cream works wonders and my skin has never felt so good.

I highly recommend these products to anyone that asks me what I use.

A very satisfied customer.

Bottom Line: Yes, I would recommend this to a friend

---

Highly recommended, results are visible!

I began seeing results after using Crepe Correcting Cream in two days! I have always been slim, but years of sun damage on the California beaches, have resulted in thin and loose skin, and collagen loss.

I began using the crepe cream three weeks ago, and my skin has a new glow, doesn't bruise as easily, and the appearance of loose skin is improving. I apply the cream daily in the morning and reapply at night when going out.

The only drawback is a jar lasts me less than three weeks. I highly recommend this product, if it will work for everyone!

Bottom Line: Yes, I would recommend this to a friend

---