Beverly Hills MD Dermal Repair Complex
This company has claimed this profile, is getting alerted on any new customer reviews entering this page, and may engage in dialogue with its customers to address their matters.

Companies cannot pay money or provide goods in order to remove or alter customer reviews.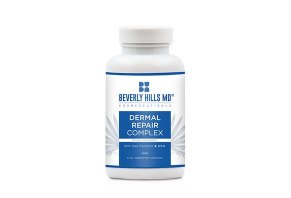 Summary
Beverly Hills MD's Dermal Repair Complex is a nutritional supplement that allegedly helps you look younger from the inside out through a blend of all-natural ingredients. Scientific research backs the claims made by the brand.
Beverly Hills MD Dermal Repair Complex Review: Is It Safe and Effective?
HighYa is supported by our readers. When you buy something through a link on this page, we may earn an affiliate commission. Learn more.
What Is Dermal Repair Complex?
Beverly Hills MD Dermal Repair Complex is an anti-aging dietary supplement that is advertised to help address the root cause of visible aging in women over 40: hormonal changes, which can cause collagen and elastin to break down.
Over the span of normal aging, women begin producing less and less estrogen. Estrogen plays a role in maintaining skin moisture and structure. Thus low levels can be associated with signs of aging.
To combat this, Beverly Hills MD claims that their complex contains a precise and potent combination of all-natural ingredients that help balance hormones, energize skin cells, and strengthen your skin's structure.
The company states that you need to take two capsules of the supplement daily, with a meal, and you'll experience refreshed and revitalized skin from the inside out.
The benefits include increased firmness and smoothness, reduced sagging and drooping, improved elasticity, and diminished wrinkles.
Will Dermal Repair Complex help you look younger? Are there any side effects you might experience? We'll cover all of this and more in this article.
How Effective Are Dermal Repair Complex's Ingredients?
According to the supplement facts label posted on its website, every 2-capsule serving of Dermal Repair Complex contains the following ingredients:
Vitamin A 1,000IU
Vitamin B1 10mg
Vitamin B2 (Riboflavin) 10mg
Vitamin B3 (Niacinamide) 50mg
Vitamin B6 10mg
Folic Acid (Vitamin B9) 800mcg
Biotin (Vitamin B7) 2,500mcg
Vitamin B5 (Pantothenic Acid) 20mg
Dermal Repair Blend 620mg: Hydrolyzed Collagen, Saw Palmetto Powder, Methylsulfonylmethane (MSM), Wild Yam Extract, Hyaluronic Acid, Silica
In this section, we'll touch on the alleged "6 advanced ingredients" to help you determine if the scientific support is in-line with the claims made by Beverly Hills MD.
Saw Palmetto
This plant is found in the southern United States and often in supplements that claim to support prostate and male sexual health. Saw palmetto extract may also combat the unwanted effects of aging.
The link to skin health may be related to the hormone dihydrotestosterone (DHT). Elevated DHT levels are elevated to many unwanted effects such as acne, male pattern baldness, and the skin discoloration commonly associated with pregnancy.
Some research has suggested that Saw Palmetto may limit hair loss by inhibiting the activity of 5-alpha reductase (5α-R), an enzyme that converts testosterone to DHT.
While it seems logical that reducing DHT levels can help avoid some of the unwanted skin effects related to this hormone, the support for Saw Palmetto use in this setting is lacking.
MSM
This sulfur-containing compound is included in various dietary supplements as it may reduce inflammation, as well as strengthen the collagen found in tendons, ligaments, and muscles.
While much of the available research has investigated the alleged benefits for joint health, some studies examined the potential anti-aging effects of MSM.
In patients with rosacea, a condition causing skin redness, those treated with silymarin and MSM experienced improvements regarding skin redness, itching, and hydration over 1 month.
More work is needed to be able to draw strong conclusions regarding MSM's role in skin health.
Hydrolyzed Collagen
Collagen is a major component of bones, tendons, cartilage, and skin. When hydrolyzed, it is reduced to smaller particles.
Thought to benefit joint and skin health, hydrolyzed collagen may reduce wrinkles.
According to this study, a low molecular weight collagen (1000mg) beverage was investigated. In 64 female subjects, those that used the beverage for 12-weeks improved skin hydration and elasticity, as well as decreased wrinkles.
Hydrolyzed collagen's potential benefit regarding skin health was also recently put to the test in a randomized trial. In women aged 35 or older, those that consumed 2.5g of collagen experienced better skin hydration, elasticity, roughness, and density when compared to placebo.
While the available research demonstrates promise, doses much larger than those included in Dermal Repair Complex were studied.
Hyaluronic Acid (HA)
Hyaluronic acid is a naturally occurring compound that helps retain water molecule levels in your skin cells, and it may also play a role in cell development and wound healing.
Given its mechanism of action, HA has been studied to determine its potential to benefit vaginal, joint, and skin health.
In women aged 45-60, those that consumed a 0.45% HA solution over 40-days experienced better skin elasticity and skin hydration, and also decreased skin roughness and wrinkle depth.
Similarly, 120mg daily of HA improved skin wrinkles, luster, and suppleness over the course of 12-weeks.
While there is support for the use of HA in combatting the unwanted effects of skin aging, more work is needed to identify the sustainability of results in the long-term.
B Vitamins
B Vitamins are found in meat, seeds, and nuts. They're a common addition to a variety of dietary supplements due to their role in brain health, nerve function, energy, weight loss, and more.
Topical B3 reduced wrinkles, red blotchiness, and skin yellowing, as well as improved elasticity in women that applied it daily over 12-weeks.
Oral preparations have been tested in human subjects as well.
A mixture of fermented papaya and antioxidants contained 17mcg of B6, 2mcg of folic acid, and 240mcg of B3.Those that consumed this mix daily for 90-days experienced improvements in skin elasticity and moisture.
In another study, women that consumed a supplement blend containing 150mcg of biotin and other vitamins, minerals, and extracts improved skin elasticity over 12-weeks.
Though these studies included other ingredients that may benefit skin health, the B vitamin doses were effective even at doses much lower than those included in Dermal Repair Complex.
Vitamin A
Vitamin A is present in whole milk and liver, as well as in a variety of fruits that contain a reddish-orange pigment. Vitamin A is often included in dietary supplements as it is essential in bone growth, eye health, cell functions, and antioxidant support.
Regarding its role in skin health, Vitamin A and its derivatives (carotenoids) have been tested.
Topical vitamin A derivatives were effective in preventing against the collagen breakdown associated with UV exposure.
The ability of oral carotenoids to offer protection from harmful UV rays is dependent on both the dose and duration of treatment. According to this review, treatment regimens lasting 7-weeks or longer and dosing >12mg daily were found to be the most effective.
Dermal Repair complex offers .3-.6mg, well below the doses that were proven to be successful for sun protection.
Will Dermal Repair Complex Cause Any Side Effects?
The ingredients included in Dermal Repair Complex's blend are easily obtained from a balanced diet and are also found in commonly used supplements like multivitamins. Thus, they are generally safe when used as directed.
Saw Palmetto is well tolerated at the doses as offered in Dermal Repair Complex, though side effects like stomach pain, nausea, headache, fatigue, and dizziness have been reported.
B vitamins are water-soluble and easily removed in the urine when consumed in excess. Toxicity is, therefore, less common, though nausea, vomiting, and skin redness can occur.
Collagen and hyaluronic acid are similarly safe when used as directed. Serious adverse events were not reported in the studies described above.
Though these ingredients are unlikely to cause you serious harm, it is still best to speak with your doctor before use.
There is no evidence that Dermal Repair Complex's blend can alter your hormone levels into a dangerous range. However, you should still proceed with caution when interested in using a supplement that claims to act on enzymes involved in regulating hormones.
Pricing
Beverly Hills MD offers Dermal Repair Complex directly from their website. The current pricing options are reflected below:
1 Bottle: $39.95 (1-month supply)
3 Bottles: $102
6 Bottles: $186
Even more savings are possible for first-time customers. Enter your name and email address to save up 60% off their regularly priced products.
Regardless of the number of bottles purchased, your order will come with free shipping, as well as a 90-day satisfaction guarantee (less S&H charges). To request a refund, you'll need to call customer service at 877-828-5528.
Beverly Hills Dermal Repair Complex is also available at Amazon.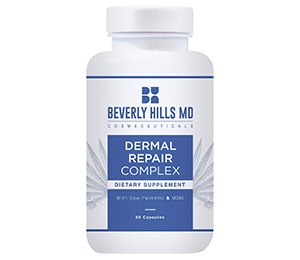 Buy Beverly Hills Dermal Repair Complex from Amazon:
Dermal Repair Complex costs $59.99 for 60 capsules, with free shipping. Beverly Hills MD suggests you take two capsules each day.
The Bottom Line
Dermal Repair Complex offers a number of ingredients that have been included in both topical and oral preparation for supplements with alleged anti-aging capabilities.
With the exception of Saw Palmetto, scientific support for most ingredients is available, though the dosing included in Dermal Repair Complex may differ from those tested in clinical research.
For example, vitamin A and collagen were proven successful at much larger doses. On the other hand, B vitamins were effective even when tested at smaller doses than those included in Dermal Repair Complex.
Nearly 800 reviewers at HighYa rated Dermal Repair Complex 4.6-stars. Happy customers commonly reported effective anti-aging results, ease of use, and gentle ingredients.
On the other hand, some customers complained of a lack of results, high prices, and difficulty obtaining refunds. When customers complained, though, Beverly Hills MD's support staff seemed to respond quickly in an effort to find a resolution.
But if you decide to take the plunge and give Dermal Repair Complex a try, Beverly Hills MD seems to stand behind their supplement with a 90-day refund policy, so you might not have much more to lose than return S&H. On top of this, most of the company's customers seem pleased with their experiences.
Decent scientific support, positive reviews, discounted pricing, and a favorable return policy may mean that Dermal Repair Complex is a reasonable option for combatting the unwanted effects of aging.
Nonetheless, we'd strongly recommend making an appointment with your dermatologist before placing your order. The symptoms that you're experiencing may be related to more than just the effects of aging. Determine the underlying cause before treating them.
Customer Reviews
This company is actively collecting reviews from its customers. All reviews submitted are subject to moderation and approval to ensure they meet our
Review Guidelines
.
Our Promise to You
In order to safeguard you and ensure helpfulness and relevance, our compliance team manually assess every customer review before it goes live.
We have a zero-tolerance policy for fake reviews, and companies cannot control or alter any reviews at any time.