Beverly Hills MD Dermal Repair Complex
Claimed This company has claimed this profile, is getting alerted on any new customer reviews entering this page, and may engage in dialogue with its customers to address their matters.

Companies cannot pay money or provide goods in order to remove or alter customer reviews.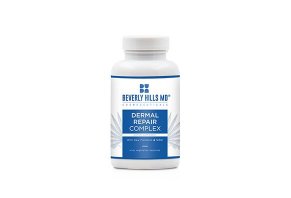 Beverly Hills MD Dermal Repair Complex is a nutritional supplement featuring advanced all-natural ingredients that help you look younger from the inside out.
Beverly Hills MD Dermal Repair Complex Review
HighYa is supported by our readers. When you buy something through a link on this page, we may earn an affiliate commission. Learn more.
Beverly Hills MD Dermal Repair Complex is an anti-aging dietary supplement that's specifically formulated to address the root cause of visible aging in women over 40: hormonal changes, which can cause collagen and elastin to break down.
To combat this, the website advertises that this complex contains a precise and potent combination of all-natural ingredients that help balance hormones, energize skin cells, and strengthen your skin's structure.
They indicate that all you have to do is take two capsules of the supplement daily, with a meal, and you'll experience refreshed and revitalized skin from the inside out.
This includes increased firmness and smoothness, reduced sagging and drooping, improved elasticity, and diminished wrinkles.
And not only will your skin appear brighter with a "youthful glow," but Dermal Repair Complex even promises to improve the strength and quality of your hair and nails as well.
Despite all these benefits, Beverly Hills MD claims that the supplement is completely safe for use.
But is all this really the case? Will Dermal Repair Complex actually help you look younger? Are there any side effects you might experience? We'll cover all of this and more here.
To begin, let's discuss collagen and elastin.
How Do Collagen and Elastin Affect Visible Aging?
At their most basic, collagen and elastin are proteins found in the skin that give us a youthful look. But how?
Collagen is the most abundant protein in our body and is primarily found in our connective tissues, like cartilage, fat, and tendons, and also in ligaments, bone, and skin. As you might imagine based on where it's concentrated, the main benefit that collagen provides is structural strength.
Elastin, although it's concentrated in many of the same areas as collagen (such as connective tissues and skin), doesn't provide strength. Instead, as the name implies, elastin is elastic and allows tissue to "snap back" after any kind of force is applied.
When we're young, we have plenty of collagen and elastin, so our skin appears strong, firm, and wrinkle-free. As we age though, our body produces less of these key structural proteins, so our skin begins sagging and forming increasingly noticeable lines and wrinkles.
According to the American Academy of Dermatology, this process can also be sped up through lifestyle factors such as excessive sun exposure, smoking and drinking too much alcohol, not getting enough sleep, excessive stress, poor diet and exercise habits, repetitive facial expressions, and improper cleaning techniques.
But according to Beverly Hills MD, hormonal changes in women over 40 can also lead to collagen and elastin breakdown. What does science say about this?
The Link Between Hormonal Changes and Aging
Everyday Health tells us that hormones are basically just chemical messengers responsible for signaling different parts of your body to do different things (e.g., breathing, maintaining your heartbeat, organ function, etc.). And in women, the most common hormone is estrogen.
How does this relate to the skin? According to Dr. Claudia Aguirre, writing for the International Dermal Institute:
"In the skin, estrogens affect skin thickness, wrinkle formation, and skin moisture. Estrogens can increase glycosaminoglycans (GAGs), such as Hyaluronic Acid, to maintain fluid balance and structural integrity. They can also increase collagen production in the skin, where they maintain epidermal thickness and allow skin to remain plump, hydrated and wrinkle-free.
"… The skin is not the only external feature that benefits from estrogens. Besides resulting in plump, healthy skin, estrogens can also make hair grow long and healthy."
In a nutshell, once women reach the age of 40, their body begins producing less and less estrogen, leading to increased signs of aging.
How Effective Are Dermal Repair Complex's Ingredients?
According to the supplement facts label posted on its website, Dermal Repair Complex contains the following ingredients:
Vitamin A 1,000IU
Vitamin B1 10mg
Vitamin B2 (Riboflavin) 10mg
Vitamin B3 (Niacinamide) 50mg
Vitamin B6 10mg
Folic Acid (Vitamin B9) 800mcg
Biotin (Vitamin B7) 2,500mcg
Vitamin B5 (Pantothenic Acid) 20mg
Dermal Repair Blend 620mg: Hydrolyzed Collagen, Saw Palmetto Powder, Methylsulfonylmethane (MSM), Wild Yam Extract, Hyaluronic Acid, Silica
Many of these vitamins are essential for maintaining healthy skin. But according to organizations like the National Institutes of Health, unless you're deficient in any of them, taking more won't necessarily improve your skin's quality, or otherwise reduce the signs of aging.
As we discussed in the previous section though, decreased estrogen production after the age of 40 can very well lead to vitamin deficiency, and therefore decreased collagen and elastin in your body.
What's all this mean? Although Dermal Repair Complex's ingredients might not necessarily be considered "advanced" (they're widely found in other multi-vitamins, nutritional supplements, and anti-aging products), as claimed by the manufacturer, they might provide some benefit if you're deficient in the essential vitamins above.
How to know if you're deficient? You might be displaying one of these five signs. But the reality is that you might not display any symptoms at all, so you'll definitely want to speak with your doctor before ordering.
Will Dermal Repair Complex Cause Any Side Effects?
Dermal Repair Complex's vitamins should be well tolerated by most users.
And if you experience any side effects at all, it probably won't be much worse than mild, temporary digestive upset.
Pricing
Beverly Hills MD offers Dermal Repair Complex in the following quantities:
1 Bottle: $58
2 Bottles: $108 ($54 per bottle)
3 Bottles: $150 ($50 per bottle)
Regardless of the number of bottles purchased, your order will come with free shipping, as well as a 90-day satisfaction guarantee (less S&H charges). In order to request a refund, you'll need to call customer service at 877-828-5528.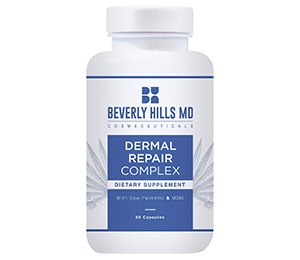 Buy Beverly Hills Dermal Repair Complex from Amazon:
Dermal Repair Complex costs $59.99 for 60 capsules, with free shipping. Beverly Hills MD suggests you take two capsules each day.
Company Reputation
Beverly Hills MD is an anti-aging product manufacturer that has created many popular products like Lift + Firm Sculpting Cream and Crepe Correcting Body Complex.
Among hundreds of HighYa reader reviews, Beverly Hills MD and its products had an average rating of well over four stars, with common compliments citing effective anti-aging results, ease of use, and gentle ingredients.
On the other hand, some customers complained of failure to work, high prices, and difficulty obtaining refunds. When customers complained though, Beverly Hills MD's support staff seemed to respond quickly in an effort to find a resolution.
Beverly Hills MD also had an A+ rating with the Better Business Bureau, with eight customer reviews (50 percent of which were negative) and more than 30 closed complaints, as of 10/16/17.
The Bottom Line
Could the Dermal Repair Complex help improve the quality of your skin and decrease signs of aging?
Since it contains many of the vitamins and nutrients that are essential for healthy skin, it certainly seems possible—but only if you're deficient. Otherwise, you might not achieve all of the supplement's advertised benefits.
For this reason, we'd strongly recommend making an appointment with your dermatologist prior to placing your order.
But if you decide to take the plunge and give Dermal Repair Complex a try, Beverly Hills MD seems to stand behind their supplement with a 90-day refund policy, so you might not have much more to lose than return S&H. On top of this, most of the company's customers seem pleased with their experiences.
» Recommended Reading: Best Foods for Healthy, Clear, Glowing Skin Recommended by Experts
This company is actively collecting reviews from its customers. All reviews submitted are subject to moderation and approval to ensure they meet our

Review Guidelines

.

Weight gain

By Mary J.

,

Seattle, WA

,

Apr 2, 2020
Verified Reviewer

I am 70 years old. A couple of years ago, I lost 25 lbs after an adrenal deficiency was corrected. Wanting younger-looking skin, I started taking Dermal Repair Complex. After taking 2 pills a day for a little over a month, I can honestly say that my skin looks the same, but my weight has been creeping back up. For 2 years my weight has been between 114-117, and this morning I was over 120! So - if you want to gain some weight, give it a try!

Bottom Line: No, I would not recommend this to a friend

Apr 3, 2020

Hello Mary. My name is Samantha and I am with Beverly Hills MD. I am sorry to read your review of our Dermal Repair Complex. We have many satisfied customers who have seen their desired results, but we understand that results may vary. Beverly Hills MD always advises our customers to consult their physician prior to introducing any new supplements into your daily regimen, as they will be able to make the best recommendations. We stand by our 90-day money-back guarantee for Dermal Repair Complex and are happy to honor that, if you wish to return your product for a refund. Please email me at sam@beverlyhillsmd.com so that I may assist you with the process. Thank you for taking the time to share your story with us. We genuinely appreciate your feedback. Please have a fantastic day.

---

Dermal Repair Complex

By Susan D.

,

Illinois

,

Mar 20, 2020
Verified Reviewer

The only change I've made to my lifestyle in the past 8 days is adding Dermal Repair Complex capsules - and I've gained six pounds in one week! I'm in my 60's so the cause is not hormone-related. I have always been thin so to others the six pounds probably makes me look like everyone else. BUT to me - it's very upsetting as my clothes are now tight and uncomfortable. I'm so disappointed as I had high hopes these capsules would help with my dry skin.

Bottom Line: No, I would not recommend this to a friend

Mar 23, 2020

Hello Susan. I am Samantha with Beverly Hills MD. I am sorry to read your review of our Dermal Repair Complex. We have many satisfied customers who have seen great results, but we understand that we may not be the best choice for everyone. Beverly Hills MD always advises our customers to consult their physician prior to making any changes to your daily supplement routine, as results may vary. Beverly Hills MD stands by our ninety-day money-back guarantee for Dermal Repair Complex. If you have any questions or concerns, please feel free to email me at sam@beverlyhillsmd.com. I would be happy to help you. I wish you a fantastic day.

---

Advertisement

---

Waiting

By Penny B.

,

Ohio

,

Mar 14, 2020
Verified Reviewer

I just started 2 weeks ago and I'm not noticing, even though I catch myself in the mirror and feel a little prettier. So hopefully I does work but the only worry is my urine is bright yellow. Hopefully someone can tell me that's OK.

Bottom Line: Yes, I would recommend this to a friend

Mar 16, 2020

Hello Penny. I am Samantha with Beverly Hills MD. I want to thank you for taking the time to leave a review for our Dermal Repair Complex. Beverly Hills MD always advises our customers to consult their physician prior to making any changes to your daily supplement regimen, as results may vary. Please feel free to email me at sam@beverlyhillsmd.com with any questions or concerns. I would be happy to help. I wish you a fantastic day.

---

Surprisingly very good

By Cheleana R.

,

Michigan

,

Mar 6, 2020
Verified Reviewer

To be honest, I didn't expect good results, if any. But I've got to say my skin has never felt more nourished than it does now. It's NEVER been this soft. And if it was, it was when I was a child. I will say that I am only 25 years old, and trying to stay ahead. However, I wasn't blessed with great skin, and it's been aging rather quickly. So, most people have been guessing I'm in my thirties. I honestly think this product has completely changed the look and feel of my skin inside out. And I do feel like I look more youthful. I plan to continue using it, as I've been slightly inconsistent with it, and have still seen great results. Wish I would have found it sooner honestly.

Bottom Line: Yes, I would recommend this to a friend

---

Advertisement

---

WOW

By Missy F.

,

Quincy, MA

,

Mar 6, 2020
Verified Reviewer

I have been taking this pill for only one week and two co-workers asked me what I was doing. I'm glowing. I'm amazed I look younger for my age as it is and figured taking it another level of youngness couldn't hurt. I call this wow.

Bottom Line: Yes, I would recommend this to a friend

---

Good

By Kelly D.

,

California

,

Mar 3, 2020
Verified Reviewer

Pretty good but has folic acid which some shouldn't have because not everyone can convert folic acid, it is synthetic, and people with certain genes can't convert it and it's bad for them. Also, the amount of collagen is negligible. It should be easier to find the list of actual ingredients. I recommend Ester C so your body can create its own collagen.

Bottom Line: Yes, I would recommend this to a friend

---

Beautiful, bright, gorgeous, and younger looking skin and age...

By Elizabeth B.

,

Brooklyn, NY

,

Feb 28, 2020
Verified Reviewer

So I bought the Dermal Repair about 3 weeks to a month ago. And I started using the pills immediately. Two weeks ago my co-worker asked me what I am using? For my skin looks so beautiful. I brushed it off and told her about drinking lemon water every day for the past 2 years and my proactive products and left it at that. But a week later, she accosted me again and asked if I am telling her the truth, because it can't be just what I told her, for in the last 3 weeks my skin looks brighter, beautiful, and I look younger than my 50 years of age, especially my face. It was then I remembered the Dermal pills and took it out of my handbag and showed it to her. She asked me to purchase a bottle for her and even took some of mine until hers came. Lol. Anyway, I had no idea it was working until my co-worker pointed out the beautiful difference in my skin and face. I give this product 20 stars and will be a lifelong user. I even bought myself another bottle.

Bottom Line: Yes, I would recommend this to a friend

---

I AM 50 YEARS OLD

By Susana C.

,

California

,

Feb 28, 2020
Verified Reviewer

Just 2 weeks ago I started taking the capsules and I can already feel the difference in my skin, not only on my face but in my whole body. And the best part is that my family and friends they start to notice the changes also, that surprised me a lot, I thought that only I felt the difference, but I never imagined that it was noticeable. I am so happy to have bought this product and would recommend it to everyone.

Bottom Line: Yes, I would recommend this to a friend

---

Soft skin

By Steven K.

,

Missouri

,

Feb 13, 2020
Verified Reviewer

My skin feels so soft now and only after one month. I'm 66 and the skin on my arms was looking like my father's; paper-thin and alligator-like with many dark spots. Now my arms and the top of my hands have less wrinkles. I look younger! Thank you.

Bottom Line: Yes, I would recommend this to a friend

---

Looking younger

By Karen A.

,

Belle Plaine, KS

,

Feb 13, 2020
Verified Reviewer

I started taking the Dermal Repair Complex about 5 weeks ago, I see improvements in my wrinkles and firmness of my skin. I also use the Crepe Correcting Body Complex, on my face and neck, which really works very well with the Repair Complex. I now have really smooth skin.

Bottom Line: Yes, I would recommend this to a friend

---

Serious difference

By Mark E.

,

Nashville, TN

,

Feb 13, 2020
Verified Reviewer

Obviously, trying something new can raise all kinds of questions but having been on the Dermal Repair Complex now for over a month I can honestly see a difference in the plumpness and overall smoothness of my skin. I have had to actually stop a couple of times to see if it's my imagination or realness, LOL. I'm telling you, it's real. Thank you Beverly Hills MD.

Bottom Line: Yes, I would recommend this to a friend

---