Hum Nutrition Reviews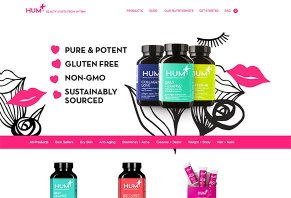 In business since 2012, Hum Nutrition Inc. is a dietary supplements manufacturer that offers 30+ formulas focused on helping you transform your skin, along with your appearance.
About Hum Nutrition
Hum Nutrition advertises their line of nutritional supplements is formulated with a blend of pure, potent, premium quality ingredients that are sustainably sourced, clinically proven, and recommended by leading nutritionists. Their process works over three steps:
Complete the company's three-minute online questionnaire (or, what they call a 'holistic wellness profile').
Receive a free report that's reviewed by your personal registered dietitian.
Customize which non-GMO, gluten-free vitamins you want.
While beauty might start from within, as advertised on the Hum Nutrition website, can you realistically expect their dietary supplements to deliver? For the money, are there other options you should explore? We'll dive into all the relevant details in this article, starting with completing their quick quiz.
How Does the Hum Website Work?
After entering your email address, the Hum website will present a series of 13 questions regarding food style (e.g., whether you eat all foods, are a meat lover, prefer low or no fat, gluten-free, etc.), portions sizes, veggie and fruit consumption, protein intake, and snacking and drinking habits.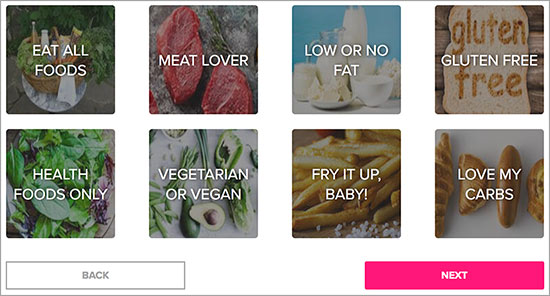 Part one of Hum's 13-question online quiz. Credit: HUM Nutrition Inc.
Then, you'll indicate how you generally feel throughout the day (e.g., relaxed, happy, sad, energetic, and so forth), lifestyle factors that are typically part of your day (sun and pollution exposure, job demands, exercise, smoking, etc.), and how you prefer to unwind.
Following this is indicating what you'd like to improve about your general health, along with any skin concerns or other beauty concerns you have. You'll then enter your demographic details (gender, age, waist size in inches, and zip code), and you'll have the opportunity to share any questions or concerns with your nutritionist.
After confirming your new account by entering your first and last names and choosing a password, you'll be assigned to one of Hum's nine professionally trained staff nutritionists. You'll also receive a list of at least three recommended products based on your answers.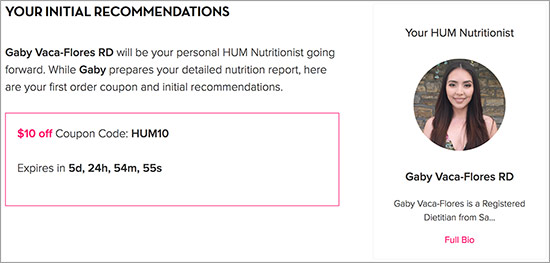 The Hum Registered Dietitian Nutritionist recommended to us, based on our answers to their 13-question online quiz. Credit: HUM Nutrition Inc.
Popular Hum Nutrition Supplements & Their Ingredients
The Hum Nutrition supplement lineup currently contains more than 30 individual products.
Based on the number of customer reviews displayed on their website, as well as those on sites like Sephora, Amazon, Nordstrom, Dermstore, and Anthropologie, here were several of their most popular—including a brief breakdown of their ingredients:
Daily Cleanse
A blend of different herbs and minerals that promise to detox your body and cleanse your skin, liver, bowel, kidneys, and lungs. Take two capsules per day at any time, with no food, and you'll introduce the following ingredients into your body:
Zinc 15 mg
Selenium 200 mcg
Copper 0.5 mg
Manganese 1.6 mg
Skin Cleanse and Detox Blend 1,263 mg: Organic Chlorella algae 333 mg, Spirulina algae 200 mg, MSM 170 mg, Dandelion Leaf Extract 110 mg, Beet Root Powder 100 mg, Oregon Grape Root 100 mg, Milk Thistle Extract 100 mg, Matcha Green Tea 50 mg, Red Clover Extract 50 mg, Alpha Lipoic Acid 50 mg
According to the clinical evidence summarizations provided by sites like the Natural Medicines Database, WebMD, and Examine.com, there's insufficient support for any of Hum's claims related to the ingredients found in their Daily Cleanse supplement.
Flatter Me
By regularly taking one capsule twice daily with food, Hum advertises this supplement can help support a flatter stomach and healthier, improved digestion.:
For breaking down protein: Protease 3.0, Protease 4.5, Protease 6.0, Peptidase, Bromelain, Neutral bacterial protease, Papain
For breaking down fats: Lipase
For breaking down carbs: Amylase, Glucoamylase, Alpha-galactosidase, Invertase, Diastase
For breaking down fiber: Hemicellulase, Cellulase AN, Beta-glucanase, Phytase
For breaking down milk sugar: Lactase
Ginger 45 mg
Each of these is a different type of enzyme, a "substance produced by a living organism that acts as a catalyst to bring about a specific biochemical reaction." In this regard, as we can see, protease is responsible for helping our body digest protein, lipase for fats, amylase for carbs, and phytase for fiber (among others).
However, while Harvard Health Letter reports that doctors might recommend supplementation for those who can't make enough digestive enzymes, or for those who need help digesting lactose (such as Lactaid) or alpha-galactosidase (such as Beano), they indicate there's little evidence that they're helpful for other conditions.
Moody Bird
Hum Nutrition indicates that taking one capsule two to three times daily with food will act as "your monthly ally versus PMS," utilizing the following ingredients:
Chaste Berry Tree 300 mg
Dong Quai 150 mg
WebMD and the Natural Medicines Database list dong quai as possibly useful for reducing menopausal symptoms (no dosage listed), when combined with other ingredients like chamomile, American ginseng, black cohosh, milk thistle, red clover, and vitex agnus-castus. However, they indicate there's some evidence that taking dong quai alone does not deliver similar benefits.
This same level of evidence isn't reported for chaste berry.
Red Carpet
According to the Hum website, their Red Carpet vegetarian supplement is a number one best seller in Sephora, since its plant-based omegas will hydrate hair and skin cells.
Just take two softgels at any time with food, and the following ingredients will get to work:
Vitamin E 20 IU
Black Currant Oil 1,000 mg
Gamma Linolenic Acid (GLA) 150 mg
Alpha Linolenic Acid (ALA) 120 mg
Again, referencing the cumulative clinical evidence summarized by the Natural Medicines Database, Examine.com, and WebMD, they indicate it's insufficient to support Hum's moisturizing claims for Red Carpet.
Could the Ingredients in Hum Nutrition's Supplements Cause Side Effects?
In general, these same sites report that most individuals who consume these ingredients won't experience anything worse than mild, temporary digestive upset if anything at all.
However, they indicate some people (no dosages or other specifics provided) taking milk thistle could experience additional side effects like loss of appetite and possible headache, while red clover may lead to rash-like reactions, muscle ache, "and vaginal bleeding (spotting) in some women."
Dong quai has been shown to increase skin's sensitivity to sunlight while taking it for long periods of time is listed as possibly unsafe, since some of the chemicals it contains may cause cancer.
Finally, these sites indicate that chaste berry (whether in Hum Nutrition or another supplement) could cause side effects like acne, menstrual bleeding, weight gain, and dizziness, and can interact with some antipsychotic medications, as well as those used to treat Parkinson's disease.
Furthermore, it shouldn't be taken by women who are pregnant or breastfeeding, have breast cancer, or are taking birth control pills or other forms of hormone replacement.
Because of possible side effects and drug interactions present with any dietary supplement, it's ultra-important to speak with your doctor before handing over your hard-earned money.
Related: Can Dietary Supplements & Vitamins Cause Dangerous Side Effects?
How Much Do Hum Nutrition Supplements Cost & Where Can You Buy?
If purchased directly from their website, each of Hum Nutrition's supplements is priced between $10 and $40 for between 30 and 60-day supplies. All orders over $50 come with free shipping ($5.95 flat rate otherwise), and new users will receive a $10 off coupon code after completing their three-minute online questionnaire.
When purchasing three or more supplements at the same time, you'll also receive 25% off the list price. Hum offers a handful of autoship programs that ship anywhere between once per month and every 12 months, which could offer additional bulk rate savings.
Important note: Their website indicates that you can only cancel once the period is over, so if you sign up for a 12-month membership, you're committed for an entire year (as but one example).
All unopened items come with a 30-day refund policy, which begins the date your shipment is received. If opened, your only option is store credit.
To request a refund or store credit, you can reach customer support at (888) 647-8880 or healthy@humnutrition.com.
We also found many of Hum Nutrition's supplements sold on sites like Sephora, Amazon, Nordstrom, Dermstore, and Anthropologie, to name just a few.
What Can We Learn From Hum Nutrition Customer Reviews?
We encountered hundreds of combined customer reviews for their various supplements on Hum's website, who had given them an average rating somewhere nearing five stars. Common compliments referenced effectiveness and competitive pricing, while we scrolled through dozens of pages and didn't encounter any complaints.
We also came across hundreds of additional combined customer reviews on third-party retailers' sites, along with many of the same compliments. On the other hand, the relatively few complaints seemed to frequently cite no results, minor side effects like headache and upset stomach, and high prices.
How to Choose Between Hum Nutrition & Other Beauty Supplements
We could certainly compare Hum Nutrition's health and beauty supplements side-by-side against competing options from other popular brands, including their price, formulation, and overall clinical evidence summarizations for each of their ingredients.
But, because the HighYa team has cumulatively spent many years writing about hundreds of different dietary supplement formulations, we'll cut right to the chase: Unless you're deficient in any of the ingredients they contain, many prominent public health organizations indicate that taking dietary supplements is unnecessary.
Considering the fact that there could be legitimate reasons why supplements might be beneficial, though, it's always worth speaking with your doctor if you're thinking about taking something new. They can ask you the right questions and order the appropriate tests to deliver a scientifically sound diagnosis, and then recommend similar treatments that might deliver the most bang-for-your-buck.
If they indicate that pursuing a supplement will provide meaningful value for the money, our years of experience suggests you'll want to focus on companies who:
Support their claims with double-blind, placebo-controlled, peer-reviewed clinical evidence published in reputable scientific journals
Provide at least 30-day refund policies on their products, regardless of whether or not the bottles have been opened, with reasonable S&H charges and no restocking fees
Comes with mostly positive online feedback, which could be a good indication of what you'll experience after becoming a customer
When looking at everything we've learned about Hum Nutrition through this lens, do they stand up to closer scrutiny?
Should You Place an Order for a Hum Nutrition Dietary Supplement?
Hum Nutrition seems to come with mostly positive online customer feedback for the majority of their supplements, to price their products competitively, and offer them through a handful of ultra-popular third-party online retailers.
We also think it's important to balance these details with the caveat that organizations like the National Institutes of Health and the American Academy of Physicians indicate that unless you're deficient, the ingredients found in OTC dietary supplements haven't been clinically shown to deliver a lot of value for the money, in general.
And even among the group of popular Hum Nutrition supplements we focused on above, we can see that sites like the Natural Medicines Database, Examine.com, and WebMD indicate that the majority of their ingredients don't have sufficient clinical evidence supporting the manufacturer's claims.
However, the company seems to stand behind their supplements with a 30-day satisfaction guarantee, less S&H charges. Just keep in mind that once the bottle is open, your only option will be store credit.
Marketing machine - NO science!

By Chelsea J.

,

Kentucky

,

Dec 18, 2019
Verified Reviewer

This company is a marketing machine plain and simple - no science here! I took their $40 probiotic and ended up throwing away my second month's bottle because they smelled like straight-up human feces! What the heck are they putting in these?! I called customer service, they could care less. No refund. I get the same customer service person every time I call in, how big of a company is Hum Nutrition really? It's all perception. Like I said - marketing machine! I took the vitamin D3 supplement and when I broke it open in my mouth it tasted like olive oil. Am I getting any D3? I asked about independent lab verification of the products and contents...the customer service lady proceeded to mention "GMP" good management practices. She clearly didn't understand my question and concerns. Most legit supplements go through verification via USP or something like that. Since there is no FDA regulation of supplements, you never know what you're going to get! Buyer beware, do your due diligence when it comes to these things, everyone wants your money!

Bottom Line: No, I would not recommend this to a friend

---

Updated review

Update

By Micki V.

,

Idaho

,

Dec 4, 2019
Verified Reviewer

After several weeks, the company did refund my money.

Bottom Line: No, I would not recommend this to a friend

Previous review
Nov 26, 2019

Made me ill - would not refund

They made me ill (bloating, severe abdominal pain, constipation, diarrhea). After several trips to the doctor who ran bloodwork and multiple stool samples, it was determined that the Hum products were the culprit. The company would not refund money because it was over 30 days (it took that long to make me sick and even longer to uncover the cause of the illness). Additionally, I can't say the product did anything it claimed to do (Daily Cleanse, Flatter Me, Uber Energy).

(

read more

read less

...)

---

Advertisement

---

Disappointed

By Edith R.

,

San Diego, CA

,

Nov 26, 2019
Verified Reviewer

I started taking Hum several months ago (Daily Cleanse, Skin Heroes, and Red Carpet) and although my acne cleared and my hair looked super shiny, the everyday stomach pains caused by the supplements were just a bit too much for me to deal with. Totally disappointed because my skin looked great.

Bottom Line: No, I would not recommend this to a friend

---

Life-saver!

By Marci A.

,

Golden, CO

,

May 7, 2019
Verified Reviewer

I have been taking Hum Vitamins for a couple of months now. I take the probiotic, the pre-probiotic, the fish oil, the flatter me, red carpet and the gummies.

I originally started with the Flatter Me which started healing my tummy right away. I am very sensitive to foods and have a bunch of allergies. For the past two years I have noticed random cramping, bloating and gas. This problem seemed to come out of nowhere. Flatter Me has healed me! I feel so much better, my mood is calmer, I have more energy and I am able to eat more greens and oatmeal without horrible side-effects. I also noticed that my eyes are brighter. I love these vitamins and am so happy with my results.

Bottom Line: Yes, I would recommend this to a friend

---

Advertisement

---