CeraLift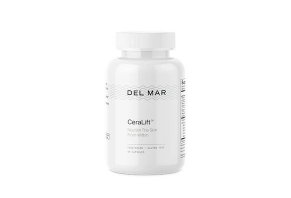 Summary
Ceralift daily supplements promise to rejuvenate your skin with a proprietary formula designed to build up a healthy skin barrier to give it a smoother, more hydrated appearance.
Pros
Ingredients have clinically-significant skincare benefits
Company has a 100% refund policy for all purchases
Cons
CeraLift isn't transparent about the concentration of ingredients within each supplement
Many ingredients only work when applied topically
Most ingredients are common in a healthy diet
More expensive than similar supplements
CeraLift Review: Does It Work or Is It Just Hype?
Having young-looking skin is a tireless pursuit for many, and a daily supplement of natural ingredients that promises to make wrinkles disappear is the holy grail.
CeraLift is a skincare supplement that claims to restore your skin to a youthful appearance naturally. Specifically, each capsule will purportedly give your body the nutrients it needs to produce firm, hydrated, and radiant skin—regardless of your age.
The CeraLift brand was founded by Dr. Paul Chasan, a California-based plastic surgeon with 25 years of experience. According to the product website, Dr. Chasan created the proprietary formula for the supplements from ten ingredients found effective in dozens of clinical trials for skin restoration.
Will CeraLift work as promised to give you glowing skin? Read our analysis to learn what's behind the hype for this product.
How Does CeraLift Work?
As you age, your body produces fewer of the nutrients necessary for maintaining healthy skin, including the ceramides that keep your skin looking firm and youthful. Once your levels gradually decrease, you'll start to experience a loss of elasticity and begin to develop fine lines and wrinkles.
CeraLift claims that the plant extracts within its oral supplements work to stimulate the body to produce a protein called TIMP-1, which builds up collagen in the dermis layer of skin. The company states that the molecules act as a glue to form a firmer, tighter barrier that better holds in moisture.
Paired with these ingredients are plant-based antioxidant blends, which will purportedly protect and repair your skin from damage caused by free radicals and other environmental factors.
According to the company's 60-day clinical study, participants who used CeraLift experienced the following changes for their skin.
37% reduced appearance of wrinkles
36% more skin elasticity
64% decreased skin roughness
36% increase in skin elasticity
Key Takeaway: CeraLift claims to work by restoring your levels of natural compounds that your body starts to lose as you age.
Analysis of Ingredients
CeraList contains the following ingredients:
Ceramosides: Ceramides are lipids that occur naturally in the skin, and they contribute to making it look both youthful and hydrated. Your ceramide levels decrease as you age, which results in dry, wrinkled skin, and Ceramosides is a patented ingredient designed to restore them.
Small scale studies show that Ceramosides has the potential to improve skin moisturization and elasticity while reducing wrinkles after two weeks when taken as a powder or oil supplement.
MethylSulfonylMethane (MSM): This natural compound is found in food, and its often used as an arthritis treatment. According to Consumer Labs, one small study found that topical application of methylsulfonylmethane may be an effective treatment for skin conditions like rosacea.
Trans-Pterstilbene: This dietary compound makes up the primary ingredient in blueberries. A 2013 study from Oxidative Medicine and Cellular Longevity linked it to numerous therapeutic benefits, including controlling neurological disease, reducing inflammation, and acting as a powerful antioxidant.
Turmeric: Often used as a culinary spice in curry dishes, turmeric is a natural antioxidant. We couldn't find any skin benefits from taking it in supplement from, though topical solutions of turmeric may produce relief for scaly, itchy skin.
Vitamin D: This fat-soluble vitamin is essential for good health. It's found in many foods, and your body can produce it from sunlight. When used topically, vitamin D can treat numerous skin conditions, including psoriasis. There is also preliminary evidence that it is crucial for maintaining healthy skin while aging.
Vitamin C: This common vitamin is vital for skin health because it helps the body produce collagen. There's also evidence that vitamin C might work to prevent and treat sun damage, though the research isn't conclusive on this point.
Copper: This essential mineral is necessary for many metabolic processes, including healthy skin generation. Specifically, copper works to ensure that collagen and elastin fibers are produced correctly.
Manganese: Manganese is required for normal brain and nervous system functioning, and it's plentiful in seeds and whole grains. From a skincare perspective, the mineral is associated with collagen production and has antioxidant properties that might fend off free radical damage.
Silica: Common in cosmetic products, silica is often used topically as an exfoliant and to absorb excess moisture. We couldn't track down any skincare benefits associated with taking it within a supplement.
Key Takeaways
Some of the ingredients in CeraLift supplements show promise for adding nutrients back to the skin that are often lost with age. However, this research isn't conclusive, and you likely already taken in all you need of them if you follow a healthy diet.
Even more concerning, the company only shares that the supplements contain "clinical doses" of each ingredient. This makes it impossible to know whether each supplement contains enough of these active ingredients to achieve the promised benefits.
Dosage and Side Effects
Plan to take CeraLift as a daily capsule. The timing for your dose doesn't matter. You may start to notice improvements within two weeks of use, though the company states that the most visible results come after 90 days of use.
If you want to see more significant changes, the company suggests taking two capsules a day—one in the morning and one before bed.
Our research found that none of the ingredients in CeraLift are associated with negative side effects. Many of the ingredients in the supplement are water-soluble, which means that your body naturally excretes them when it has more than necessary for the day.
Pricing and Return Policy
CeraLift is available from Del Mar Laboratories as a one-time purchase for $49.95 for 30 vegetable capsules (a 30-day supply).
Alternatively, you can sign up for the company's Subscribe and Save program to pay $44.96 per bottle, a savings of 10%. If you go this route, you must choose whether you want your deliveries monthly, every two months, or every three months.
Del Mar also lifts this supplement for sale at New Skin from Within for slightly different price points:
30-day supply: $49.95
90-day supply: $117 ($39/bottle)
180-day supply: $198 ($33/bottle)
Regardless of where you purchase, CeraLift supplements are covered by a lifetime guarantee. If you don't love the product, you can call the company for return instructions. The company will issue a refund once it receives your return.
How CeraLift Compares to Similar Supplements
Other skincare supplements are available that claim to boost your collagen production for younger-looking skin. Two of the top-rated options on Amazon are NusaPure Phytoceramides and Sports Research Phytoceramides Skin Hydration.
Compare them to CeraLift below:
| | CeraLift | NusaPure | Sports Research |
| --- | --- | --- | --- |
| Price Per Bottle | $49.99 for 30 capsules | $24.98 for 200 capsules | $19.95 for 30 capsules |
| Price Per Dose | $1.66 | $0.24 | $0.66 |
| Dosage Requirements | 1–2 supplements per day | 2 supplements per day | 1 supplement per day |
| Key Ingredients | Ceramosides, MethylSulfonylMethane, Trans-Pterstilbene | Phytoceramides | Phytoceramides |
| Amount of Ceramides | Unclear | 700mg per serving | 350mg per serving |
The unifying ingredient between all three of these supplements is ceramides. CeraLift uses a trademarked type within a proprietary blend, and the company doesn't share the concentration per dose.
Both NusaPure and Sports Research, in contrast, use phyto ("plant") ceramides. These are typically derived from wheat, rice, or sweet potatoes and used in skincare products to regulate the skin's water barrier and decrease signs of aging like dry skin and wrinkles.
However, while studies show some evidence that applying these compounds topically can improve your skin, there's less research showing that taking them orally makes any difference for your skin.
Saying that, a few studies involving daily supplementation with 350mg of phytoceramides daily for three or more months led to modest improvements in wrinkles.
So, while none of these three products are likely to take years off your face, you might notice slight improvements if you take a minimum of 350mg per day. NusaPure and Sports Research both reach this limit, but it's unclear how many milligrams of Ceramosides CeraLift contains.
Moreover, the average American consumes between 300-400mg of ceramides from their daily diet alone.
Another differentiating factor is the price. CeraLift costs more than six times as much as NusaPure, and over 2.5 times as much as Sports Research.
Some may think the higher price point is worth it for the other active ingredients in CeraLift, but our research showed that most of these compounds are common in a healthy diet and supplementing with them isn't likely to make much difference for your skin if you aren't already deficient.
Finally, CeraLift has fewer online reviews than these other two products, both of which average more than 4.5 stars after 200 and 2,000 reviews on Amazon.
Considering the differences in price, concentration of active ingredients, and prevalence of positive online reviews, NusaPure and Sports Research phytoceramide supplements seem to be a better purchase than CeraLift.
However, a lack of conclusive research on the benefits of phytoceramides indicates that all three of these supplements are unlikely to make much difference for your skin.
The Bottom Line
Compared to other available options, CeraLift is an expensive daily supplement that isn't transparent about its ingredients list. This is a relatively new product with few online reviews, but we are skeptical that it will succeed in delivering the anti-aging benefits for your skin as it promises.
While the skin-boosting benefits of your natural ceramides are well documented, there's little evidence that taking them in supplement form will give you a younger appearance as CeraLift claims.
There are better options available if you're interested in taking a ceramide supplement, and there are better ways than that to combat the signs of aging on your face.
Customer Reviews
Our Promise to You
In order to safeguard you and ensure helpfulness and relevance, our compliance team manually assess every customer review before it goes live.
We have a zero-tolerance policy for fake reviews, and companies cannot control or alter any reviews at any time.