Heliocare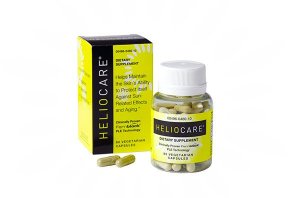 Summary
Heliocare offers a line of dietary supplements that, when taken orally, are designed to promote skin health and reduce the unwanted effects of aging.
Heliocare Review: What You Should Know
Heliocare offers a line of oral dietary supplements that are designed to promote skin health from the inside-out.
According to their site, by taking one capsule of Heliocare daily, you'll maintain your skin's ability to protect itself against the unwanted effects of aging. Traditionally, products with similar claims aim to accomplish skin rejuvenation through topical application.
So how can Heliocare deliver this benefit with a single pill?
The company states that the proposed benefits of their supplement are made possible due to the antioxidant actions of a single ingredient. Not only that, but these actions are clinically proven.
Anti-aging supplements are a hot topic in the health and wellness sector. Does Heliocare offer a product line that can back-up their lofty claims, or will your bank account be the only thing affected?
In this article, we'll review the scientific support for their active ingredient, if any, to help you determine if Heliocare can really support skin health.
Effectiveness of Active Ingredient
Heliocare claims that your skin will experience anti-aging effects without the need for creams, ointments, or lotions. If that doesn't sound unbelievable, their capsules contain just a single active ingredient.
So what is the source of Heliocare's proposed benefits? Polypodium leucotomos extract (PLE). More specifically, Heliocare products contain a concentrated form of this extract known by the commercial name, Fernblock.
The dose of Fernblock in each capsule differs based on the product you choose. Available formulations include Fernblock at 240mg or 480mg per serving.
This extract is obtained from ferns that grow in Central and South America. Whether applied topically or taken orally, researchers note several benefits related to Fernblock's antioxidant capabilities.
It may exert these effects through a number of mechanisms such as preventing UV-ray damage, combating harmful oxidative stress, minimizing DNA damage, inhibiting inflammation, and blocking the destruction of skin cells.
These effects have been investigated in the laboratory setting, in animal models, and even in studies with human subjects.
For example, nine healthy subjects were exposed to UV-rays with or without consuming Fernblock at 7.5mg/kg doses. For your reference, a 175lbs is about 80kg. This person's Fernblock dose would be about 600mg – larger than any Heliocare dose.
Twenty-four hours after exposure, skin samples were compared. Samples taken after Fernblock was consumed had significantly less damage than samples taken before consumption.
More recently, a similar study was published. After consuming 480mg doses of Fernblock, 17 of 22 subjects experienced less UV-ray skin damage.
The safety and efficacy of Fernblock were also studied throughout 60-days. Those taking 480mg doses, again, experienced less UV-ray damage. Additionally, those taking placebo were more likely to experience sunburn.
Is Heliocare Safe to Use?
Heliocare offers products at 240 and 480mg doses. Both of these doses have been well studied and were not associated with side effects even when taken for 60-days.
Even at 1200mg doses daily for 2-weeks, Fernblock was not associated with any adverse events.
While this supplement may offer extra protection, it's still safest to protect your skin with sunblock if you will be exposed to prolonged UV-rays. If your family has a history of skin cancer, you may be even more susceptible to skin damage from the sun.
Despite the minimal risk for serious adverse effects, your physician should be included in the decision to try new dietary supplements.
Pricing and Options
Heliocare products aren't available from their website, though they do provide links for purchasing options.
Check out the chart below for a comparison of the products, their pricing, and where you can pick them up.
| | Fernblock Dose (1-month) | Other Ingredients | Pricing | Retailer |
| --- | --- | --- | --- | --- |
| Heliocare | 240mg | - | $29.99 | Walgreens |
| Heliocare Advanced | 240mg | Vitamin B3 | $36.99 | Walgreens |
| Heliocare Ultra | 480mg | Pomegranate and Vitamin C | – | See your dermatologist |
At Heliocare's site, you can subscribe to email correspondence in exchange for $3 towards your next in-store purchase.
Lastly, your purchases are backed by a 30-guarantee. To process your refund, return the unused portion of your product and receipt within 30-days of purchase to Ferndale Healthcare®, Inc, 780 W. Eight Mile Rd., Ferndale, MI 48220.
For additional questions, call 866-668-7482.
Alternatives
Anti-aging products have cornered a sizable portion of the health and wellness market. Thus, you can find other retailers that offer products that include the same active ingredient found in Heliocare.
PLE Skin Anti-Aging Dietary Supplement from SuperSmart is one example. They offer 90 500mg PLE capsules at just $14.30.
This is a more cost-effective option when compared to all Heliocare products and also removes the need to see a dermatologist for PLE dosing comparable to Heliocare Ultra.
Shade Factor from Life Extension is another supplement proposed to support skin health from the inside-out. You'll pay $33 for 120 240mg capsules.
This represents dosing and pricing comparable to Heliocare and Healicore Advanced, while also offering vitamins B3 and C, as well as a citrus complex.
The Bottom Line
Heliocare's line of products has been proven effective at both of the doses that they offer. Additionally, much larger doses were not associated with side effects.
At Walgreens, there are just 16 reviews for Heliocare, though the average rating is 4.6-stars. Customers seem to be satisfied with the product's ability to limit sunburn. Though negative reviews were rare, Heliocare reps seemed responsive and informative.
Proven safety and efficacy, happy customers, and moderate pricing make Heliocare a reasonable option to protect your skin from the inside out. However, you may be able to save money by purchasing the active ingredient from other vendors.
Lastly, make sure your doctor is part of your skincare regimen, particularly if you may be at higher risk for skin cancer.
Customer Reviews
Posted on Mar 4, 2019
LOVE this product!
My dermatologist recommended Heliocare and Nicotinamide to me. I have had numerous basal and squamous cell skin cancers remove within the past 15 years. So I purchased these two products and have been taking them for almost a year now. This past week I went back to my dermatologist for my six-month recheck and, for the first time in 10 years, the doctor did not find any new skin cancers! In fact, as soon as she saw me, she remarked on how good my skin looked. She said that she could definitely tell the difference in my skin. The fact that she did not find any new skin cancers is amazing to me because that is the first time in over 10 years that that has happened. I'm amazed by this product and will continue to take it. Highly recommend to anyone that has had multiple skin cancers removed.
Bottom Line: Yes, I would recommend this to a friend
Our Promise to You
In order to safeguard you and ensure helpfulness and relevance, our compliance team manually assess every customer review before it goes live.
We have a zero-tolerance policy for fake reviews, and companies cannot control or alter any reviews at any time.