PillPack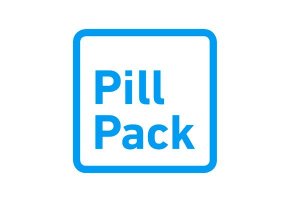 Summary
PillPack is a full-service pharmacy that claims to sort your medication by date and time and deliver them directly to your door. There are some strengths but also some drawbacks pertaining to customer service.
PillPack Review - Is This Online Pharmacy Worth It?
What is PillPack?
PillPack from Amazon is an online pharmacy that works with your doctors to coordinate the delivery of your prescription medications straight to your door.
Nearly half of our population uses prescription medications. Filling your prescription often includes multiple phone calls, missed school or work, doctor appointments, and trips to the pharmacy.
Can you imagine a world where you can avoid much of the extra work getting your medications often entails? PillPack can.
Their methods are pretty straight-forward:
They coordinate with your doctors and insurance providers to obtain your prescriptions.
For your convenience, they organize your pills by the date and time you must take them.
Lastly, they deliver your pills to your door.
The idea is that PillPack does the heavy lifting so you can get back to your life.
In this article, we'll review how to sign up, the services, and the cost to help you determine if PillPack is what you need to manage your prescription medications.
Getting Started With PillPack
PillPack seems to make signing-up simple.
Getting started is accomplished in a few easy steps - here's what you'll need:
Your medication list
Your doctors' contact information
Your insurance provider contact information
Your payment method
That's really it. Pretty painless, right? After you provide this info, simply sit back and relax while PillPack gets to work.
In the first 2-weeks after you sign-up, PillPack works as the facilitator between your doctors and an insurance company. Once these details are ironed out, they schedule your first shipment.
PillPack's Services
While PillPack's methods are relatively easy to understand, there's actually much more going on behind the scenes.
Here, you can read about the steps PillPack takes to ensure your satisfaction.
Packaging
Whereas traditional pharmacies were designed to dispense single medications, nearly a quarter of those taking prescription drugs use 3 or more.
For those that fall into this category, managing their medications can be challenging and potentially dangerous.
PillPack limits your risk by delivering your medications organized by the day and time you are directed to take them. A pharmacist checks every single packet for accuracy and reviews your medication list to ensure there are no dangerous drug interactions.
In addition to your prescription medications, dietary supplements, and over the counter medications are also available through PillPack.
Delivery
PillPack coordinates shipping based on your prescriptions and doctors' instructions. Though you may have 90-day refills, your medications are filled on a 30-day cycle.
Refills are automated and will arrive before you run out.
Support
PillPack support is available, both day and night, through various means of communication. You can call 855-745-5725, email hello@pillpack.co, or reach out through the app.
Also, there is always a 2-way line of communication with PillPack. Each month, they send you a detailed list of your prescriptions that includes images of each pill and dosing instructions.
What Do These Services Cost?
So far, it may seem like all this is too good to be true. As we haven't discussed the cost yet, the catch must be pricey shipping charges or hidden fees, right?
According to PillPack's website, there is no catch. Both their services and shipping costs are always free. Also, they work with most insurance plans - call support to check your coverage.
Thus, your responsibilities include only insurance copays and any out-of-pocket expenses that your insurance doesn't cover.
If you opt to include any vitamins or over the counter medications with your prescriptions, simply pay market prices - no up-charges or convenience fees.
Payment options are flexible; you can edit account information from any device at your convenience.
You can choose to use a debit or credit card, pay directly from a bank account, or cover the cost with a health savings account.
PillPack also allows you to select a billing date or simply pay when your medications are delivered.
Are There Any Alternatives?
While online pharmacies do seem to be a relatively new phenomenon, PillPack does have a few competitors.
Some well-known retailers are cashing-in on this model by adding delivery options to their pharmacy services.
CVS is one example. You now have the option to log in online or through their mobile app to manage prescriptions, schedule delivery, and also add any other items available from their store to your order.
Most locations offer 1-2 day delivery, though some accommodate same day service as well. They limit delivery to medications that are not considered controlled substances and those that do not require refrigeration.
While delivery charges can vary by location, your insurance may cover these fees.
CVS may not be able to ship some medications, and you are likely to incur shipping costs, but being able to add other necessities available in their stores is convenient.
The Bottom Line
While PillPack seems to offer a great deal of convenience, users do not seem to find value in their services.
At HighYA, 81 users rated PillPack 2 out of 5-stars on average. Over 65% of users assigned a 1-star rating.
These negative reviews seem to revolve around poor customer services, misinformation provided to doctors, mistakes made in prescription packaging, and delivery issues.
It is challenging to recommend this company when users seem to consistently report issues with the pillars of PillPack's services.
While the upside is the convenience PillPack claims to offer, the downside appears to be more hassle than it takes to fill prescriptions in the first place.
If you're looking for a delivery service, going with an established company like CVS may be a better option until it is clear that PillPack has made a concerted effort to address the complaints of its users.
Customer Reviews
Posted on Nov 15, 2022
Strike three, you're out
Where to begin with this review? First off, I will say that regular pill prescriptions were delivered fine, but the packaging is wasteful and the packaging for injectables is extraordinarily wasteful. If you have a medication listed as "take as necessary" be prepared to wait and wait and get hassled and have to follow up over and over again to get the meds issued.
They'll cancel your medications without warning which is always fun, especially if it's a life-saving medication.
They'll only do a 30-day issuance of a medication so if your doctor prescribes a 90-day supply, PillPack charges you 3 times for the copay, which would only be charged once at a regular pharmacy.
They can't handle different doctors from the same practice prescribing refills without going through a billion extra steps and hassling both the customer and the doctors.
And heaven forbid that you catch Covid, I've been waiting for 2 months for them to send a simple inhaler and a bottle of Mucinex. Ridiculous.
Length of Use: 1–2 years
Bottom Line: No, I would not recommend this to a friend
Pros and Cons
Set it and forget it for basic drugs.
Daily packs make remembering to take prescriptions easy.
Poor communication.
Bad copay skimming for profit.
Inability to accept and integrate new prescriptions in a timely manner.
Posted on Nov 14, 2022
Terrible company
Poor service, pharmacist didn't really care whether I got my medications on time! I had to stretch my medications for my tumor, which is growing around my carotid artery! I only got one package from them and I would never do it again. I am moving on to another company. Don't waste your time or you're gonna be sorry.
Bottom Line: No, I would not recommend this to a friend
Pros and Cons
No "pros" were specified in this review
Don't get meds on time
Slow turn around 48 to 72 hours on one time fill meds
Terrible customer service
Pharmacist don't care
Posted on Sep 23, 2022
Convenient and fast
I was very impressed with the service. The prescription arrived just when I wanted it. The delivery guy was extremely polite. I also have received timely reminders for reorders.
Length of Use: Less than 3 months
Bottom Line: Yes, I would recommend this to a friend
Pros and Cons
Speed of delivery
Accuracy
That I didn't know about it earlier
Posted on Jun 27, 2022
Horrible experiences, AVOID
I'd give PillPack 0 stars if possible. Had to call 4 times in the past 5 days to get my manufacturers discount and they still forget to apply it, copay goes up for no reason, shipments don't go out on time despite being promised delivery in 2 days. Plus I have to call every month to get my refill (auto refill does not work). Horrible!
Length of Use: 1–2 years
Bottom Line: No, I would not recommend this to a friend
Pros and Cons
No "pros" were specified in this review
Bad customer service
Makes false promises on delivery time, copays
Malfunctioning auto refill function
Payments fail despite having multiple cards on file
Posted on Jun 16, 2022
More trouble than it's worth
More trouble than it's worth. I had PillPack for two years but I encountered problems almost every month that required me to call them. I spent numerous hours or more talking to Customer Service and the doctor's office to resolve problems caused by PillPack. Most problems are caused by inexperienced customer service staff. Communication problem between the front and the back office. I am now back to my local pharmacy and am very happy with them.
Length of Use: 1–2 years
Bottom Line: No, I would not recommend this to a friend
Pros and Cons
Med comes in daily package, saving time to sort and place in daily box
Inexperienced staff
Posted on Jun 4, 2022
Prompt delivery and great customer service
I have had PillPack for around 5 years. They have always been prompt in delivery. Accurate and let me know if prices have gone up. The ease of having my pills prepackaged daily means a time saver and accurate taking. No forgetting if I took my 8:00 or 6:00 pills. No hassle of setting up my weekly pillboxes.
I do not care for the 30-day limit versus the 90-day supply. It does increase my cost somewhat.
Length of Use: 2+ years
Bottom Line: Yes, I would recommend this to a friend
Pros and Cons
Customer service
Prepackaged daily doses
On-time delivery
Lack of getting 90-day supply in prepackaged
Posted on May 6, 2022
Terrible
My physician writes a 90-day prescription. The first time, the prescription is filled as written. Refill arrives, only a 30-day supply. My physician was never contacted to change the order, I did not make the change. Contacted PillPack, their answer – their policy will not allow 90-day prescriptions of this medication because of the opioid crisis. This is not an opioid!
Length of Use: 3–6 months
Bottom Line: No, I would not recommend this to a friend
Pros and Cons
Price
Accuracy
Customer service
Posted on Apr 6, 2022
Run!
I take a heart medication, taken out of the pack without my knowledge, no one contacted me to let me know I was out of prescription, just stopped sending it!
Length of Use: 1–2 years
Bottom Line: No, I would not recommend this to a friend
Pros and Cons
No "pros" were specified in this review
Hard to use
Always get something wrong
Stop meds without notifying anyone
Posted on Feb 20, 2022
Horrible customer service
Paused my service without my knowledge. Overcharged me for 6 months. Was told the situation was being rectified, then had to call again when it wasn't to be told it was out of their hands. Terrible customer service.
Length of Use: 1–2 years
Bottom Line: No, I would not recommend this to a friend
Pros and Cons
Pills come presorted for helpful reminder
Terrible customer service
Posted on Feb 4, 2022
Partial shipment, not worth the headache
I signed my father up for this service only to be very disappointed. They sent out a partial shipment without even contacting us first prior to dispensing his medication. In essence, I had to open each little pill pack and still sort them out in his pill case because they only send part of his medication. A phone call would have been nice so I could have let them know to hold off until they are able to send the complete shipment.
Completely disgusted with the service.
Length of Use: Less than 3 months
Bottom Line: No, I would not recommend this to a friend
Pros and Cons
The idea
Customer service is awful
Partial shipment
Posted on Dec 29, 2021
PillPack is great!
I have used PillPack for nearly two years (a total of four prescription drugs, three once a day and one twice a day). The service has been perfect – not one error. The 30-day supply shows up in my mailbox usually a week early.
Previously, my prescriptions were supplied by Walgreens, which, in addition to having to drive there and wait in a drive-thru line, always was out of at least one of my prescriptions.
Drug stores are obsolete!
Length of Use: 1–2 years
Bottom Line: Yes, I would recommend this to a friend
Pros and Cons
No errors, always early
Prices are always lower than the drugstore
No late shipments
No "cons" were specified in this review
Our Promise to You
In order to safeguard you and ensure helpfulness and relevance, our compliance team manually assess every customer review before it goes live.
We have a zero-tolerance policy for fake reviews, and companies cannot control or alter any reviews at any time.