Telogenesis by LCR Health Reviews
Claimed This company has claimed this profile, is getting alerted on any new customer reviews entering this page, and may engage in dialogue with its customers to address their matters.

Companies cannot pay money or provide goods in order to remove or alter customer reviews.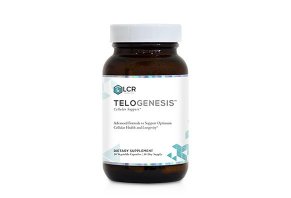 Telogenesis by LCR Health is an anti-aging dietary supplement that uses a blend of just three ingredients to help protect your DNA and give you a longer, healthier life.
About Telogenesis by LCR Health
By supporting your body's natural production of telomerase, Telogenesis by LCR Health is a dietary supplement that promises to deliver boosted strength and energy, a more youthful appearance, and reduced muscle and joint soreness.
In fact, the promotional video indicates it could even help support weight management, improve overall health, and potentially slow or reverse the physical and mental symptoms of aging.
And all of this without the use of caffeine or synthetic additives.
To experience these benefits, the LCR Health website advertises you'll need to take one capsule of Telogenesis per day with an 8 oz glass of water, ideally in the morning.
Make sure you continue taking a dose about the same time each day for at least 30 days in order to sufficiently increase your telomerase threshold.
As a company, LCR Health manufactures a complete line of supplements and held an A rating with the Better Business Bureau as of 7/9/18.
But, does this necessarily mean that Telogenesis will 'hack' your body into rewinding the clock and help you live a healthier, longer life, as advertised in the promo video?
This is the central question we'll help you answer in this article. First, though, Let's cover some quick basics we can use as a solid foundation.
Telomeres 101
The details: As outlined briefly in the Telogenesis promo video, telomeres act like the plastic caps at the end of shoelaces to help protect the DNA contained inside a chromosome.
Writing for Scientific American, Jalees Rehman, adds some important details by explaining it this way:
"Telomeres are repetitive DNA sequences at the ends of chromosomes which act as protective caps. Every time a cell divides, its chromosomes undergo a doubling process so that the two daughter cells receive equal amounts of DNA. During the DNA replication and the separation of the newly formed chromosomes, small chunks of DNA are trimmed off at the end of the chromosomes. By having protective telomere caps, the shortening process only affects the telomeres and not the essential gene-encoding parts of the chromosome."
As these telomeres increasingly shorten with every cell division, Jalees goes on to explain there's evidence this can have a negative impact on the aging process and lead to commonly associated diseases.
But, the body has a damage-control protocol in place in the form of telomerase, an enzyme found in high levels inside stem cells that helps minimize telomere shortening during cell division.
Therefore, it might make sense that—as Dr. Rand McClain proposes in the Telogenesis video—increasing telomerase levels in our body could positively affect aging.
The problem is that even though telomerase has been studied extensively since the 1980s, and earned Elizabeth Blackburn, Carol Greider, and Jack Szostak, the 2009 Nobel Prize in Physiology or Medicine, it's still not completely understood. In fact, Jalees writes:
"Dr. Blackburn was quick to point out that these correlations do not necessarily mean that there is a direct cause and effect relationship. In fact, increasing telomerase levels ought to lengthen telomeres but in the case of cancer, too much telomerase can be just as bad as too little telomeres."
TL;DR: In tightly controlled clinical settings, increasing telomerase enzyme levels in mice has been shown to increase telomere length, although it's unclear if doing so will have lasting health benefits or consequences.
Now, the next logical question is: Have Telogenesis' ingredients been clinically shown to boost telomerase levels and provide real-world aging benefits in humans?
Taking a Closer Look at Telogenesis' Ingredients
According to the supplement facts label listed on the LCR Health website, Telogenesis contains:
AC-11 extract 350 mg
Astragalus membranaceus extract 150 mg
KSM-66 Ashwagandha extract 125 mg
Manufactured by Healthycell, AC-11 is a dietary supplement in its own right made from the Uncaria tomentosa plant (more commonly known as cat's claw), which they claim is "proven to enhance cell health by supporting your body's natural ability to repair DNA, limit inflammation, clear out damaged cells, and enhance immune function."
However, the company doesn't provide clinical support for these claims.
» Related: Before Buying a Dietary Supplement, Follow These Steps to Understand Its Claims
Sites like WebMD, the Natural Medicines Database, and Examine.com indicate there's enough clinical evidence to list cat's claw as 'possibly effective' for reducing osteoarthritis and rheumatoid arthritis pain, but nothing related to LCR Health's claims for Telogenesis.
These same sites report much of the same lack of clinical evidence for astragalus and ashwagandha.
Could Telogenesis' Ingredients Cause Side Effects?
WebMD and the Natural Medicines Database report that although cat's claw is possibly safe for most people, it can cause headache, dizziness, and vomiting (no dosages or other specifics listed).
It can also have a moderate interaction with high blood pressure and immunosuppressive medications.
They note the side effects of astragalus are not known, as well as the long-term safety of ashwagandha.
To help minimize potential side effects and interactions with any supplement, Telogenesis or otherwise, make sure you have an in-depth conversation with your doctor before placing an order.
How Much Does Telogenesis by LCR Health Cost?
You'll pay different amounts for Telogenesis, depending on the LCR Health website you purchase from. On TheLongevityProtocol.com, you'll pay:
1 Bottle: $49.95
3 Bottles: $134.85 ($44.95 each)
6 Bottles: $254.70 ($42.45 each)
On the other hand, purchasing from the main LCRHealtth.com will increase your prices to:
1 Bottle: $69
3 Bottles: $134.85 ($44.95 each)
6 Bottles: $254.70 ($42.45 each)
LCR Health offers a 90-day money-back guarantee on all Telogenesis purchases, less return S&H, which you can request by calling 800-384-8308 or sending an email to support@LCRhealth.com.
Telogenesis vs. Other Telomere Dietary Supplements
Although the study of telomeres is a relatively new field, there are perhaps dozens of dietary supplements on the market competing with Telogenesis, many of which promote the same general claims.
Here were some of the more popular options on Amazon and Google Shopping at the time of our research:
| | | |
| --- | --- | --- |
| Brand | Price | Active Ingredients |
| Telogenesis by LCR Health | $49.95 | AC-11 extract 350 mg, Astragalus membranaceus extract 150 mg, KSM-66 Ashwagandha extract 125 mg |
| TeloMax | $69.95 | Chromium 240 mcg, Withania somnifera, Angelica sinensis, Crataegus oxyacantha, Silybum marianum, Terminalia chebula, Genistein, Cistanche, Polygonum cuspidatum |
| TA-65 | $100+ | Bioenhanced astragalus extract 8 mg |
| IsaGenesis from IsaGenix | $105.33 retail | Vitamins A, C, E, B12; a 1,280 mg proprietary blend of 30 ingredients |
| Enzymedica Telomere Plus | $30 | Vitamin D3; a proprietary mixture of astragalus, SGS Broccoli Seed Extract, Rhodiola extract |
| Source Naturals Telomeron | $26 | Vitamins D3 and B12, Astragalus, N-Acetyl Cysteine, L-Carnosine, Turmeric Rhizome Extract, Green Tea Leaf Extract, Purslane Aerial Parts Extract, Natural trans-Resveratrol, Grape Seed Extract, Tocotrienol Complex (Tocomax™) |
Given these vastly different price points and formulations, how can you make the most empowered decision?
As emphasized above, it's vital that you start by speaking with your doctor. They'll listen to your concerns, order the appropriate tests (if necessary), and provide a science-backed approach to helping you meet your health goals.
If they recommend that you pursue dietary supplements like Telogenesis, after writing about thousands of related products over the years, we've learned that you'll want only to do business with companies who:
Support their claims with clinical evidence
Price their products competitively
Stand behind their products with at least a 30-day refund policy, and no restocking fees
Come with mostly positive online customer feedback
Let's apply these criteria to Telogenesis as we wrap everything up.
Can You Expect Longer Telomeres with Telogenesis by LCR Health?
We learned earlier there's high-quality clinical indicating that boosting telomerase in mice can potentially increase telomere length, leading to improved overall health. In fact, much of this evidence earned Elizabeth Blackburn, Carol Greider, and Jack Szostak the 2009 Nobel Prize in Physiology or Medicine.
However, even Dr. McClain admits in the Telogenesis promotional video that the procedures used in these labs to boost telomerase levels were complicated, expensive, and not generally attainable by most of the population.
But according to sites like WebMD and Examine.com, there isn't enough clinical evidence that the ingredients found in this formulation will increase telomerase or deliver on any of the company's advertising claims.
It's important to balance these details by pointing out that LCR Health seems to come with a mostly positive online customer reputation, prices their supplement relatively competitively, and offers a 3-month return policy on all purchases if it doesn't meet your needs and preferences.
We just might recommend purchasing through their TheLongevityProtocol.com website, which would save you $20 each at the time of our research.
7 out 7 people found this review helpful

Fraud

By Gregg K.

,

Minnesota

,

Dec 9, 2019
Verified Reviewer

Trying to get a refund...Bought a 3-month supply but they will not honor the 90-day Guarantee. Told me to finish the product when I previously asked for a refund. Now they want the product returned to honor the Guarantee. Offered me a 40% refund...not acceptable. I have found nothing that says I have to keep empty bottles to facilitate the refund guarantee. Why would I keep an empty bottle for 60 days and 30 days after using? Interesting they consider the empty bottles the product when they encouraged me to finish the product. Big scam. Now to post I have to read a long article that only protects them and leaves me vulnerable. Review guidelines and terms of use only protect them and leave another loophole for them to reject the refund claim.

Bottom Line: No, I would not recommend this to a friend

Dec 11, 2019

Hello Gregg. I am Taylor with LCR Health. I am sorry to read your review of our customer service. LCR Health prides itself on our exemplary customer service, but in your case we dropped the ball. Please email me at taylor@lcrhealth.com so that I may offer you a full refund as a courtesy. I want to thank you for sharing your experience. We appreciate all our feedback and will be looking at this as a learning opportunity. I wish you a wonderful day and I look forward to hearing from you.

---

6 out 7 people found this review helpful

Improvement with pain

By Terri M.

,

Danielsville, GA

,

Sep 10, 2019
Verified Reviewer

I have taken Telogenesis for 2 months. I have chronic chest pain that can't be diagnosed. I have seen doctors in every field and had Emory review all my records, but no one can explain the constant pain in my chest. Telogenesis has not stopped my pain but it has reduced the intensity of my pain when nothing else has worked. I also am noticing an improvement in my skin.

I would recommend Telogenesis.

Bottom Line: Yes, I would recommend this to a friend

---

17 out 17 people found this review helpful

Caused terrible itching

By Lillian C.

,

Jasper, GA

,

Aug 5, 2019
Verified Reviewer

I have been taking Telogenesis for about 3 weeks. I did not know what was causing my itching from head to toe. I was actually clawing my skin and scalp. After trying to clear this up, I went to a doctor and she gave me a steroid pack that did not help. She told me to see a dermatologist. From the looks of my skin, she knew I was in dire need of help. She gave me a strong steroid shot and two prescriptions. The shot did help right away. She asked me if I had added anything to my medications and I said no. After returning home I remembered I added Telogenesis. She told me to leave that off and I am getting better and sleeping all night. Skin clearing up...

I'm just telling you this so you can add it to your possible side effects list. I do have very sensitive skin and not blaming you. I just need to be more careful adding supplements.

Bottom Line: No, I would not recommend this to a friend

Aug 5, 2019

Hi Lillian. My name is Taylor and I am with LCR Health. I am sorry to read your review of Telogenesis. This type of side effect is not common among users of this product. We always advise our customers to consult their physician prior to adding any new supplements to their daily regimen, as results may vary. I would like more information about your experience and issue you a full refund right away. Please email me with your order number at taylor@lcrhealth.com so that I may get this resolved. Thank you for taking the time to leave your feedback. I look forward to hearing from you.

---

25 out 26 people found this review helpful

Skin change

By Elizabeth E.

,

Saint Louis, MO

,

May 9, 2019
Verified Reviewer

I had a red spot on my hand that had been there for months. I had used various creams and ointments that had no effect on it and it was becoming a darker red and if scratched would hurt. Thinking it must be a skin cancer I made an appointment with my dermatologist. About 3 days after taking Telogenesis the spot got lighter. It is now barely visible and I canceled my doctor appointment. I figured it was doing something good at the cellular level so I continue to take it.

Bottom Line: Yes, I would recommend this to a friend

---

Advertisement

---

20 out 22 people found this review helpful

Notice better posture

By Nancy G.

,

Michigan

,

May 8, 2019
Verified Reviewer

After the very first day, I noticed that I was walking upright - not bent over as I have been for over a year. Since then I haven't noticed anything more, but this is a very big difference. When I awake during the night and go to the bathroom, I no longer walk bent over, but standing straight up! I have been taking the capsules every morning for 27 days now (one per day) and am wondering if it might help even more if I were to take another before bed.

Is this recommended?

Bottom Line: Yes, I would recommend this to a friend

---

60 out 60 people found this review helpful

Our greatest personal asset is our health

By Levi B.

,

Texas

,

May 7, 2019
Verified Reviewer

Like many products we all may encounter on the internet, I evaluated Telogenesis with a small amount of skepticism.

Personally, however, in regards to my health, I consider myself an optimistic individual. Before I render my verdict on this product I will briefly give a small summary of my situation.

I am a 55-year-old male, former servicemen, SFC (Sergeant First Class) United States Army 15 years of service at the time of my injuries, sustained in 2007 during OIF (Operation Iraqi Freedom). My estimated recovery time was 5 years with many types of therapy. I retain all of my bodily appendages intact, however, I have been beset with moderate to severe pain and insomnia, over the course of the last 6 years. I have managed to maintain a regular exercise regiment notwithstanding many challenges. I have tried many consumer products with claims of pain reduction or boasting the benefits of more energy and restful sleep all to no avail.

After viewing the online video of Telogenesis the characteristics of the product did not exactly meet the schematic of what I was searching for, however, the product seemed to be unique. At the risk of being redundant, in regards to my health I retain optimism, So I placed an order for a 90-day supply.

I have been consuming this product for 30 days and I have only one regret, well make that two. The first, in retrospect I should have ordered a 6-month supply, secondly, I regret not completing an overall self-evaluation of my physical and psychological health before I began consuming Telogenesis.

During my service to this country in every regard, my honor and integrity have always remained steadfast, I make every attempt to maintain those attributes when interacting with the citizens of my country still. So the following information is true and accurate, as far as this product is concerned with the impact it has had upon me personally.

In the first 7 days, I really did not notice anything, but on the 10th day, I realized there was a lack of that lethargic or sluggish feeling I always felt throughout the day, on the 10th day I realized there was a slight increase in energy during my exercise routine that morning.

After two weeks of consumption, one morning I overslept, not a big deal right...it was monumental to me! Since 2007 the most sleep gained in one night was 5 hours not uninterrupted by bouts of waking, I had no need for an alarm. It was a life-changing event for me, I have continued to sleep without waking not less than 7 hours each night since, I still cannot believe it! (I now need an alarm.) If that's not enough in the last week or more I have begun to crave more healthy foods, fruits, vegetables as well as fish like tuna and salmon, my nutritional intake has always been an issue, I have lost 5 lbs in the last 30 days.

All this sounds too good to be true right?

Well, that's how I feel, I continue to ask myself when will I stop feeling like a new person? There is no product that can have such a multitude of benefits in such a limited amount of time, that train of thought continues to linger with me.

On a final note, I would advise anyone to complete a pre-self analyzation both physical as well as your mental state to be evaluated before the consumption of Telogenesis to note any benefits gained. I can only hope that any individual who decides to try this product has the same success that I have experienced.

I will be forever grateful, and a loyal supporter of LCR Heath as long as their product offers me these continued benefits.

Sincerely: Thomas L. Burns

SFC U.S. Army

(Medically Retired)

Bottom Line: Yes, I would recommend this to a friend

---

20 out 23 people found this review helpful

Excellent

By Magena F.

,

Kansas

,

May 3, 2019
Verified Reviewer

I've been using Telogenesis for a month now and I can say that I'm feeling great. My knee pain has been reduced significantly, still there, but better. But I feel with energy all day long. I'm happy with the product. I would like to become an affiliate to sale Telogenesis.

Bottom Line: Yes, I would recommend this to a friend

---

21 out 21 people found this review helpful

Slows the aging process

By Chester M.

,

Kansas

,

Apr 30, 2019
Verified Reviewer

After taking Telogenesis for two weeks I've noticed an alertness in my eyes that wasn't there before. It was on that same morning that, I declare, I actually looked younger and felt a vitality to get up and go that I haven't felt in a long time. I take my daily dosage at night before I go to bed and consume my other LCR supplements first thing out of bed. I've found that while aging cannot be stopped it can be slowed down. I want to thank you all for the research that has brought about a change in the aging process. Keep up the good work!

Bottom Line: Yes, I would recommend this to a friend

---

18 out 18 people found this review helpful

Great product!

By Wayne S.

,

Arkansas

,

Apr 29, 2019
Verified Reviewer

I truly believe in this product and that will help me live a longer, more vibrant life! This has only been a few weeks time and maybe it is a placebo effect right now. I have extensively researched the literature on telomeres the enzyme telomerase and find the studies quite interesting. Elizabeth Blackburn was one of the first to discover the importance of maintaining telomere length for a long and healthy life.

Bottom Line: Yes, I would recommend this to a friend

---

25 out 25 people found this review helpful

My body is moving in the right direction

By Patty W.

,

Phoenix, AZ

,

Apr 24, 2019
Verified Reviewer

I have barely used one bottle of Telogenesis. I have a good feeling about subtle changes in my body. I expect more, may I say, tangible results as time goes on. I am gratified to have read the explanation about how this works in my system; I know things are headed in a healthy direction. In addition, I do eat organic food. I am in my late 80's, but am reasonably active, I have a part-time job working from home, I work out at the gym once a week minimum and do a series of exercises and stretches each morning. So life is good.

Bottom Line: Yes, I would recommend this to a friend

---

26 out 27 people found this review helpful

New found strength

By Colleen G.

,

Orlando, FL

,

Apr 17, 2019
Verified Reviewer

I've been laid up with a leg injury for about a year. I was moving to a new office space and injured my leg. I was in so much pain. I started healing, but I couldn't work out because my leg felt weak. After using Telogenesis by LCR, my overall muscle strength has returned and I'm able to start working out again without pain or muscle weakness.

Thanks.

Bottom Line: Yes, I would recommend this to a friend

---