Energy Renew by Gundry MD Reviews
Claimed This company has claimed this profile, is getting alerted on any new customer reviews entering this page, and may engage in dialogue with its customers to address their matters.

Companies cannot pay money or provide goods in order to remove or alter customer reviews.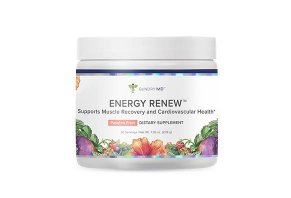 According to Gundy MD, the six-ingredient blend found in their Energy Renew supplement could help customers experience supercharged energy and improved mental focus.
Energy Renew - Can It Help You?
Medically Reviewed by Anthony Dugarte, M.D., C.S.C.S
What Is Energy Renew?
Energy Renew by Gundry MD uses a blend of powerful nutrients the company advertises will increase your cells' natural ability to create their own energy, while also providing protection and helping them burn fat.
Together, the website indicates you could experience "supercharged" all-day energy in your life, along with additional potential benefits like a slimmed figure, better-looking skin, boosted mental energy and focus, and a more youthful-feeling body.
You'll simply mix one scoop of the passionfruit-flavored powder with 8 fl. oz. of water and enjoy. We're told it contains only 100% natural and safe ingredients, is tested for quality and purity at an independent, third-party facility, and can be taken by "anyone who wants to feel more energetic in their day-to-day life."
Based on the specific ingredients in Energy Renew's formulation, can you expect to experience all of the benefits advertised by Gundry MD? Before helping you answer this critical question (and many more), let's quickly cover some basics.
What Causes Decreased Energy (aka Fatigue)?
The definition of fatigue is "extreme tiredness, typically resulting from mental or physical exertion or illness." In other words, fatigue isn't a condition itself; it's a side effect of other conditions.
Sources of fatigue are wide ranging and encompass less concerning factors related to lack of sleep or poor diet, as well as underlying medical conditions like diabetes or even cancer.
Considering the potential health concerns associated with chronic fatigue, you should start moving toward a solution by meeting with your doctor.
In the meantime, let's take an in-depth look at Energy Renew's ingredients so you can further discuss them during your appointment.
Which Ingredients Does Energy Renew Contain?
According to the supplement facts label listed on the Gundry MD website, Energy Renew contains the following:
Vitamin C 5 mg
D-Ribose 5,000 mg
N-Acetyl L-Carnitine 500 mg
Polyphenol Blend 300 mg – Beet Root Extract, Hibiscus Flower Extract, Betta Berries (Acai, Acerola, Amla, Jabuticaba, Cranberry, Goji, Mangosteen, Maqui Berry, Pomegranate, Strawberry, Schisandra Berry)
Vitamin C is an antioxidant that can combat free radicals, substances associated with harmful oxidative stress, as well as support immune function.
These effects were demonstrated when the combination of 3g of vitamin C and 2g of vitamin D prevented the oxidative stress from sunburn over 50-days.
Its relationship with the immune response has also been demonstrated; vitamin C levels drop during acute infection or stress. Also, 55 patients that were treated with 60 mg/Kg body weight of vitamin C experienced elevations in white blood cell levels, cells we use to fight infection.
D-Ribose is a naturally occurring sugar that plays a large role in energy production. At 15g/day, D-Ribose improved energy in patients with chronic fatigue syndrome and fibromyalgia.
In healthy subjects undergoing intense exercise, 10g/day of D-Ribose reduced perceived exertion, as well as blood tests that indicate muscle damage, over the course of 5-days.
N-Acetyl L-Carnitine also plays a role in energy production as it works to transport enzymes that breakdown fatty acids into the mitochondria, the powerhouse of your cells.
Created by the liver, kidney and brain, it can also be obtained from meat products. Vegetarians that received 2g/day for 3-weeks increased both blood and muscle carnitine levels though this did not improve muscle function during exercise.
In contrast, 26 healthy subjects prolonged their ability to exercise with 3-4g/day over 1-week.
Polyphenols are compounds found in fruits, vegetables, and wheat products that are thought to play a role in energy metabolism, while also offering antioxidant, disease-fighting, and brain-boosting capabilities.
Over 12-weeks, cognitive function improved in 12 elderly adults with memory decline after consuming 6 and 9 ml/kg of concord grape juice, a beverage known to be packed with polyphenols.
The relationship between, quercetin, a type of polyphenol, and exercise performance has been extensively investigated. While performance improvements were noted in a review of 11 studies, they were minimal. Also, duration of treatment, and dosing (up to 1000mg/day) did not affect these results.
Are There Potential Side Effects Related to Energy Renew's Ingredients?
The studies reviewed here included doses comparable, or substantially larger, when compared to those offered in Energy Renew.
Vitamin C was safe at 3g/day over 50-days without adverse events. Nausea, diarrhea, and headaches are possible with excess amounts.
Both D-Ribose and N-Acetyl L-Carnitine were safe at doses 2-4x larger than Energy Renew. Both can similarly be associated with digestive issues like stomach cramping and diarrhea.
Polyphenols are generally safe. The company does not offer details for dosing in each individual ingredient in this blend, though quercetin was safe at more than 3x Energy Renew's total polyphenol dose.
The Gundry MD website emphasizes consulting with your own healthcare provider before you start taking any new dietary supplement, which is something we can certainly get behind. Not only could this help you avoid side effects based on your diagnosis, but it could also help ensure you're getting the most value for the money.
How Much Does Energy Renew Cost?
If purchased from EnergyOver40.com, Energy Renew is available in the following quantities:
1 Jar: $49.95
3 Jars: $134.85 ($44.95 per jar)
6 Jars: $254.70 ($42.45 per jar)
The single-jar option comes with an additional $4.95 S&H fee, while the three and six-jar options include free shipping.
Regardless of quantity, all Energy Renew orders come from Gundry MD with a 90-day money back guarantee, less S&H, which you can request by calling (800) 852-0477.
Are There Other Powdered Antioxidant Supplements Like Energy Renew?
There are hundreds of different powdered antioxidant supplements competing directly with Energy Renew, most of which share more in common than they do differences. These include extensive fruit and vegetable blends (often referred to as 'superfoods'), along with essential vitamins and minerals that promise to promote improved energy and boosted overall health.
Here were some of the top results on sites like Google Shopping and Amazon.com at the time of our research, several of which the HighYa team has written about in the past:
| | | |
| --- | --- | --- |
| Dietary Supplement | Price / Net Weight | Formulation |
| Energy Renew | $42.45+ / 7.36 oz. | Vitamin C 5 mg, D-Ribose 5,000 mg, N-Acetyl L-Carnitine 500 mg, Polyphenol Blend 300 mg – Beet Root Extract, Hibiscus Flower Extract, Betta Berries (Acai, Acerola, Amla, Jabuticaba, Cranberry, Goji, Mangosteen, Maqui Berry, Pomegranate, Strawberry, Schisandra Berry) |
| Vital Reds | $70 / 4 oz. | Thiamin 1.5mg, Riboflavin 1.7mg, Niacin 20mg, Vitamin B6 2g, Folate 400mcg, Vitamin B12 6mcg, Biotin 300mcg, Pantothenic Acid 10mcg, Selenium 70mcg, Chromium 200mcg, Polyphenol Blend 1,540mg - Organic carrot, flax seed, apple peel, mulberry, black currant, apple, cranberry …, Metabolic Boosting Blend 216mg – Cinnamon, ginger root, green tea, white tea, bitter melon, turmeric, black pepper, Digestive Support Blend 3 billion CFU – Bacillus coagulans, Lactobacillus acidophilus, Bifidobacterium lactis, L. reuteri |
| Athletic Greens | $77+ / 12.69 oz. | 75 total ingredients, including probiotics (Bifidobacterium bifidum, Lactobacillus acidophilus), fatty acids (alpha lipoic acid), vitamins and minerals, adaptogens (Rhodiola Rosea, Withania somnifera, etc.) |
| Feel Great 365 Superfood Vital Reds w/Greens | $40+ / 10.58 oz. | Vitamin C 122 g, Calcium 19 mg, Iron 0,5 mg, Super A Antioxidant Blend – Carrot root, beetroot, plum fruit, papaya fruit …, Mighty B Antioxidant Blend – Radish root, green tea leaf extract, quercetin …, Detox w/Plant Enzymes – Whole Oat Bran, Apple Pectin, Aloe Vera Leaf Powder, …, Red & Green Antioxidant Blend – Green tea leaf, blueberry fruit, collards powder …, Berry Antioxidant Blend – Cranberry, strawberry, raspberry, … |
How to decide which of these is best for you? As we frequently discuss when it comes to dietary supplements, the best choice will often depend on which factors you emphasize most.
Athletic Greens will cost customers about $2.56 per serving, or more than double the cost.
However, Athletic Greens also contains probiotics, which might help improve digestion and boost immune function and provide more bang-for-your-buck, if this is one of your primary goals after discussing with a healthcare professional. It also contains adaptogens, which are plant-based substances the manufacturer claims can 'adapt' to your mood and changing bodily conditions.
Even Gundry MD's other plant-based antioxidant supplement Vital Reds costs meaningfully more than Energy Renew, but it also contains a much more extensive ingredients list—including many more antioxidant sources.
Like Athletic Greens, Vital Reds also includes potentially beneficial probiotic bacteria for digestion issues, as well as vitamins and minerals like B6, B12, niacin, selenium, and chromium.
Along these same lines, Feel Great 365 contains meaningfully more vitamin C than Energy Renew, and also comes in at a lower price point.
With these details in mind, how can you decide which of these areas you should focus on? Let's carry this question over to the final section as we wrap things up.
Do You Need to Take a Dietary Supplement Like Energy Renew by Gundry MD?
As a company, Gundry MD has only been in business since 2014, although they've released many popular supplements in that time, including Primal Plants, Prebiothrive, and Total Restore. Here on HighYa and elsewhere online, these products came with almost wholly positive customer reputations, and the company currently holds an A+ Better Business Bureau rating.
They also stand behind their products with a 90-day satisfaction guarantee, with no restocking fees or other penalty charges, if they don't live up to your expectations.
Vitamin C's antioxidant and immune boosting capabilities were proven at doses even lower than what is included in Energy Renew. The support for D-Ribose, N-Acetyl-L-Carnitine, and polyphenols is mixed, however, even at doses much larger than what is available in this supplement.
When combining the available scientific support with pricing options, this may not be the best place to start if you're interested in boosting your energy.
As emphasized on the Gundry MD website, you'll definitely want to have an in-depth conversation with your doctor prior to placing your order, which can help minimize potential side effects, while also maximizing the health benefits you might experience.
Asking for input from Gundry

By Noel S.

,

Barnegat Township, NJ

,

Feb 20, 2020
Verified Reviewer

I spent 2 hours writing up questions regarding Dr. Gundry's Energy Renew. However, every time I tried to send it to his business website, it crashed. Two hours.

Thus, I now recognize everything I questioned was true. This is a Gundry SCAM! In addition, at $74.94 per month, this product is only for the wealthy, not the sick. Dr. Gundry purports to care for the ill.

Nonsense! No one in the middle or lower income levels could possibly afford this miracle product.

Dr. Gundry, show your true self!

Bottom Line: No, I would not recommend this to a friend

Feb 21, 2020

Hi Noel, I want to sincerely apologize for the inconvenience you experienced reaching our customer support. I want to assure you that our customer service email (support@gundrymd.com) and our phone number (800-852-0477) are both actively monitored by a dedicated team. I also want to offer my personal email - aria@gundrymd.com - to address any other questions or concerns you may have.

In regards to your order, I've gone ahead and initiated a full refund for your order of 1 jar of Energy Renew placed in December 2019. Please keep an eye out for a confirmation email. Thank you.

---

When is the best time to take Energy Renew

By Monica M.

,

Atlanta, GA

,

Nov 11, 2019
Verified Reviewer

I have only used Energy Renew for a week. Is there a best time to take it? Presently I find no difference, improvement in my lack of energy. The product tastes delicious, I have been taken it in the afternoons as a "snack". Will it be more effective in the morning? Or evening?

Bottom Line: Yes, I would recommend this to a friend

---

Energized at 70.

By Ken L.

,

Ohio

,

Jun 21, 2019
Verified Reviewer

I have been using Energy Renew, Heart Defense, and Vital Reds for months, in a smoothie in the morning with blueberries and protein powder. Results? I will be 70 this year, walk 30-35 miles a week at a 15-minute per mile pace, do P90x at least once a year, and can run up stairs without being out of breath. People marvel at my energy and activity level.

Bottom Line: Yes, I would recommend this to a friend

---

Energy amplifier

By Mary P.

,

Colorado

,

Jun 19, 2019
Verified Reviewer

I notice a difference in the amount of energy I have. Workouts are more energetic. I like using it and will probably continue. I would recommend this product. The taste is good and not too sweet.

Bottom Line: Yes, I would recommend this to a friend

---

Advertisement

---

Energy Renew is awesome. It gives energy and improves skin.

By William G.

,

Ventura, CA

,

Jun 19, 2019
Verified Reviewer

Dr. Gundry is the best nutritionist since the Juice Man. Of course, Doc is more scientific and gets to the molecular level. I trust Doc. His narrative videos are convincing. He could be better in the debate videos. No need to say things like throw out the Juice but keep the skins of berries. Doc, prep before debates! You are relaxing on your laurels. Focus on science. One contradiction: in Vital Reds video you state don't eat go go berries but they are in Energy Renew! Whaddup Doc?

Bottom Line: Yes, I would recommend this to a friend

---

Energy Renew

I am on my 4th week of Energy Renew. It has given me some energy but I still get that mid-afternoon slump. Sometimes after I drink it, I feel a bit nauseous for a few seconds.

Not sure I would recommend yet.

Bottom Line: No, I would not recommend this to a friend

---

Dr. Gundry's products

By Sherry H.

,

Arizona

,

Mar 4, 2019
Verified Reviewer

I was feeling kinda of sluggish and low on energy. A friend recommended that I try Vital Reds, so I looked it up, liked what was in it and ordered. Then I saw Energy Renew, so I ordered that as well. I combined the two in the mornings. I feel better throughout the day and don't seem to get that 2:00 pm low. I also read your book Plant Paradox and have incorporated some of the do's and don't into my daily vegetarian diet.

Bottom Line: Yes, I would recommend this to a friend

---

Good so far.

By David P.

,

Adelaide, Australia

,

Mar 3, 2019
Verified Reviewer

My wife and I took our first delivery of Energy Renew and we both found our energy levels definitely increased and really noticeably on hikes in the local hills. We then had trouble trying to order more as it wasn't available and only in the last six weeks we were able to get some more and have now been taking it again. I take it with a glass of water mixed with Vital Reds and Primal Plants every morning. I find now that I have more energy and stamina than I've had for years and in the process dropped 7 kilos.

Bottom Line: Yes, I would recommend this to a friend

---

Great drink

By Julie P.

,

Madison, WI

,

Mar 3, 2019
Verified Reviewer

I was skeptical if it would actually provide more energy and I believe it does. I drink it in the morning before my coffee. Yes, one morning I didn't drink my coffee until 11! The fact that the powder dissolves easily and taste great with no aftertaste is a bonus. I am very sensitive to after tastes of even natural sweeteners. This has none!

Bottom Line: Yes, I would recommend this to a friend

---

Energy Renew

By Colin M.

,

Australia

,

Mar 2, 2019
Verified Reviewer

I have been taking bodybuilding support and all it is a waste of money, this is the real deal and healthy. No need for post workout energy formulas, natural energy all the time, all day with Energy Renew will be keeping it up for my health and training.

Bottom Line: Yes, I would recommend this to a friend

---

My opinion

By John H.

,

Auckland, New Zealand

,

Mar 1, 2019
Verified Reviewer

I am a very active 71-year-old, who still works building Hot Rods for clients six days a week. I have been a Noni juice taker for over 20 years, and generally, have a ton of energy. However since Christmas, I felt a reduction in my energy level, so after some research decided to try the Energy Renew from Gundry MD.

The results have been slow coming, as with most natural products, but recently I feel I am back to my normal energy levels. I will do continue for the next two months and then re-evaluate. I am expecting a good outcome.

Bottom Line: Yes, I would recommend this to a friend

---