Basis by Elysium Reviews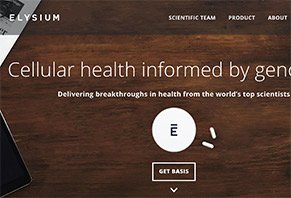 Basis by Elysium is a nutritional supplement that can boost NAD+ levels in your cells, improving communication and energy, providing a range of health benefits.
About Basis by Elysium
If you've been a HighYa reader for long, you already recognize that there are a lot of products claiming to work at the cellular level, whether they're supposed to help you look younger or improve your health. But in a lot of instances, these products fail to deliver on their promises. Is Basis by Elysium different, though?
According to Elysium, after decades of research by leading scientists and clinicians, this nutritional supplement was designed to repair cells damaged by the aging process and environmental toxins, while keeping healthy cells healthy. As a result, Basis could help you experience benefits not attainable through diet and exercise alone, such as "more consistent energy, better quality sleep, and sharper cognitive function."
Basis accomplishes this by boosting your body's production of a coenzyme called NAD+ (we'll talk more about this soon), which is responsible for cellular energy production, damage repair, and more. All you have to do is take two capsules each morning, and with regular use, Basis could "optimize your health" for the long-term.
You're here for one main reason: you want to know if Basis by Elysium is the real deal, and that's exactly what we'll help you find out in this review. To begin, let's take a closer look at the role of NAD+ in the body.
Nicotinamide Adenine Dinucleotide (NAD+) & Your Health
Nicotinamide riboside (NR) doesn't directly cause any benefits in the body. Instead, as a coenzyme (a substance that enhances the action of an enzyme), it binds with protein molecules to create active enzymes. NR also boosts levels of another coenzyme called nicotinamide adenine dinucleotide (NAD+), which is essential for proper cellular function, but is something that begins declining in our 20s.
However, supplementation of nicotinamide riboside has been clinically shown to combat many side effects associated with this NAD+ reduction, including improving communication between your cells' nuclei and their mitochondria, leading to improved cellular health, boosted cognitive function and synaptic plasticity, reduced likelihood of neurodegenerative diseases, and more. In order to provide these benefits, Basis only contains two ingredients: nicotinamide riboside and pterostilbene, a potent polyphenol and derivative of resveratrol found in blueberries that boosts sirtuin levels, another enzyme associated with slowed aging.
Here's the thing though: Much of the current clinical research on these substances has been conducted on non-human subjects (often yeast or mice), which is something you can see for yourself by quickly browsing the citations on Elysium's website. So, although much of this research is positive, it's still far from "proven" that these substance will provide these same benefits in humans.
Where Does Elysium Obtain Their Nicotinamide Riboside From?
Over the past couple years, we've seen an explosion in the number of nicotinamide riboside supplements available on the market. Not just because of the positive research that continues to pile up, but because of a new way of obtaining NR in the first place.
You see, until recently, NR was manufactured using a labor-intensive 8-step process derived from tryptophan. Today though, a company named ChromaDex manufactures the "first and only commercially-available nicotinamide riboside (NR) with five patents issued and more pending," which they sell as a standalone ingredient under the trade name Niagen. This is why you'll find dozens of different Niagen supplements (such as one from Live Cell Research – more about this shortly) manufactured by completely different companies.
However, there wasn't a nutritional label listed on the Elysium website, although there's no indication on their website that Basis contains Niagen (or the amount), so it's not clear if additional commercial sources of nicotinamide riboside are used.
Whether it goes by Niagen or another name, or it's manufactured by Elysium or another company, what's everyone saying about these NR supplements?
Do Nicotinamide Riboside Supplements Like Basis Really Work?
We already talked about the positive—yet preliminary—clinical research for nicotinamide riboside above, but what are real-world customers experiencing with these supplements?
Basis by Elysium has received a fair amount of high-level media attention recently, having been featured in MIT Technology Review, The Boston Globe, Scientific American, Fast Company, and more. Most of these were high-level reviews talking about the scientific credentials of many of the people behind the company (we'll talk more about this in the following section), but not necessarily reviews about the supplement itself.
However, we did find one first-hand review on CorpsStrength.com, where the author concluded that they didn't experience any noticeable results from taking Basis for an undisclosed period of time. On the upside, they didn't claim to have experienced any side effects, either.
Here on HighYa, Live Cell Research's Niagen supplement had a 3-star rating based on 73 reader reviews at the time of our research. As you might imagine with such an evenly split reputation, some customers claimed to have experienced boosted energy, improved mental clarity, and improved sleep; while others claimed to have experienced nothing at all.
Let's talk more about Elysium's power-packed team of scientific professionals next.
The Team Behind Basis by Elysium
Compared to most of the other nicotinamide riboside supplements out there, Elysium's CEO Eric Marcotulli has assembled a "dream team" of 30+ industry innovators and science and medicine pioneers to create the Basis supplement. This includes Chief Scientist Lenny Guarente, who has "focused his research on what keeps us healthy as we age" for more than 35 years, and who also runs MIT's Glenn Lab for the Science of Aging, as well as Nobel laureates Aaron Ciechanover, Eric Kandel, Martin Karplus, and more.
According to Eric, the market potential for something like Basis was ripe for development, as he was "overwhelmed with the response" after reaching out to these scientists. In the future, the company hopes to continue identifying "novel compounds to produce health products that can directly improve our health."
Given the clinically studied ingredients and the scientific support behind Basis, how much will you pay for the supplement?
How Much Does Basis by Elysium Cost?
Basis is available through the following options:
One Bottle: $60
Monthly Subscription: $50 per bottle
Semi-Annual Subscription: $45 per bottle ($270 due at checkout)
Annual Subscription: $40 per bottle ($480 due at checkout)
All orders include free Ground shipping.
Important note: If you choose any of the subscription options, Elysium will continue sending you a fresh bottle of Basis once per month. If you're on a monthly plan, these recurring shipments can be canceled at any time. However, semi-annual or annual subscriptions cannot be canceled mid-term.
In addition, keep in mind that after your Basis order has shipped, no refunds are available.
In order to speak with one of Elysium's customer support representatives, you'll need to call toll-free (888) 220-6436 or send an email to care@elysiumhealth.com.
Will Basis by Elysium Improve Your Health—or Your Life?
In classical mythology, Elysium was "the abode of the blessed after death." But can the company's first supplement, Basis, help you live a healthier, happier, and longer life in this world?
Based on the available clinical evidence and customer feedback for similar products, we'd recommend keeping your expectations realistic for Basis. In other words, could the NR contained in Basis really help improve cellular function? Considering the mounting clinical evidence, it certainly seems well within the realm of possibilities.
On the flip side, even if Basis' ingredients work exactly like the company claims, you might not experience any noticeable exterior benefits. According to their FAQ:
"Basis is designed to work beneath the surface on the health of your cells, and its primary purpose is not to deliver surface-level results. Taking Basis is an investment in your long-term health, and you may not feel different despite the improvements happening inside your body. Everyone's physiology is unique and results vary from person to person."
Given this, if you don't experience any "surface-level results" with Basis, how will you be able to tell the difference between it working and it not? How can you gauge whether or not your $60-per month investment is worthwhile? Ultimately, despite the clinical research and scientific credentials behind the supplement, you'll have to decide whether or not it's worth taking the risk.
In our opinion, if you feel like giving Basis by Elysium a try, we'd recommend starting with a single bottle, since refunds aren't available and you can't cancel an annual or semi-annual subscription mid-term. Then, depending on your results, you make a more informed decision about how to proceed.
Works very well for me

By Frank D.

,

Seattle, WA

,

Jan 23, 2020
Verified Reviewer

I am 75 and have been taking Basis for about five plus years. I also fast and exercise. I am very active. I know a lot of people say this but since taking Basis, I feel like I did when I was forty. I started a new family and business when I was 70 and have plans to start another business this year. I have zero physical pain or loss of energy. I would definitely (and have) recommend Basis.

Bottom Line: Yes, I would recommend this to a friend

---

False product

By Emily K.

,

Wilsonville, OR

,

Jul 11, 2019
Verified Reviewer

Elysium is a scam. I had a terrible experience. Never experienced their claims of what the product would do for you. I decided to cancel my membership (they lock you in immediately) and of course when I did they had conveniently sent me another bottle and charged my account and I couldn't cancel it or get a refund. Now, why is that? It's considered a "final sale" now, I wonder why?! Because your product is a freaking scam of course...they are just stealing money people. Don't waste your time. Most legit businesses that have wonderful and legit products care about the happiness of their customers...this place doesn't care what so ever...once again it's because it's a scam. You're welcome. I just saved all of you hundreds of dollars.

Bottom Line: No, I would not recommend this to a friend

---

Advertisement

---

There are better alternatives

By Nick A.

,

Rochester, NY

,

Jul 10, 2019
Verified Reviewer

I would not recommend Basis by Elysium to anyone.

My partner and I decided to start taking an NR & Resveratrol supplement after watching an excellent podcast featuring David Sinclair, Ph.D.

We are both in our 30's and decided to try a month of the ReversalCel supplement from Thorne, followed a month of Basis by Elysium. ReversalCel is great and we are still taking it months later.

Basis by Elysium, on the other hand, caused us both to have issues focusing and sleeping. It also gave me horrible anxiety. We both stopped taking it after about 10 days.

Bottom Line: No, I would not recommend this to a friend

---

Body aches and decreased strength

By John C.

,

Mason, OH

,

Jun 22, 2019
Verified Reviewer

1) I thought I would try this product based on some online info.

2) Tendons and muscles started aching after about 2-3 weeks, especially arms and shoulders.

3) Strength was decreased.

4) My mood was depressed. I didn't seem to have energy.

5) Pushed through the aches and mood for about 3 months, and then cut back to half dose. No change, so STOPPED taking it after month 4.

6) Just checked my credit card statement and saw a recurring charge, which is a month too early. I tried to contact them to cancel. Their website would not open and the phone number (888-220-4636) rings busy.

7) I will try again and I will dispute the charge with my card issuer, if the charge is not refunded.

Bottom Line: No, I would not recommend this to a friend

---

Advertisement

---

Works! (I think...)

By Aaron J.

,

Ohio

,

Jun 18, 2019
Verified Reviewer

Like many others have said, it's hard to determine whether or not (or how much) this is working. I have had no negative side-effects, so I have been continuing to take this for about 14 months now. If you pay for the full year up front, the cost is the same or cheaper than you can find anywhere else for the dosage provided. I THINK this has slowly helped with my memory and energy levels, but if so, it's been very slow and gradual, and too difficult to say with certainty. What I can say though, is that I've only been sick once since I started this, and I used to get sick 2-4 times a year. That alone is enough to keep me going on this. I also like the science and the 5 Nobel winners behind it. My thoughts are that they, hopefully, wouldn't attach their reputations to a scam. Everybody's system is different, so some may see immediate, obvious effects, while others may be less obvious. If you're looking for a "fountain of youth," you won't find that anywhere. Research the science behind this and decide if the investment is worth the upside/possibilities. This isn't meant to change your life instantly. I'm a 46-year-old male, fairly active.

Bottom Line: Yes, I would recommend this to a friend

---

Use it, love it

By John S.

,

New York, NY

,

Feb 26, 2019
Verified Reviewer

Easy to use, great results, feel significantly healthier in the first 60 days. Not a scientist, just an ordinary person, but this product works for me. Haven't gotten sick since I started using it, either - and I always get a winter cold around this time of year (February).

Bottom Line: Yes, I would recommend this to a friend

---

Elysium and weights

By Tim H.

,

Sharon, PA

,

Feb 10, 2019
Verified Reviewer

I have taken Elysium on and off over the past couple of years and have had the same results each time. I lose a lot of strength when taking Elysium, this has happened each time I start taking it again. My skin, hair, etc. seem to improve, but my strength really takes a hit.

My unprofessional opinion is that it increases estrogen levels and as a male that is not what I am looking for. Again, this is anecdotal, but the loss of strength has happened every time I start back on Elysium.

Bottom Line: No, I would not recommend this to a friend

---

Clearly a scam

By R K.

,

New Jersey

,

Oct 8, 2018
Verified Reviewer

Basis is a slow poison and you won't notice its effects unless you take it for a long time.

I have been taking Basis for some time now, and I have started to get anxiety for small things which never used to happen before. I have completely stopped taking it, though I don't know if I will be normal again. I didn't see any difference in sleep or waking up more refreshed/energetic.

I do know that Elysium people will do anything for money. I had taken a yearly subscription, but after I started feeling too much anxiety, I asked them to cancel my subscription and refund the remaining money. I also offered them to charge individual purchase rate for the months, they have sent me the Basis, but they flatly refused.

Their mantra is money, money, money.

Bottom Line: No, I would not recommend this to a friend

---

Treated fairly

By Mario C.

,

Kingston, NY

,

Oct 2, 2018
Verified Reviewer

I took Basis for a few months and began to have difficulty with my anticoagulation medication. When I notified the company, they were quite gracious and canceled my subscription. I would urge anyone taking anticoagulants to be careful with this product. Other than that problem, I was disappointed that I couldn't continue.

Bottom Line: Yes, I would recommend this to a friend

---

Has worked very well for me.

By Charles H.

,

Vero Beach, FL

,

Sep 30, 2018
Verified Reviewer

When it first came out, I was intrigued. The science made sense to me, and at my age, I could feel myself start to slow down. After about three days, I felt a difference: more energy, less fog, didn't want to nap in the afternoon, etc.

I then stopped for a few days, and before long I was back to my previous self. Repeated the process a few times. Every time I stopped, it felt like someone took out my batteries.

That was years ago. A while back, I decided to double the dosage, and things got even better. This is the only supplement I take. I've given jars to my friends, mostly good, but didn't work for everyone.

Bottom Line: Yes, I would recommend this to a friend

---

Basis by Elysium review

By Lori P.

,

Chicago, IL

,

Jun 4, 2018
Verified Reviewer

I'm a late 40s athletic female and about six weeks into taking this supplement. Almost immediately my sleep has improved; however, I've had some wacky, vivid dreams. I do not feel I have extra energy nor have experienced any joint or body pains mentioned by others. I've received my shipments on time without any hassle. I will update if there are any changes.

Bottom Line: Yes, I would recommend this to a friend

---