Basis by Elysium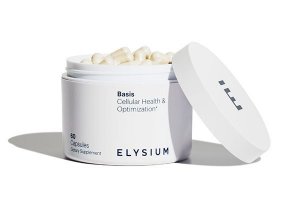 Basis is a dietary supplement from Elysium that is designed to promote healthy aging at the cellular level by boosting your NAD+.
Basis by Elysium Review: What You Should Know
Elysium claims that Basis will promote healthy aging at the cellular level by boosting your Nicotinamide adenine dinucleotide (NAD+).
More specifically, taking 2 Basis capsules daily is intended to:
Promote healthy cellular aging
Activate sirtuins, proteins that regular cellular health
Boost energy
Maintain healthy DNA
Help Sustain cellular functions
According to Elysium, these effects are made possible by the combination of just two ingredients.
While the proposed benefits of Basis certainly sound desirable, can this supplement actually help you achieve them?
In this article, we'll review the available research, if any, that backs Elysium's claims. But first, let's discuss the roles of NAD+.
What Is NAD+?
NAD+ is a molecule that plays a significant role in how your body creates energy.
When you eat, your body digests and absorbs the nutrients available in each meal and uses them to fuel the Citric Acid Cycle – a series of reactions that generate NADH.
In turn, this form of NAD is used to create adenosine triphosphate (ATP) – the energy your body needs for every chemical reaction.
Your NAD+ levels diminish over time; low levels may be associated with reduced energy, poor sleep, diabetes, Alzheimer's, or even some forms of cancer.
Effectiveness of Ingredients
Though Basis combines two ingredients in each serving, the real star of the show is nicotinamide riboside (NR).
Pterostilbene (PT) – 50mg
PT is similar in structure to resveratrol, the phenol found in grapes that is responsible for the antioxidant effects of wine. Similarly, PT may offer anti-cancer, anti-inflammatory, antioxidant, and pain-relieving effects.
Most of the available scientific support has been in laboratory and animal models, however.
The available support in human subjects often pairs PT with NR. This combination was found to elevate cholesterol levels, while NR alone did not.
While this side effect can be harmful in those with cardiovascular disease, Basis has been tested as a stand-alone product – we'll talk more about the adverse events reported in this study later.
Nicotinamide Riboside (NR) – 250mg
NR is related to vitamin B3 and is found naturally in small amounts in milk. Its ability to boost NAD has been well-studied.
The NR in Basis is an NAD+ precursor; once ingested, it is converted to NAD+ through a series of reactions.
In earlier laboratory studies, NAD+ precursors demonstrated an ability to elevate NAD+ levels. Next, the efficacy of oral formulations was displayed in animal models.
This work was eventually applied to human subjects.
In 8 healthy individuals, NR was given at doses ranging from 250–2000mg. These doses safely and effectively boosted NAD+ levels.
In another study, 2000mg of NR daily for 12-weeks boosted NAD+ in obese men, though it did not improve insulin sensitivity, resting energy expenditure, or body composition.
So far, the research points to an ability for NR to boost NAD+ in laboratory models, animals, and human subjects, though the benefit of this action is still unclear.
The Basis Randomized Trial
Basis was studied as a stand-alone product in a recent randomized trial.
Healthy subjects aged 60–80 received either placebo, 250/50mg (NR/PT), or 500/100mg. Both Basis doses increase NAD+, though higher doses were associated with greater increases.
They also found that Basis may benefit liver function and mobility in elderly patients.
Safety
The ingredients offered in Basis have been well-studied. Additionally, Basis was tested as a stand-alone product.
Information for safety is available for multiple dosing regimens, though only for up to 3-months and in those 40-80 years old. Nonetheless, NR dosing up to 2000mg was safe.
Concerning Basis, mild adverse effects were described. These included nausea, diarrhea, headaches, and abdominal pain.
While this supplement is generally safe, more research is necessary to characterize the long-term use of NR fully. Speak with your doctor before use to limit unwanted effects.
Pricing
Right now, Basis is only available directly from the Elysium site. They offer several purchasing options, and all orders ship free.
If you're interested in single-bottle orders, you'll pay $60 each. If you plan on using Basis monthly, there are more cost-effective options.
Elysium also offers an auto-ship plan. You can choose to pay $50 monthly, $270 for 6-months, or $480 for the year.
Lastly, you should be aware that all orders are considered final sale. Based on Elysium's terms and conditions, you'll have difficulty getting a refund. Further inquiries can be addressed by contacting customer support at care@elysiumhealth.com or (888) 220-6436.
Alternatives
Though NAD+ boosting supplements are a more recent phenomenon, there is a handful currently available.
TRU Niagen is one example. At $40, you'll save about $20 when compared to a single bottle purchase of Basis. Also, TRU Niagen provides 50mg more NR in each dose.
Life Extension offers another option. They offer 30 capsules of NAD+ Cell Regenerator for just $18. Keep in mind that Basis and TRU Niagen offer 2.5–3x the NR found in each capsule of NAD+ Cell regenerator.
You may need 2 or 3 capsules to see benefits, which means your 30-day supply will only last 10-15 days.
The Bottom Line
Publishing a study with human subjects works in Elysium's favor, though the results mainly support its ability to elevate NAD+ levels in healthy individuals aged 60–80. These individuals may also experience enhanced liver function and mobility.
Whether or not boosting NAD+ can translate into the other claims made by Elysium remains unclear, however.
More work is needed to characterize the effects of NAD+ boosting supplements like Basis. As the hype seems to be ahead of the research, a more cost-effective NAD+ boosting supplement may be a better starting point.
Basis is likely safe to use, though speaking to your doctor before use is a good idea. Your symptoms may be caused by a condition that requires more than a dietary supplement to manage, so take steps to identify the source before treating them.
---
Works very well for me

By Frank D.

,

Seattle, WA

,

Jan 23, 2020
Verified Reviewer

Overall Experience:

I am 75 and have been taking Basis for about five plus years. I also fast and exercise. I am very active. I know a lot of people say this but since taking Basis, I feel like I did when I was forty. I started a new family and business when I was 70 and have plans to start another business this year. I have zero physical pain or loss of energy. I would definitely (and have) recommend Basis.

Bottom Line: Yes, I would recommend this to a friend

---

False product

By Emily K.

,

Wilsonville, OR

,

Jul 11, 2019
Verified Reviewer

Overall Experience:

Elysium is a scam. I had a terrible experience. Never experienced their claims of what the product would do for you. I decided to cancel my membership (they lock you in immediately) and of course when I did they had conveniently sent me another bottle and charged my account and I couldn't cancel it or get a refund. Now, why is that? It's considered a "final sale" now, I wonder why?! Because your product is a freaking scam of course...they are just stealing money people. Don't waste your time. Most legit businesses that have wonderful and legit products care about the happiness of their customers...this place doesn't care what so ever...once again it's because it's a scam. You're welcome. I just saved all of you hundreds of dollars.

Bottom Line: No, I would not recommend this to a friend

---

Advertisement

---

There are better alternatives

By Nick A.

,

Rochester, NY

,

Jul 10, 2019
Verified Reviewer

Overall Experience:

I would not recommend Basis by Elysium to anyone.

My partner and I decided to start taking an NR & Resveratrol supplement after watching an excellent podcast featuring David Sinclair, Ph.D.

We are both in our 30's and decided to try a month of the ReversalCel supplement from Thorne, followed a month of Basis by Elysium. ReversalCel is great and we are still taking it months later.

Basis by Elysium, on the other hand, caused us both to have issues focusing and sleeping. It also gave me horrible anxiety. We both stopped taking it after about 10 days.

Bottom Line: No, I would not recommend this to a friend

---

Body aches and decreased strength

By John C.

,

Mason, OH

,

Jun 22, 2019
Verified Reviewer

Overall Experience:

1) I thought I would try this product based on some online info.

2) Tendons and muscles started aching after about 2-3 weeks, especially arms and shoulders.

3) Strength was decreased.

4) My mood was depressed. I didn't seem to have energy.

5) Pushed through the aches and mood for about 3 months, and then cut back to half dose. No change, so STOPPED taking it after month 4.

6) Just checked my credit card statement and saw a recurring charge, which is a month too early. I tried to contact them to cancel. Their website would not open and the phone number (888-220-4636) rings busy.

7) I will try again and I will dispute the charge with my card issuer, if the charge is not refunded.

Bottom Line: No, I would not recommend this to a friend

---

Advertisement

---

Works! (I think...)

By Aaron J.

,

Ohio

,

Jun 18, 2019
Verified Reviewer

Overall Experience:

Like many others have said, it's hard to determine whether or not (or how much) this is working. I have had no negative side-effects, so I have been continuing to take this for about 14 months now. If you pay for the full year up front, the cost is the same or cheaper than you can find anywhere else for the dosage provided. I THINK this has slowly helped with my memory and energy levels, but if so, it's been very slow and gradual, and too difficult to say with certainty. What I can say though, is that I've only been sick once since I started this, and I used to get sick 2-4 times a year. That alone is enough to keep me going on this. I also like the science and the 5 Nobel winners behind it. My thoughts are that they, hopefully, wouldn't attach their reputations to a scam. Everybody's system is different, so some may see immediate, obvious effects, while others may be less obvious. If you're looking for a "fountain of youth," you won't find that anywhere. Research the science behind this and decide if the investment is worth the upside/possibilities. This isn't meant to change your life instantly. I'm a 46-year-old male, fairly active.

Bottom Line: Yes, I would recommend this to a friend

---

Use it, love it

By John S.

,

New York, NY

,

Feb 26, 2019
Verified Reviewer

Overall Experience:

Easy to use, great results, feel significantly healthier in the first 60 days. Not a scientist, just an ordinary person, but this product works for me. Haven't gotten sick since I started using it, either - and I always get a winter cold around this time of year (February).

Bottom Line: Yes, I would recommend this to a friend

---

Elysium and weights

By Tim H.

,

Sharon, PA

,

Feb 10, 2019
Verified Reviewer

Overall Experience:

I have taken Elysium on and off over the past couple of years and have had the same results each time. I lose a lot of strength when taking Elysium, this has happened each time I start taking it again. My skin, hair, etc. seem to improve, but my strength really takes a hit.

My unprofessional opinion is that it increases estrogen levels and as a male that is not what I am looking for. Again, this is anecdotal, but the loss of strength has happened every time I start back on Elysium.

Bottom Line: No, I would not recommend this to a friend

---

Clearly a scam

By R K.

,

New Jersey

,

Oct 8, 2018
Verified Reviewer

Overall Experience:

Basis is a slow poison and you won't notice its effects unless you take it for a long time.

I have been taking Basis for some time now, and I have started to get anxiety for small things which never used to happen before. I have completely stopped taking it, though I don't know if I will be normal again. I didn't see any difference in sleep or waking up more refreshed/energetic.

I do know that Elysium people will do anything for money. I had taken a yearly subscription, but after I started feeling too much anxiety, I asked them to cancel my subscription and refund the remaining money. I also offered them to charge individual purchase rate for the months, they have sent me the Basis, but they flatly refused.

Their mantra is money, money, money.

Bottom Line: No, I would not recommend this to a friend

---

Treated fairly

By Mario C.

,

Kingston, NY

,

Oct 2, 2018
Verified Reviewer

Overall Experience:

I took Basis for a few months and began to have difficulty with my anticoagulation medication. When I notified the company, they were quite gracious and canceled my subscription. I would urge anyone taking anticoagulants to be careful with this product. Other than that problem, I was disappointed that I couldn't continue.

Bottom Line: Yes, I would recommend this to a friend

---

Has worked very well for me.

By Charles H.

,

Vero Beach, FL

,

Sep 30, 2018
Verified Reviewer

Overall Experience:

When it first came out, I was intrigued. The science made sense to me, and at my age, I could feel myself start to slow down. After about three days, I felt a difference: more energy, less fog, didn't want to nap in the afternoon, etc.

I then stopped for a few days, and before long I was back to my previous self. Repeated the process a few times. Every time I stopped, it felt like someone took out my batteries.

That was years ago. A while back, I decided to double the dosage, and things got even better. This is the only supplement I take. I've given jars to my friends, mostly good, but didn't work for everyone.

Bottom Line: Yes, I would recommend this to a friend

---

Basis by Elysium review

By Lori P.

,

Chicago, IL

,

Jun 4, 2018
Verified Reviewer

Overall Experience:

I'm a late 40s athletic female and about six weeks into taking this supplement. Almost immediately my sleep has improved; however, I've had some wacky, vivid dreams. I do not feel I have extra energy nor have experienced any joint or body pains mentioned by others. I've received my shipments on time without any hassle. I will update if there are any changes.

Bottom Line: Yes, I would recommend this to a friend

---