Vital Reds
Claimed This company has claimed this profile, is getting alerted on any new customer reviews entering this page, and may engage in dialogue with its customers to address their matters.

Companies cannot pay money or provide goods in order to remove or alter customer reviews.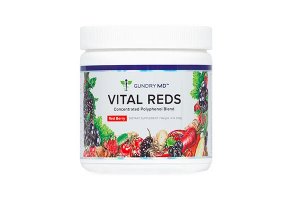 Vital Reds by Gundry MD features a blend of 50+ ingredients the manufacturer promises will deliver improved health, digestion, energy levels, and skin appearance.
Vital Reds by Gundry MD Review: Does It Really Work?
Medically Reviewed by Jason Reed, Pharm.D.
What Is Vital Reds?
Vital Reds is a powdered blend of polyphenol-rich superfruits, natural fat-burning ingredients, and probiotics that Gundry MD advertises will help increase your natural energy, promote digestion, and improve the health and appearance of your skin.
Additional benefits noted on the website include better food metabolizing, less gas and bloating after meals, smoother bowel movements, and "the feeling of finally having the power to start getting your weight under control."
Gundry MD states that you need to mix one scoop of Vital Reds berry-flavored, quick-dissolve formula with a glass of water or the beverage of your choice, and enjoy once per day, with or without food. From there, its soy, sugar, and artificial sweetener-free blend will get to work.
Combining our in-depth research and interviews with professionals, this review takes a detailed look at Vital Reds' formulation, the available clinical evidence for Gundry MD's claims, and the supplement's close competitors—all so you can decide whether or not to buy.
How Do the Polyphenols in Vitals Reds Work?
Polyphenols are naturally occurring micronutrient compounds found in plants that give them their color and help protect them from external threats.
In humans, Dr. Jason Reed, founder of BestRxForSavings says, "the most likely reason polyphenols are beneficial is due to the fact that they have antioxidant properties."
They "prevent free radicals (electrons that bounce off of atoms) from bouncing around inside our bodies and causing a host of [inflammation-based] issues," he adds, such as atherosclerosis and arthritis.
However, Reed points out that the human body doesn't require polyphenols to maintain good health. Furthermore, it doesn't necessarily take dozens of "exotic" ingredients—as Gundry MD advertises for those in Vital Reds—to reap the potential benefits polyphenols might provide, he said.
"Eating the recommended daily amount of fruits and vegetables will provide plenty of polyphenols," he advises.
With these details in mind, let's zoom in and take a closer look at what you'll consume with each scoop of Vital Reds.
Gundry MD advertises that Vital Reds contains the following 100% natural and pure ingredients:
Thiamin 1.5 mg
Riboflavin 1.7 mg
niacin 20 mg
Vitamin B6 2 mg
Folate 667 mcg DFE (400 mcg folic acid)
Vitamin B12 6 mcg
Biotin 300 mcg
Pantothenic Acid 10 mg
Selenium 70 mcg
Chromium 200 mcg
Reds Blend 1,760 mcg – Carrot, organic apple peel, grape skin extract, Aronia berry extract, organic flaxseed, grape seed extract, acai fruit extract, acerola fruit extract, apple, apple pectin, organic beetroot, blackberry, European black currant fruit extract, blueberry fruit concentrate, cranberry fruit extract, mango, mulberry fruit, papaya, pomegranate, red raspberry, strawberry, cantaloupe, cherry, grape, grapefruit, lemon, lime, orange, peach, pear, pineapple, plum, watermelon, berberine hydrochloride
Metabolic Enhancing Blend 365 mg – Cinnamon bark 5:1 extract, green tea leaf extract, white tea leaf extract, ginger root, turmeric root extract, bitter melon fruit extract, black pepper fruit
Digestive Support Blend: Probiotic Blend 3 billion CFU – Bacillus coagulans, Lactobacillus acidophilus, Bifidobacterium lactis, Lactobacillus reuteri
Fructooligosaccharides 250 mg
The US Department of Agriculture recommends that adult men and women eat at least two to three cups of vegetables per day, along with one-and-a-half to two cups of fruit.
With this said, the Centers for Disease Control reports that as of 2015, "just 9 percent of adults met the intake recommendations for vegetables," and "only 12 percent of adults met the recommendations for fruit."
As such, Reed tells us, "if a patient did not eat a healthy diet that provided the recommended daily allowance of vitamins and minerals, then it appears Vital Reds could be a benefit."
Still, he notes, he is "not familiar with this product and given that it is a dietary supplement that doesn't have to meet the same FDA requirements on efficacy and safety, I can't say for sure."
We also know that the medical community has used probiotics—beneficial bacteria strains like Bifidobacteria and Lactobacillus—for decades to help balance digestion, reduce gassiness and bloating, and even boost immune response.
Over the last several years, probiotic supplements have become popular among consumers as well, who use them to achieve many of the same benefits.
The Gundry MD website emphasizes that the natural, mostly food-based ingredients found in Vital Reds are 100% safe, as every batch is tested in the USA at a cGMP-certified facility. Then, it's rechecked for purity, content, and dosage by a third-party lab.
Still, side effects are always a possibility with any dietary supplement, as are medication interactions, which is why it's important to speak with your doctor before making any purchases.
With these details in mind, the most common side effects as a whole noted by sites like WebMD, the Natural Medicines Database, and Examine.com for Vital Reds' ingredients are mild, temporary digestive upset.
Also, according to Reed, the green tea extract's caffeine could raise your blood pressure, which is a drawback for someone who already deals with high blood pressure.
We've also learned during our past research that probiotics can initially lead to many of the side effects they're supposed to treat, such as gassiness and bloating, which typically subside quickly.
Gundry MD prices each jar of Vital Reds as follows:
1 Jar: $69.95
3 Jars: $199.36 ($66.45 per jar)
6 Jars: $377.73 ($62.96 per jar)
We also found Vital Reds sold on Amazon for $47.99 per 4 oz. jar at the time of our research.
All direct U.S. orders include free shipping, along with a 90-day guarantee. To request one, you'll need to call (800)852-0477.
There are perhaps hundreds of powders, antioxidant formulas, and polyphenol supplements competing for your business.
Many of these boast the same features as Vital Reds as well, including a wide assortment of fruit and vegetable extracts, a few different probiotic strains, and formulas that are free from sugar, sweeteners, artificial ingredients, and caffeine and other stimulants.
Here were some of the top-rated results in Amazon:
| | | | |
| --- | --- | --- | --- |
| Brand | Price / Cost Per Serving | Number of Ingredients | Notes |
| Vital Reds | $69.95 / $2.33 | 55 | 90-day refund policy |
| Superfood Vital Reds with Greens | $39.97 / $1.33 | 63 | Available in cocoa, mocha, and very berry flavors |
| KaraMD Revive Reds | $28.45 / $0.95 | 49 | Very similar formulation to Vital Reds |
| Purity Products Super Reds | $24.95 / $0.83 | 47 | No probiotics |
| RealDose Essentials Real Reds | $46.95 / $1.57 | 9 | 1-year money back guarantee |
| Organifi Green Juice | $69.95 / $2.33 | 13 | 60-day refund policy, |
While you certainly have a lot of options, choosing the right one might be as easy as deciding which factors to emphasize.
For example, if the price is your number one concern, Vital Reds and Organifi Green Juice tie for the highest cost per serving among popular competitors above. Country Farms comes in meaningfully lower, although since each jar only contains 20 servings, you'll likely have to reorder more often—or order larger quantities at the same time, thereby increasing your upfront costs.
Formulation-wise, RealDose has the fewest ingredients, while Superfood Vital Reds comes with the most. Note: KaraMD offers a very similar formulation as Vital Reds, but at a price that's almost 60% lower.
Coming in close behind is Organifi, which offers the second-fewest ingredients in its formulation and also ties with Vital Reds for the highest price per serving.
Furthermore, the manufacturer only gives you 60 days to try Organifi out, whereas RealDose 's one-year satisfaction guarantee awards them with the lengthiest refund policy.
An important thing to keep in mind is that more polyphenols doesn't always mean better absorption, Reed noted.
It's difficult to say which supplements in the chart absorb better into your body than others, as information about their polyphenols is limited. In our opinion, the best course of action is to take all factors of a supplement into account rather than focusing on which supplement has the most polyphenols.
Here on HighYa, more than 1,340 readers have given the Vital Reds powdered supplement an average rating of 4.3 stars (as of 9/7/19), with nearly 90% saying they would recommend it to a friend.
It's also much the same on the Gundry MD website, as well as third-party sites like Amazon. As such, it seems that most customers who give the supplement a try are pleased with their experience.
With these positives in mind, Reed emphasizes that most of us can get all the polyphenols we need just by eating the recommended daily allowance of fruits and vegetables.
if you're willing to invest minimal time into altering your eating habits, you might be able to forego supplementation altogether.
But, even if you're willing to pay for the convenience of getting your daily fruit and veggie allotment via a powdered drink mix, it's difficult to ignore the fact that Vital Reds costs meaningfully more than many other polyphenol-focused competitors.
We reached out to Vital Reds multiple times to inquire about which factors influence their higher-than-average pricing but were not able to get an answer. Therefore, we think it's difficult to recommend Vital Reds to customers who are looking to achieve the most value for their money.
This company is actively collecting reviews from its customers. All reviews submitted are subject to moderation and approval to ensure they meet our

Review Guidelines

.

3 out 3 people found this review helpful

Vital Reds

By Nina C.

,

Singapore

,

Nov 19, 2019
Verified Reviewer

I have been taking Vital Reds for the past 2 years. However, I had stopped for six months despite having 3 bottles left in my fridge.

(This is due to laziness...)

Anyway, I had noticed during the 6 months of not taking Vital Reds, my stomach bloated constantly although I had exercised, did yoga, went dancing...and was eating average size meals.

I was frustrated and had forgotten about the Vital Reds until my mother googled and told me to take Vital Reds...I said oh...I have it in my fridge. So I started taking it again. This is the second week and my bloating has reduced, hopefully I will get my flat tummy back soon...

I do feel energized, none lethargic and sharp...

Thank you, Dr. Gundry, can't wait to try your latest product.

Bottom Line: Yes, I would recommend this to a friend

---

4 out 4 people found this review helpful

Product does all the things listed in the description.

By Frediana W.

,

Florida

,

Oct 31, 2019
Verified Reviewer

I have been taking Vital Reds for about 6 months. It does everything it states to do. I now have a faster metabolism, I enjoy my food more, only crave for GOOD cooked meals, i.e., no snacks or sweets. I have lost almost 8 lbs, but still enjoy to eat my 3 meals a day and haven't gained any of that weight back. No more bloating, better digestive system, better mobility in my joints. I take the recommended dosage of Vital Reds in the morning, after breakfast!

Bottom Line: Yes, I would recommend this to a friend

---

Waiting to see

By Karen G.

,

Nanaimo, British Columbia, Canada

,

Oct 21, 2019
Verified Reviewer

I am trying this product as I have RA and osteogenesis imperfecta and feel fatigued most of the time. I started taking it last week but unsure of how much to scoop into the water so have been using a tablespoon but would like to confirm the correct dosage if anyone can tell me. I will write again once I notice a difference.

P.S. I only put no to recommending to a friend as I have not used it long enough yet but will update accordingly.

Bottom Line: No, I would not recommend this to a friend

Oct 23, 2019

Hi Karen, thank you for giving Vital Reds a try. Each jar of Vital Reds should come with a scooper and if yours didn't, please email me at aria@gundrymd.com so I can send you a replacement! Thank you!

---

2 out 3 people found this review helpful

Yum

By Laura C.

,

Massachusetts

,

Sep 24, 2019
Verified Reviewer

Such a tiny scoop. It was delicious. Just got my first jar today. Will check in later re results I've experienced. I had faith in Gundry and decided on autoship monthly. I have high hopes for more energy and improvement in overall health.

Bottom Line: Yes, I would recommend this to a friend

---

Advertisement

---

4 out 7 people found this review helpful

Really funny, but true...

By Tom S.

,

Washington

,

Aug 21, 2019
Verified Reviewer

Hi, again, and again, thank you, you're very kind to continue reading.

I missed my Vital Reds delivery because I had to gain a new debit card (nothing to do with Dr. Gundry, MD). Of course for a few days, I couldn't observe any difference, but after a week and some, I could. It was enough for me to make sure they had updated info. I received my order well within delivery date (I'm on the west coast).

So obviously, after some days now, I felt compelled to write.

Ciao!

Your new best friend, Tom, verified "Gundry MD" customer, happy to say so, even tried it in a "niki shot" (doubt Dr. Gundry would approve of this as it does involve the use - just once, I swear - of his fantastic product, Vitals Reds. Vital Red mixed with pomegranate (puree is best), grapefruit juice, lime juice, pineapple juice, and habanero infused tequila).

Kping kpow, is great for cooling it down for the ladies temperature-wise. You're crazier than I am for reading this far.

Bottom Line: Yes, I would recommend this to a friend

---

0 out 3 people found this review helpful

Scoop?

By Roger H.

,

Richmond, Nelson, New Zealand

,

Aug 8, 2019
Verified Reviewer

Yesterday I received my first container of Vital Reds, but no scoop! So how much to use? Product was well packaged and powder sealed in so withstood the post to NZ. I haven't tried it yet so cannot recommend it at this time.

Bottom Line: No, I would not recommend this to a friend

Aug 9, 2019

Roger, I'm very sorry to hear that your Vital Reds container did not have a scoop. Every container should contain one. I will process a reship for another container immediately! Apologies for the convenience. If you have any outstanding issues, please email me at aria@gundrymd.com and I'd be happy to assist you.

---

12 out 12 people found this review helpful

Excellent product

By Melanie M.

,

Perth, Western Australia

,

Aug 7, 2019
Verified Reviewer

I am 60 years of age and have been taking Vital Reds for four weeks. I have always had digestive issues which included bloating, gas and changing bowel movements. My workplace is frantically busy and I am on my feet for 7 hours without stopping. Usually, when I go home I have to lie on the couch for a couple of hours and have a nap.

After about 2 weeks of taking Vital Reds, I started to notice that my energy levels were greatly improved but put that down to being on holidays. Not so, I have been back at work for a week now and I am zooming along. I have also gone from only managing to do yoga one day a week, if I was lucky, to doing 4 sessions a week for the last 3 weeks.

In regard to my digestion, I did notice after 2 weeks of taking Vital Reds that my gas was horrendously bad, to the point that I was going to stop taking the supplement. Decided to persevere and couldn't believe it, I pretty much don't have any gas at all anymore. Also, my bowel movements are vastly improved, in fact, normal after many many months of not being normal.

So, after taking for 4 weeks now, I feel amazing and am getting to do so much more in my days because I have the energy.

Bottom Line: Yes, I would recommend this to a friend

---

0 out 5 people found this review helpful

Dose

Just got it in the mail so we'll see, however, I do have a concern. The directions are a scoop in 8oz of water. How much is a scoop, a teaspoon, tablespoon, ice cream scoop? I do hope it works. I have lupus and a hyperthyroid and my meds have really put the weight on, in addition to all my other issues. I'm keeping my fingers crossed. I'm not sure yet if I will recommend this to anyone. If there are good results after 30 days I probably will.

Bottom Line: No, I would not recommend this to a friend

Jul 29, 2019

Hi Veronica, each container of Vital Reds should come with its own scooper. If yours did not, I want to apologize and would love to send you a new bottle! With that said, please consult your physician prior to starting any new supplement. If at any time you have any questions or concerns, please email me at aria@gundrymd.com.

---

4 out 5 people found this review helpful

Vital Reds

By Pauline H.

,

Queens, NY

,

Jun 28, 2019
Verified Reviewer

I have started using Vital Reds less than a month ago. Can't give you 100% results because I still working on it. Since taking I eased off of my blood sugar pills. I'm watching to see what happens next. My sugar levels have been controlled for now. I'm still observing it. I even encouraged my husband and other family members to try this product. My husband, daughter and a cousin that lives with me is trying some of mine. I even took it to my doctor and was explaining to her and she said she'll try it. All in all, I think it's working but will continue to monitor. Thank you I'm hoping to be rid of medication fully.

Bottom Line: Yes, I would recommend this to a friend

---

4 out 5 people found this review helpful

Love Vital Reds

By Lynne P.

,

Katy, TX

,

Jun 27, 2019
Verified Reviewer

I drink often - try to drink it once a day - taste good - gives me energy - satisfies my appetite - glad I got it. I was surprised by the small container but it does seem to go a long way.

I mix it with Primal Plants to make a great drink/meal.

Will buy it again. Really like Dr. Gundry's products.

Bottom Line: Yes, I would recommend this to a friend

---

6 out 7 people found this review helpful

Vital Reds

By Ivan C.

,

Hayward, CA

,

Jun 27, 2019
Verified Reviewer

I'm 43 years old. I have been using Vital Reds for 3 weeks now. And I don't feel as tired as I would be 3 weeks ago. The belly is not bloated as it would before Vital Reds. Just before whatever I eaten I would always get bloated. So far so good. I will continue to use Vital Reds to keep good health. And without good health cannot do anything with my life and with my family.

Bottom Line: Yes, I would recommend this to a friend

---