Vital Reds
This company has claimed this profile, is getting alerted on any new customer reviews entering this page, and may engage in dialogue with its customers to address their matters.

Companies cannot pay money or provide goods in order to remove or alter customer reviews.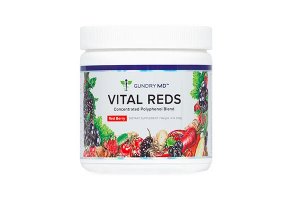 Summary
Vital Reds by Gundry MD features a blend of more than 50 ingredients that are intended to conveniently support overall health. Opting for a well-balanced diet or other comprehensive supplements may be more cost-effective, however.
Pros
Research for many of the ingredients is in-line with claims made by Gundry MD
An extremely convenient method of consuming a complex blend of ingredients
Cons
Pricey, even when compared to other similar products
Many ingredients can be obtained from a well-balanced diet
Gundry MD Vital Reds Reviews - Is It Safe and Effective?
What Is Vital Reds?
Vital Reds is a powder mix that is alleged to offer some health benefits through a comprehensive blend of ingredients.
According to Gundry MD, by taking 1-scoop of Vital Reds daily, you can expect the following:
More energy
Healthier skin
Better digestion
Less bloating and gas
Better weight management
As Vital Reds packs in more than 50 ingredients, daily use is certainly more convenient than obtaining them from your diet. This doesn't necessarily mean that it's effective, however.
In this article, we'll review the available research examining the proposed benefits of Vital Reds' blend of ingredients.
Is There Any Science Backing Gundry MD's Claims?
According to Gundry MD, Vital Reds' comprehensive blend of ingredients are responsible for the alleged benefits.
Every 1-scoop serving of Vital Reds contains the following:
Thiamin 1.5 mg
Riboflavin 1.7 mg
Niacin 20 mg
Vitamin B6 2 mg
Folate 667 mcg DFE (400 mcg folic acid)
Vitamin B12 6 mcg
Biotin 300 mcg
Pantothenic Acid 10 mg
Selenium 70 mcg
Chromium 200 mcg
Reds Blend 1,760 mcg – Carrot, organic apple peel, grape skin extract, Aronia berry extract, organic flaxseed, grape seed extract, acai fruit extract, acerola fruit extract, apple, apple pectin, organic beetroot, blackberry, European black currant fruit extract, blueberry fruit concentrate, cranberry fruit extract, mango, mulberry fruit, papaya, pomegranate, red raspberry, strawberry, cantaloupe, cherry, grape, grapefruit, lemon, lime, orange, peach, pear, pineapple, plum, watermelon, berberine hydrochloride
Metabolic Enhancing Blend 365 mg – Cinnamon bark 5:1 extract, green tea leaf extract, white tea leaf extract, ginger root, turmeric root extract, bitter melon fruit extract, black pepper fruit
Digestive Support Blend 3 billion CFU – Bacillus coagulans, Lactobacillus acidophilus, Bifidobacterium lactis, Lactobacillus reuteri
Fructooligosaccharides 250 mg
Though Vital Reds has not been specifically tested in randomized trials, some of the individual ingredients have been previously studied. In this section, we'll highlight scientific support for a few of the ingredients included in Vital Reds.
Vitamins
Vitamin B deficiency can be associated with a wide array of unwanted effects like itchy skin, impaired mental capacity, and nerve issues. Those that choose a plant-based nutrition plan are most at risk.
Folate is necessary for growth and development. It is especially important in pregnant women as a deficiency can be associated with a birth defect. The RDA for folate in adults is 400mcg, though the dose offered in Vital Reds is sufficient even for the demands of an expecting mother.
B12 deficiency can be associated with anemia as it has a role in supporting proper red blood cell function.
Though they serve important functions, B Vitamins are unlikely to play a role in the proposed energy-boosting effects of Vital Reds as scientific support for this action is limited.
Minerals
Selenium is an essential mineral. It is commonly found in soil, water, and eggs.
200mcg daily over the course of 8 years did not prevent diabetes when compared to a placebo. In fact, those with the highest levels were at increased risk for the disease.
A review of 12 studies did not find a statistically significant improvement in short or long-term regulation of blood sugars.
This mineral may actually negatively impact energy metabolism, particularly in those with diabetes.
You can get chromium in beef, fruits, broccoli, and whole wheat. Thought to boost the function of insulin, this mineral has been well studied in humans.
A review found that chromium did not benefit glucose or insulin regulation at doses ranging from 10-1000mcg daily.
A review found that when chromium is offered as brewer's yeast at doses ranging from 42-1000mcg, it can mildly impact fasting blood glucose in diabetics.
Chromium supplementation in overweight and obese subjects may offer mild weight loss benefits.
Available support for chromium's effect on carbohydrate energy metabolism and weight loss is mixed.
Reds Blend
This blend contains 34 superfruits packed with polyphenols, naturally occurring micronutrient compounds found in plants that give them their color and help protect them from external threats.
Consuming polyphenols can be advantageous in that they offer high amounts of antioxidants.
These act to limit the ability of free radicals to cause inflammation in your muscles, joints, and blood vessels.
Grapeseed extract is thought to be rich in antioxidants.
Oxidative damage was 1.5x greater in healthy subjects that were not treated with 300mg of grapeseed extract.
100mg doses every 6 hours reduced oxidative stress in patients receiving coronary bypass surgery when compared to the control group.
Beetroot is low-calorie, high fiber and thought to offer a number of health benefits.
A review of 43 randomized trials found that beetroot juice doses ranging from 70-500mL lowered blood pressure when compared to placebo. Higher doses were associated with blood pressure reduction comparable to results achieved with a single medication or the DASH diet.
Berberine may offer anti-inflammatory and neuroprotective capabilities. The ingredient reduced body fat and enhanced insulin sensitivity in obese and diabetic mice.
In human subjects, those with metabolic syndrome that were treated with 500mg of berberine three times daily over 3-months had remission of the syndrome, decreased waist circumference.
Ingredients found in Reds Blend may improve carbohydrate energy metabolism, blood pressure, waist circumference, and metabolic syndrome.
Metabolic Enhancing Blend
Cinnamon bark is thought to offer both antioxidant and disease-fighting benefits.
5g reduced post-meal blood glucose levels in obese women. A review confirmed these findings, particularly at doses ranging from 120mg/d - 6 g/d over 4 to 18-weeks.
Turmeric may offer anti-inflammatory, heart health, and brain-boosting effects likely related to curcumin, a molecule produced by turmeric plants.
A review found that curcumin dosing ranging from 70 to 3,000mg per day for 2 to 3-months reduced BMI.
Another review concluded that curcumin doses ranging from 250 to 2.4g reduced both BMI and body weight in subjects with metabolic syndrome, obesity, heart disease, and diabetes.
Black pepper may offer antioxidant, anti-inflammatory benefits, and disease-fighting capabilities.
6mg of black pepper daily reduced BMI and body fat, while improving the insulin sensitivity of overweight subjects.
This spice may also boost the actions of turmeric and friendly gut bacteria like Bifidobacterium and Lactobacillus.
The ingredients found in the Metabolic Enhancing Blend may reduce BMI, body weight, and body fat while supporting carbohydrate energy metabolism.
Digestive Support Blend
Probiotic strains play a role in many functions vital for health in addition to offering dietary support. L. acidophilus may relieve diarrhea and bloating while boosting immune function. B. bifidum strains may benefit inflammation, immune support, and allergy relief.
Different strains, dosing regimens, and probiotic combinations were investigated in a review of 20 trials; they concluded that Lactobacillus and Bifidobacterium strains are associated with fewer sick days due to respiratory infections.
Safety and Side Effects
As many of the ingredients offered in Vital Reds can be obtained from a well-balanced diet, the supplement is generally safe to use.
Still, side effects are always a possibility with any dietary supplement, as are medication interactions, which is why it's important to speak with your doctor before making any purchases.
Even at doses at 1500mcg daily, B12 was without serious side effects. Toxicity is rare, though reported side effects can include nausea, vomiting, and skin flushing.
Chromium dosing up to 1000mcg was without serious adverse events, though diarrhea, headaches, and rash have been reported. No serious adverse effects were reported in 10 randomized trials with cinnamon doses up to 6g/day.
Turmeric's active ingredient, curcumin, was safe at doses ranging from 3600-8000mg each day for 4-months, with only mild nausea and diarrhea reported.
Black pepper is also generally safe. Doses at 6mg daily were without serious side effects over 2-months.
Also, according to Reed, the green tea extract's caffeine could raise your blood pressure, which is a drawback for someone who already deals with high blood pressure.
Also, probiotics can lead to many of the side effects they're supposed to treat such as gassiness and bloating. These typically subside with lowering the dose or discontinuing use, however.
Despite the risk for harm being minimal with Vital Reds, it's best to discuss any symptoms you may be experiencing with your doctor before taking a new supplement.
What Is the Cost?
Vital Reds' current sale prices are as follows:
1 Bottle: $49.95 (regularly $69.95)
3 Bottles: $134.85 (regularly $209.85)
6 Bottles: $224.70 (regularly $419.70)
If you subscribe, you'll save more.
1 Bottle: $44.95
3 Bottles: $121.95
6 Bottles: $199.95
Keep in mind that by opting for a subscription, you agree to auto-shipments at the corresponding frequency. You can cancel at any time by calling (800) 852-0477.
A 90-day guarantee also backs your order. To process your refund, you'll need to call (800) 852-0477.
Available Alternative
There are many supplements that claim to support overall health and wellness with a diverse blend of ingredients. Products that offer a list of ingredients as comprehensive as Vital Red's are less common, however.
We previously reviewed Athletic Greens at HighYa. While their blend similarly includes vitamins, minerals, superfood extracts, metabolic ingredients, digestive enzymes, and probiotics, 1 pack will cost you nearly $100.
Though this product represents another option, it is a less cost-effective one.
Metabolic Greens is another product that offers a complex blend of green and red superfoods with metabolic extracts, enzymes, and probiotics. At $30-$40 for a 1-month supply, this is a much more cost-effective comprehensive blend.
Alternatively, you can try to regularly consume as many of the ingredients as possible from your diet. This would entail consuming a variety of lean proteins, fruits, vegetables, nuts, seeds, fermented foods, and perhaps even another supplement or 2.
This option may save you money in the long run, given the pricing of Vital Reds, though it is a far less convenient option.
The Bottom Line
Vital Reds offers a complex blend of ingredients, many of which have actions that are clinically proven. As comprehensive blends are less common, you'll pay a premium for the convenience.
There are certainly more cost-effective ways of consuming these ingredients. However, it would likely include consuming a variety of fruit, vegetables, fermented foods, and supplements to achieve the same benefits.
Nonetheless, more than 1,350 users rate Vital Reds 4.3-stars at HighYa. Those satisfied report less joint pain, improved leg swelling, more energy, and fewer cravings.
Keep in mind that supplementing vitamins and minerals that you aren't deficient in is unlikely to add benefit. Also, this makes it more likely to consume more than you need. Though side effects are mild, you may experience digestive side effects.
The first step should be seeking the opinion of a medical professional to determine your nutritional status. Together, you can determine a plan of care that safely addresses any symptoms or deficiencies you may have.
Customer Reviews
This company is actively collecting reviews from its customers. All reviews submitted are subject to moderation and approval to ensure they meet our
Review Guidelines
.
Posted on Sep 16, 2020
Helps my ADHD feel overall awaken and alert!
My son and I use it for ADHD. Yep, who knew! It's a miracle for this.
I have since incorporated The Plant Paradox diet along with intermittent fasting.
I am a type 2 diabetic and know my blood sugars have remained in a normal range since implementing the plan!
Length of Use: 3–6 months
Bottom Line: Yes, I would recommend this to a friend
Pros and Cons
I feel alive again!
Price, but I really cannot afford not to take it.
Posted on Apr 22, 2020
The date of Vital Reds was expired
I ordered 6 bottles of Vital Reds and all of them were expired and no scoop.
I received them today, April 18, 2020.
Can't recommend because this product is old and what is the measure of the scoop if you don't include it?
Bottom Line: No, I would not recommend this to a friend
Company Response from Gundry MD
Apr 22, 2020
Hi Ariane, thank you for giving Vital Reds a try. I want to note that the date we have printed on the bottom of our products are our Manufactured Date. Vital Reds shelf life is 1 year so your products should be safe to use for 1 year after the date printed on the bottom. In regards to the scooper, each container should have its own scooper so I'm very sorry yours did not. I want to apologize for the inconvenience and I'd be happy to reship your order for you! I've gone ahead and started the reshipment for you. If you have any other questions or concerns, please don't hesitate to reach out to me at aria@gundrymd.com.
Posted on Apr 2, 2020
Muscle aches
Started having bag muscle aches, getting worse. I had them when I took statins, have not changed anything else, can this cause my muscle aches? I am allergic to statins.
Can I be allergic to Vital Reds?
Bottom Line: Yes, I would recommend this to a friend
Company Response from Gundry MD
Apr 3, 2020
Hi Janice, I'm very sorry that you are experiencing muscle aches. These are not typical side effects of Vital Reds so I ask that you stop taking it immediately. As always, we ask that our customers consult their physicians prior to starting any new supplement to ensure that there won't be any interactions and that it is the right fit given their medical history. Please email me at aria@gundrymd.com and I can look into your account to refund you fully for your order. Thank you.
Posted on Mar 23, 2020
It works
Good product, it really helps my RA joints. The only thing, the caffeine bothers me. If the caffeine was out, it would be wonderful. I really would recommend to anyone that can intake caffeine. Question, can Vital Reds be bought without caffeine? I need it.
Bottom Line: Yes, I would recommend this to a friend
Posted on Feb 3, 2020
Vital Reds formulation has changed
Ingredients in Vital Reds - There is a lot to scrutinize about this product.
My husband and I have been using Vital Reds in our morning protein drink for more than a year. When the supply was nearly gone, I ordered more. This batch is different, however, in color and taste than what we had before. The color is dark orange instead of dark red-purple and it tastes different.
When I contacted Gundry about this, I got an email response, a portion of which I am showing below:
"…Because we use natural ingredients to formulate Vital Reds, there may be occasional differences in color, taste, and texture between batches. This is because we source our ingredients based on seasonality and availability. (For example, this batch contains slightly different cinnamon than we usually use.)
Rest assured, the benefits you've come to expect from Vital Reds are the same — the only difference is in the appearance and flavor. ..."
So, they admit they change the formulation based on "availability". How can the benefits be the same if the proportions of ingredients are changed? How can this be described on the label as Red Berry Dietary Supplement when it is now dark orange?
This prompted me to read the list of ingredients. The rules for labeling ingredients require that they be listed in the order of the highest concentration or percentage or weight to the lowest. The further down the list, the less you get of that ingredient.The charts below show that the formulation has changed between 7/3/2018 and 11/19/2019 batches. Since the list of ingredients does not indicate what the concentration or percentage or weight of each ingredient is, it is possible that 90% or more of the powder is dried carrot (the first ingredient in both charts), followed by smaller and smaller amounts of the following ingredients on the list. The very last ingredients might be a small drop of, say, watermelon juice or pear extract. I could not find any internet source that showed carrots in the top ten richest foods in polyphenols, but they certainly are a lot less expensive than most of those foods that are highest in polyphenols. Strange that carrots would be the top ingredient on the Vital Reds Polyphenol Blend list. Carrots are, however, probably one of the cheaper ingredients on the list.
Note in the charts below that apple pectin has gone from the 20th ingredient in 2018 to the 10th ingredient in 2019. Apples are a lot less expensive than some of the other ingredients, like European black currant fruit extract (standardized for minimum 25% anthocyanins) which dropped from the 8th ingredient in 2018 to the 13th ingredient in 2019.
Green - lower concentration or percentage or weight in 2019 than 2018.
Pink - higher concentration or percentage or weight in 2019 than 2018.
18199B Mfg date 07/03/2018, 0135K9 Mfg date 11/19/2019.
POLYPHENOL BLEND 1,760 mg, POLYPHENOL BLEND 1,760 mg.
1 Carrot, 1 Carrot
2 Organic apple peel, 2 Organic apple peel
3 Grape skin extract, 3 Grape skin extract
4 Grape seed extract
5 Aronia berry extract, 4 Aronia berry extract
6 Organic flax seed, 5 Organic flax seed
7 Mulberry fruit
6 Grape seed extract
7 Acai fruit extract (Euterpe oleracea)
8 Acerola fruit extract
8 European black currant fruit extract (standardized for minimum 25% anthocyanins)
9 Apple, 9 Apple
10 Apple Pectin
10 Organic beet root, 11 Organic beet root
12 Blackberry
13 European black currant fruit extract (standardized for minimum 25% anthocyanins)
14 Blueberry Fruit concentrate
11 Cranberry fruit extract, 15 Cranberry fruit extract
12 Mango, 16 Mango
17 Mulberry fruit
13 Papaya, 18 Papaya
14 Acai fruit extract (Euterpe oleracea)
19 Pomegranate
20 Red raspberry
15 Strawberry, 21 Strawberry
16 Blueberry Fruit concentrate
17 Pomegranate
18 Blackberry
19 Acerola fruit extract
20 Apple pectin
21 Red raspberry
22 Pineapple
23 Orange
24 Cantaloupe, 22 Cantaloupe
23 Cherry
25 Grape, 24 Grape
26 Watermelon
27 Grapefruit, 25 Grapefruit
28 Plum
29 Pear
30 Lemon, 26 Lemon
31 Lime, 27 Lime
28 Orange
32 Cherry
33 Peach, 29 Peach
30 Pear
31 Pineapple
32 Plum
33 Watermelon
34 Herberine hydrochloride, 34 Herberine hydrochloride
Bottom Line: No, I would not recommend this to a friend
Posted on Jan 26, 2020
It works
I have been using Vital Reds for about two years. I purchased when my veins in my legs started swelling due to a job where I had to stand all day. My close friends noticed how the swelling went down within a couple of weeks. This product really works!
Bottom Line: Yes, I would recommend this to a friend
Posted on Nov 19, 2019
Vital Reds
I have been taking Vital Reds for the past 2 years. However, I had stopped for six months despite having 3 bottles left in my fridge.
(This is due to laziness...)
Anyway, I had noticed during the 6 months of not taking Vital Reds, my stomach bloated constantly although I had exercised, did yoga, went dancing...and was eating average size meals.
I was frustrated and had forgotten about the Vital Reds until my mother googled and told me to take Vital Reds...I said oh...I have it in my fridge. So I started taking it again. This is the second week and my bloating has reduced, hopefully I will get my flat tummy back soon...
I do feel energized, none lethargic and sharp...
Thank you, Dr. Gundry, can't wait to try your latest product.
Bottom Line: Yes, I would recommend this to a friend
Posted on Oct 31, 2019
Product does all the things listed in the description.
I have been taking Vital Reds for about 6 months. It does everything it states to do. I now have a faster metabolism, I enjoy my food more, only crave for GOOD cooked meals, i.e., no snacks or sweets. I have lost almost 8 lbs, but still enjoy to eat my 3 meals a day and haven't gained any of that weight back. No more bloating, better digestive system, better mobility in my joints. I take the recommended dosage of Vital Reds in the morning, after breakfast!
Bottom Line: Yes, I would recommend this to a friend
Posted on Oct 21, 2019
Waiting to see
I am trying this product as I have RA and osteogenesis imperfecta and feel fatigued most of the time. I started taking it last week but unsure of how much to scoop into the water so have been using a tablespoon but would like to confirm the correct dosage if anyone can tell me. I will write again once I notice a difference.
P.S. I only put no to recommending to a friend as I have not used it long enough yet but will update accordingly.
Bottom Line: No, I would not recommend this to a friend
Company Response from Gundry MD
Oct 23, 2019
Hi Karen, thank you for giving Vital Reds a try. Each jar of Vital Reds should come with a scooper and if yours didn't, please email me at aria@gundrymd.com so I can send you a replacement! Thank you!
Posted on Sep 24, 2019
Yum
Such a tiny scoop. It was delicious. Just got my first jar today. Will check in later re results I've experienced. I had faith in Gundry and decided on autoship monthly. I have high hopes for more energy and improvement in overall health.
Bottom Line: Yes, I would recommend this to a friend
Posted on Aug 21, 2019
Really funny, but true...
Hi, again, and again, thank you, you're very kind to continue reading.
I missed my Vital Reds delivery because I had to gain a new debit card (nothing to do with Dr. Gundry, MD). Of course for a few days, I couldn't observe any difference, but after a week and some, I could. It was enough for me to make sure they had updated info. I received my order well within delivery date (I'm on the west coast).
So obviously, after some days now, I felt compelled to write.
Ciao!
Your new best friend, Tom, verified "Gundry MD" customer, happy to say so, even tried it in a "niki shot" (doubt Dr. Gundry would approve of this as it does involve the use - just once, I swear - of his fantastic product, Vitals Reds. Vital Red mixed with pomegranate (puree is best), grapefruit juice, lime juice, pineapple juice, and habanero infused tequila).
Kping kpow, is great for cooling it down for the ladies temperature-wise. You're crazier than I am for reading this far.
Bottom Line: Yes, I would recommend this to a friend
Our Promise to You
In order to safeguard you and ensure helpfulness and relevance, our compliance team manually assess every customer review before it goes live.
We have a zero-tolerance policy for fake reviews, and companies cannot control or alter any reviews at any time.