Athletic Greens Reviews - An Evidence-based Look At Its Ingredients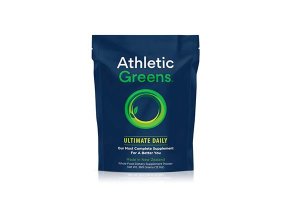 Summary
Athletic Greens is a dietary supplement that blends vitamins, minerals, probiotics and more that allegedly supports energy, recovery, immunity and digestion.
About Athletic Greens
What Is Athletic Greens?
Athletic Greens is a dietary supplement that blends 75 vitamins, minerals and whole food-sourced ingredients in powder form. One heaping tablespoon mixed with water each day allegedly increases energy, boost your immune system, support recovery, and aid digestion.
Produced in a Good Manufacturing Practice (GMP) Certified facility in New Zealand, Athletic Greens claims to be committed to quality and transparency.
They back this claim by providing full batch manufacturing records; this means that you'll know every stop along your supplement's journey from where it was grown to your front door.
Additionally, Athletic Greens promises to offer a product that meets FDA guidelines, and is free of harmful chemicals and preservatives.
You can also expect a supplement that works with most dietary restrictions as their formula is free from wheat, dairy, gluten, corn, lactose, sucrose, dextrose, egg, yeast, peanuts and animal products.
Does Athletic Greens offer the nutritional support your diet is lacking?
In this review, we highlight the major ingredient categories included in this supplement, and discuss the scientific support for its safety and efficacy to help you answer this question.
The Ingredients: Do They Work?
Created to fill in the nutritional gaps that may exist in your diet, Athletic Greens is said to offer its reported benefits through the 75 ingredients included in each serving. These ingredients fall into 3 main categories:
1) Vitamins and Minerals:
Athletic Greens offers well beyond the recommended daily allowance (RDA) for most essential vitamins and minerals. These nutrients are vital for the proper functioning of your nervous and immune systems.
However, they have a role in the vast majority of biochemical reactions occurring in your body at any given moment.
Offering an insurance plan that guarantees you get the nutrients you need may be a good idea as vitamins A-E top the list of most common deficiencies in the US.
Replacing Your B Vitamins
While your B vitamins are commonly deficient in those without dietary restrictions, those that opt for plant-based nutrition are most at risk. Low levels of these nutrients can have many negative effects, ranging from dry, itchy skin to impaired mental capacity and nerve issues.
Athletic Greens can be valuable in this regard as it offers 7 B vitamins.
The folate offered in this supplement is vital for growth and development, as well as preventing birth defects.
B12 supports the development of red blood cells; deficiency is associated with anemia.
Support for the proposed energy boosting effects of B vitamins is limited, however.
Replacing Your Zinc
Zinc is an essential mineral that is found in many of the same foods that offer B vitamins. Thus, deficiency is common in those with dietary restrictions related to animal products or nut allergies. Athletic Greens offers 100% of the RDA per serving.
As zinc is involved in essential bodily functions related to protein synthesis, immune support and wound healing, deficiency leads to many unwanted effects.
A review of 7 randomized trials found that daily zinc doses ranging from 80-207mg reduced the duration of the common cold by 33-35% when compared to placebo.
A randomized trial found that 200mg of zinc daily reduced the size of foot ulceration in diabetic patients.
2. Alkaline Nutrient-Dense Superfoods, Natural Extracts, Herbs, and Antioxidants
Athletic Greens claims their blend of prebiotics, fruit, and vegetable extracts offer the amount of antioxidants that would be found in 12 servings of fruits and vegetables, well beyond federal recommendations.
These antioxidants serve to combat free radicals; these molecules cause oxidative stress that is associated with a wide variety of negative effects ranging from ageing to cancer.
You can find many ingredients that have reported antioxidant effects, as well as many others, in Athletic Greens Superfoods blend. We will highlight a couple here.
Grapeseed Extract
Cardiovascular disease is associated with elevations in blood lipids after a meal. Red wine may benefit this event, though support is mixed. Grapeseed extract may be another option.
Eight healthy subjects consumed fatty meals with or without 300mg of grapeseed extract; oxidative damage was 1.5x higher in those that did not receive grapeseed extract.
In 87 subjects receiving coronary bypass surgery, those randomized to receive grapeseed extract at 100mg every 6 hours had reduced oxidative stress when compared to the control group.
Alpha-Lipoic Acid (ALA)
Thought to be a powerful antioxidant, potential therapeutic roles for ALA sparked academic interests for quite some time.
Free radicals cause overproduction of S. Malondialdehyde – the presence of this molecule is an indicator of oxidative stress.
A study examined the presence of S. Malondialdehyde and ALA in 100 smokers, as compared to 100 non-smokers. In those with a history of tobacco use, S. Malondialdehyde was significantly higher, while ALA was substantially lower when compared to non-smokers.
Oxidative stress may limit Interleukin-15 (IL-15), a protein thought to play an essential role in fat loss and energy metabolism during exercise. ALA may support these roles.
Healthy and active males randomized to pre-exercise treatment with an antioxidant supplement that included 600mg of ALA, in addition to vitamins C and E, experienced an increase in IL-15 levels.
3. Probiotics and Digestive Enzymes
Probiotics are friendly gut bacteria that play a crucial role in digestion, immune support, and overall health.
Balance is important - low numbers can be cause gas or bloating, as well as increase the risk for obesity or heart disease.
Athletic Greens offers 2 probiotics per serving:
L. Acidophilus UALa and Bifidobacterium Bifidum UABb-10
L. acidophilus may relieve diarrhea and bloating, as well as support immune function. B. bifidum strains may benefit inflammation, immune support, and allergies.
Though different strains, doses, and probiotic combinations were studied, a review of 20 randomized trials found Lactobacillus and Bifidobacterium strains to be associated with fewer days of illness and shorter duration of illness from acute respiratory infections.
L. Acidophilus LB reduced the duration and severity of diarrhea. A meta analysis confirmed this benefit and found that different strains had different efficacy.
Compared to placebo, stomach pain and discomfort with bowel movements was significantly better in subjects with irritable bowel syndrome (IBS) randomized to receive a 2x1010 CFU mixture of probiotics that included B. bifidum BGN4 administered twice each day for 8-weeks.
The Takeaway:
Vitamin and mineral deficiency is common for all US dietary choices, though vegetarians and vegans are at a higher risk for not meeting dietary recommendations. Adequate intake is essential to support the proper functioning of the immune and nervous systems.
Athletic Greens is one way of ensuring you're covered, as they offer more than the RDA for most of the included vitamins.
The potential benefits for antioxidant supplements remain a hot topic as they may be able to slow aging and ward off disease. Athletic Greens offers many extracts with these proposed effects.
The company does not provide the amounts for each individual ingredient included in Athletic Greens. Thus we can't predict the efficacy based on doses used in the research currently available.
Lastly, Athletic Greens offers 2 probiotics. These friendly bacteria are well studied and support digestive, immune, and overall health.
Each strain for a given probiotic behaves differently, however. Promising results for similar strains do not guarantee the same results for those included in Athletic Greens.
Is Athletic Greens Safe?
While Athletic Greens offers 22mcg of B12, studies that included 1500mcg daily without serious adverse events. B vitamins are water soluble and easily removed through the urine.
Toxicity is, therefore, less common, though the risk is increased in those taking supplements. Reported side effects may include nausea, vomiting, and skin flushing.
Daily Zinc at more than 200mg/day (more than 10x the dose found in Athletic Greens) was not associated with adverse events, though dosing beyond 100mg is probably unnecessary. Reported side effects are typically related to digestive issues.
Probiotics behave in a strain-dependent manner. Testing is often done at doses in the order of billions, or tens of billions, CFU; serious adverse effects are rarely reported.
Athletic Greens offers comparable dosing for the combined probiotic ingredients, though they do not share the amount for each individual ingredient.
Side effects with probiotic use typically resolve on their own. Reported symptoms include stomach pain, gas, bloating, and diarrhea.
The Takeaway:
Serious side effects are rare in nutraceuticals. More often, mild digestive symptoms are reported.
Replacing nutrients that aren't deficient (especially those that aren't water soluble) may lead to stomach pain, cramping, and diarrhea. For this reason, consult with your doctor before using this supplement.
Cost
One pack includes thirty 12g servings; this represents a 1-month supply. Athletic Greens backs all orders with a 60-day guarantee - if you're unsatisfied, call 1-888-390-4029 to get your money back. They also offer a Live Chat option.
Purchasing options on their website are straight-forward:
One-Time Purchase: 1 pack at $97 + an estimated $9 for shipping
Subscription Plan (Monthly Payment Pricing): 1 pack at $77 + an estimated $9 for shipping OR 2 packs at $147 + an estimated $9 for shipping
This supplement is not inexpensive by any means, though you do save 21-24% with a subscription plan. Don't expect free shipping in addition to these savings, however.
Subscription is not auto-enrollment, and you can postpone or cancel at any time. With their flexible plan, you choose the delivery day and frequency. You're also permitted to adjust these settings at any time.
Athletic Greens is also offered on Amazon - Prime members can pick up 1 pack at $97 with free shipping. Subscribing through Amazon means you'll only save about $5/order, however.
Are There Any Alternatives?
One option would be obtaining each ingredient individually.
The vitamins, minerals, antioxidants, probiotics, etc. are all relatively easy to obtain. However, this process would almost certainly be time consuming, inconvenient, and potentially more expensive than an already costly pack of Athletic Greens.
The 75 ingredients are mostly attainable naturally, though some (B Vitamins, for example) can be challenging to obtain if you have a nut allergy, are gluten-sensitive, or follow a plant-based diet.
Ensuring you get most of what Athletic Greens offers would require selecting a variety of citrus fruits, green leafy vegetables, fermented foods, nuts, lean meats, and dairy products.
Though obtaining nutrients naturally is ideal, those who prefer convenience are unlikely to prefer the preparation component of this option.
In terms of products that offer a comprehensive nutrition supplement similar to Athletic Greens, Green Superfood from Amazing Grass provides a blend of vitamins, minerals, superfoods, and probiotics.
Priced at $23.99 per 30 serving tub, you'll pay a fraction of the cost for Athletic Greens, though you'll also get a fraction of the nutrients.
What Are Users Saying?
On Amazon, reviews for Athletic Greens are generally favorable. At 4.2 out of 5-stars, 65% of reviewers rate Athletic Greens at 5/5.
Reviewers that rated Athletic Greens the highest most often reported increased energy to be the most significant benefit of this product. Other positive reviews included symptom relief from IBS, reduced stomach cramping, and great taste.
One out of 5-stars ratings were about 9% of all reviews. Those that rated this product low cited negative experiences regarding lack of results, constipation that resolved after discontinued use, poor packaging, and cost.
The Bottom Line
Athletic Greens offers a nutrient-dense formula to ensure your needs are covered, regardless of your dietary restrictions. This can be of great benefit to those that refrain from consuming animal products, dairy, wheat, and nuts as some vital nutrients are only found in these food sources.
Athletic Greens offers amounts equal to or greater than the RDA for most vitamins included in the formulation; these amounts are likely effective when used as directed.
The superfood, antioxidant, and probiotic blends offer total amounts per serving, though the company does not provide details for the dosage amount of each ingredient.
Therefore, it's challenging to describe the safety and efficacy compared to doses used in research studies. These blends are generally safe, however.
Though expensive, Athletic Greens may replace the need for utilizing a variety of different supplements; the combined use of superfood blends, vitamins, pre- and probiotics, and fiber supplements can be pricey and inconvenient when purchased separately.
Additionally, similar comprehensive supplements are available. However, they don't seem to include as many ingredients, or as much of each, as compared to Athletic Greens.
As many of the ingredients range from 2% (sodium) to 700% (Vitamin C) of the RDA per serving, it is wise to consult a physician before use.
Supplementing nutrients that aren't deficient may lead to unwanted side effects.
Customer Reviews
Posted on Dec 21, 2018
Feel 25 years younger
I took Athletic Greens for the first time in early 2013 and, by day four, could feel a significant change in my energy, my clarity of thought, and my digestion. I had always eaten well but had irritable bowel syndrome with chronic constipation, and was diagnosed with hypothyroidism at age 45.
My first reaction to Athletic Greens was that it gagged me! I hated the sweetness in a green drink. After feeling its benefits, I worked to solve that by adding a teaspoon of freshly squeezed lemon juice, and using slightly more water, about 12-14 oz. I changed nothing else about my regimen at the time I started the Greens, and as far as I'm concerned, I have them to thank for no more irritable bowel symptoms EVER (I'm cured), and energy to work out regularly and think clearly. I'm 67 and feel like I'm 40!
Bottom Line: Yes, I would recommend this to a friend
Posted on Jun 1, 2017
I feel the product is unsanitary
They ship from a warehouse in Pennsylvania via DHL. I am in Arizona, and it took 12 days to arrive.
It was summer, and I do not think it is safe to ingest the product at this point. I contacted support, and I feel like they don't care. I had to pay to ship it back, and I don't think they are in any hurry to issue the refund.
I worry when a company has poor service, especially with nutritional products.
Bottom Line: No, I would not recommend this to a friend
Posted on Apr 15, 2016
Great immune system booster
We have been taking Athletic Greens for several years now. I think we were one of the early customers. The most significant improvement has been avoiding the ills of flu season and colds in general. My husband, son, and I all use Athletic Greens for a boost. The taste is better than any other green boost we have tried.
We like to mix it with Melaleuca's Omega-3 Creme Delight Peach Mango Tango flavor. The price has increased significantly, which the company claims is due to ingredient price increases and maintaining a quality product. They offer good flexibility with auto-shipping, depending upon your needs.
I save money by ordering more less often, and was also able to postpone shipment during a period when I needed to. Their customer service has always been fantastic. I consider this product a valuable addition to my health arsenal. I also really appreciate the HighYa website.
Bottom Line: Yes, I would recommend this to a friend
Our Promise to You
In order to safeguard you and ensure helpfulness and relevance, our compliance team manually assess every customer review before it goes live.
We have a zero-tolerance policy for fake reviews, and companies cannot control or alter any reviews at any time.