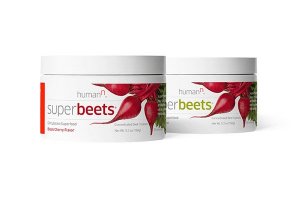 SuperBeets' beetroot powder claims to contain more nitrates than other beet products, giving you more circulation-boosting nitric oxide and improved stamina.
SuperBeets Review: Effectiveness, Side Effects, Cost
Everyone wants to naturally maximize their health, but with so many different foods out there, it can be difficult focusing on the ones that will pack the most punch.
To help make the process easier, SuperBeets is a superfood beetroot powder containing high levels of dietary nitrates that, when taken on a regular basis, claim to boost nitric oxide levels, support heart health and healthy blood pressure, promote improved energy, and maintain stamina.
Each batch of SuperBeets is made using a patented low heat drying process that preserves nutritional integrity, so it promises to deliver "exponentially more" nitric oxide power than other conventional beet products.
All you need to do is add one heaping scoop of SuperBeets to 4-6oz of cold water (or to your favorite smoothie or protein shake) up to 2 times per day, and the finely granulated crystals will immediately go to work dilating blood vessels and regulating blood flow to all the organs in your body. With each serving, you'll get the equivalent of 3 whole non-GMO beets, or 1 half-liter bottle of beet juice—without side effects!
Who knew beets were so power-packed? But what's all this talk about nitric oxide? When it comes down to it, can SuperBeets really provide all of these great benefits? We'll break it down in this review.
What Is Beetroot? How Does It Relate to Nitrates?
Beets have been consumed by humans for millennia, although it wasn't until Roman times that the round, red root portion (i.e. the root) was eaten on a regular basis. Before then, only the leafy greens that sprout above the ground were used.
Despite this, beetroot contains some of the highest sugar content in the vegetable kingdom, along with essential vitamins and minerals such as fiber, vitamin C and B6, magnesium, phosphorus, and more. However, beets also contain a lot of carbohydrates, so eating too many may result in weight gain.
Beets also contain natural chemicals known as nitrates, which are transformed inside the body into nitric oxide (NO), a gas that can help widen blood vessels, improve circulation, and more. As such, nitrates in pill form are often prescribed by doctors for patients experiencing chest pain (angina) related to heart disease.
Now, what about SuperBeets' claims? Nitrates have reams of clinical evidence showing that they can improve circulation, but can this powdered supplement do the same? Will it also boost energy and promote exercise endurance?
First, let's take a look at what SuperBeets contains.
What Ingredients Are Found in SuperBeets?
Taking a look at SuperBeets' nutrition label, there doesn't seem to be anything unnatural or added after the fact:
Calories 15
Total Fat 0g
Sodium 65mg
Potassium 160mg
Carbohydrates 4g
Sugars 3g
Protein 1g
Magnesium 10mg
Vitamin C 50mg
Seems pretty standard, right? Will these ingredients actually deliver on their promises?
Is There Any Clinical Evidence Supporting SuperBeets' Claims?
Unfortunately, the company doesn't provide any clinical evidence on their website to support their claims. On Dr. Nathan Bryan's page (more about him shortly) under their Leadership section, we found several studies that showed the health benefits of nitrates and nitrites (much of which we covered above), although nothing specifically related to SuperBeets.
Elsewhere online, WebMD claims that there is insufficient clinical evidence showing that eating beets can reliably provide any benefits, although they do mention:
"Early research suggests that taking a specific product (Neo40-Daily by Neogenis Labs) containing beet root and hawthorn berry twice a day for 30 days might reduce a type of fat found in the blood called triglycerides in people who are at risk for heart disease."
Remember this point, because we'll come back around to it shortly.
We also came across mixed results for improved exercise performance related to beetroot juice in general (not specifically for SuperBeets, though).
Outside of this, we found numerous websites promoting the vitamin and nutrient content of beetroot, but nothing substantiating the physical effects of the nitrates it contains. Despite this general lack of evidence, will beets in general—or SuperBeets specifically—cause any side effects?
Potential SuperBeets Side Effects
Regularly eating beets or taking a supplement like SuperBeets doesn't appear to cause many unwanted side effects, although WebMD notes that eating too much can lead to low calcium levels and kidney damage. Due to their strong color, beets can also temporarily turn urine and stool a reddish color.
As we mentioned above, beets are high in carbohydrates and sugars, so they might not be your first choice if you're on a weight loss program.
Note: According to at least one section of the SuperBeets website, you shouldn't take more than two 5g scoops in a 24-hour period, while elsewhere they claim you shouldn't take more than four scoops.
Efficacy and side effects aside, how much will you pay for SuperBeets?
How Much Does SuperBeets Cost?
SuperBeets is available in regular or new Black Cherry Flavors, and is priced as follows:
1 Canister: $39.95
3 Canisters: $79.90
6 Canisters: $149.90
If you place a single canister order, you'll be charged $8.95 standard shipping (additional options available). The 3 and 6-canister options come with free shipping, along with nitric oxide indicator strips to track your NO levels and the Beet the Odds e-book.
You can also order SuperBeets through the company's replenishment program. Here, you'll pay $34.95 per canister each month, or $69.90 every three months (your choice), which can be canceled at any time.
All SuperBeets orders come with a 90-day refund policy, less S&H charges. In order to request one, customer service can be reached at 855-636-4040.
What Are Customers Saying About SuperBeets in Their Reviews?
Interestingly, we found very little online customer feedback for SuperBeets at the time of our research.
Supplement-Geek.com provided a fairly in-depth analysis of the company's claims and found that, while there is limited clinical evidence showing that consuming beets can increase your body's nitric oxide levels, a lot of questions remain. For example:
Exactly how does this work?
Where's the clinical evidence supporting the company's claims?
If SuperBeets does work, how long does it elevate NO levels?
Does SuperBeets work any better or worse than the competition (more about this next)? What about juicing your own beets?
From a company perspective, SuperBeets is manufactured by Neogenis Labs (the company will soon change their name to Human Power of N), based out of Austin, TX. The company had an A+ Better Business Bureau rating based on 3 closed complaints (as of 6/8/16), although no details were available.
Who Is Nathan S. Bryan, PhD and John L. Ivy, PhD?
Neogenis Labs/Human Power of N was founded by two individuals, Nathan S. Bryan, PhD and John L. Ivy, PhD.
Dr. Bryan is an Adjunct Assistant Professor at Baylor College of Medicine, formerly an Assistant Professor of Molecular Medicine within the Brown Foundation Institute of Molecular Medicine. He also works with the Texas Therapeutics Institute to "carry out translational research and drug discoveries related to cancer, cardiovascular disease and stem cells."
Dr. Ivy received his PhD in Exercise Physiology from the University of Maryland, and has "served on the faculty at the University of Texas for 31 years and as Chair of the Department of Kinesiology and Health Education for 13 years." He's the author of 170+ scientific papers and numerous book chapters.
The Bottom Line About SuperBeets
Yes, beets contain high levels of nitrates, as do other foods like arugula and iceberg lettuce, spinach, celery, and more. Whatever foods you get them from, though, there simply isn't enough clinical evidence to say with any certainty that food-based nitrates can improve exercise performance, boost energy, or maintain stamina—including SuperBeets.
Another concern is that we're not told what levels of nitrates you'll find in each serving of SuperBeets, although each one contains about one-third of your daily recommended intake of added sugar. As we mentioned above, combined with the high carbohydrate level found in beets, this means that SuperBeets might not be a diet-friendly supplement.
Speaking of which, there are dozens upon dozens of powdered beet supplements available online and at health food stores near you. Granted, not all of these will feature the same patented technology found in SuperBeets, but if you're in the market for one of these powders, keep in mind that it's not your only option. Much of the competition is less expensive, too.
Taking this together, should you spend your money on SuperBeets? Between the general lack of clinical evidence, missing customer feedback, and higher price, this is something only you can answer. Whatever you decide though, just be sure to speak with your doctor first.
0 out 1 people found this review helpful

I recommend SuperBeets to all my family and friends

By

Elijah S.

,

Sedalia, MO

,

Mar 29, 2019
Verified Reviewer

I would recommend SuperBeets to all my family and friends because SuperBeets is a healthy and delicious drink and you can notice a difference in your energy and immune system. My father and I drink SuperBeets every morning and we notice that we have more energy and a better immune system.

Bottom Line: Yes, I would recommend this to a friend

---

19 out 19 people found this review helpful

Don't waste your money

By

Carol D.

,

Portland, OR

,

Mar 11, 2019
Verified Reviewer

My very own study has proven that SuperBeets doesn't do anything that it claims to improve/lower high blood pressure. I had high blood pressure and was wanting to take the natural route to better health vs. medication. I decided to make a natural fresh beet blender drink every morning. My blood pressure, within a matter of 6 weeks was almost back to normal. It was amazing. As my schedule became very demanding, I thought that I would try SuperBeets. Quick and simple powder drink mixed with water. I took it for one year and my blood pressure went sky high again. I started taking it once a day and saw no results. Then I started taking it twice a day, still no results.

I am now back on my original plan, a fresh beet blender drink every morning and once again my blood pressure is almost back down to normal. You be the judge. I spend about $6 per week for fresh beets at the grocery store...I can honestly state that I am an official study of what worked and what didn't work.

Bottom Line: No, I would not recommend this to a friend

---

Advertisement

---

10 out 11 people found this review helpful

No change

By

Steven K.

,

Cleveland, OH

,

Feb 16, 2019
Verified Reviewer

First week took 1 scoop a day and tested with strip provided, no change. For the next week took 2 scoops daily, half day apart, and retested with provided strip and still no change in strip color whatsoever.

Bottom Line: No, I would not recommend this to a friend

---

10 out 15 people found this review helpful

Fantastic product!

By

Michael K.

,

Long Island, NY

,

Jan 16, 2019
Verified Reviewer

I wanted this for Christmas because my daughters never know what to get. I saw on TV and it looked good. Beets are a superfood. I am 60 years old and always tired. I am 15 days into SuperBeets and I feel incredible. The taste is fine, and the energy is amazing! I can't wait to see what the doctor says next month with the checkup. I am ordering more product today as they only bought one container to see if I liked. Thank you for my energy back!

Bottom Line: Yes, I would recommend this to a friend

---

Advertisement

---

35 out 37 people found this review helpful

Product does nothing

By

Casey J.

,

Arcadia, CA

,

Nov 28, 2018
Verified Reviewer

The product has NOT done anything for me, nor my sister. There is a lawsuit against this company, and I believe there may be more to follow. I have NOT even received the return label that I requested, and must make my own label, and get that RMA # from them before returning the package of three used up containers. No energy, no lowering of blood pressure.

Bottom Line: No, I would not recommend this to a friend

---

23 out 31 people found this review helpful

Tried a container of SuperBeets

By

Louis S.

,

Claremont, NC

,

Nov 27, 2018
Verified Reviewer

SuperBeets is not something that did me any good. I bought a container on eBay and took it twice a day and didn't see any improvement. I got down to the bottom of the container and the last amount was enough to cover the bottom. I opened it up one day to take some and the rest had turned to some hard clump of molded together stuff. I never wanted to take it anymore after that because I am sure it got moisture into the container. It got in there from me adding it to water. But looking at that I just couldn't help to wonder if it did that to the amount left in the container turning hard as a rock, what does it do in your body? No more for me, that hard mass in the container is all I needed to see.

Bottom Line: No, I would not recommend this to a friend

---

14 out 19 people found this review helpful

SuperBeets

By

Joan H.

,

Quinton, VA

,

Nov 17, 2018
Verified Reviewer

So I've been using SuperBeets for about eight months now, and YES, my blood pressure dropped significantly! I refused to take medication and promised my doctor I would walk everyday, which I try to, but it's the SuperBeets that brought my blood pressure down from 179/101 to 138/89. I could not believe it!

Bottom Line: Yes, I would recommend this to a friend

---

9 out 11 people found this review helpful

Working great for me!

By

Amy B.

,

Atlanta, GA

,

Oct 25, 2018
Verified Reviewer

I've been taking SuperBeets for about 2 weeks, one scoop daily. I feel like a different person. I'm usually skeptical about supplements, but I've had such low energy lately I thought I'd try SuperBeets. I couldn't be more pleased with the results. I feel great!

Bottom Line: Yes, I would recommend this to a friend

---

14 out 16 people found this review helpful

Love it. Almost too good to be true.

By

Maggie H.

,

Richmond, VA

,

Oct 13, 2018
Verified Reviewer

At first, I did not like the taste, but now I love it. I have high blood pressure and do take medication. Typically it is 125/85 with meds. My blood pressure has dropped significantly to the point where I believe it is too low 98/65, which may mean I can get off of some of my meds. But I am experiencing some dizziness and plan to talk to my doctor. I hope to continue taking it as it makes me feel great. I have more energy and find I am getting more done.

Bottom Line: Yes, I would recommend this to a friend

---

19 out 23 people found this review helpful

Mellow energy...

By

Kristine G.

,

Illinois

,

Sep 12, 2018
Verified Reviewer

I've taken SuperBeets for several weeks now. This stuff is GOOD! It gives you an insidious energy and a calmness at the same time. I take one scoop in the am most days. Sometimes I'll add one in the pm if I'm feeling sluggish and I always get a nice little boost. Nothing overwhelming, non-addictive, a natural vegetable that tastes like berries when mixed with 4 to 6 ounces of cold water. It also serves to clear your head when you feel foggy mentally.

Bottom Line: Yes, I would recommend this to a friend

---

40 out 43 people found this review helpful

Not sure

By

Crystal S.

,

New Orleans, LA

,

Sep 7, 2018
Verified Reviewer

My husband brought home a canister of SuperBeets that his deckhand gave him to try. I tried one teaspoon in a glass of water. Within fifteen minutes I was having sick stomach feeling and kind of dizzy and nauseated and then within five more minutes I was puking my guts up. So, was that proof that it works very well, so well that I couldn't handle it? I'm not sure, but I'm terrified to try it again.

Well, I opened it a few weeks later to let my husband try it and the product had turned into a solid hard brick and we threw it away. I love beets and eat them all the time. I'll stick to consuming them that way; it's a lot cheaper to eat them than to drink them!

I wouldn't recommend because of the RIDICULOUS high price. I am not sure if it works as claimed.

Bottom Line: No, I would not recommend this to a friend

---