BeetElite Reviews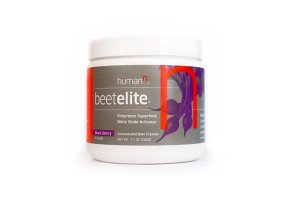 Packed with essential vitamins and nutrients, BeetElite beetroot powder claims to transform into nitric oxide in the body and enhance endurance and boost stamina.
About BeetElite
BeetElite is a powdered beetroot supplement that promises to deliver the equivalent of six whole beets in one serving, which can boost nitric oxide levels to extend exercise endurance, improve energy and stamina, and increase oxygen delivery in the body.
In fact, Human Power of N claims their beetroot supplement will activate more essential nitric oxide than other products on the market.
BeetElite is manufactured in the USA, contains no gluten or GMO ingredients, and works by mixing two scoops in 4-6oz of water and consuming immediately, 30-60 minutes prior to exercise.
You're focused on maximizing your health and improving your performance. But are beetroot powders the best way to accomplish this, and is BeetElite the best in the industry? Are they really "the choice of health-conscious athletes"?
Here, we'll categorize everything we learned during our research to make it as simple and straightforward as possible for you to find some answers.
What's the Relationship Between Beets & Nitric Oxide?
Beets—along with other foods like celery, carrots, potatoes, spinach, and kale—contain large amounts of nitrates, which are inorganic compounds composed of three oxygen molecules and one nitrogen molecule.
Once processed by the body, nitrates lose one nitrogen molecule and become nitrites, which are eventually converted into ammonia and disposed of. How does this relate to nitric oxide?
While nitric oxide is normally produced by endothelial cells lining our blood vessels to help widen arteries and maximize blood flow (known as vasodilation), nitrates can also be converted into nitric oxide inside the body. In fact, doctors often prescribe nitrate pills to help individuals with chest pain, heart disease, and poor circulation find some level of relief.
With this in mind, how does BeetElite work to deliver nitric oxide? Furthermore, is there clinical evidence that it could provide real-world benefits?
More About BeetElite's Ingredients & Nutrition Facts
According to the canister label shown on their website, BeetElite contains the following ingredients:
Non-GMO Beetroot Powder, Non-GMO Beetroot Powder (fermented), Natural Flavor, Malic Acid, Magnesium Ascorbate, and Stevia Leaf Extract
These ingredients contain the following nutritional profile:
Calories 30
Total Fat 0g
Sodium 130mg
Potassium 320mg
Sugars 7g
Protein 1g
Magnesium 20mg
Vitamin C 100mg
At just 1 gram per serving, BeetElite doesn't deliver a lot of protein, although the American Heart Association recommends consuming no more than 36g of added sugar per day for men, and 25g for women. At 7g per serving, this means BeetElite will take up about 20-25 percent of your intake for the day.
According to their summaries of the available clinical evidence, sites like WebMD and Examine.com indicate that potassium can help address high calcium in the urine, along with high blood pressure and even stroke. Furthermore, although BeetElite only provides 320mg per serving, the USDA reports that most of the population only gets about 60% of the recommended daily allowance.
Similarly, it's reported that 48% of the population doesn't get the 360mg RDA of magnesium per day, which can lead to constipation, indigestion, low blood pressure, vomiting, and muscle weakness.
The RDA for vitamin C is 46mg, which means that a single dose of BeetElite will provide more than double this amount. According to these sites, vitamin C supplementation may be effective for age-related vision loss, hardening of the arteries, H. pylori ulcers in the stomach, and improving oxygen intake (and therefore physical performance).
Granted, these are for the individual constituents found in BeetElite's powder. But is there clinical evidence for the benefits of beets, specifically?
Is There Clinical Proof That Beet Supplementation Provides Benefits?
The short answer: While some conflicting studies exist, the nitrates contained in beets (and powders like BeetElite) seems to provide some real-world benefits in humans.
The detailed answer: To quickly outline some of these conflicting studies, according to our recent interview with Jessica Crandall, Registered Dietitian Nutritionist, Certified Diabetes Educator, and Director of Denver Wellness and Nutrition:
"Beets are a nutrient rich root vegetable. Research suggests that competitive athletes who ate 1 beet per day (up to 1.5 cups of beets) 75 minutes before running were able to move at a faster pace with perceived less exertion. How?

Nitrates convert to nitric oxide in the body, which functions to widen blood vessels, in turn allowing for increased blood flow, oxygen, and nutrients to reach working muscles. Nitrates may also improve your muscle's use oxygen during activity. Once again, food sources are the best for obtaining this nutrient benefit."
However, interviewed for a WebMD article, Marjorie Nolan, RD qualifies this by noting, "Eating beets won't give you the same quantity of nitrates [as beetroot juice or powder], because cooking hampers some of the nitrates, but it certainly is good for your health."
A 2015 Penn State study was the first to measure blood flow to the contracting muscles after beetroot juice supplement, finding it had no effect. They did find that the participants' arteries "de-stiffened," but not that they necessarily widened.
But will beetroot supplementation—whether from BeetElite or any other brand—cause unwanted side effects?
Are There Any Potential Side Effects with BeetElite?
The manufacturer states that you shouldn't exceed two scoops in 24 hours, and that it shouldn't be mixed with bottled juice.
Sites like WebMD and Examine.com indicate that beetroot won't cause any side effects in most individuals. However, they also note that consuming too many beets can cause low calcium levels.
Similarly, too much potassium (if you're already getting enough from other sources), can lead to side effects like weakness, dizziness, and low blood pressure.
How Much Does BeetElite Powder Cost?
Available in Black Cherry and Original flavors, BeetElite is priced as follows:
Canister (7.1 oz): $39.95
Neo Shot 10-ct Box (10g packets): $29.95
Weekend Warrior Bundle (1 canister and 2 boxes): $79.90
The product is also available at Amazon, LuckyVitamin.com, Walmart, and many other smaller retailers.
If purchased directly through the company, BeetElite comes with a 90-day satisfaction guarantee, less S&H.
In order to request one, support can be reached at 855-636-4040, info@humann.com, or via online chat.
What Can We Learn About BeetElite From Customer Reviews?
BeetElite had been on the market for quite some time during our research, so there was a fair amount of customer feedback.
On Amazon, the beetroot power had nearly 400 reviews and an average rating of 3.7 stars. There, most compliments appeared to reference physical improvements (better sleep, boosted athletic performance, increased energy, etc.), ease of use, and pleasant taste.
On the other hand, most complaints revolved around no effects, as well as those related to preferences like taste.
With far fewer reviews, BeetElite's Neo Shot box had a similar Amazon rating and customer feedback.
Breaking Muscle, Coach Levi, and WhereAndWander.com all tested BeetElite's powder over various time lengths and under different circumstances. All reported slight improvements in some areas and none in others, but recommended customers give it a try to see how it will affect them.
From a company perspective, BeetElite is manufactured by Human Power of N, based out of Austin, TX, who also manufactures Neo40 (a nitric oxide lozenge), Protein40, HeartGreens, and SuperBeets.
Speaking of which …
BeetElite vs. SuperBeets & Other Beet-Based Supplements
Browsing the Human Power of N website, you probably wondered what the difference between BeetElite and SuperBeets was, considering they're manufactured by the same company and contain the same ingredients (just at different levels).
Here are their specifications side-by-side:
For some clarification, we spoke with support via chat. Here was their response:
| | BeetElite | SuperBeets |
| --- | --- | --- |
| Price (Canister) | $39.95 | $39.95 |
| Serving Size | 2 tsp (10g) | 1 tsp (5g) |
| Calories | 30 | 30 |
| Total Fat | 0 | 0 |
| Sodium | 130mg | 65mg |
| Potassium | 320mg | 160mg |
| Carbohydrates | 8g | 4g |
| Sugars | 7g | 3g |
| Protein | 1g | 1g |
| Magnesium | 20mg | 10mg |
| Vitamin C | 100mg | 50mg |
"SuperBeets and BeetElite are the same product intended for different uses. SuperBeets is a 5-gram serving that provides sufficient nitrite and nitrate to support NO production. During exercise, the metabolic demands are much different. The 10g serving of BeetElite titrates up nitrite and nitrate levels so that NO production can be achieved, even under anaerobic conditions (conditions under which NO production normally shuts down)."
What about other beet-based powders? Typing the phrase into any search engine will reveal dozens of different options; some from well-known manufacturers, with others from ones you may have never heard of.
As far as price, you'll find some as low as $11, with others exceeding $30. These powders are even so popular that you're almost certain to find some locally (especially at health foods stores), which could help you save on shipping charges.
Given all these options, how can you make a more informed purchase?
You'll want to consider the manufacturer, since beetroot powders are classified as supplements, and therefore not subject to any government oversight before reaching store shelves. Do they have a standalone website, with clearly displayed refund policies?
Consumer review sites like HighYa can also be an indispensable resource for learning about what customers are experiencing. During your research, did you find any recurring themes? Does the company seem responsive to complaints and feedback?
Last, but certainly not least, talk with your doctor about why you're thinking about supplementing your diet with beetroot powder, along with the benefits you're looking to achieve. Not only might they be able to provide professional insight about the supplement, but they might also be able to recommend brands based on past patient experience.
Until your appointment arrives, what might we conclude about BeetElite?
Our Final Thoughts About BeetElite
Overall, as reported by sites like WebMD and Examine.com, it seems there is a substantial amount of evidence that increased NO production can lead to tangible benefits, and that the nitrates in beetroot powder could help boost NO.
It's also clear from their online feedback that most of BeetElite's customers are pleased with their purchases, and that the well-known manufacturer stands behind the supplement with a 90-day refund policy. In the end, this means you won't be out much more than return S&H if you're dissatisfied.
With this said, the mixed clinical evidence reports that beetroot powder can "feed your endurance," as mentioned in the BeetElite website. Or, that this specific brand will provide meaningfully better results than other products on the market.
But do you even need a beetroot supplement in the first place? Continue the conversation by reading Do You Need to Take Vitamins or Dietary Supplements.