Morning Complete by ActivatedYou
Claimed This company has claimed this profile, is getting alerted on any new customer reviews entering this page, and may engage in dialogue with its customers to address their matters.

Companies cannot pay money or provide goods in order to remove or alter customer reviews.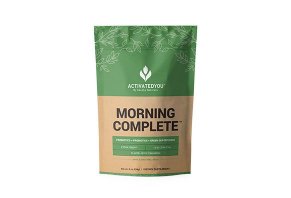 With a blend of 8 proprietary formulas, including superfoods, veggies, and probiotics, Morning Complete by ActivatedYou claims to deliver all-in-one health.
Morning Complete by ActivatedYou Review
Morning Complete by ActivatedYou is a green apple-flavored drink that combines eight wellness support blends to help boost performance, improve overall sense of wellness, and start the day on a positive, healthy note.
Specifically, using green superfoods, healthy vegetables, and fiber, the company tells us this first-of-its-kind formula gives your body the vital nutrients it needs to optimize health. We're also told its probiotics and prebiotics can support digestion, along with other ingredients and antioxidants that can address aspects like sugar levels, liver function, energy, and metabolism.
Just add one scoop of Morning Complete's easy-dissolve powder in eight ounces of your choice of liquid (ActivatedYou recommends water or green tea), drink the mixture, and you'll be left nourished and refreshed.
Combined with the fact that the product is tested for quality, purity, and potency at an independent, third-party facility, handing over your hard-earned money for this daily wellness drink might seem like a no-brainer.
But can you really expect Morning Complete's ingredients to deliver on the company's promises? That's precisely where we'll begin to help you make a more informed decision.
Taking a Closer Look at Morning Complete's Ingredients
Overall, Morning Complete's easy-dissolve formula is comprised of eight different proprietary blends, each of which contains anywhere between two and nine ingredients.
Because of the sheer number of ingredients here, we'll divide each blend into its own section. We'll then discuss any related clinical evidence as reported by sites like Examine.com, WebMD, and the Natural Medicines Database.
Prebiotic and High Fiber Blend, 4.05g
Compared to probiotics (more in a second), prebiotics act as food sources for beneficial bacteria strains. Morning complete contains chicory root fructooligosaccharides and cinnamon bark, which are common prebiotic ingredients.
Green Superfoods Blend, 735mg
A mix of vegetables ActivatedYou claims can help optimize nutrient intake and overall wellness, including spinach, broccoli, kale, mulberry leaf extract, alfalfa leaf, barley grass, and berberine HCl (from Berberis aristata root).
According to the authoritative websites mentioned earlier, these plants contain many essential vitamins, nutrients, and other substances. A few examples include:
Spinach – High levels of calcium, phosphorus, potassium, vitamins A and C, and riboflavin.
Broccoli – Strong antioxidant abilities due to the presence of ingredients like ferulic acid, vitamin C, sulforaphane, and indole-3-carbinol.
Kale – Lutein, beta-carotene, calcium, magnesium, phosphorus, potassium, vitamin C, vitamin A, iron, folate, protein, and fiber.
Outside of their nutrient content, though, it's reported that there's insufficient clinical evidence indicating any of these plants can address a specific condition.
However, they indicate that taking 500mg specifically of berberine two to three times daily could help control blood sugar as effectively as prescription medications like metformin or rosiglitazone. This same amount is also listed as possibly effective for reducing cholesterol.
Since this is part of a proprietary blend in Morning Complete, though, there's no way to know if it contains the same levels found in supporting studies.
Metabolic Enhancing Blend, 390mg
This Morning Complete blend promises to help support a healthy body weight using a mix of green tea leaf extract, ginger root, white tea leaf extract, turmeric root extract, bitter melon fruit extract, and black pepper.
Similar to berberine, the Natural Medicines Database and WebMD indicates that between 150mg and 2,500mg of green tea may help reduce cholesterol, reduce blood pressure and risk of clogged arteries, and increase bone density.
1,000mg of ginger per day is referenced as possibly effective for reducing nausea and vomiting, as well as modestly reduce pain in those with osteoarthritis.
All other ingredients are listed as having insufficient clinical evidence supporting any direct benefits in humans.
Antioxidant Blend, 100mg
Contains the following food extracts that could help your body as it ages: Lyceum berry, pomegranate fruit extract, and Polygonum cuspidatum (50% resveratrol).
These same authoritative sites indicate there's insufficient clinical evidence they can provide the benefits promoted by ActivatedYou for Morning Complete.
Sugar Balancing Support, 100mg
A three-ingredient blend that promises to help maintain healthy blood sugar levels using gymnema sylvestre leaf, fennel seed, and pine bark extract.
Pine bark contains a chemical called pycnogenol, which is listed as possibly effective for addressing a range of conditions, including allergies (100mg/ day), asthma (1 mg per pound of body weight), athletic performance (200mg/ day), circulation (45-360mg/ day) problems, and mental function (no dosage listed).
The remaining ingredients are listed as having insufficient evidence for any benefits.
Cellular Function and Liver Support, 55mg
Contains algal oil DHA powder, organic aloe vera leaf, and milk thistle seed extract.
72mg-312mg of docosahexaenoic acid (DHA) contained in fish oil could be effective for addressing age-related macular degeneration, clogged arteries, and high cholesterol.
When taken internally, 100-200mg of aloe can help relieve constipation, while 300mg of a specific aloe supplement has been shown to help reduce body weight and fat mass in those with diabetes or prediabetes.
Similarly, 800mg daily of a specific milk thistle supplement has been shown to help "decrease blood sugar, total cholesterol, low-density lipoprotein (LDL or "bad") cholesterol, and triglycerides in people with diabetes."
Adaptogens, 55mg
This Morning Complete blend contains astragalus root extract, rhodiola rosea root extract, and diindolylmethane.
Astragalus, when delivered intravenously (no dosage listed), might help control blood sugar and insulin levels in those with type 2 diabetes.
Probiotic Blend, 10 billion CFU
As we outline in Probiotics 101, beneficial bacteria strains play a huge role in our digestive health, as well as our body's immune response. So, by balancing the digestive tract using supplements that contain these strains, common benefits include reduced gassiness and bloating, increased energy, improved digestion, and decrease irritable bowel syndrome symptoms.
Morning Complete contains many popular bacteria strains found in standalone supplements, including B. coagulans, L. gasseri, L. plantarum, L. fermentum, L. casei, L. acidophilus, B. bifidum, B. longum, L. rhamnosus, and S. thermophilus.
Could Morning Complete's Ingredients Cause Side Effects?
Overall, WebMD, Examine.com, and the Natural Medicines Database report that most of Morning Complete's ingredients won't cause side effects. And if they do, they likely won't be worse than mild, temporary digestive upset (no specifics or dosages noted).
In some instances, though, pycnogenol can lead to additional side effects like dizziness, headache, and mouth ulcers, while DHA can cause bruising and prolonged bleeding. The natural caffeine content in green tea could also lead to jitteriness and insomnia in sensitive individuals, or if consumed too late in the day.
Instead, these sites indicate it's more what we don't know about some of the side effects related to Morning Complete's ingredients. For example, the long-term safety (beyond three months) of bitter melon is unknown, as is turmeric.
WebMD specifically reports that there is not enough information available to know if hu zhang [olygonum cuspidatum] or fennel is safe to take in medicinal amounts. Potential side effects of astragalus and rhodiola are also not known.
How Much Does the Morning Complete Drink Cost?
ActivatedYou priced Morning Complete as follows:
1 Bottle: $79
3 Bottles: $213 ($71 per bottle)
6 Bottles: $403 ($67.17 per bottle)
All orders come with a 90-day satisfaction guarantee, less S&H, which you can request by contacting customer support at 800-720-8403.
Based on everything we've learned about Morning Complete's ingredients and its pricing, are there any other powdered supplements competing in the same space?
Morning Complete vs. Other All-In-One and Whole-Health Supplements
Even compared to just a decade ago, the scientific community has discovered a vast amount of information about how natural substances interact with our body. As one result, a wave powdered dietary supplements have entered the market, promising to provide a mega-dose of just about everything we need to optimize health in a quick and easy delivery format.
These run the gamut, many of which the HighYa team has researched in the past, such as 'green' powders like Aloha and Organifi, vegetable-specific options like SuperBeets, nutritionally complete powdered food like Huel and Coffiest by Soylent, and just about everything in between.
Prices can vary just as much, with some options priced below $10 and others well above $50. So, at a minimum of $67 per bottle (if you choose the six-bottle option), Morning Complete is certainly on the upper end of this spectrum. How to decide?
The most important thing we've learned over the years is that, according to organizations like the National Institutes of Health (among many others), unless deficient in the ingredients it contains, most of us don't need to take a dietary supplement. And even if we choose not to eat healthily, the reality is that the vast majority of the American population isn't deficient in most key vitamins and minerals.
This is why we always recommend speaking with your doctor if you're thinking about purchasing a new supplement. They can help you decide if one could complement your diagnosis, and then perhaps recommend specific options based on their professional experience.
After reading thousands of reviews from consumers like you, we typically recommend looking for options that:
Are priced relatively in line with the competition
Are backed by useful refund policies, with no restocking fees
Include clinically-backed ingredients
Are manufactured by a well-known company with a mostly positive online customer reputation
Aren't sold through trial or recurring shipping programs
Let's use everything we've learned in this article and come to an informed conclusion about Morning Complete.
Bottom Line: Is Morning Complete from ActivatedYou Right for You?
In the end, Morning Complete's blends contain numerous ingredients that sites like WebMD, the Natural Medicines Database, and Examine.com report can deliver a variety of benefits; everything from reduced cholesterol and blood pressure to decreased osteoarthritis pain and body weight.
And with a unique blend of ingredients not found in any other products encountered during our research, it seems to meet the definition of a "first-of-its-kind formula," as advertised on the website.
However, we think it's important to balance this information by pointing out that all of the supplement's ingredients are part of proprietary blends, so there's no way to know if it contains the same amounts found in supporting clinical studies.
Furthermore, at between $67 and $79 per bottle depending on quantity ordered, it certainly isn't the least expensive whole-health powdered supplement we've researched, either.
But Morning Complete is manufactured by ActivatedYou based out of Santa Monica, CA, who formulates other popular supplements like Advanced Restorative Probiotic and Serene:5, and stands behind all their products with a 90-day refund policy.
As consumers ourselves, we'd imagine this will be more than enough time to decide if Morning Complete's formula delivers on its claims. After all, each of us has different bodies that will react in unique ways to its ingredients. Just keep in mind that you'll be responsible for paying return shipping if you're dissatisfied.
» Recommended Reading: Best Grains, Fruits, and Vegetables That Improve Digestion
This company is actively collecting reviews from its customers. All reviews submitted are subject to moderation and approval to ensure they meet our

Review Guidelines

.

1 out 1 people found this review helpful

Horrible bloating

By Charity L.

,

Tucson, AZ

,

Jan 17, 2020
Verified Reviewer

This product has given me horrible bloating and gas that I have never had with another probiotic or green supplement. I will not purchase again. There are lots of comparable products that cause these issues.

Bottom Line: No, I would not recommend this to a friend

Jan 21, 2020

Hi Charity, I'm very sorry to read that this was your experience with our Morning Complete. We understand that our products are not for everybody which is why we will always honor our 90-day money-back guarantee. Please email me at chloe@activatedyou.com and I'd be more than happy to issue you a full refund. Thank you for giving the product a try.

---

9 out 9 people found this review helpful

Great product

By D P.

,

Kokomo, IN

,

Jan 9, 2020
Verified Reviewer

I have been using Morning Complete for months now and will be ordering another 6-month supply soon! As many other people have complained, the price vs. the amount of powder in the bottles seems high but for myself, as long as I'm feeling better I will continue to use this product. I have had a problem with bowel movements the last 25 years after having half my thyroid removed and within 2 days of starting this product, I am now having daily movements, not one every 3-4 days which is a major change! I feel so much better! So until I find a comparable product at a cheaper price I will continue to use Morning Complete. When purchasing a six-month supply the price per bottle is much cheaper, especially when they are having a sale. Also, for customers complaining about the taste, I found that mixing it in Crystal Light Peach Mango green tea the taste is hardly noticeable, so instead of mixing it in just water, you may want to try mixing it in something similar.

Bottom Line: Yes, I would recommend this to a friend

---

11 out 15 people found this review helpful

Containers are deceiving

By Eliza K.

,

Florida

,

Nov 9, 2019
Verified Reviewer

I was pretty disappointed to open the container containing not even half full, for the price of the product you would expect more. Well, I have taken my second drink today, I felt a little bloated throughout the day, and a little gassy. Hopefully this will disappear in a few days, I will give an update after 30 days into taking the product. I am hopeful that it will take care of the issues as advertised (constipation, less energy), but for now, I would say no to recommending it.

Bottom Line: No, I would not recommend this to a friend

Nov 12, 2019

Eliza, thank you for giving Morning Complete a try! I encourage you to continue taking the product consistently as you mentioned. It does take our bodies some time to adjust to a new supplement. During this trial, please don't hesitate to reach out to me at any time. My email is chloe@activatedyou.com.

Each container of Morning Complete should have 30 servings. If your container contains less, please send me an email and I'd be happy to send you another order. Keep us updated on your experience!

---

15 out 16 people found this review helpful

Taste is intolerable

By Jill R.

,

New York

,

Nov 7, 2019
Verified Reviewer

Listening to Maggie Q, she is so inspirational and you can tell she's passionate about her product. I wish I could say that I love it.

I understand that everyone experiences the taste of a product differently. For me, this tastes flat out horrible. It has such an artificial, strong flavor I literally have to hold my nose to get it down. I've tried mixing it with extra water, putting it in iced tea, mixing it into a smoothie - no luck - it overpowers everything it goes into. The smell is just as bad and permeates every beverage it's mixed with. And the texture, it's almost as bad as the flavor, just super gritty. I've been giving this a shot for a few weeks now.

I understand the Die-Off symptoms and I've had those as well, which I was willing to try to ride out. But I took a high-end pre and probiotic prior so I'm surprised at those symptoms as well. They seem aggressive for most people in these reviews with very few stating the symptoms eventually went away. I kept reading and reading hoping I found folks who stated the symptoms subsided. I found very few.

All of that aside, I just can't pay this much money for a product that makes me gag on a daily basis. No downstream positive benefits are worth it. The sad thing is I love both apple and cinnamon, so, you can imagine how gross this tastes to me if I'm taking the time to write this. I've read multiple reviews where people are stating the same thing. I don't know why this isn't formulated with no flavor or in different flavors that are provided as sample packs to figure out what you like best. Sadly, I need to return my purchase.

Bottom Line: No, I would not recommend this to a friend

Nov 12, 2019

Jill, thank you for sharing your feedback. I'm sorry to read that Morning Complete wasn't the right fit for you. I'd be more than happy to begin the refund process for you for the order number you've attached to this review. If you have any other questions, please email me at aria@gundry.com and I'd be more than happy to assist you. Thank you for giving Morning Complete a try!

---

Advertisement

---

15 out 28 people found this review helpful

ActivatedYou and Die Off

By Nancy A.

,

North Carolina

,

Nov 1, 2019
Verified Reviewer

I can't wait to try this all-in-one product. I hope to not have too much die off symptoms since I have done cleanses and take a candida cleanse supplement daily. I am prepared for it. For folks that don't understand that. Die off can be a stage that frightens you and you can deal with a variety symptoms such as dizziness, headache, fatigue, aches, almost like flu...until the toxins die out of your body. They fight back by giving you extreme sugar cravings, starch cravings, and causing pain and other symptoms to encourage to stop and continue to let them thrive in your body. Don't give in. Like going to the gym and you experience pain and soreness until your body adjusts. Don't let those nasty organisms/bad bacteria, candida win. As your body is stabilizing and ridding of these you will experience gas and bloating. How infested you are of the nasty stuff depends on how much and how long. I say for your health and elimination of bacteria that encourages disease...stick it out. Just like you would at a gym or workout routine. I hope to receive mine soon. Many blessings.

Bottom Line: Yes, I would recommend this to a friend

---

14 out 14 people found this review helpful

Unsure

By Krystal P.

,

North Aurora, IL

,

Oct 29, 2019
Verified Reviewer

I have been taking this for 3 weeks and have not felt any positive benefits. I am extremely gassy and uncomfortable. I take this each morning with 8 oz of liquid per the directions. Am very disappointed.

Bottom Line: No, I would not recommend this to a friend

Oct 29, 2019

Krystal, thank you for giving Morning Complete a try! I'm sorry this was your experience. I do want to note that it does take some time for our bodies to adjust to a new supplement, but please email me at chloe@activatedyou.com and I'd be happy to issue you a full refund just for giving the product a try!

---

18 out 19 people found this review helpful

Life altering

By K. A.

,

Evansville, IN

,

Oct 19, 2019
Verified Reviewer

I have not felt this good for many years. It actually did take me a while to associate my improving health situation with Morning Complete. I typically experience chronic and severe joint and back pain. I literally have had no pain since I started using this product. I feel like it's been a miracle for me. I have IBS which is awful and I have experienced none of those symptoms. I don't feel bloated and actually less gas than usual. I can't speak for anybody but myself and the way this product has worked to change my life. I feel great, even to the point of starting an exercise program. I'm definitely sold on this product.

In all fairness, I'm not crazy about the taste but for the benefit to my health, it is a small price to pay. THANKS!

Bottom Line: Yes, I would recommend this to a friend

---

10 out 12 people found this review helpful

Just a question

Does it really matter if you use 8 ounces of water? Can you use less? Please say yes...I love this product just can't stand the flavor. Sorry, ActivatedYou, but I love your product.

Bottom Line: Yes, I would recommend this to a friend

---

14 out 14 people found this review helpful

More energy but really bloated and gassy

By A H.

,

Queen Creek, AZ

,

Oct 15, 2019
Verified Reviewer

I have been taking this for approximately 3 weeks now and although my energy is up a tad, I am severely bloated and gassy (I look like I am with child, but that is impossible). Diet hasn't really changed but I have packed on quite a few extra pounds on top of it. The only thing that has really changed for the better is my energy. Everything else is not as positive. This product may work for some people but has not for me as the bloating and gas is too much. I was really hoping this was the product for me but it is time to start looking for a new product.

Bottom Line: No, I would not recommend this to a friend

Oct 16, 2019

Thank you for taking the time to share your feedback. I'm sorry to hear that this was your experience. It sounds like you might be experiencing "Die Off" symptoms. This often occurs when probiotics are introduced to the gut and begin killing off the bad bacteria. As always, we ask that you consult your primary care physician prior to trying a new product to ensure that you do not experience any interactions while taking them. Because everybody is different, we do understand that our products may work well for some and not others. I've gone ahead and initiated a refund for the order number attached to this review. Please keep an eye out for your refund confirmation in 1-2 business days. If you have any other questions, feel free to reach out to me at chloe@activatedyou.com and I'd be more than happy to assist you.

---

13 out 13 people found this review helpful

Very disappointed!

By Kathleen B.

,

Wisconsin

,

Oct 14, 2019
Verified Reviewer

I am very disappointed in this product. I am just as bloated, if not more, has not helped with regularity - at all, more gassy than ever and I purchased the product to hopefully help the above issues. It's uncomfortable and I feel heavier and absolutely do not like the way I look through the midsection. I have been drinking it at the same time every morning for 2 weeks. I've emailed about my diet only receiving a "standard" response. I continue to drink it in hopes something will soon change, but not optimistic. Again, I am very very disappointed. I do not want to continue using and deal with not liking how I look, feel, and constantly having gas. Can I PLEASE get a refund before having to consume 3 JARS! Which I will not do.

Bottom Line: No, I would not recommend this to a friend

Oct 15, 2019

Hi Kathleen, thank you for sharing your experience with Morning Complete. I'm very sorry that you did not have the results you had hoped from the product. Thank you for giving the product a try and I've gone ahead and initiated a refund for the order number you attached with your review. Please keep an eye out for a confirmation email in the next 1-2 business days. If you have any other questions, please email me at chloe@activatedyou.com and I'd be more than happy to assist you.

---

24 out 26 people found this review helpful

Updated review

Update

By Polly E.

,

Norfolk, England

,

Oct 5, 2019
Verified Reviewer

OK, my update. The product has now arrived and firstly I was horrified at how empty the pots are. I'm not sure if there is a reason for the enormous size of the container, compared to the quantity of power held inside the container, especially considering the current ecological climate with people looking to reduce their use of plastics - to me it seems both misleading and wasteful. I did photograph it so I could show you just how low the level is of powder but can't upload any images here sadly. But I can say I found it shocking.

So to the product itself. Well, the flavor and texture for me are unpleasant, but I think that is a personal thing. Some people like it, I don't. However, when you experience issues with digestion as I do you'll try anything in all honesty. So I have taken it daily.

1) I have taken it for several weeks now, just in half a glass water and chugged it fast because the taste and powdery texture make me gag. I then down extra water after it both to take the flavor away and because a bit of extra water is always good.

2) It does cause far more noxious gasses than I would like to have to deal with on a daily basis and as yet that hasn't died down. I can see that this could cause some people pain, it hasn't for me - I just have to ensure I don't try to hold it in (as that would be painful) and for the love of my kids, go outside regularly and open doors and windows! It may die down with continued use, in which case that's fine.

3) I have had a good clear out every day. This is unheard of for me. I have struggled with constipation for years and this has made a big difference to my life.

IN CONCLUSION:

1) The pushy buying experience was horrid and the extra cost on top of the product and shipping for customs taxes made it very expensive.

2) The product has helped me to get my digestion moving but the toss up is the exorbitant cost, poor and wasteful packaging, and extreme noxious gasses have to be weighed up against that.

If the gasses die down and they do something about the packaging, I will definitely continue. If not, I will likely look for something else.

Bottom Line: No, I would not recommend this to a friend

Oct 7, 2019

Hi Polly, thank you for sharing your feedback. If you decide at the end of your trial that you'd like to return the product for a full refund, please email me at aria@gundrymd.com and I'd be more than happy to assist you.

Previous review
Aug 23, 2019

Horrible purchasing experience.

I haven't received the actual product yet, I'm waiting for it to arrive and will review that at that time. My review is on the purchasing experience for Morning Complete, which is truly awful.

It is that pushy sales style which attempts to sell you multiple other products as you scroll through.

1. It tried to force me to purchase a greater quantity that I wanted.

2. It tried to sell me other supplements which made me question the claims about Morning Complete itself.

3. All of these pushes to sell me other stuff quadrupled the amount of time to process the order, which almost forced me to quit the process entirely and not complete the order. I did only because I am very serious about my digestive health and I want to try it.

If Morning Complete doesn't work for me, it has assured me that I wouldn't look at any other products from the company anyway.

As regards the product, my biggest concern before I start taking it is the lack of a breakdown of contents and amounts of ingredients, that is putting me off before I've even received it.

So far in all I'm not impressed with the company and honestly very concerned about the product's ingredients. I'll review again when I receive the product.

Sep 4, 2019

Hi Polly, I'm Chloe from ActivatedYou. Thank you so much for your thorough feedback on your purchasing experience. I am really sorry to hear about your frustrating experience and I want to stress that our customer's experience is our #1 priority so your feedback is incredibly valuable as we are always looking for ways to improve our processes. We typically recommend a few deals at checkout to ensure that our customers are receiving the best deal possible. But of course, these are totally optional. I hear your concerns though, and have noted them so that we can further improve our checkout experience. I also wanted to mention that our full list of ingredients can be found on our website: https://activatedyou.com/morning-complete/. I appreciate your feedback! Please keep me updated on your Morning Complete experience as time goes on. You can e-mail me at Chloe@ActivatedYou.com if you have any questions. On behalf of everyone at ActivatedYou, thank you for your feedback and for giving Morning Complete a try! Looking forward to speaking with you.

(

read more

read less

...)

---