Organifi Green Juice
This company has claimed this profile, is getting alerted on any new customer reviews entering this page, and may engage in dialogue with its customers to address their matters.

Companies cannot pay money or provide goods in order to remove or alter customer reviews.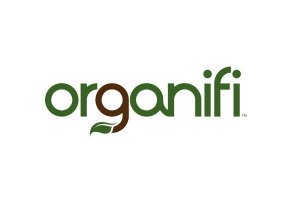 Summary
Organifi Green Juice is a dietary supplement beverage of powdered superfoods designed to help you get your daily nutrients without the hassle. Our review will help you decide if this supplement is right for you.
Organifi Green Juice Review: An In-Depth Look
Organifi Green Juice is a powdered supplement that promises to give you plant-based nutrition without requiring you to shop for and prepare fresh ingredients.
The company's primary goal is to help customers make healthy living a priority through convenient juices and supplements that can substitute for fresh food at their convenience.
Organifi sells multiple products, but we're going to focus on the powdered Green Juice. Our analysis of this product will help you decide whether it is the right choice for your health.
Possible Benefits and How to Take It
Organifi Green Juice comes powdered in a shelf-stable canister. You are meant to dissolve one scoop in water for an instant drink. The company suggests taking one serving in the morning, though you can also take it around your workouts or as a mid-day boost.
The company claims that this organic drink blend hydrates and revitalizes you while naturally balancing your hormones, helping your body deal with the effects of stress, boosting your immune function, and supporting mental clarity.
Though it's possible to add any ingredients you choose to Organifi, the powder's intended purpose is to be taken alone.
A single-scoop serving size includes the following nutrients (30 scoops per container):
Total Carbohydrate: 6g
Protein: 2g
Calcium: 31mg
Iron: 3mg
Sodium: 10mg
Alkaline Greens Proprietary Blend: 5.1g
Super Food Proprietary Blend: 1.45g
Analysis of Ingredients
All Organifi ingredients are certified organic and non-GMO verified. The product isn't FDA-approved but is manufactured in FDA-approved facilities.
Most of the ingredients are contained within two proprietary blends, called the "Alkaline Greens Proprietary Blend" and "Super Food Proprietary Blend."
This means that the company does not disclose how much of each ingredient is contained within the powder. This makes it difficult to comment on whether there is enough of the active ingredients to provide the suggested health benefits.
Acknowledging this limitation, here is the medical research for each ingredient:
Moringa
This North Indian tree has long been used in traditional herbal medicines. Almost every part of the tree can be used, though the leaves are most often ground and used as a powder in dietary supplements.
Moringa is high in antioxidants and often considered a wonder food, though you need to consume about a cup of the leaves to get the full benefits. The amount likely contained in a serving of green powdered juice like Organifi Green Juice often makes the nutrient content negligible.
Chlorella
Chlorella is a nutrient-dense form of algae that will purportedly rid your body of toxins and improve your cholesterol levels. This single-celled organism is 50–60% protein and contains a wide range of antioxidants.
Though large doses can provide you with lots of fiber, most supplement serving sizes will contain less than one gram per dose.
There's also evidence that chlorella will bind to heavy metals to remove them from your body, but most existing studies have only been conducted on animals.
Mint
This fragrant herb is added to Organifi Green Juice to give it a refreshing taste. Even so, the plant has one of the highest antioxidant capacities of any food, and it has stomach-soothing properties that can help prevent gas and indigestion.
Spirulina
Spirulina, another name for blue-green algae, is considered one of the healthiest supplements available.
One tablespoon (7 grams) contains four grams of protein, 21% of your daily copper requirements, and decent amounts of vitamins B1, B2, and B3. However, that's far more than you're getting in a serving of green juice.
Beets
When this root vegetable is powdered and added to green juices, its compounds can work to reduce swelling and cholesterol as well as increase your levels of nitric oxide. This affects your blood vessels in ways that potentially improve your blood pressure and potentially improve your exercise capacity.
Matcha Green Tea
This powdered green tea is designed to be dissolved in water and drunk as is. This gives you the full nutritional value of the tea leaves, providing more than 100 times the antioxidants of regular green tea and ten times the nutritional content of regular tea.
Wheatgrass
Popular as an ingredient in green juices, wheatgrass is made from sprouted leaves of the wheat plant. The compound is high in nutrients, especially antioxidants, and one study from 2006 found that wheatgrass successfully reduces oxidative damage done to cells.
However, most research thus far has been conducted on test tube cells or animals, so more studies are needed to verify these benefits for humans.
Ashwagandha
This versatile plant is considered an adaptogen, which means that it helps the body better deal with daily stress. Some people also take it for its purported benefits for arthritis and cognitive abilities.
However, you might need to take up to 600mg a day to experience any benefits, which is likely more than is contained in the 1.45 gram "Super Food Proprietary Blend."
Turmeric
Turmeric is a spice known for its curcumin content. This compound is an anti-inflammatory agent that shows benefits for relieving the symptoms of arthritis, clogged arteries, and similar conditions.
It's also been used for centuries to treat digestion problems, and preliminary evidence shows that it might reduce inflammation associated with weight gain.
Key Takeaways
Organifi Green Juice contains a wide variety of plant-based ingredients that promise to deliver profound health benefits. However, for most of them, you would need to take a larger serving size than a scoop of Organifi Green Juice to experience the benefits.
And, as these ingredients come in proprietary blends, it's hard to know what their ratios are in the juice blend.
Possible Side Effects
Though there are few side effects associated with Organifi Green Juice's ingredients individually, you may potentially run into problems from taking them in concentrated form as a green juice.
Extreme juice cleanses are associated with adverse side effects like diarrhea, dizziness, nausea, and fatigue. To fall within this category, though, you would need to drink nothing but green juice for days in a row.
You might also experience stomach problems if you don't usually eat much produce as your stomach adjusts to the higher fiber content. So long as you stick to Organifi's recommended serving sizes and have fewer than three servings a day, any stomach issues you experience will likely be temporary.
Organifi products are manufactured in California. This means the company must comply with Proposition 65 and post a warning that the ingredients in the product might contain enough carcinogens to cause health problems such as cancer, birth defects, or other reproductive harm.
All California-based companies that sell products with ingredients that are on this list must legally post this warning, and it doesn't indicate that the supplement is any more dangerous than that of a non-California-based competitor.
Will Organifi Green Juice Help You Lose Weight?
Many people who purchase products like Organifi Green Juice do so with the goal of losing weight.
These drinks tend to be low in calories but high in nutrients. This makes them a viable option for meeting your daily fruit and vegetable intake requirements, but they won't leave you satiated as a real meal should.
In other words, you might find yourself reaching for a snack soon after finishing a serving of this juice because it is lower in fiber than fresh fruits and vegetables. This might cause you to sabotage your diet plans without meaning to.
Likewise, a 2015 analysis of the effects of chewing on appetite found that chewing decreases self-reported hunger and increases overall satisfaction and satiety.
So to summarize, taking a green juice drink like Organifi Green Juice will give you nutrients that are essential for good health, but the beverage won't leave you feeling like you just had a meal, and consequently won't deter you from compensating with unhealthy choices.
For this reason, it's best to consider a green powder drink as a supplemental nutritional resource for a healthy diet, rather than a way to curb your cravings.
You'll fare better in most cases if you reach for whole fruits and vegetables instead. Not only do they give you lots of water, but they contain filling fiber that prevents you from overeating and makes it easier to stick to calorie limitations.
If you want to feel fuller while using Organifi Green Juice, we suggest incorporating it into a smoothie with nutrient-rich ingredients like yogurt, bananas, and possibly protein powder.
Pricing and Return Policy
Organifi Green Juice is sold for:
1 Bottle: $69.95 (30 servings)
3 Bottles: $178.38
6 Bottles: $356.75
You can also sign up for a subscription program where you will save 26% and pay $59.46 for one bottle and receive a new delivery every thirty days.
Shipping costs start at $7.95 per order and increase based on your order size.
All purchases qualify for Organifi's 100% No-Risk Promise. This means that you can try any product for sixty days and return it, no questions asked, for a full refund minus return shipping costs.
Analysis of Customer Reviews
On our website, over 50 customers have reviewed this product for an average rating of 2.7-stars out of five. Here are some of their key takeaways:
Positive Health Benefits
Many Organifi Green Juice users noticed physical benefits from using this product. Several stated that they used the juice as a caffeine-free way to wake up in the morning, that it kept their digestive system regular, and that it helped them get off gout medication.
Others mentioned that they started feeling the health impacts of the juice a few hours after the first glass and that it reduced their need for a mid-afternoon nap.
Great Taste
Lots of reviewers seem happy with Organifi's taste, especially compared to other powdered green smoothie brands. Many mentioned that the powder dissolved quickly in water and left a smooth texture.
Billing and Customer Service Issues
Not all Organifi users seemed to receive the products they ordered. A few reported that they were shipped empty boxes from the company without any products inside.
Others stated that they struggled to get a refund from the company for products that they weren't happy with. They wrote that Organifi contested their 60-day return policy or stopped responding to messages, leaving them without their refund.
Not Fans of the Taste and Texture
Some reviewers noted that the Organifi Green Drink didn't blend well in a glass and had a too-sweet taste that was off-putting. Others didn't like the mint flavor combined with the greens.
Key Takeaways
Overall, some think the flavor and benefits are incredible, while others find the drink too sweet, hard to dissolve in a glass, and devoid of health benefits.
We think you will have a better experience with this beverage if you already know that you like powdered green juice drinks.
The Bottom Line
Oraganifi Green Juice contains promising ingredients with high nutritional content. Many have been the focus of clinical studies that prove their efficacy.
However, you will potentially need to take far more than a serving of Organifi to match the results from these studies.
Another concern is that a powdered green juice like Organifi is lower in fiber than the nutritional equivalent of fresh produce, which means that it won't leave you feeling as full after a serving. That's not ideal for weight loss.
While it's almost always better to choose real fruits and vegetables instead, a drink like Organifi Green Juice can help you fill in the gaps on days when you know you won't meet your daily requirements.
Our Promise to You
In order to safeguard you and ensure helpfulness and relevance, our compliance team manually assess every customer review before it goes live.
We have a zero-tolerance policy for fake reviews, and companies cannot control or alter any reviews at any time.