ProPlant Complete Shake by Gundry MD Reviews
Claimed This company has claimed this profile, is getting alerted on any new customer reviews entering this page, and may engage in dialogue with its customers to address their matters.

Companies cannot pay money or provide goods in order to remove or alter customer reviews.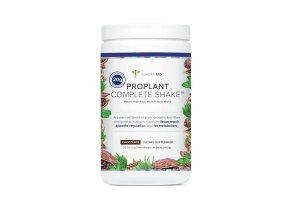 Gundry MD advertises their ProPlant Complete Shake as a worry-free way of maintaining energy, managing unhealthy cravings, and supporting a healthy heart.
About ProPlant Complete Shake by Gundry MD
Each chocolate-flavored serving of ProPlant Complete Shake by Gundry MD contains 20g of plant protein, along with a blend of fiber, to "support optimum tissue repair, appetite regulation, and fat metabolism."
Together, the company claims you'll experience improved energy, reduced cravings, increased fullness after meals, stronger muscles and bones, a more balanced mood, boosted energy, and supported heart, brain, and eye health.
The Gundry MD website advertises you simply need to mix two scoops of ProPlant Complete into the beverage of your choice and enjoy. When consumed regularly, we're told most customers report a different within a few days, while for others it may take two to three weeks.
Can you really achieve all of these benefits—including weight management and whole body health—by drinking a once-daily shake like ProPlant Complete? This is the central question we'll help you answer in this article.
The Importance of Protein for Good Health
In addition to carbohydrates and fats, protein is a macronutrient that Neil Osterweil explains is broken down by the body into amino acids.
Then, these amino acids are used by every cell in the body to "build and repair tissues" and to "make enzymes, hormones, and other body chemicals." They're also "an important building block of bones, muscles, cartilage, skin, and blood," he says.
Based on the current Dietary Reference Intake (DRI) guidelines, Healthline reports the average sedentary woman needs about 46 grams of protein per day, while the average sedentary man needs about 56 grams per day.
However, this is only to prevent deficiency, and your specific protein needs could be much higher, depending on "activity level, age, muscle mass, physique goals, and current state of health."
This is where powdered dietary supplements like ProPlant Complete come in, by boosting the amount of protein available to the body. But, is the fact that it's plant-based an advantage?
Animal vs. Plant-Based Protein
A different Healthline article reports that, compared to animal-based protein (such as whey), plant proteins are typically incomplete, in that they don't contain all of the amino acids necessary for muscle rebuilding, etc. So, from a sheer biological perspective, animal-based proteins most closely match what's found in your body.
On the flip side, Kedist Tedla at the American Council on Science and Health reports that food-based animal protein sources (especially processed meats) can significantly increase a person's risk of mortality. However, much of this concern is alleviated when it comes to protein powder supplements since many of the harmful substances are no longer present.
ProPlant Complete Shake Ingredients and Nutrition Information
Each ProPlant Complete Shake contains 240 calories, with 70 grams of fat (1.5 g of saturated fat) and just one gram of sugar. Additional ingredients include:
Protein 20 g, Thiamin 0.6 mg, Riboflavin 0.2 mg, Niacin 4.6 mg, Vitamin B6 0.3 mg, Folate 82 mcg, Calcium 140 mg, Iron 11 mg , Phosphorus 585 mg, Magnesium 420 mg, Zinc 5 mg, Copper 1.2 mg, Manganese 3 mg, Sodium 190 mg, Potassium 600 mg.
Important: You'll notice there's no protein source listed above (other than the fact that it's obviously plant-based). None of the Gundry MD customer support reps we spoke with during our research could provide additional insight and only stated that it's proprietary information.
Nonetheless, we already discussed that your protein needs depend on important factors like activity level, age, muscle mass, physique goals, and current health. It's much the same with many of ProPlant's other ingredients, which are often dosed based on age and gender.
From a high-level perspective, though, each of these ingredients represents between about 10% and 200% of the daily dietary reference intake (DRI) for adults.
As a result, to ensure you're not ingesting too much on a regular basis, be sure to have an in-depth conversation with your doctor, who might need to order the appropriate blood work in advance.
Could Gundry MD's ProPlant Complete Cause Side Effects?
Along these same lines, the Gundry MD website emphasizes that ProPlant "was formulated for maximum all-natural purity, [so] it should be effective and safe for daily use for the vast majority of people," However, they emphasize that you'll want to make an appointment "with your physician before using any supplement."
How Much Does ProPlant Complete by Gundry MD Cost?
If purchased on the main GundryMD.com website, customers will pay:
1 Jar (41.34 oz, enough for 20 servings): $112
2 Jars: $200 ($100 each)
3 Jars: $285 ($95 each)
On the other hand, if ordered from the company's TheProteinParadox.com micro-site, prices drop considerably to:
1 Jar: $49.95
3 Jars: $134.85 ($44.95 each)
3 Jars: $254.70 ($42.45 each)
All orders come with free shipping, as well as 90-day money-back guarantee, less return S&H. Customer support can be reached at (800) 852-0477.
How to Choose Between ProPlant Complete and Other Protein Powder Supplements
According to Grand View Research, as of 2016, the global protein supplements market was valued at $12.4 billion, which they estimate will show "significant growth" through 2025 as a greater number of consumers continue adopting healthy lifestyles.
As a result, it might not come as much as a surprise that there are perhaps thousands of different protein powder formulations available online, as well as at just about any brick and mortar store with a supplements section.
When searching for one, Bodybuilding.com's Clayton South recommends focusing on options that include essential amino acids like "tryptophan, lysine, methionine, phenylalanine, threonine, valine, isoleucine, leucine," as well as a mix of branch-chain amino acids (BCAAs).
Clayton points out that the protein source is important as well, especially when it comes to plant-based supplements. Why? In most instances, plant protein—whether ProPlant Complete or a third-party brand—is considered incomplete, since it doesn't contain all of the essential amino acids found in animal-based sources.
For example, Healthline explains that brown rice protein is generally considered an inferior source, since it's "too low in lysine," as is hemp protein. On the other hand, pea protein "has been shown to promote fullness and increase muscle growth as effectively as animal-based protein sources" in limited studies.
As a result, if you're looking to gain muscle or lose weight, they point out that whey or casein protein powder might work best. On the other hand, vegetarians and vegans focused on plant-based options might want to explore those that include a variety of sources, including pea.
While protein source, what you're looking to accomplish, and dietary restrictions might be your top three factors to consider while you're exploring protein powders, when it comes to the manufacturer, other important factors include:
Do they support their claims with clinical evidence?
Do they stand behind their supplements with at least a 30-day refund policy, with reasonable S&H charges and no restocking fees?
Do they come with mostly positive online customer feedback?
Is Gundry MD's ProPlant Complete Shake the Right Option for You?
Gundry MD has been in been in business for several years and has released many popular supplements in that time, including Vital Reds, Primal Plants, Prebiothrive, and Total Restore, to name just a few. They also come with exceedingly high customer reviews, here on HighYa as well as elsewhere online.
The company stands behind ProPlant and all of their other supplements with a 90-day money back guarantee (less return S&H charges) and no restocking fees.
It's important to balance these positives with the fact it's unknown what the supplement's protein source is, despite several calls to customer support. So, depending on your preferences, it might not contain all of the essential amino acids you need.
Finally, at as much as $112 per jar (about $5.60 per serving), if ordered from the main Gundry MD site, ProPlant Complete is the most expensive protein supplement we've encountered to date. As a result, if you're going to place an order, we'd recommend doing so from their TheProteinParadox.com URL, which offers significantly lower prices.
» Related: Ketogenic Diet: A Comprehensive Beginner's Guide
This company is actively collecting reviews from its customers. All reviews submitted are subject to moderation and approval to ensure they meet our

Review Guidelines

.

Expectation vs. Disappointment

By Steven F.

,

Alpharetta, GA

,

Mar 7, 2020
Verified Reviewer

My initial experience was a lot like what those who have flatly rejected the product have written about. It just took me a moment of deductive reasoning to figure out why, alter my tactic, then try again for better results.

Like everyone who purchased this product, I need help, and Dr. Gundry developed a chocolate shake that would provide that help getting good proteins in my body. I figured, "how badly could something like this go?" The first thing I thought of, which was my first mistake, was Nestle's Quik, with the rabbit on the container; not because I thought it would just be an all-pleasure experience, but because that is what I expect to taste when I think of a chocolate powder mix.

So when it arrived, and I opened the container and smelled that cocoa and tasted a tiny bit of it, my expectation increased. I didn't level off that scoop; I heaped it, just as I would do Nestle's Quik way back when, added that water...and...

It was laughable. It reminded me of a children's toy where you add water and you get what they horrifyingly call "edible slime". Mixing it with a spoon or blender made no difference. It sloughed around and you could not engage in the act of drinking it so much as chew it, and...yeah, that's enough of that.

To sum up, I expected Nestle's Quik, and got something else. My expectations are my problem and no one else's; despite that, they were aided by the label on the can. Was the recipe ratio of liquid to powder on the container accurate? My answer to that is a resounding NO, unless you're into bad comedy.

BUT, I paid for the product, because I needed it, just like the rest of us, and wanted it to be a good experience. I have learned that we are never disappointed by what we find; only by what we EXPECT to find, as the level of disappointment is always equal to the level of expectation.

So here's what I did, in the hope that this helps someone else who has invested in the product for their own well-being:

1) I reduced the scoop to about 2/3 instead of filling it. As Han Solo once said (and for this review, I mean it in the way he did not...), "I don't care what you smell!" Nestle's Quik this "ain't".

2) I didn't try mixing it with a spoon, but instead used a Magic Bullet type blender to keep it from trying to become a gelatinous life form.

3) I added some vanilla almond milk.

The result was pretty freakin' tasty. An actual shake with the right amount of thickness. No lumps. The only reason I am not 5-starring this review is because they missed the mix target on the container by about a nautical mile.

Again, everyone has a different mindset, and I don't expect everyone to concur with my point of view out here, but on the off chance that this helps someone else who shelled out three figures for this to improve their body temple, I hope this review may be of service to you.

Bottom Line: Yes, I would recommend this to a friend

---

Tastes good, mixes well.

By RJ J.

,

Minnesota

,

Mar 4, 2020
Verified Reviewer

Good chocolate flavor. I feel complete, full, balanced. Helped my joint pain a little. Great supplement for my pull-ups/push-ups. Filled me up for half a day. I would recommend this formula to my friends, family.

Thank you.

Bottom Line: Yes, I would recommend this to a friend

---

ProPlant Shake for lunch

By Scott H.

,

Acton, CA

,

Mar 4, 2020
Verified Reviewer

I have been vegetarian/vegan for 8 years. I am using ProPlant shakes for my lunch every other day.

I am mixing the powder with coconut water in a shaker cup. It is convenient, easy, and tastes great! I am continuing to get leaner and stronger and am 11lbs from my target weight. I expect to be there by Memorial Day.

I enjoy your products and your email tips.

Thank you.

Bottom Line: Yes, I would recommend this to a friend

---

Great protein shake

By Kevin S.

,

Toronto, Ontario, Canada

,

Mar 4, 2020
Verified Reviewer

This is a great protein post-workout shake. High-quality plant protein, increases energy and suppresses appetite. I have lost weight since using this product and I feel great!

Bottom Line: Yes, I would recommend this to a friend

---

Advertisement

---

Great product

By Robert M.

,

Monroe, GA

,

Mar 4, 2020
Verified Reviewer

I am about 45 days in to taking ProPlant Complete and can't speak highly enough about it. I was looking for a good plant-based protein to supplement and lessen the amount of animal protein in my diet. Since adding this into my day I have noticed better digestion and less soreness in my joints after my workout. I now look forward to my shake every day and have actually noticed some gains in my muscle mass while keeping the fat off.

Bottom Line: Yes, I would recommend this to a friend

---

I will be always thankful to Dr. Gundry

By Blanca G.

,

Buffalo, NY

,

Mar 4, 2020
Verified Reviewer

I started using ProPlant to replace animal meat! I feel so energetic and better than when I was 25. I am an extremely active person, you might say a workaholic and used to be exhausted by the end of the day. After I started using ProPlant I can work without having to deal with exhaustion.

Thank you, Dr. Gundry! I feel and look good!

Bottom Line: Yes, I would recommend this to a friend

---

We just finished the first bottle and it is excellent!

First time I tried I wasn't sure because it's kind of gelatinous but the flavor was great, so I continue drinking it. By the third time I was craving it after my work out, it's like a treat, and also just what I need after exercising. With all the protein products in the market and none of them Plant Paradox compliant, this fills a need. Thumbs up for this product Dr. G.

Bottom Line: Yes, I would recommend this to a friend

---

ProPlant Shake

By Deanna C.

,

California

,

Mar 3, 2020
Verified Reviewer

I decided to give this product a try because I struggle with late-night snacking. It not only satisfies, it has a great flavor and it's like having a dessert almost. I love it. I would highly recommend this product to my family and friends.

Bottom Line: Yes, I would recommend this to a friend

---

ProPlant, still early days yet

By Robert J F.

,

Essex, United Kingdom

,

Mar 3, 2020
Verified Reviewer

I live in the UK and I have to tell you it would have been helpful if I'd known that having ProPlant delivered from the USA to the UK invoked a big customs bill and then perhaps I wouldn't have had such a big shock. That aside, I read some of your customers' reviews regarding the texture of ProPlant once mixed with a liquid of there choice, I too suffered from the same and it isn't pleasant, however, I thought I would try it in a blender, and the results are excellent. It mixes really well and no sign of any slime texture, it's a really nice "chocolate shake". Now to the important bit, do I notice improvements in my well being? Well, for me, it's still early days as I don't take it every day regularly but I have to, to date, there seems to be an improvement in my energy levels, that's all for now, but if I may I would like to write again when I have had more exposure. Thanks.

Bottom Line: Yes, I would recommend this to a friend

---

Delicious and healthy

By Jan L.

,

Queensland, Australia

,

Mar 3, 2020
Verified Reviewer

Delicious daily shake. We add kale, spinach, fresh ginger, and coconut milk. Great meal substitute if you want to use it that way. Highly recommend ProPlant to friends following keto, low carb, Wahls Protocol, and vegan ways of eating.

Bottom Line: Yes, I would recommend this to a friend

---

My experience

By Gary S.

,

Chillicothe, OH

,

Mar 3, 2020
Verified Reviewer

I like the ProPlant Complete Shake product because it helps eliminate cravings between meals. I am not really looking to lose weight because I am very comfortable with my current level. I am not overweight but I do not want to gain much weight either.

It is easy to prepare. I put it into a small blender and mix it with almond milk and sometimes add a little coconut also. More than anything, I think it is delicious.

Bottom Line: Yes, I would recommend this to a friend

---