Gundry MD ProPlant Complete Shake Reviews
This company has claimed this profile, is getting alerted on any new customer reviews entering this page, and may engage in dialogue with its customers to address their matters.

Companies cannot pay money or provide goods in order to remove or alter customer reviews.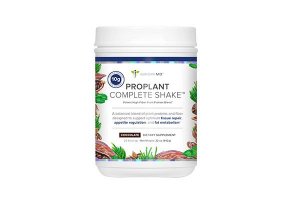 Summary
Gundry MD advertises their ProPlant Complete Shake as a worry-free way of maintaining energy, managing unhealthy cravings, and supporting a healthy heart. Science does back up the claims but there are some drawbacks.
Gundry MD ProPlant Complete Shake Reviews - Is It Hype or Legit?
What Is ProPlant Complete Shake?
ProPlant Complete Shake from Gundry MD is a supplement that allegedly improves energy, reduced cravings, increased fullness after meals, stronger muscles and bones, a more balanced mood, boosted energy, and supported heart, brain, and eye health.
The Gundry MD website advertises you need to mix two scoops of ProPlant Complete into the beverage of your choice.
Can you achieve all of these benefits—including weight management and whole-body health—by drinking a once-daily shake like ProPlant Complete?
This article addresses the efficacy of its ingredients, safety, and whether it's the right supplement for you.
The Importance of Protein for Good Health
Proteins are macromolecules that are comprised of long amino acid chains. There are 20 amino acids in total, and 9 of these are essential and must be obtained from your diet.
Proteins have a hand in virtually every chemical reaction in your body. They play large roles in functions like chemical signaling, immunity, and muscle function.
Exactly how much protein do you need? The answer can vary depending on who you ask.
The American Dietetic Association's (ADA) recommends obtaining about 0.36g/lb. of bodyweight from a well-balanced diet. This ratio is often much higher for those in athletic competition; bodybuilders, powerlifters, and other athletes can consume protein at more than 2x their bodyweight
As protein is available from both plant and animal-based foods, the question remains - is taking a plant-based supplement an advantage?
Ingredients and Scientific Support
Each ProPlant Complete Shake contains 240 calories, with 70 grams of fat (1.5 g of saturated fat) and just one gram of sugar. Additional ingredients include:
Protein 20 g, Thiamin 0.6 mg, Riboflavin 0.2 mg, Niacin 4.6 mg, Vitamin B6 0.3 mg, Folate 82 mcg, Calcium 140 mg, Iron 11 mg, Phosphorus 585 mg, Magnesium 420 mg, Zinc 5 mg, Copper 1.2 mg, Manganese 3 mg, Sodium 190 mg, Potassium 600 mg.
Important: You'll notice there's no protein source listed above (other than the fact that it's plant-based). None of the Gundry MD customer support reps we spoke with during our research could provide additional insight and only stated that it's proprietary information.
Based on the ADA's recommendations, a 175lb adult would need 60-65g of protein daily, whereas an athlete at this same weight may consume 2-3x more.
As your ProPlant Complete Shake contains just 20g, the vast majority of your protein must come from your diet even if you're not in competition.
In one study, the effects of 24g of pea were compared to whey protein before and after strenuous exercise. Over 2-months, pea and whey protein supplements produced similar outcomes for body composition, muscle thickness, force production, athletic performance, and strength.
Low dietary protein intake is associated with age-related muscle loss. In elderly individuals, plant-based protein was even better than animal sources at preventing this loss.
In a review of 9 studies, soy protein was found to produce similar results in terms of muscle mass and strength when compared to animal-based sources of protein.
The other purported benefits of ProPlant Complete are not well-supported. Fiber may affect appetite, though the available evidence for this action is mixed at best.
On the other hand, research supporting plant-based protein's ability to build muscle, enhance strength, improve performance, and prevent age-related declines are ample.
Are There Any Possible Side Effects?
Protein supplements are generally low-risk. You're already obtaining this macronutrient in most of the plant and animal-based foods in your diet.
The adverse effects of consuming too much protein are rare. Our bodies don't use excess efficiently, however. If too much is present, your kidneys, bones, and liver can be negatively affected.
Signs you've consumed too much can include dehydration, stomach pain, nausea, headaches, or diarrhea.
Speak to your physician before making drastic alterations in your diet to minimize the risk for harm
What Does It Cost?
ProPlant Complete is available only at the GundryMD website; here, you'll pay:
1 Jar: (41.34 oz, enough for 20 servings): $69.95
3 Jars: $188.85
6 Jars: $353.70
All orders come with free shipping, as well as a 90-day money-back guarantee, less return S&H. Customer support can be reached at (800) 852-0477.
What Are the Alternatives to ProPlant Complete?
There are a number of brands that similarly intend to offer a convenient protein supplement for those who opt for vegan or vegetarian diets.
Vega is one such example. They offer a line of low-calorie, high-protein pea-based protein powders. Some are also bolstered with vitamins and minerals. You'll spend around $100 on their site for about 45 servings.
Similar comprehensive blends seem to fall somewhere in between the pricing for ProPlant Complete and Vega. Supplements that don't include vitamins and minerals, as well as those that offer fewer servings, may be one way of saving money.
You can also obtain plant-based protein naturally from foods like corn, broccoli, lentils, spinach, and peas.
The Bottom Line – Is This the Right Option for You?
Plant-based protein supplements such as ProPlant Complete are backed with science that has demonstrated their ability to offer muscle and strength related benefits. The other claims made by Gundry MD are less clear.
Despite its high cost, ProPlant Complete also has stellar customer reviews, here on HighYa as well as elsewhere online.
Some of the financial risk is relieved as the company stands behind ProPlant and all of their other supplements with a 90-day money-back guarantee (less return S&H charges).
It's important to balance these positives with the fact that it's unknown what the supplement's protein source is, despite several calls to customer support. Depending on your preferences, it might not contain all of the essential amino acids you need.
You won't save by opting for other similar formulations, though purchasing a plant-based protein that lacks the vitamin and mineral content and ranges between 20-30 servings won't drain your bank account.
The harm of protein supplements is minimal, though not impossible. Limit the risk by speaking with your doctor.
Customer Reviews
This company is actively collecting reviews from its customers. All reviews submitted are subject to moderation and approval to ensure they meet our
Review Guidelines
.
Our Promise to You
In order to safeguard you and ensure helpfulness and relevance, our compliance team manually assess every customer review before it goes live.
We have a zero-tolerance policy for fake reviews, and companies cannot control or alter any reviews at any time.