ASEA Redox Supplement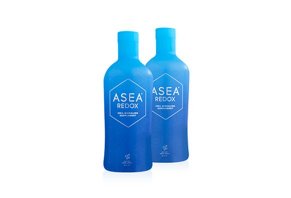 Summary
ASEA Redox is a dietary supplement that is intended to improve the ability of your cells to communicate with each other, leading to better overall health. The favorable results, however, were not published in a medical peer-reviewed journal.
ASEA Redox Supplement Reviews: Can It Work As Advertised?
What is ASEA Redox?
ASEA Redox is a dietary supplement that allegedly enhances your overall health by improving function at the cellular level.
According to their website, this beverage offers active redox signaling molecules that are designed to protect, rejuvenate, and restore your body's cells.
The company claims that by simply drinking 2-4oz of ASEA Redox once or twice daily, you'll experience:
Better immune function
An enhanced inflammatory response
Improved cardiovascular health
Improved hormone balance
Better overall wellness
Is there a benefit to improving the way your cells interact with each other? And even if there is, can drinking a beverage improve your cells' function?
This review examines the available literature regarding the ability of ASEA Redox to accomplish the benefits alleged by the company.
Redox Signalling: Is it Important?
ASEA Redox has certainly identified an important target for their supplement to act upon. While it may not get as much face time as dieting tips, vitamins, or other wellness topics, cell signaling is a fundamental component that is essential for all life.
Virtually every process in your body requires the precise interactions of various cells at any given moment. Exercising, fighting off infections, and everything in between are all made possible due to events that take place at the cellular level.
Dysfunctional cell signaling may negatively affect your health. In fact, poor communication between cells may be associated with a variety of conditions like cardiovascular disease, infection, and even cancer.
Reduction and oxidation (Redox) occur when electrons are transferred from one molecule to another during chemical reactions. Often, redox signaling results in the formation of free radicals. These molecules can cause harmful oxidative stress that is largely responsible for the unwanted effects of conditions like aging, inflammation, and even cancer
According to the website, ASEA Redox is intended to improve communication among the cells that are involved in the many reactions that take place at any given moment to help them better determine when to protect, rejuvenate, or replace those that are functioning poorly.
It's clear that these actions are certainly desirable, given our new understanding of cell signaling.
The ASEA Redox Active Ingredients: What Does the Research Say?
ASEA Redox claims to support overall wellness at the cellular level, so does that mean it's packed with a bunch of hard-to-pronounce ingredients? On the contrary, ASEA Redox offers just 2 familiar ones: salt and water.
More specifically, your bottle of ASEA Redox contains 190mg of chloride (6% daily value) and 123mg of sodium (7% daily value).
According to the website, ASEA Redox contains stabilized active redox signaling molecules. Further details as to how this is achieved are not provided.
Their Facebook page includes a 'commonly asked questions' section that offers a bit more information. According to the company, complex electrochemical processes are applied to purified water and salt to yield a beverage with a balanced mixture of redox signaling molecules and a neutral pH (7.35).
While this information is still pretty vague, there isn't much more to go on as redox supplements are not well studied. Thus, the bulk of the available information comes from independent testing of ASEA Redox.
As we've mentioned in the past, this method of testing may offer some valuable information, though results must be interpreted with caution. Without publication in a reputable medical journal, studies do not undergo the rigorous peer review process necessary to determine that the science used is sound.
In any event, ASEA has ensured that their products are put to the test. BioAgilytix Labs seems to have handled the bulk of this burden. This document highlights a number of studies that have been carried out at their labs.
A laboratory model found that cultured cells increased their antioxidant efficacy by 800% after exposure to ASEA Redox.
In another laboratory study, cultured cells were exposed to radiation, starvation, and molecules involved in programmed cell death. ASEA Redox exposure seemed to increase the rate of cell death in those that were damaged.
In overweight women, those randomized to drinking 4oz of ASEA Redox for 12-weeks improved cholesterol levels when compared to placebo.
When compared to their baseline measures, cyclists improved exercise performance after 14 days of consuming 4oz of ASEA Redox.
While some of these results at least hint at the potential to offer benefits that are in line with claims made by the company, strong conclusions regarding safety and efficacy can't be made without published data.
Is ASEA Redox Safe?
The levels of sodium and chloride offered in ASEA Redox fall well below the RDA and are therefore unlikely to cause harm when used as directed.
Again, ASEA Redox has been put to the test, though these results were not published. Nonetheless, in a laboratory setting, exposure to high concentrations of ASEA Redox did not have a toxic effect on cultured cells.
When tested in dogs and mice, large doses were not associated with adverse effects. When tested in human subjects, adverse effects were not reported.
While this supplement is likely safe to use, ASEA Redox simply lacks rigorous scientific research backing its safety and efficacy. It is best to touch base with your doctor before using it.
ASEA Redox: The Cost
ASEA Redox is available for purchase directly from the company page.
ASEA Redox costs as follows:
2 -Pack of 32oz each - $80
4-Pack of 32oz bottles (1-month supply) - $130
1 Case of 16 8oz pouches - $160
As both the 4-Pack and Case offer 128 total ounces of ASEA Redox, the most cost-effective option is the 4-Pack.
A 30-day money-back guarantee backs ASEA products. To process your refund, contact ASEA customer service at 888-438-5971 or support@ASEAglobal.com.
ASEA Redox is also available on Amazon. You'll pay $160 for four 32oz bottles. Like purchasing from the ASEA site, Amazon also offers 30-day returns.
The Bottom Line
ASEA Redox claims to support overall health at the cellular level by offering just sodium and chloride in their beverage. While independent testing of their supplement did offer results that seem to be in line with some of the company's claims, these studies weren't published in a peer-reviewed medical journal.
Thus, strong support for the safety and efficacy of ASEA Redox lacks at this time. Nonetheless, nearly 300 customers rate this supplement 4.2-stars at Amazon. Those pleased cited experiencing improvements with constipation, migraines, energy, and even inflamed gums.
Just like the independent testing, you should always take product reviews with a grain of salt as they can often include paid responses.
Until the research catches up to the loft claims, you should try your luck elsewhere. If you're experiencing specific symptoms that you feel ASEA Redox can address, speak with your doctor first.
Our Promise to You
In order to safeguard you and ensure helpfulness and relevance, our compliance team manually assess every customer review before it goes live.
We have a zero-tolerance policy for fake reviews, and companies cannot control or alter any reviews at any time.