ASEA Redox Supplement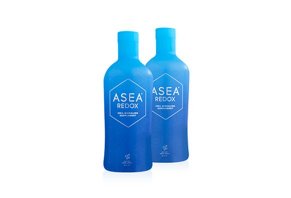 Summary
ASEA Redox is a dietary supplement that is intended to improve the ability of your cells to communicate with each other, leading to better overall health. The favorable results, however, were not published in a medical peer-reviewed journal.
ASEA Redox Supplement Reviews: Can It Work As Advertised?
What is ASEA Redox?
ASEA Redox is a dietary supplement that allegedly enhances your overall health by improving function at the cellular level.
According to their website, this beverage offers active redox signaling molecules that are designed to protect, rejuvenate, and restore your body's cells.
The company claims that by simply drinking 2-4oz of ASEA Redox once or twice daily, you'll experience:
Better immune function
An enhanced inflammatory response
Improved cardiovascular health
Improved hormone balance
Better overall wellness
Is there a benefit to improving the way your cells interact with each other? And even if there is, can drinking a beverage improve your cells' function?
This review examines the available literature regarding the ability of ASEA Redox to accomplish the benefits alleged by the company.
Redox Signalling: Is it Important?
ASEA Redox has certainly identified an important target for their supplement to act upon. While it may not get as much face time as dieting tips, vitamins, or other wellness topics, cell signaling is a fundamental component that is essential for all life.
Virtually every process in your body requires the precise interactions of various cells at any given moment. Exercising, fighting off infections, and everything in between are all made possible due to events that take place at the cellular level.
Dysfunctional cell signaling may negatively affect your health. In fact, poor communication between cells may be associated with a variety of conditions like cardiovascular disease, infection, and even cancer.
Reduction and oxidation (Redox) occur when electrons are transferred from one molecule to another during chemical reactions. Often, redox signaling results in the formation of free radicals. These molecules can cause harmful oxidative stress that is largely responsible for the unwanted effects of conditions like aging, inflammation, and even cancer
According to the website, ASEA Redox is intended to improve communication among the cells that are involved in the many reactions that take place at any given moment to help them better determine when to protect, rejuvenate, or replace those that are functioning poorly.
It's clear that these actions are certainly desirable, given our new understanding of cell signaling.
The ASEA Redox Active Ingredients: What Does the Research Say?
ASEA Redox claims to support overall wellness at the cellular level, so does that mean it's packed with a bunch of hard-to-pronounce ingredients? On the contrary, ASEA Redox offers just 2 familiar ones: salt and water.
More specifically, your bottle of ASEA Redox contains 190mg of chloride (6% daily value) and 123mg of sodium (7% daily value).
According to the website, ASEA Redox contains stabilized active redox signaling molecules. Further details as to how this is achieved are not provided.
Their Facebook page includes a 'commonly asked questions' section that offers a bit more information. According to the company, complex electrochemical processes are applied to purified water and salt to yield a beverage with a balanced mixture of redox signaling molecules and a neutral pH (7.35).
While this information is still pretty vague, there isn't much more to go on as redox supplements are not well studied. Thus, the bulk of the available information comes from independent testing of ASEA Redox.
As we've mentioned in the past, this method of testing may offer some valuable information, though results must be interpreted with caution. Without publication in a reputable medical journal, studies do not undergo the rigorous peer review process necessary to determine that the science used is sound.
In any event, ASEA has ensured that their products are put to the test. BioAgilytix Labs seems to have handled the bulk of this burden. This document highlights a number of studies that have been carried out at their labs.
A laboratory model found that cultured cells increased their antioxidant efficacy by 800% after exposure to ASEA Redox.
In another laboratory study, cultured cells were exposed to radiation, starvation, and molecules involved in programmed cell death. ASEA Redox exposure seemed to increase the rate of cell death in those that were damaged.
In overweight women, those randomized to drinking 4oz of ASEA Redox for 12-weeks improved cholesterol levels when compared to placebo.
When compared to their baseline measures, cyclists improved exercise performance after 14 days of consuming 4oz of ASEA Redox.
While some of these results at least hint at the potential to offer benefits that are in line with claims made by the company, strong conclusions regarding safety and efficacy can't be made without published data.
Is ASEA Redox Safe?
The levels of sodium and chloride offered in ASEA Redox fall well below the RDA and are therefore unlikely to cause harm when used as directed.
Again, ASEA Redox has been put to the test, though these results were not published. Nonetheless, in a laboratory setting, exposure to high concentrations of ASEA Redox did not have a toxic effect on cultured cells.
When tested in dogs and mice, large doses were not associated with adverse effects. When tested in human subjects, adverse effects were not reported.
While this supplement is likely safe to use, ASEA Redox simply lacks rigorous scientific research backing its safety and efficacy. It is best to touch base with your doctor before using it.
ASEA Redox: The Cost
ASEA Redox is available for purchase directly from the company page.
ASEA Redox costs as follows:
2 -Pack of 32oz each - $80
4-Pack of 32oz bottles (1-month supply) - $130
1 Case of 16 8oz pouches - $160
As both the 4-Pack and Case offer 128 total ounces of ASEA Redox, the most cost-effective option is the 4-Pack.
A 30-day money-back guarantee backs ASEA products. To process your refund, contact ASEA customer service at 888-438-5971 or support@ASEAglobal.com.
ASEA Redox is also available on Amazon. You'll pay $160 for four 32oz bottles. Like purchasing from the ASEA site, Amazon also offers 30-day returns.
The Bottom Line
ASEA Redox claims to support overall health at the cellular level by offering just sodium and chloride in their beverage. While independent testing of their supplement did offer results that seem to be in line with some of the company's claims, these studies weren't published in a peer-reviewed medical journal.
Thus, strong support for the safety and efficacy of ASEA Redox lacks at this time. Nonetheless, nearly 300 customers rate this supplement 4.2-stars at Amazon. Those pleased cited experiencing improvements with constipation, migraines, energy, and even inflamed gums.
Just like the independent testing, you should always take product reviews with a grain of salt as they can often include paid responses.
Until the research catches up to the loft claims, you should try your luck elsewhere. If you're experiencing specific symptoms that you feel ASEA Redox can address, speak with your doctor first.
Customer Reviews
Posted on Aug 19, 2022
Spent thousands and saw no difference
I got hounded by one of their reps and finally gave in after years and bought the product. I saw no difference just like when I had taken it 10 years earlier and wish I hadn't wasted the money. Every person I have spoken to her said the same thing. I'd rather drink pool water.
Length of Use: 6–12 months
Bottom Line: No, I would not recommend this to a friend
Pros and Cons
No "pros" were specified in this review
Expensive
Bad taste
Did nothing
Posted on Jul 25, 2022
Thank's ASEA - a vaccine injured in recovery
I have been injured by one jab with a vaccine. I was given up by our family doctor, different special doctors, e.g. the neurologists, who have been giving me different treatments. After four months of severe illnesses, I was introduced to ASEA by a woman who herself has recovered by drinking ASEA. At first, I thought it sounded "too good to be true", but I was desperate to get better, so I bought and drank ASEA. I was told to give it a chance for at least 3 months. But the main thing is that it works at giving me my health and life back. I am recovering every day. Thank you ASEA.
Length of Use: 6–12 months
Bottom Line: Yes, I would recommend this to a friend
Pros and Cons
ASEA gives me more than it promises
You can't drink too much of ASEA, it only enhances the recovery
As a bonus it has reduced my wrinkles
No "cons" were specified in this review
Posted on Sep 15, 2021
My acid reflux stopped
My experience with ASEA is very positive. I spent thousands on supplements and doctors. After I drank ASEA for 2 weeks my acid reflux is gone.
Length of Use: 3–6 months
Bottom Line: Yes, I would recommend this to a friend
Pros and Cons
No chemicals
No "cons" were specified in this review
Posted on Aug 21, 2020
There is sound research
You can find Safety and Drug Classifications at AseaScience.com. It has ZERO toxicity.
There are hundreds of doctors and many scientists who I have read and listened to that support the research and safety.
There are over 14,000 peer reviews about redox signaling molecules.
My doctor supports and promotes Asea Redox Cell Signaling Supplement and verified my personal results.
This product has changed my life.
Length of Use: 2+ years
Bottom Line: Yes, I would recommend this to a friend
Pros and Cons
It repairs cells
It helps my body heal itself
It has zero toxicity, no allergic reactions as it is native to the body and no contraindications
I have been using ASEA for 8 years
No "cons" were specified in this review
Posted on Dec 18, 2019
Awesome. It will help you if you keep taking it.
I love ASEA. It is helping me with my overall well-being, including, mentally focused, clarity, becoming more creative, enthusiastic. The key is taking it on a regular basis. Give it a try for at least 4 weeks. Often you see changes after just 5 days.
Bottom Line: Yes, I would recommend this to a friend
Posted on Nov 6, 2019
AN ABSOLUTE SCAM!
This is nothing else but a MULTILEVEL MARKETING/PYRAMID SCHEME.
I was sold this product by my optometrist. He knew my health problems and told me ASEA would regenerate my cells and realign my body for optimal health. ASEA will fix memory loss, arthritic bones, sore hips, sleep...whatever you have, ASEA is the most fantastic product, yadda, yadda, yadda!
Oh and you have to buy the rejuvenating gel that fixes your face, your hip, your feet...
Well...the liquid is saltwater! There is absolutely NOTHING else in the product but salt and water.
The small tube of gel feels like water, it has no information on the tube as to what is in it, how to use it or where to use it.
The cost is $AUD270 per month but you ABSOLUTELY HAVE TO HAVE 3 MONTHS worth of product to see any improvement.
It is an absolute disgrace that companies are allowed to market this rubbish!
Read the scientific results - this product is rubbish.
It is MULTILEVEL MARKETING and nothing more.
Bottom Line: No, I would not recommend this to a friend
Posted on Mar 17, 2019
Amazing product
I came across this oddly after I prayed for help - was bedridden for months, unable to look after my 10-year-old son after moving into a property that I had no idea had air born mycotoxins from a damp unvented chimney breast wall in my bedroom covered in wood chip wallpaper. For months I went down with 41 symptoms related to biotoxin illness - didn't know about it till months later.
I took ASEA in the third month of being completely on death's door - really really ill and weak. I didn't know what it was about - what it would do, but I was prepared to try anything. I had written funeral plans and ready to give up. I was so weak and so life lacking ill. After 4 days of feeling like total crap (I realise now my body was rapidly detoxing), I regained some of my brain function that had melted away - memory was shot - I started to feel like I could climb the stairs to my son's bedroom...pick up a vacuum, even do a pathetic star jump. I had not felt able to do any of this in months.
I took ASEA on a flight to the sun over Xmas with my son who had been coughing also constantly...we continued to drink it, sweated out toxins and came back to the horrid flat, found mold in the car, googled it with Chronic fatigue and then discovered I was renting a very sick building...got out, having inhaled a whole load more of these horrible neurotoxic pathogens. I now understand why ASEA saved my life - mold kills, especially the vulnerable to mold. Shuts all organs down bit by bit. ASEA Redox counters the cell death that these toxins produce in the body - it helps with oxidative stress...it literally saved my life.
We are still battling residual impact - in various ways, as we have not afforded to keep up the intake, but when I do buy a case, my health improves, the stiff joints ease, the sight returns sharper, the energy improves and life feels good again. This is hardcore science - many illnesses caused by inflammation resulting from toxic environments, people haven't a clue, this breakthrough tech is really the only thing out there that helped us (my son and I).
This is no placebo, it's not just salt water...it's really able to help restore your body's needed glutathione levels, cell signaling, and get to work on the cellular repair. This is NEXT level healing - the proof was in the taking, blindly, and not knowing what would happen. You can't fake chronic fatigue - you've got it or you haven't, you can't fake memory fog - its vile, and ASEA really does fix it all. I even put it in my eyes now when they are red and agitated as the mold destroyed much of my sight (long distance/visual contrast sensitivity). Trust me - you cannot go wrong.
I have spent hundreds on vitamins and powders that do little on their own - but this is the best product by far. I have even used the RENU gel which has fixed loads of things - my hands were aching from formaldehyde furniture I had made flat packed, I got rid of the furniture, it was toxic but hands remained stiff and sore for months, especially in the mornings. I rubbed ASEA gel on them - and never bad since. I have NO invested interest in sharing this info with you other than a heart that cares about people who are ill - and want you to be better. TRUST it - trolls who have nothing wrong with them will tell you its no good, take it from me, it's very good.
Bottom Line: Yes, I would recommend this to a friend
Posted on Mar 4, 2019
Everyone is different and it might not be suitable for you
I started taking ASEA in about June 2018. Was fine at first and seemed to help a little with my respiratory problems, but after a few weeks, I started to get pressure in my head with each day I took ASEA and it kept tightening like a vice.
I was down to about 4mls per days (as recommended by the ASEA consultant), and who advised to keep going. I had to stop due to the pressure in my head. I went off for approximately two months then started again, and the same thing happened. Each day I took ASEA, the vice-like grip around my head kept getting tighter until I thought it really was going to explode!
I no longer take ASEA as it doesn't seem suitable for me.
You are the only one who can say after taking ASEA if it is helping or not as it is your body and you are the only one who knows what is happening inside of it!
Bottom Line: No, I would not recommend this to a friend
Posted on Jan 27, 2019
Get on board!
I am a 67-year-old retired teacher, living in Florida.
My life has revolved around butterfly gardening, playing competitive tennis and travel. After one week of 4 oz. daily intake of ASEA, I have better sleep, more energy, endurance on the court, and less recovery time. Most importantly, I have reduced muscle and joint inflammation. Before beginning the ASEA Program, I would have stiffness and reduced range of motion. I was often not able to play on back to back days. Now I am able to play back to back days and work in gardens without pain and stiffness. Finally, by using Renue 28 gel, pain in knees and shoulder is remarkably reduced.
This is an amazing product and a true scientific breakthrough in cell production. I would highly recommend this program to everyone.
Bottom Line: Yes, I would recommend this to a friend
Posted on Jan 14, 2019
No head or neck discomfort
I use 30 ml's of ASEA beverage twice daily and gel for head discomfort known as headaches. I suffer from chronic pain and this is the only product since 2003 that has helped me massively. No more high priced drugs and no more feeling sick because of them, and BEST of all, no more doctor visits!
Bottom Line: Yes, I would recommend this to a friend
Posted on Jan 9, 2019
Not sure it is all it is cracked up to be
I started ASEA three weeks ago. I did notice a better night's sleep within a few days, but beyond that, what I noticed was increased bloating on a daily basis and progressively more joint pain and discomfort. I was using the gel daily, but to be honest I have used other less expensive gels and received the same if not better relief.
On the third week of using the ASEA liquid product I experienced light paths crossing the right eye, then the next day a crescent shadow, then vertical light paths vertically on the periphery. I did go to my Ophthalmologist that explained the vitreous gel in my eye was not liquified as it should be. Fortunately, there is no tear in the retina. I decided to muscle test myself to see if my body even would benefit from the ASEA and my body was rejecting the ASEA as a beneficial supplement. The next day I only muscle tested for 1 oz, not the 4 oz daily they recommend. They have packaged a product and marketed it similar to pharmaceutical companies. Regardless of your age, build, weight, everyone should take 4 oz or more a day. I have worked with herbal products long enough to know that there can be a detoxifying effect but when it is all consuming and debilitating, you need to back up. Although I cannot prove it, I imagine the salt content in my body effected the "liquid" state of the vitreous humor causing it to harden.
Temporary or not, it is my vision and I am not willing to risk it. I will most likely be calling to see if I can get any refund on what I have left - three unopened bottles and one tube of Renu 28 gel.
Bottom Line: No, I would not recommend this to a friend
Our Promise to You
In order to safeguard you and ensure helpfulness and relevance, our compliance team manually assess every customer review before it goes live.
We have a zero-tolerance policy for fake reviews, and companies cannot control or alter any reviews at any time.