Thrive Experience Reviews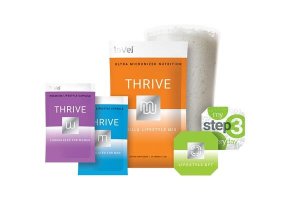 The Thrive Experience allegedly provides health benefits related to weight management and physical and cognitive performance. While many ingredients have some scientific support, many are offered at doses lower than those proven effective. Also, this program focuses only on taking supplements while completely ignoring the major lifestyle changes necessary for weight loss.
Thrive Experience Review - Is There Scientific Backing?
The Thrive Experience offers a line of dietary supplements that are proposed to support healthy lifestyle changes necessary for overall health.
More specifically, Thrive's supplements are proposed to offer the following benefits:
Lean Muscle Support
Weight Management
Digestive Support
Appetite Management
Enhanced Mental Focus
Healthy Joint Function
More Energy
According to the company, the blend of vitamins, minerals, plant extracts, antioxidants, enzymes, probiotics, and amino acids are responsible for the proposed benefits of their product line. Also, they claim that the Thrive Experience is perfect for anyone regardless of skill level.
In this article, well discuss the Thrive Experience product line and review some of the available research for their ingredients to help you determine if the company's claims are rooted in science.
The Thrive Experience Product Line
The Thrive Experience includes a 3-step program to help you achieve your goals. In this section, well review each product, list their ingredients, and describe their proposed benefits.
Thrive W
According to the company, this supplement is specifically formulated for women and offered in capsule form. It is intended to support weight management, joint function, and digestions, as well as promote the development of lean muscle and a healthy immune system.
Each capsule contains the following:
Vitamin A (as Vitamin A acetate) 1500 IU
Vitamin B1 (Thiamine) 1.4 mg
Vitamin B2 (Riboflavin) 1.7 mg
Vitamin B3 (Niacinamide) 12 mg
Vitamin B5 (Pantothenic acid) 10 mg
Vitamin B6 (Pyridoxine) 2 mg
Folic acid 800 mcg
Vitamin B12 100 mcg
Vitamin D 3200 IU
Chromium (as Chromium AAC) 200 mcg
Selenium (as Selenium AAC) 90 mcg
Vanadium (as Vanadium AAC) 25 mcg
Proprietary Blend 527 mg
B lactis, L. acidophilus, L. casei, L. helveticus, L. salivarius, L. plantarum, L. rhamnosus, Guarana Caffeine, Green tea Caffeine, Glucosamine, White Willow Ext, Glutamine, Green Coffee Bean, PEA, Kelp, Irvingia Extract, BCAA Blend, Theobromine, Ginger Ext, Citrus Aurantium Ext, Aspartic Acid, L-Serine, Grape Seed Ext, CoQ 10, White Tea Ext
Thrive M
This is Thrive's analog to Thrive W. It is alleged to offer the same benefits, though it is geared towards men rather than women.
There is no indication as to what separates these products, however, as the Supplement Facts include identical ingredients and dosing.
Vitamin A (as Vitamin A acetate) 1500 IU
Vitamin B1 (Thiamine) 1.4 mg
Vitamin B2 (Riboflavin) 1.7 mg
Vitamin B3 (Niacinamide) 12 mg
Vitamin B5 (Pantothenic acid) 10 mg
Vitamin B6 (Pyridoxine) 2 mg
Folic acid 800 mcg
Vitamin B12 100 mcg
Vitamin D 3200 IU
Chromium (as Chromium AAC) 200 mcg
Selenium (as Selenium AAC) 90 mcg
Vanadium (as Vanadium AAC) 25 mcg
Proprietary Blend 526 mg
B lactis, L. acidophilus, L. casei, L. helveticus, L. salivarius, L. plantarum, L. rhamnosus, Guarana Caffeine, Green tea Caffeine, Glucosamine, White Willow Ext, Green Coffee Bean, PEA, Irvingia Ext, Theobromine, Ginger Ext, Citrus Aurantium Ext, Glutamine, L-Arginine, Grape Seed Ext, BCAA Blend, CoQ 10, Kelp, White Tea Ext
Thrive Mix
Whereas the previous 2 products are sex-specific, the remaining products in the Thrive Experience line are universal.
Thrive Mix is a shake that is alleged to support digestive health, weight management, and lean muscle development. It is available in vanilla, chocolate, strawberry, and apple pie.
It is proposed to accomplish this through the following blend of ingredients:
Vitamin A 2500 IU
Vitamin C 24 mg
Vitamin D 200 IU
Vitamin E 10.5 IU
Thiamine 750 mcg
Riboflavin 850 mcg
Vitamin B6 1mg
Folate 200 mcg
Biotin 135 mcg
Pantothenic Acid 4mg
Calcium 400 mg
Iodine 60 mcg
Magnesium 100 mg
Zinc 6.75 mg
Selenium 14mcg
Copper 1 mg
Manganese 600 mcg
Chromium 60 mcg
Molybdenum 38 mcg
Proprietary Blend 1595 mg
Garcinia fruit extract, Oat fiber, Natural Caffeine from Black Tea, Lactobacillus Acidophilus, Rice bran, Amylase 5000, Bromelain 600GDU, Cardamom seed extract, Cellulase 1000, Ginger root, Lipase1000, Papain 6000, Protease 1000, Protease 5000, Cinnamon bark extract
Thrive Premium Lifestyle Derma Fusion Technology (DFT)
Thrive DFT is a patch that is proposed to infuse your skin with ingredients that promote weight loss and energy. Each patch includes:
ForsLean®, Green Coffee Bean Extract, Garcinia Cambogia, CoQ10, White Willow Bark, Cosmoperine®, Limonene, Aloe Vera, and L-Arginine.
Available Science
Thrive Experience includes a wide variety of ingredients that are proposed to help you achieve your health goals. In this section, we've broken them up into a few key categories to give you a better idea of some of the clinical studies that investigated their actions.
Weight Loss and Metabolism
Calcium is an essential mineral that is commonly supplemented for its proposed activities that relate to muscle, heart function, bone health, and weight loss.
Its weight loss benefits are not well supported. Even 1,000mg doses did not support weight loss in women over 25-weeks. These doses are much larger than those in Thrive, however.
Chromium is another mineral that is often included in weight loss blends.
A review of 15 randomized trials concluded that 10-1000mcg doses of chromium did not benefit for energy metabolism. Another review of 20 randomized trials concluded that daily supplementation with chromium may offer only mild weight loss benefits in overweight and obese people.
Low levels of the mineral zinc may be linked with obesity, elevated BMI, and a larger waist circumference in women.
A randomized trial found that 30mg of zinc each day for 4-weeks was beneficial in decreasing BMI and body weight in obese subjects. This dose is more than 4x larger than that of Thrive Experience.
Garcinia cambogia is a fruit extract that is alleged to offer weight loss benefits.
Combining 2,800mg of garcinia and chromium reduced body weight and BMI in obese individuals, though 1500mg of garcinia daily for 12-weeks was not effective. Doses proven to be effective are nearly 2x larger than the entire Thrive Mix proprietary blend.
Much of the weight loss benefits and metabolism-boosting effects of Thrive Experience may be related to the various forms of caffeine it includes.
GCBE is obtained from raw beans and may offer more caffeine than roasted coffee beans. A review of 3 randomized trials found that GCBE at 180-200mg doses over 1-4 months were associated with more weight than placebo. This is likely 3x the amount of caffeine included in Thrive Experience, however.
Green tea is similarly found in fat-burning supplements as it may contribute through its caffeine content. Combining daily exercise and 500mg of green tea reduced body weight, BMI, waist circumference, and body fat more when compared to exercise alone.
Lean Muscle Development
ForsLean is the patented form of forskohlii, an extract obtained from the roots of a tropical plant. It is included in Thrive DHT as it may support lean muscle development.
In a study of 30 obese and overweight individuals, those treated with 250mg of Forskohlii twice daily over 3-months increased testosterone levels and lean muscle mass, and also reduced body fat when compared to the placebo group.
Energy
B Vitamins may support brain and nerve health, red blood cell function, energy metabolism, weight loss, and mental function. Thus, they are commonly supplemented.
Vitamin B12 deficiency has been linked with fatigue. Supplementation can boost your energy, but if you already have an adequate intake, you may not experience this benefit.
Digestion and Immunity
Probiotics are friendly bacteria in your gut that can impact your digestion, support your immune function, and promote overall health.
L. Acidophilus is one of the most common probiotic supplements. This strain may improve symptoms related to diarrhea, gas, cramping, and bloating, as well as support immune function.
In a review of 34 studies, L. Acidophilus was as effective as other strains in preventing diarrhea. Bloating was improved in patients who took a combo of L. acidophilus and B. lactis at 200 billion CFU over 2-months.
B. lactis may fight the declining function of your immune system commonly seen as you age.
This effect was demonstrated during a 9-week study in which B. lactis at 10 and 100 billion CFU doses increased the white blood cell count in 30 elderly individuals.
L. casei is another commonly supplemented probiotic. It may relieve diarrhea and other related digestive issues. In 70 constipated individuals, those that drank a 65mL probiotic beverage containing L. casei experienced an improvement in self-reported symptoms when compared to the placebo group.
Mental Function
The caffeine content in Thrive may do more than just boost your metabolism. It's often part of daily routines all over the world for its nootropic and energy-boosting effects.
Consuming 2mg/kg body weight of caffeine was associated with fewer lapses in attention, decreased anxiety, and heightened alertness. Similar findings were proven at 40mg-300mg doses.
Also, mental decline is more likely with low B vitamin levels. However, B6 and B12 do not seem to offer protection against dementia, but B9 may decrease the risk.
Is Thrive Experience Safe?
The Thrive Experience contains a diverse blend of ingredients, many of which are obtainable in a balanced diet. The doses included in these supplements are unlikely to cause any serious side effects.
Mild \ may occur with the probiotic strains offered in Thrive products. They can include abdominal pain, gas, bloating, and diarrhea, but are typically relieved by lowering your dose or discontinuing the use.
Similarly, fat-soluble vitamins (D, E, A, and K) can cause digestive upset when consumed in excess. Vitamins B and C are water-soluble and are less likely to cause side effects as they are easily excreted through urine.
When taken as directed, you're probably consuming 60-80mg of caffeine daily when using the Thrive Experience. This is about ½ a cup of coffee and well below the 400mg, the daily limit that is considered to be safe.
Keep in mind that adding your typical coffee, tea, and soda intake can place you at risk for consuming amounts that are associated with adverse effects.
Signs that you've consumed too much caffeine can include nervousness, anxiety, irritability, nausea, tremors, sweating, restlessness, dizziness, irregular heartbeats, and elevated blood pressure.
Though the risk for serious side effects may be low, you should still review the ingredients label with your doctor.
The Cost
The Thrive Experience is available directly from the website. The 3 purchasing options are as follows:
The 2-Week Experience costs $100 and provides 2 Thrive M or W capsules daily, 1 Thrive Mix daily, and 1 Thrive DFT daily.
The 4-Week Experience is priced at $150. This pack includes 2 Thrive M or W capsules, 1-2 Thrive Mixes, and 1 Thrive DFT each day.
The 4-Week Couples Pack is priced at $300. It offers 2 Thrive M and W capsules, 1 Thrive Mix, and 1 Thrive DFT daily for each person.
There is also an auto-ship option for these packs, though further details are revealed only after you create an account. Also, if you opt for the auto-ship plan and refer 2 customers who do the same, your subsequent shipment will be on Thrive.
The company does accept returns. However, a 10% restocking fee is charged for unopened products, while used products are only eligible for a 50% refund. To process your return or ask additional questions, you can reach them at Support@Le-Vel.com or 888-557-0005.
Pros and Cons
There is some research backing the proposed benefits of some of the ingredients offered in the Thrive Experience
Many of the ingredients are offered at doses much lower than those that were proven to be effective
No mention if the importance of a healthy diet or regular physical activity
The 2 and 4-week programs are pricey
Contains multiple forms of caffeine that may cause harm when used in conjunction with other stimulant-containing products
The Bottom Line
The Thrive Experience offers a wide variety of ingredients that do have some support for promoting energy, weight loss, digestive health, and more. However, the company claims to offer a lifestyle plan, yet they focus only on including supplements in your daily routine.
There is no mention of the importance of exercise and a healthy diet anywhere on the website. These 2 lifestyle changes are vital components of any weight loss plan. If you haven't done so already,' you should start by implementing these practices before adding supplements.
Also, many of the ingredients are offered at doses much lower than those proven to be effective.
Nonetheless, the Thrive Experience is likely safe, though be aware it does contain multiple forms of caffeine.
The ingredients in these blends are not unique to the Thrive Experience. Other supplements that promote fat-burning may include a number of them, and most are available individually.
Your weight loss journey will likely include multiple moving parts. Rather than invest in a pricey supplement, your efforts would be more effective by discussing your options with your doctor, a nutritionist, and a licensed personal trainer.
These individuals can help you initiate lifestyle changes that allow for sustainable weight loss.
---
I'd like a refund, I paid $100 to get rashes

By Candra H.

,

Winchester

,

Jan 6, 2020
Verified Reviewer

Overall Experience:

I ordered the Thrive patches, used them for 2 and 1/2 weeks.

I woke up one morning and noticed most of my chest had red blotches, didn't really think anything of it, went to work, had to leave work around lunchtime because I had blotches all over the side of my face, all over my neck and around my back and stomach. That night I noticed they were on my leg as well. I had to go to MedExpress to get treatment on steroids, I can't go to work because of the severity.

Bottom Line: No, I would not recommend this to a friend

---

They send expired food

By Brenda S.

,

Santa Fe, TX

,

Nov 9, 2019
Verified Reviewer

Overall Experience:

I ordered 15 boxes of ProBars (myself and 3 others). All 15 boxes were expired by 3 months. This is THRIVE response "We have done a viability study that has passed the testing ensuring the quality and ingredients are still 100% effective. Per this study, the expiration date of the ProBars has been extended a year". Nowhere on their website does it inform you that you are buying expired food and mention the "viability study". You have to pay shipping to return expired food and the shipping paid to purchase expired food is non-refundable.

Bottom Line: No, I would not recommend this to a friend

---

Advertisement

---

Expensive waste

By Jen L.

,

Ohio

,

Jul 1, 2019
Verified Reviewer

Overall Experience:

So I hate MLMs first off. If the product is so great it would be available to buy without giving out info and signing up for an autoship. A good friend kept asking me to try the 3-day "experience". Finally I did it just to see, since all the cult members say it changed their lives. I am mid-30's, so a little extra energy would be great. I took it like you're supposed to. It was so bad I had to wait to do the third day because I couldn't take it. It made me extremely tired...like napped for 4.5 hours...woke up to the sun going down...can't stop yawning exhausted. I was unable to focus at work because my eyes kept tearing up from yawning. I normally sleep about 7 hours a day, I'm super active until 4 pm then I sit and work the whole night. This ruined my week. I don't know if it's all the carbs in the morning.

So...I say hey, I'm sorry this stuff doesn't work for me...to be met with a million reasons why I took it wring...it's not the product it's me...I'm "detoxing" (from a clean diet with no added sugar or fake crap...I call BS). Then it's...you need to take it longer. NO. This is over priced poor quality vitamins. It's a waste. If you want to feel good eat well and exercise. Stop asking your friends and family to buy into this crap. It's a pyramid scheme. The products are useless and possibly dangerous. Please don't take this stuff. If you react badly it's not you, it's the product. The only thing different I did is that these darn 3 steps of premium crap that synergistically killed my day. Don't fall for it. Wake up and get a normal job stop taking advantage of people. It's all placebo. Side note...I magically gained 3 lbs...probably of water weight. I ate normally I exercised normally...I was tired, fatter and pissed. So basically, the opposite of every claim they make.

Bottom Line: No, I would not recommend this to a friend

---

You build up a tolerance

By Sarah S.

,

Midwest, USA

,

Apr 1, 2019
Verified Reviewer

Overall Experience:

I am thrilled to be able to write a review for this product in a neutral forum. The short version of my review is: It works - at first. Then, it doesn't.

I did lose weight at first, but I was also consciously watching my intake and carbs. It did help me to stop drinking soda, so that's a huge win. It helped me wake up earlier and easier in the morning - another win. But I never had the "aha" moment many say they have. Those "wins" that I had at first - 3 to 4 weeks in I noticed them going away. The no soda stayed, but the rest was gone. Weight came back, I started feeling tired again during the day, sleeping late again on weekends and having a harder time getting up during the week.

My promoter was of no help and eventually stopped asking how I was because SHE KNEW there was nothing that was going to get me on board. And by "on board," meaning to promote it. Because I challenge anyone to come forward saying that they are using this product long term, willingly paying out of their own pocket for it and say that it still works for them. Every single person I have come across that says they use it long term is a promoter. These promoters sign up in the first few days (which just really shocks me) of using Thrive because of how great they feel those first few days and they immediately sign up to sell it to get it for free, because it's EXPENSIVE. I really believe it stops working for them as well at some point, because a tolerance is built up, but by that point, they are already signed up to sell it, and they try very hard to find someone new to start using it and the cycle repeats itself. I just don't believe for one second these 80k, 200k promoters are still feeling the effects of Thrive. No way. By that point, they're in it for the trips, cars, etc.

The way my promoter was toward me at the end - I know she knew I was right and there was nothing she could say or nothing she could do to help me, so she dropped me. I was even in a Facebook group of hers - because that's what they do, they put you in a Facebook group of other "newbies" to supposedly answer questions and to "encourage" you, but as soon as you ask a critical question or not post that Thrive is awesome, your post gets deleted. Because they don't want you to talk about how it may not be the greatest thing ever.

Anyway, my takeaway is that yes, at first, it's great. But a tolerance is certainly built up and then it's useless. It's a lot of money. And before any promoter comes in to question me - I drank literally a gallon of water a day. I took the product exactly as directed, every single day. I used it for 9 weeks because everything said it was an 8-week experience "for a reason." Admittedly, I do miss the 3 steps in the morning because it became a habit. I feel like I did it all right - spent literally hundreds of dollars, even bought the "plus" line products to supposedly bump up the effectiveness of the 3 steps - nothing. Again, happy to be able to say how my experience really was.

Bottom Line: No, I would not recommend this to a friend

---

Advertisement

---

What kind of voodoo crap is this!

By Stacy M.

,

Moore, OK

,

Mar 15, 2019
Verified Reviewer

Overall Experience:

I saw that a colleague of mine was a promotor of Thrive and asked her for some information. She told me about her experience and I thought "why not?" She explained that on day 10 she felt so amazing, she got up, cleaned the house and did laundry, and when she finished it was still morning! These were/are things she had been unable to do for several years! She said I asked my husband "what kind of voodoo crap is in this?!" Well, that's me, only two days in and feeling amazing! I can't speak for anyone else, but this stuff is amazing!

Bottom Line: Yes, I would recommend this to a friend

---

Horrible customer service

By Michele A.

,

Henderson, NV

,

Mar 6, 2019
Verified Reviewer

Overall Experience:

Their autoship program does not provide an email prior to order processing as most auto-ship companies provide. It would give you a chance to review your order to make sure you were ordering what you need. When I tried to stop the order, they told me I had to wait until I received it, then return it and pay for shipping and pay restocking fees. They were very rude and made me wait 22 days to get a refund confirmation and then 14 more days to receive my money back. Because of the experience, I won't reorder their product. I won't help support a business that treats its clients so badly.

Bottom Line: No, I would not recommend this to a friend

---

Thriving

By Debbie F.

,

Cocoa Beach, FL

,

Feb 4, 2019
Verified Reviewer

Overall Experience:

I watched my neighbor lose over 50 lbs using Thrive. I jumped on board after she lost 30. I faithfully followed the instructions, cut back on carbs, and exercised in the pool five days a week. I lost 27 lbs in four months. I began to travel and then had to take care of an ill family member. I didn't exercise or eat right, but kept doing my Thrive 3-step program. I kept off 20 lbs. Now, a year later, I'm ready to begin exercising and eating healthy and Thriving. I'm looking forward to the lbs coming off, again!

Bottom Line: Yes, I would recommend this to a friend

---

If you don't have 8 weeks, don't try it!

By Elaine C.

,

Bay Area, CA

,

Jan 21, 2019
Verified Reviewer

Overall Experience:

I was given a four-day trial from a friend and two months later I gave it a shot by ordering a full month.

That first week was brutal. I transitioned from an unsuccessful 12-week "weight loss" program that started my day with 200mg synthetic caffeine to Thrive that had 65mg plant derived caffeine. The headaches and body aches were almost unbearable. The shake gave me stomach aches, and I was calling up my friend complaining every day. "Just stick with it, you've got to trust me," she said.

I was stubborn enough to just take the remainder of the product so I wouldn't waste money.

By the middle of the second week, I realized that I had only been down-in-the-dumps two times. This was a new record for me. I had progressively been in a downward spiral for five years and was feeling like I was in a rut every other day.

After two weeks the digestive issues were gone. I tripled my water intake and the patches stopped irritating my skin.

Three weeks later, my good moods were consistent and I felt like a fog had lifted. I hadn't seen this side of me in years. I decided to order a second month and continue to see what it could do for me.

12+ months later, my knees haven't ached all winter, my appetites have reduced, and I've dropped 29 lbs. My road rage and mood swings are totally gone.

This isn't a one-all, cure-all...but my doctor told me to stick with it. All the ingredients are fulfilling my body's needs on a daily basis, and my overall mental and physical health has improved drastically.

The only way to know if it's for you is to take it as directed for eight weeks. Then come back and write a review.

Bottom Line: Yes, I would recommend this to a friend

---

Great way to get more nutrients and energy!

By Jennifer J.

,

North Carolina

,

Jan 18, 2019
Verified Reviewer

Overall Experience:

I purchased Thrive after hearing about it from a friend, with goals of increasing my energy and managing my weight. I loved the vitamins in the morning, gave me a boost of energy that lasted through the afternoon, and the shake was a great way to start my day. I added fruit and veggies into my vanilla shake mix to get some extra fiber - the shake helped me stay full until lunch, so I avoided eating fast food for breakfast or choosing an unhealthy lunch option. Overall energy was up while I was using it, and it helped me pick smarter/healthier meal options.

Bottom Line: Yes, I would recommend this to a friend

---

...was sick every day.

By Amber V.

,

Virginia

,

Jan 3, 2019
Verified Reviewer

Overall Experience:

I loved the idea that Thrive apparently had everything I needed wrapped into three simple steps. However, almost immediately I noticed horrible stomach aches, which I brushed off as my body is trying to adjust to this new thing. Then the diarrhea set in. The person who was my upper line suggested I do half the shake and one capsule. I was fine for a little bit so I thought hmmm the adjustment worked. No, my cravings were coming back and the diarrhea started all over again. The patch also caused my arm to break out, and I even made sure I washed and dried the area properly not adding lotion to the spot the patch would be on.

I also noticed that a lot of people in my groups didn't look any different after being on this product for months or years. I would assume at some point your face or some part of your body would start to shaping up to the point of it being noticeable.

Let's just say I learned my lesson the hard way physically and financially. Plus, every rep in my group pressured and pressured you to buy more products to the point where you had no choice to but to block them. Only to find out that they would trash you in their group's posts and private message about you calling you a quitter and saying you didn't even fully try.

Bottom Line: No, I would not recommend this to a friend

---

Not happy...

By Chris C.

,

Australia

,

Dec 4, 2018
Verified Reviewer

Overall Experience:

So when I started the THRIVE Plus capsules, I lost 3kgs in the first week! Yay, right?! No...I had diarrhea so bad, I was scared to leave the house! My rep asked me all kinds of questions and continually asking if I was drinking lots of water...yes I do, always have! I've always been pretty good with food, I try not to have a lot of bad foods, but I'm not strict with it. So, I have roughly two small meals a day and two snacks, sometimes no snacks...I've since gained back what I lost and feel crappy every day! I also noticed people in a group I was added to, that we should eat healthy and exercise...isn't that a diet? So my final question is, if a (strict) diet and exercise are needed to lose the weight, do we really need Thrive? Answer is...NO! If you go to the trouble of changing your diet completely and exercise more, you can do it without the added expense!

Bottom Line: No, I would not recommend this to a friend

---