MONAT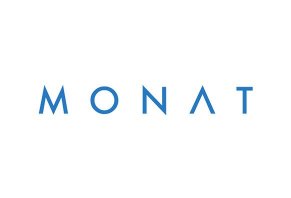 Monat is a network marketing company that sells skin, hair, and pet care products. However, negative customer reviews and numerous ongoing lawsuits should make many shoppers think twice before signing up to buy or sell Monat products.
MONAT Review: What You Should Know
MONAT, short for "Mother Nature," is a hair, skin, and pet care product company that claims to act as a "global leader in naturally based, anti-aging innovation." The company sells its products through a multi-marketing platform it claims "enhances the self-confidence and financial well-being of one million families around the globe each year."
The company got its start in 2014 and currently offers customers the opportunity to buy or sell its products by joining an exclusive VIP program. MONAT claims its haircare products can help your strands detox from years of product buildup and abuse to help you achieve the best style possible.
However, this company is not immune to bad press and has been involved in multiple lawsuits. Can you trust MONAT products to work as promised? Our analysis should help you decide.
Wide product selection
30-day satisfaction guarantee
Minimal clinical evidence about the product's effectiveness
Customer complaints of dry hair, hair loss
Network distributor program likely won't make you money
Product Line
MONAT's products are split into three categories: hair, skin, and pet products. Below is a sample to represent what's available.
Hair
Rejuenique Oil Intensive: This blend of more than 13 plant extracts and essential oils works to improve both skin and hair, $99 ($84 VIP)
Inner Force Restructuring Serum: This dual treatment serum restructures hair at the base to restore damage from styling, coloring, and over forms of over-processing, $75 ($64 VIP)
Advanced Hydrating Shampoo: A sulfate-free shampoo and cleanses and hydrates hair for extra bounce and texture, $38 ($32 VIP)
MONAT Studio One Blow Out Cream: A heat-protecting cream that reduces styling time and prolongs the life of your style without loading your hair up with silicones, $34 ($29 VIP)
Skin
Be Gentle Creamy Cleanser: A delicate daily facial cleanser that washes away dirt while nourishing your skin, so it feels hydrated, $45 ($38 VIP)
Berry Refined Scrub: An exfoliator mask that brightens your skin and removes rough patches with AHAs and cranberry seeds, $58 ($49 VIP)
Rewind Age Control Nectar: A fast-absorbing hydrating serum that works to delay and repair signs of aging through a blend of hyaluronic acid and superfruit AHAs, $120 ($102)
Be Gentle Nourishing Moisturizer: A hydrating cream that contains plant stem cells and hyaluronic acid to restore skin elasticity for a younger appearance, $68 ($58 VIP)
Pet
Gentle Cleansing Dog Wash: A mild, pH-balanced shampoo that eliminates smells and dirt for a cleaner pet, $32 ($27 VIP)
Freshen Up Deodorizing Spray: A natural-based, lightweight formula to deodorize pets between baths by killing odor-causing bacteria, $22 ($19 VIP)
You can find the full ingredients list for each product on the company website.
A Closer Look at the Ingredients
MONAT makes few concrete claims about its product's effectiveness, and we couldn't track down much clinical evidence that indicates these products will work as described.
According to the company website, all MONAT products are naturally-based, safe, and pure. It claims its products stand out from other naturally minded companies because they include "rich formulations of ingredients designed to work in harmony with each other."
Some of the specialty ingredients incorporated within these products include the following:
Rejuvenique: A proprietary blend of 13+ natural plant extracts and essential oils that MONAT claims are great for skin and hair care due to a high concentration of omega fatty acids and antioxidants.
Closer inspection reveals that it contains meadowfoam seed, oilseed, tomato seed, carrot seed, lemon peel, lime, bergamot, African baobab, moriche palm, coconut, gardenia, moringa, and sourari nut oil.
Capixyl: This blend of water, butylene glycol, dextran, acetyl tetrapeptide, and clover flower extract acts as an emollient to strengthen and thicken your hair while supporting the growth process.
Procataline: This natural blend of antioxidants contains pea extract and claims to fight oxidative stress. It works to promote healthy hair follicles so that you maintain your hair coloring (both natural and otherwise) and stay protected against thinning.
Crodasorb: This compound purportedly acts as a protectant for your hair to prevent UV damage, preserve your natural pigmentation, and keep each strand strong.
Many, though not all, of MONAT's products, will contain one or more of these ingredients. However, of these four, only the Rejuvenique oil blend is unique to MONAT products. Other hair and skincare brands will also contain them.
Likewise, the company claims that its products are free of ingredients like parabens, cyclic silicones, BHT, phthalates, phenoxyethanol, plastic microbeads, and formaldehyde releasers.
Pricing and Refund Information
You can purchase MONAT products directly from the company website. When you're ready to checkout, you'll need to choose one of the following checkout options:
Retail: No fee, standard ordering. The company only specifies shipping costs once you share your credit card number.

VIP: $19.99 one-time signup fee, qualify for free shipping, 15% off listed prices, access to exclusive offers, referral rewards, and an annual birthday treat. To maintain your VIP status, you will need to make three orders of $84 or more. There is no time limit for achieving this.

Market Partner: $99 signup fee plus $19.99 annual fee, includes all benefits of VIP membership plus the opportunity to sell MONAT products, earn income, and learn to run your own business. You must then purchase one of the available Product Packs to get started: Business ($299, 35 samples) Success ($399, 56 samples) or Overachiever ($599, 70 samples).
If you choose to complete your purchase as a standard retail customer, you'll first have to select your current Market Partner or request one be assigned to you in your geographic area.
Regarding refunds, all customers will qualify for a 100% money-back satisfaction guarantee (minus return shipping) for 30-days after receiving a product. VIP customers can return unopened products after that for a slightly reduced refund.
You can message customer support for product information at MONATsupport@MONATglobal.com for help with returns or general account information at or (888) 867-9987.
Analysis of Customer Reviews
According to approximately 2,750 Trustpilot reviewers, MONAT products are rated 2.9 stars out of five. We've summarized some of their comments below.
Common Compliments:
Great for long-term use on dyed or bleached hair
Lets users go longer between haircuts for split ends
Common Complaints:
Turned fine hair dry and straw-like
Led to dry hair, dry scalp issues
Difficult return process
Some users experienced extreme hair breakage
Skincare products led to bleeding, scabs for some users
MONAT's History of Lawsuits
MONAT has had a few run-ins with the law in recent years. The company has been involved in more than six lawsuits since its start, most of which deal with customers complaining of hair and skin issues after using the products for several months.
In one instance, MONAT sued a woman (Vickie Harrington) for $225,000 after she started a Facebook group focused on the balding, hair loss, and scalp damage the products caused her. The lawsuit was eventually settled in MONAT's favor.
In other cases, previous distributors and MONAT employees have sued the company for false promises regarding its products and their profit potential as a business opportunity. Many of these cases were still ongoing at publication.
Should You Become a MONAT Distributor?
MONAT sells its products through a network marketing program. In other words, you can sign up to become a distributor and potentially make money from selling MONAT products.
If you sign up to become a Market Partner, you will be given a personalized e-commerce store for easy selling. As MONAT will ship all products directly to your customers, you won't have to worry about keeping inventory on hand.
There are multiple ways to start making money, including the following:
Make a 30% commission on all retail sales and 15% commission on VIP sales you are directly responsible for
Earn product pack bonuses for every Market Partner you sponsor who purchases Product Packs
Earn a sales percentage for all the sales made within your network
Earn bonuses for all new VIP shoppers you enroll
Receive a bonus when you advance up a sales rank
More information can be found in the MONAT compensation plan.
Multiple income streams sound promising. Can you actually make money selling MONAT? We struggled to track down a full income disclosure statement from MONAT, like many network marketing companies release.
This brief statement from the Canadian branch of MONAT shares that most participants who make the rank of Managing Market Partner (the third tier) earn between Cdn $22 and $1,188 annually. Note that these estimates are for income, not profit, which means they don't take into account any expenses that might have been accrued.
Suffice it to say, there's not much evidence available that you can make substantial money selling for MONAT.
The Bottom Line: Is MONAT Worth It?
MONAT hair and skincare products have a large and passionate following, but there's minimal evidence that they can deliver on their claims to give you your best hair and skin ever.
For one, the company is vague about its products purported benefits, and we couldn't track down much clinical research about their effectiveness. There's also not much information available about the brand's specialty ingredients.
Second, the company has been involved in numerous lawsuits over its relatively short life. Customer complaints range from mere disappointment in their hair results to rage that they were losing large chunks of hair and dealing with a bloody, painful scalp.
Finally, MONAT is vague about the profit potential for its network marketing program and requires distributors to commit to spending hundreds in free samples before they can begin. For your $300–600 investment, you might make around $1,200 for the year at the high end, not counting expenses. That's hardly a path to getting rich.
Overall, MONAT products don't have the best reputation, and there's growing evidence they might even damage your hair. Our suggestion is to think carefully before committing to this brand from either a buying or selling standpoint.
---
Former distributor

By Adrian S.

,

Fair Oaks, CA

,

Sep 29, 2020
Verified Reviewer

Overall Experience:

The overall experience (aside from their shampoos tangling my hair) was OK, however, my experience was that horrible when they made it nearly impossible to collect the $300+ after I signed up my downline with the largest package sold. To this day they've never mailed me that check. More so, they terminated my account and wouldn't allow me to renew, and I think this was their way of avoiding paying me.

Pros and Cons:

Organized events
Meeting new people
I'm pleased with their skin products
Not sure why but the shampoo tangled my hair
They made it impossible for me to renew after my membership lapsed
No way to collect my $300+ that they owed me from my balance due to me

Bottom Line: No, I would not recommend this to a friend

---

2 years in, scam

By JD M.

,

Montreal, QC

,

Sep 22, 2020
Verified Reviewer

Overall Experience:

Well where to begin. I became a market-partner in 2018 with all these promises that anyone could do it blah blah blah. I personally used the products and saw slight differences. The main one that I no longer have to wash my hair everyday because it's greasy. I'll also admit I love the air dry cream, however, I spent more time and money on this business than I did with my family because I was always told I needed to "hustle" to make money.

Once the yearly renewal fee came around (September 30, 2020) at this point I had a month to renew. I decided on September 15, 2020 that I wasn't going to renew and just let it play out but yet I would still get my last payment from my downline and products I had sold. Well, they got rid of my account on septemver 16, 2020 so I could no longer access my back office or get my payments.

I emailed and called and they told me unless I renew I won't get my payments. This is a scam and a robbery. I literally had 300$ to my name when I joined in hopes that I could do what .0015% of the company does. Wishful thinking. It doesn't matter my financial business, the point is if I don't wish to renew for personal reasons and the renewal fee isn't even up yet, they should pay what is owed not give consequences to those who don't wish to renew by not paying them WHAT THEY WORKED FOR.

The customer service is terrible and I lost half my downline in the 1st year because they either hated the products, gave them RASHES, (kid you not) or the company was terrible towards them. I will no longer support this company through products or giving money towards them when all they are are a scam and go after house wives and mothers to make their company seem all high and mighty because they're a billion dollar company in the 1st 5 years of business. It doesn't mean anything if you treat your "employees" and customers like crap. Don't buy anything from them, most products don't work, just have pretty packaging and there're hidden fees everywhere. Stay away.

Pros and Cons:

Vegan
Poor customer service
Robbery
Scam artists

Bottom Line: No, I would not recommend this to a friend

---