ION Gut Health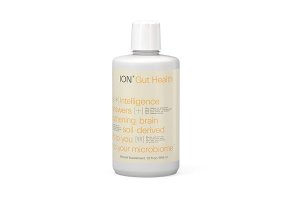 ION Gut Health, from ION Biome, is a supplement that claims to support the lining of your digestive system and boost brain function. 
ION Gut Health Review - How Effective Is This Supplement?
The friendly bacteria located in your gut support more than just digestion; their actions are heavily implicated in immune function and overall health.
ION Gut Health claims to support your friendly gut bacteria's ability to carry out these acts.
ION Gut Health allegedly strengthens your gut lining - the last line of defense between your gut bacteria and destructive toxins.
The lining of your digestive tract is formed by a single layer of cells that limit the passage of harmful pathogens, while still permitting the absorption of nutrients and water. This "selective permeability" is made possible mainly by the actions of tight junctions (TJ).
Regulating passage of various molecules requires the proper functioning of TJs. When they are compromised, it is more likely for a pathogen to enter and cause inflammation - this can negatively affect the function of gut bacteria and lead to disease.
Can Gut Health support your friendly gut bacteria by ensuring a strong digestive tract lining protects them? Read below to learn if this product is safe and effective.
What is ION Gut Health?
ION Gut Health is a liquid dietary supplement that aims to help your friendly gut bacteria flourish by strengthening the integrity of TJs.
They claim this action will promote better digestion, improved immune function, increased mental clarity, and reduced gluten sensitivity.
With three daily 5ml doses, taken 30-minutes before meals, the proposed benefits are made possible by Gut Health's active ingredient: Terrahydrite®.
Terrahydrite® is a lignite extract - a molecule produced by bacteria and sourced from soil. This extract, present at 150mg per serving, is thought to possess small amounts of minerals, amino acids, and carbon molecules that can support the longevity of healthy cells in your gut while signaling the programmed death of unhealthy cells.
Does Terrahydrite Work and Is It Safe?
Support for the proposed effects of Terrahydrite® is not abundant.
In a laboratory setting, Terrahydrite® at 20% concentration was shown to prevent a gluten-associated reduction of TJ integrity in small and large intestine cells over 18-hours. Treatment was found to be non-toxic to kidney cells.
An identical study demonstrated that Terrahydrite® at 20% concentration had a similar effect on these same cells with respect to limiting damage caused by glyphosate.
Glyphostate is a popular weed killer that may negatively affect TJs after the consumption of tainted food.
Other lignite-derived supplements, like shilajit, have been studied more extensively.
Significant decreases in cholesterol and triglycerides were seen in healthy subjects that received 2000mg daily of shilajit over 45 days when compared to placebo.
Doses of shilajit at 100mg twice daily did not negatively affect kidney or liver function in healthy subjects over 90-days.
Shilajit and other oxidized lignite supplements may be toxic due to lead contamination, however. Terrahydrite® differs from these products as it is offered in alkaline (pH 8.7) liquid form. Thus it is thought to be non-toxic.
While a laboratory model did not reveal any adverse effects with regards to kidney function, there is a lack of strong support detailing its safety, particularly in long-term human trials.
The Takeaway:
The active ingredient in ION Gut Health has been proven effective at supporting TJ function in a laboratory setting.
Limiting gluten and glyphosate-related TJ damage may prevent the entry of harmful toxins that can cause inflammation and disease.
Strong support for the actions of Terrahydrite® in human trials lacks, however.
The other proposed benefits related to digestion, immune function, and mental clarity seem to be inferred from its potential to support the lining of your digestive tract.
Again, there was no strong supporting evidence for these claims.
The safety of other lignite-derived supplements is mixed. Doses more than double the amount of Terrahydrite® present in 3 daily servings of Gut Health were safe in healthy individuals.
However, many of these products may be contaminated with heavy metals.
ION Gut Health Cost and Buying Options
ION Gut Health is available on their website. They offer both single purchase and subscription offers, both of which include free shipping.
Single Purchase Orders
6-Day Supply - $14.95
2-Week Supply - $29.95
1-Month Supply (16oz) - $49.95
2-Month Supply - (32oz) - $69.95
Subscription Purchase Orders
1-Month Supply (16oz) - $39.96
2-Month Supply - (32oz) - $55.96
Subscription requires you to set up an account, though your 1 or 2-month supply is 20% cheaper than single purchase orders.
Your account allows you to manage variables such as a delivery address, payment method, and delivery frequency (30 and 60-day delivery options only). You may cancel at any time.
All orders are backed by a 60-day guarantee, though if you purchase from somewhere other than restore4life.com and lumapet.com, you'll miss out.
ION Gut Health is also available at Amazon. While a subscription isn't available, single purchase order pricing is identical to sites, except the 2-week supply is $10 more expensive.
Are There Any Alternatives?
Fulvic acid is lignite-derived supplement. Vital Earth Minerals offers a Fulvic Mineral Complex that has 14.26mg of fulvic acid per serving.
You'll pay $30.45 for a 30-day supply.
Humic acid is yet another lignite-derived supplement. Vital Earth Minerals' offers 600mg per 4 capsules at $26.51 for a 30-day supply.
Modern methods of agriculture may have drastically reduced soil that was once abundant with nutrients, minerals, and other compounds. It may, therefore, be more challenging to obtain these naturally.
The Bottom Line
Strong support for the proposed benefits of ION Gut Health is lacking, though the ability of Terrahydrite® to support TJ function in a laboratory setting is promising.
These results warrant further investigation in human subjects to describe the potential safety and efficacy.
In more than 1,300 reviews on Amazon, this product has a rating of 4.1 out of 5-stars. Users that rate this supplement favorable cite improved digestion, reduced bloating, losing inches off their waist, and diarrhea relief.
Those dissatisfied with ION Gut Health have described experiencing increased bloating, reduced sleep, and worsened symptoms of Lyme Disease.
As this is not an inexpensive supplement, you may want to look elsewhere for products that are backed by extensive human research.
Until this occurs, ION Gut Health may not be the best starting point for your needs.
Regardless of which supplement you choose, be sure to discuss your symptoms with a physician.
They may be able to provide insights into potential causes, as well as suggest medical and non-medical treatment options.
---
Who knew something could work!

By Melissa R N.

,

Los Angeles, CA

,

Sep 3, 2020
Verified Reviewer

Length of Use: Less than 3 months

Overall Experience:

I have had two severe attacks of diverticulitis...I inherited the predisposition to it from my mom. My case is more severe and I barely missed hospitalization. Antibiotics stopped the infection but left me taking a probiotic supplement suggested by my doctor. I have been doing it daily and eat a healthy diet. My daily dose of fiber in food and in a mix helps some. I read some of the research and bought 32 oz of ION Gut Health. I began to feel better not just in my gut, to my surprise. It's hard to describe but overall I feel better as well as my gut. I mostly remember to take it before each time I eat and am reordering it as my digestion is getting more like it was when I was younger.

Pros and Cons:

It is working on repairing my digestion, slowly
I am no longer constipated
It's tasteless
It is expensive for my budget but surgery would be worse
I would like a way to easily measure a teaspoon for each dose

Bottom Line: Yes, I would recommend this to a friend

---

Amazing product

By Marijon J.

,

Kerville, TX

,

May 27, 2020
Verified Reviewer

Overall Experience:

After much research about Dr. Zack Bush, I ordered and began taking this product. I have been so excited to feel the changes in my stomach and colon. I had tried many products, probiotics, and digestive enzymes with little or no change. My digestion is better after 2 weeks, and I have more energy. I would highly recommend this product and his wisdom on YouTube and different podcasts.

Bottom Line: Yes, I would recommend this to a friend

---

Advertisement

---