KetoFIRE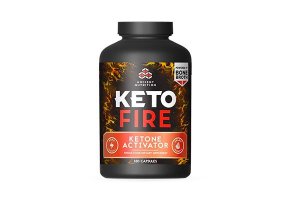 Summary
KetoFire from Ancient Nutrition is a ketogenic dietary supplement that allegedly helps boost your metabolism and cut weight with daily use. Scientific research does support these claims but there are some drawbacks.
KetoFIRE by Dr. Axe Review: Does It Work for Weight Loss?
Ancient Nutrition claims that KetoFire will help you boost your metabolism and cut weight when used daily.
According to the product page, by taking 6 capsules daily with 8oz of water, you can expect the following:
A healthy metabolism
Better weight management
Increased energy
Improved mental focus and clarity
The fat-burning benefits are allegedly made possible by KetoFire's blend of ingredients that are intended to kickstart your metabolism.
Can taking a handful of pills each day provide the weight management help you've been looking for?
In this article, we'll review the available research for each ingredient category offered in KetoFire to help you determine if this supplement lives up to Ancient Nutrition's claims.
Does Science Back the KetoFire Ingredients?
KetoFire blends exogenous ketones, medium-chain triglycerides (MCTs), adaptogens, as well as caffeine, to fuel your body and boost your metabolism. In this section, we'll touch on each of these categories by highlighting the results of the available research.
Every 6 capsule serving contains:
Sodium 150mg
Potassium 132mg
Calcium 124mg
Magnesium 43mg
Caffeine 100mg
KetoFIRE Blend 4000mg
Beta-Hydroxybutyrate (as goBHB), Organic Ashwagandha Extract (root), Fermented Organic Ginger (rhizome), Organic Apple Cider Vinegar, Calcium Fructoborate, Organic Coffee Cherry Extract, Medium Chain Triglycerides (coconut), Organic Chicken Bone Broth Oil, Fermented Organic Black Pepper (fruit), Fermented Organic Long Pepper (fruit), Fermented Organic Reishi Mushroom Mycelium (Ganoderma lucidum), Lipase Enzyme Blend, Hydrolyzed Bovine Collagen Peptides, Chicken Bone Broth
Exogenous Ketones
Exogenous ketones are those created outside your body. The ketones your body creates are used to break down fats to provide energy. As your body preferentially burns carbohydrates for energy, ketone production only occurs when they are absent during a process called ketosis.
The ketones offered in KetoFire are intended to be used as an immediate fuel source, as well as promote fat burning and weight loss.
Overweight subjects treated with a blend of ketones, caffeine, and adaptogens improved body weight, fat mass, lean mass, hip girth, and energy throughout 2-weeks when compared to placebo. These individuals used the supplement in conjunction with diet and exercise.
Athletic performance may also benefit from ketone supplementation. This effect is likely activity-dependent, however.
Endurance athletes can boost performance with ketones, for example, whereas sprinters rely on the rapid conversion of muscle glycogen (carbs) for competition. Ketosis is unable to sustain the energy requirements and can lead to early fatigue in these athletes.
Ketones may also promote brain function when carbs are not present, though this benefit is unlikely when carbs are available as a fuel source.
Medium-Chain Triglyceride (MCT)
MCTs are smaller in structure than long-chain triglycerides (LCTs), allowing them to be used as an immediate source of energy. In contrast, LCTs are easily stored as fat.
Consuming 15-30g of MCTs may increase energy expenditure and result in weight loss, though this quantity is much larger than KetoFire's MCT content. MCTs may also contribute to weight loss by promoting fullness after meals.
MCTs may support cognitive function. In Alzheimer's patients, 2,000mg doses of MCT can boost memory and processing speed, though their effect on healthy individuals is unclear.
Lastly, MCTs may also improve athletic performance. Those who consumed MCTs were able to train longer and reported a lower perception of exertion during exercise.
Adaptogens
These herbal supplements can help your body achieve homeostasis by fighting the various stressors placed upon your body.
Ginger has been used in natural medicine for its adaptogenic properties. It may offer metabolism, energy, and anti-inflammatory capabilities. Ten overweight men treated with 2g of ginger daily did not boost their energy.
Ashwagandha is another example that is found in KetoFire. This herb is found in India and may improve memory, boost immunity, and offer antioxidant benefits. In a randomized study, 600mg of ashwagandha increased attention, information processing speed, and memory.
Caffeine
Caffeine has been well studied for its proposed metabolism-boosting effects and is a very common ingredient in dietary supplements that claim to offer weight loss benefits.
Caffeine at 3 mg/kg doses prior to physical activity was associated with greater fat burning when compared to caffeine-free regimens. Similar doses also enhanced performance during endurance exercise.
The Takeaway Message
The main ingredients in KetoFire are the ketones and MCTs. However, there is also some support for other ingredients included in their blend like caffeine.
While caffeine may account for some of KetoFire's proposed benefits, those possible with ketones and MCTs are unlikely when carbs are an available source of energy in your diet.
While KetoFire claims that their supplement can benefit those that aren't following a ketogenic diet, this seems unlikely given how our bodies create and utilize energy.
Side Effects and Safety
KetoFire's blend of ingredients is likely to be safe when used as directed, though there are some risks.
Even at very large doses, MCTs are associated with an upset stomach, constipation, or diarrhea.
Despite being less likely to be stored as fat, those with elevated blood lipids may want to avoid KetoFire or other MCT-containing products. High doses in mice still resulted in the favorable effects on body fat, though lipids accumulated in the liver.
Also, KetoFire is a stimulant-containing supplement. The 100mg included in each serving is comparable to the caffeine content found in a single cup of coffee. However, when added to your typical coffee, soda, or tea habits, you may go beyond the 400mg of caffeine daily limit that is considered to be safe.
Stimulant containing supplements can be especially dangerous if you have a history of heart conditions. If you experience restlessness, nausea, agitation, rapid heart rate, and elevated blood pressure, discontinue use and seek medical attention.
For these reasons, speak with a physician before using KetoFire.
What Does KetoFire Cost?
You can get KetoFire directly from their site, as well as form other vendors.
A 180-capsule bottle will last you the entire month. On their website, the following purchase options are available:
One Time Purchase (Pricing reflects per bottle cost)
1- Pack $54.95 + shipping
3- Pack $49.46 + shipping
6- Pack $46.71 + shipping
Subscription (Pricing reflects per bottle cost)
1- Pack $46.71
3- Pack $42.04
6- Pack $39.70
If you choose to subscribe, you'll save 15% and your order will ship free. Also, you can set the delivery frequency at 1, 2, or 3-month increments.
At the site, each order is backed by a 60-day guarantee. To process your return, call support at 855-803-1275.
You can save further by purchasing KetoFire at Amazon. Priced at $37, it is even cheaper than the subscription option at Ancient Nutrition's site. While KetoFire ships free at Amazon, keep in mind that they only offer a 30-day return.
What Are the Alternatives to KetoFire?
KetoFire is just one of the many available ketogenic dietary supplements that claim to offer metabolism-boosting ingredients.
MCT Wellness from Gundry MD offers a powder blend of MCTs intended to provide the same benefits as KetoFire.
While you'll miss out on the exogenous ketones and adaptogens provided in KetoFire, you will save a few bucks opting for MCT Wellness.
HVMN Ketone Ester is another example. They offer a ketone beverage intended to boost metabolism and increase energy. Like KetoFire, each drink is packed with exogenous ketones, though it lacks the MCTs and adaptogens.
You're not likely to save with HVMN either. The 36-pack will get you through the month, but it's priced at over $1,000.
If you're looking to jumpstart your metabolism, don't underestimate the power of a healthy diet and regular physical activity. If you haven't already incorporated these healthy lifestyle changes, doing so is likely a better first step.
The Bottom Line
KetoFire contains a blend of ingredients that do offer some scientific support. However, the ketogenic ingredients (ketones and MCTs) are less likely to deliver results if you consume carbohydrates in your diet.
KetoFire garners a 4-star rating on over 180 Amazon reviews. Happy customers report increased focus and energy, though many were already on a ketogenic diet.
The bottom line is, despite exposure to exogenous ketones, your body will still use carbohydrates as its primary energy source when available.
If you haven't already adopted lifestyle changes that incorporate a healthy meal plan and regular exercise, do so before adding dietary supplements.
While KetoFire is likely safe to use, be mindful of the caffeine content. Speak with your physician to determine the best plan to manage your weight loss.
Customer Reviews