Keto Fire Reviews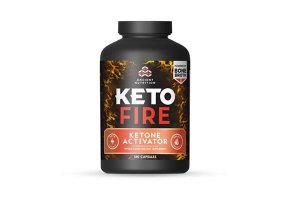 Manufactured by Dr. Axe, Ancient Nutrition Keto Fire contains a blend of beta-hydroxybutyrate salts and other natural ingredients that promises to deliver a wide range of health benefits.
What Is Keto Fire?
Keto Fire from Ancient Nutrition is a whole food dietary supplement that blends exogenous ketones, medium-chain triglycerides, bone broth, and other natural ingredients, to help manage weight and metabolism, maximize energy, fitness, and sexual function, and promote mental focus, clarity, and cognitive performance.
To experience these benefits, Dr. Axe recommends taking six capsules daily with eight ounces of water or your favorite beverage, with or without food.
These days, the market is awash with keto-friendly dietary supplements. Is there anything especially unique about Keto Fire that might make it stand out from the competition? Can you expect the results advertised by the manufacturer?
Let's help you find some actionable answers by starting with a few ketogenic fundamentals.
What Role Do Ketones Play in the Body?
As Ruth Pupo Garcia, a Registered Dietitian and Certified Diabetes Educator at Adventist Health White Memorial in Los Angeles, California, explains in A Comprehensive Beginner's Guide to the Ketogenic Diet, regularly eating a diet containing high-fat content (80%), high-or-moderate-protein content (15% to 20%), and low-or-no-carbohydrates (5% or less), causes the body to enter a state known as ketosis.
Here, instead of using glucose from carbohydrates as energy, the liver transforms existing fat into a type of acid called ketones, which your body can then utilize as a fuel source. This way, some dieters can lose meaningfully more body fat (not necessarily weight, though) than through some other programs.
As soon as you eat too many carbohydrates, though, your body will switch back to using them as a fuel source, and you'll have to restrict your intake for several days again to re-enter ketosis.
With these details in mind, is there anything about Keto Fire that will benefit those adhering to a ketogenic diet? Is there clinical support for the manufacturer's other advertising claims?
Which Ingredients Will You Find in Keto Fire Diet Pills?
The supplement facts label on the Dr. Axe website indicates Keto Fire contains:
Calcium 124 mg
Magnesium 43 mg
Sodium 150 mg
Potassium 132 mg
KetoFire Blend 4 g – Beta-Hydroxybutyrate (2,000 mg), Organic Ashwagandha Root Extract, Fermented Organic Ginger Root Extract, Organic Apple Cider Vinegar, Calcium Fructoborate, Organic Coffee Cherry Extract, Medium Chain Triglycerides (coconut), Organic Chicken Bone Broth Oil, Fermented Organic Black Pepper Fruit Extract, Fermented Organic Long Pepper Fruit Extract, Fermented Organic Reishi Mushroom Mycelium, Lipase Enzyme Blend, Hydrolyzed Bovine Collagen Peptides, Chicken Bone Broth
Remember the exogenous (i.e., originating from outside the body) ketones advertised on the Keto Fire website? This referenced the supplement's beta-hydroxybutyrate or BHB.
According to Dr. Anthony Gustin, this is created by "by attaching [BHB] to some other compound (sodium, potassium, calcium, or magnesium) so that your body can process the molecule."
Pro tip: According to the Q&A section on Amazon, Keto Fire also contains 150 mg of sodium per serving, so keep this in mind if you're watching your sodium intake or have high blood pressure.
And by introducing this into your system, he continues explaining that you're supplying your body with the ketones it needs to deliver "clean" energy, without necessarily requiring you to restrict your diet and achieve natural ketosis.
The problem is that according to sites like Everyday Health and The Diet Doctor, there's little clinical evidence supporting claims that exogenous ketone supplementation can help individuals achieve or maintain ketosis. Or, that it can increase energy, sharpen brain function, or deliver any of the other benefits often associated with maintaining a ketogenic diet.
What about the other ingredients?
According to their summarizations of the available clinical evidence, WebMD, the Natural Medicines Database, and Examine.com indicate that taking ashwagandha (no dosages listed) may address some symptoms of stress while taking between 340 mg and 1,000 mg of ginger could help slightly reduce osteoarthritis pain, which could foreseeably boost energy.
Furthermore, they report 100mg of caffeine from organic coffee fruit (about the same as an eight-ounce cup of coffee) may boost mental alertness, improve memory, increase physical strength, boost endurance, reduce feelings of exertion, and might even delay exhaustion.
Note: Ancient Nutrition also offers a caffeine-free Keto Fire version, without the organic coffee cherry extract.
However, these same sites report there's insufficient clinical evidence to support Dr. Axe's advertising claims for Keto Fire's remaining ingredients.
What Are Possible Side Effects Associated With Keto Fire's Ingredients?
WebMD and the Natural Medicines Database report that the vast majority of Keto Fire's ingredients won't cause side effects in most users.
However, in some instances (no dosages or specifics provided) common side effects include:
Nausea, stomach upset, and irritation (magnesium, ginger, caffeine, medium-chain triglycerides, Reishi mushroom)
Diarrhea (magnesium, ginger, medium-chain triglycerides)
Vomiting (magnesium, caffeine, medium-chain triglycerides)
Bloating or gassiness (calcium, medium-chain triglycerides)
In some people (again, no specifics listed) sodium might increase blood pressure, ginger can lead to heartburn, while caffeine can cause insomnia, nervousness, restlessness, and increased heart rate and respiration.
They also indicate that MCTs can lead to irritability and essential fatty acid deficiency, although taking it with food might reduce some of its potential side effects.
Finally, WebMD lists Reishi mushroom as possibly unsafe when taken for more than one month, since it "has been associated with toxic effects on the liver." Other potential Reishi side effects include mouth, throat, and nasal dryness, itchiness, nosebleed, and bloody stools.
How Much Does Keto Fire Cost?
If ordered from the Dr. Axe website, a one-time Keto Fire purchase is priced at:
1 Bottle (180 capsules): $59.95
3 Bottles: $161.87 ($53.96 per bottle)
6 Bottles: $305.75 ($50.96 per bottle)
Customers who wish to subscribe will receive automatic deliveries once every one, two, or three months, and can save 15%:
1 Bottle: $50.96
3 Bottles: $137.59 ($45.86 per bottle)
6 Bottles: $259.89 ($43.31 per bottle)
Free shipping is included on all orders over $99; otherwise, it's a $4.95 flat fee.
We also found the Keto Fire supplement sold via popular third-party retailers like Amazon, The Better Health Store, Naturally Healthy Concepts, and Thrive Market, often for less money than directly through the manufacturer. In some instances (such as for Prime members), these included free shipping.
All orders placed on DrAxe.com come with a 60-day money back guarantee, less S&H, which you can request by calling 855-803-1275 or sending an email to Help@Dr.Axe.com. Third-party refund details may vary.
The Details We Learned From Keto Fire Customer Reviews
There were 60+ customer Keto Fire reviews on the Dr. Axe website at the time of our research, who had given the supplement an average rating of about 4.4 stars.
Compliments frequently referenced effective results (reduced appetite, improved energy, support with a ketogenic diet, etc.) and no side effects. There were only a handful of complaints, which often cited no results.
Between Amazon and many of the other online retailers mentioned above, we came across another 50+ combined reviews, who had given the supplement a lower average rating of about 3.7 stars. Compliments and complaints were often the same as those on the Dr. Axe website.
How to Choose a Ketogenic Dietary Supplement
There are dozens of exogenous ketone supplements out there, including popular online search results like Keto Fire ($43.31+ per 180-capsule bottle), HVMN ($30 per single-use bottle), Julian Bakery InstaKetones ($30+), Pruvit Keto//OS ($85-$157), Ketond ($80+, 30 servings), and Perfect Keto Base Exogenous Ketones ($59, 15 servings), to name only a handful.
Given their wide variety of formulations and price points, what's the best first step to take when deciding which option—if any—to buy?
First, we should point out that the main ketone body in many of these supplements is BHB. And if this is the main ingredient you're after, you can purchase generic BHB salts for as little as $20 from some manufacturers.
The next most important factor to keep in mind before handing over your hard-earned money is that you need to maintain realistic expectations. A ketogenic supplement won't do all—or even a lot—of the hard work for you, so you'll still need to greatly restrict your carbohydrate intake and exercise just as you would if you weren't taking one.
In fact, after testing many of the most popular exogenous ketone supplements, The Diet Doctor states that they "cannot recommend taking these supplements," and that they can "personally think of many more beneficial ways to invest money in [their] health, such as buying grass-fed meat and organic vegetables, or even buying a bicycle and riding it outside in the sunshine."
Interviewed for an Everyday Health article, Dina Griffin, RDN, with eNRG Performance in Littleton, Colorado, says it's also important to look at what's in the supplement. "Beware of products with lots of fillers," she warns, "and instead go for one with a short, straightforward list of ingredients."
Finally, after writing about hundreds of dietary supplements over the years, we think it's important that consumers focus on doing business with companies who:
Support their efficacy claims with double-blind, placebo-controlled clinical evidence published in reputable journals
Offer at least 30-day refunds on all orders, with no penalty fees (such as restocking)
Come with mostly positive online customer feedback, including on sites like the Better Business Bureau
Does Ancient Nutrition's Keto Fire supplement look good in light of these criteria? Let's answer this question in the next section as we wrap things up.
Coming to a Conclusion About Keto Fire
Did you have an in-depth conversation with your regular healthcare professional? Did they indicate that a ketogenic supplement will deliver meaningful value for the money, based on your diagnosis?
If so, then Keto Fire seems to deliver a competitive price, a mostly positive online customer reputation and comes from a company with many years in the business. Dr. Axe also offers a 60-day refund policy on all of their supplements if you find that it doesn't meet your needs and preferences.
Still, according to Griffin's advice above, the supplement includes a lot of added ingredients, outside of BHB salts. And as with any ketogenic supplement, just because you elevate the ketone levels in your body, this doesn't mean you'll experience any of the same benefits as achieving ketosis naturally.
>> Read next: An Overview of 5 Popular Gyms and How to Choose the Best Membership