HVMN Ketone Reviews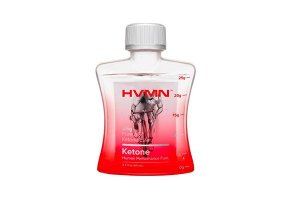 Containing just 98.24% ketones and water, the HVMN Ketone supplement claims to deliver a variety of benefits, including increased energy, improved endurance, and better cognition.
What Is HVMN Ketone?
Compared to typical sports performance drinks that use carbohydrates like maltodextrin or glucose as an energy source, HVMN's Ketone ester superfuel contains only natural, pure, super-efficient D-BHB.
According to the website, these consumable ketones—officially known as beta-hydroxybutyrate—use patented and clinically validated technology developed at Oxford and the National Institutes of Health. When taken with carbohydrates, we're told it can deliver improved endurance performance, reduced glycogen and muscle protein breakdown, boosted cognitive function, and decreased appetite and ghrelin levels.
They also advertise "elite athlete are extending their aerobic performance by over two percent."
Just take one bottle 30 to 60 minutes before working out with your normal carb meal or drink. You can take another bottle between 90 and 120 minutes later, and then a third bottle 30 to 60 minutes following your workout. Furthermore, the company advertises the supplement works "on top of any athlete's diet, complementing [their] current intake of carbohydrates, proteins, and fats."
At more than $30 per single-use bottle, HVMN Ketone is one of the most expensive dietary supplements the HighYa team has reviewed. But, does its clinical support indicate that it'll deliver meaningful value for the money?
That's the central question we'll help you answer in this article, starting with a few fundamentals.
The Role Ketones Play in the Human Body
As described by Dr. Annthea Fenwick in our article Ketogenic Diet: A Comprehensive Beginner's Guide, your body normally relies on carbohydrates for energy. They're broken down "into glucose, which is your main source of fuel."
However, if you stop eating enough carbs, your body "will turn to fat for energy in a process called ketosis. Fat becomes your fuel," she explains.
Specifically, the liver converts fat into ketones, an acid-based chemical that can be absorbed by your muscles and other tissues and used as an energy source.
Achieving a state of ketosis involves getting 75-80 percent of your calories from fat, over the course of at least two to four days. Slip up and eat just a few too many carbs, though, and you might have to start the process all over again.
How the HVMN Ketone Supplement Works
HVMN's ketone supplement promises to change all of this by helping you reach 3-6mmol/L blood ketone levels within 30 minutes, using a formulation consisting only of 98.24 percent ketones, plus water, with no salt, fat, or carbohydrate content. It's also classified as food by the US Food and Drug Administration.
Together, the company advertises HVMN Ketone is 28% more efficient than carbohydrates alone, has been clinically shown to result in 2-3% performance gains in endurance athletes, and can even increase the subjective feeling of mental clarity, and lucidity.
Additional potential benefits include the decreased breakdown of intramuscular glycogen and protein during exercise, reduced inflammation, decreased oxidative stress, and improved recovery.
HVMN's Clinical Support for Their Ketone Supplement
To support these claims, HVMN lists six clinical studies on their website, many of which were conducted as part of a lengthy DARPA project that began in the early 2000s:
Specifically, what will you find in HVMN's liquid ketone supplement?
Taking a Closer Look at HVMN Ketone Ester's Ingredients
According to the supplement facts label listed on the HVMN website, each 2.2 fl oz bottle of their ketone supplement contains:
Water, D-beta-hydroxybutyrate Ester (ΔG™ Ketone Ester). Contains less than 2% of Stevia Leaf Extract, Natural Flavors, Malic Acid, Potassium Sorbate & Potassium Benzoate (for freshness).
HVMN is the exclusive partner of ΔG (DeltaG) for their D-beta-hydroxybutyrate (D-βHB) Ketone Ester, which is the supplement's primary active ingredient, as well as the one behind all of the research outlined above.
25g is contained in every bottle, along with water, flavoring and sweetener (Stevia Leaf extract, malic acid), and ingredients to help maintain freshness (potassium sorbate/benzoate).
Are There Potential Side Effects When it Comes to HVMN Ketone?
The HVMN website reports that, when taken within the recommended dosage range (a maximum of three drinks per day, two to three hours apart), "Ketone has been extensively studied and shown to be safe in healthy human adults. Hundreds of athletes have used HVMN Ketone on the field, in professional sports, and in research studies."
It's also designated as food and is considered "Generally Recognized as Safe" (GRAS) by the FDA.
With these details in mind, some participants in the 2013 study above reported mild digestive-related side effects.
To help prevent potential side effects or medication interactions, make sure you talk with your doctor before trying HVMN Ketone, or any other dietary supplement.
How Much Does HVMN Ketone Cost & Where Can You Buy?
If purchased from HVMN, Ketone is priced as follows:
3-Pack: $99 ($33 per bottle)
12-Pack: $389 ($32.42 per bottle)
36-Pack: $1,149 ($31.92 per bottle)
Shipping is included on all orders over $40.
We also found a three-pack of the liquid supplement sold on Amazon for a slightly higher price of $104.93. However, it was eligible for free Prime shipping.
According to the return details in their FAQ, if you're not happy with your product, you'll need to reach out to the company at (855) 486-6748 or care@hvmn.com, and they promise to make it right.
What Can We Learn From HVMN Ketone Customer Reviews?
Despite these relatively steep prices, five Amazon customers had given HVMN Ketone an average rating of 4.7 stars at the time of our research.
Most compliments seemed related to quickly boosted blood ketone levels, increased energy, improved endurance, and increased mental focus. No complaints were noted.
Back in November 2017, Business Insider's Melia Robinson and Erin Brodwin tried HVMN Ketone before its public release. Both commented that the taste made them gag, but once this (and some mild nausea) passed, they noted increased energy, boosted focus, and curbed appetite for between four to six hours.
In the end, while they emphasized, "it's hard to separate our perception from any placebo effect," they felt that "HVMN Ketone produced measurable results." This included a blood-glucose test and a ketone test 30 minutes after consumption, which reported ketone levels between 4.2 and 6.0 mmol/l.
Bottom Line: Is HVMN Ketone Right For You?
When it comes down to it, HVMN's formulation is one of only a couple of liquid exogenous (i.e., outside the body) ketone supplements available. And it's also the only one that contains proprietary, clinically supported D-betahydroxybutyrate, compared to the beta hydroxybutyrate found in most competing formulas (including traditional BHB salts).
On the other hand, HVMN customers will currently pay a minimum of $31.92 per bottle for their Ketone supplement. Although the company's FAQ explains they expect this cost to drop drastically as production increases, for the time being, you could spend $100 per day if taken as recommended by the company (before exercise, during, and after for recovery).
Note: No length restrictions (e.g., 60 days, 90 days, etc.) were noted on the HVMN website. In addition, how frequently you take the liquid supplement—and therefore how much money you spend overall, whether three times a day or once every so often, is completely up to you.
And while the 2-3 percent performance increase caused by the supplement could be meaningful for top-level athletes (such as in the cycling trial study mentioned above), if you're anything outside of this (such as a mid-tier weekend warrior or are just looking for an energy boost), there seems to be other legal, legitimate methods that might deliver meaningfully more bang for your buck.
But, if you're dissatisfied for any reason, HVMN seems to stand behind Ketone with a satisfaction guarantee. Just remember that you might have to ship any unused portions back to the company at your cost.